There is a rich history of high school girls basketball in Iowa that began in the state's smallest schools more than 100 years ago.
The first Iowa state championship was held in 1920, long before Title IX and the growth of female athletics across the nation.
However, it didn't become a staple of Iowa's larger schools' athletic offerings until much later. In the state's larger schools — now in the Class 3A and Class 4A classifications, including Creston — golf and tennis were typically the only sports offered for girls.
Leaders like E. Wayne Cooley, who became the executive secretary of the Iowa Girls High School Athletic Union in 1954, played a big role in advocating for girls participation in sports. In the early days of Iowa girls basketball, rural Iowa communities encouraged girls to be physically active.
Margy Gammell, wife of the late Eldon Gammell, Creston's first girls basketball coach in the 1972-73 school year, played basketball at Audubon. She said at the time (1959) Audubon was one of the larger schools offering the sport.
"I don't know, I think maybe people from the bigger schools and cities thought they were too sophisticated and that athletics hurt the girls, that it wasn't a girl's place," Gammell said. "Girls at the smaller schools were out choring and working hard on the farm and everything, and people just expected them to participate like the boys."
In the late 1960s, John and Ruby Stephens worked hard to promote expansion of girls athletics in Creston. Sports such as basketball and softball were offered to girls at most of the neighboring small schools, but they were later to start up in larger southwest Iowa schools such as Glenwood, Creston and Atlantic. Golf and tennis were offered in Creston, and the Panthers were state champion in girls golf in 1967.
During the summer of 1971, girls softball began in Creston and was coached by Ellen Turbot. Superintendent Dick Boyer and athletic director Ron Levine helped get that sport started and games were played at the current VFW Field on Highway 34. John Stephens was the primary designer and contractor for construction of the current softball field.
Now, each summer Creston's home softball tournament is called the John Stephens Classic.
The Stephens family worked with several other parents in the community in attending school board meetings and presenting proposals to start girls basketball as well. They started a girls athletic booster club called the Pantherette Pals, since the established club, the Pippin' Poppas, was primarily involved in boys sports.
Early years
Eldon Gammell, a Montgomery County native, had been involved in coaching girls athletics at Lewis Central. Gammell desired to be a head basketball coach and was hired in Creston when the sport was launched in the 1972-73 school year. He also became head coach of the softball and volleyball teams and took at least one team to the state tournament in all three sports. Two volleyball and two basketball teams (1977 and 1978) went to state under Gammell's guidance.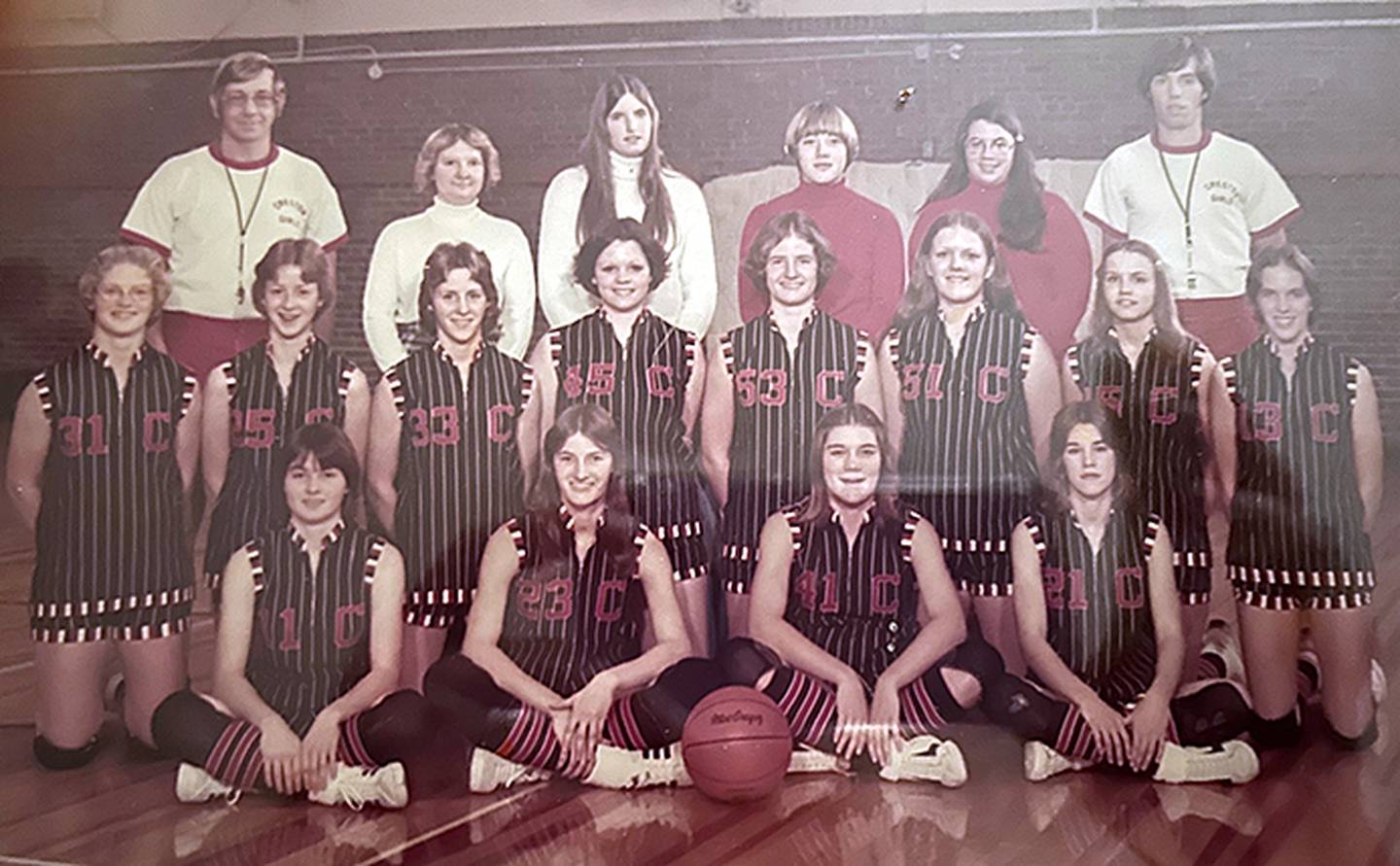 "Most of the girls had not played basketball except for PE class, so there was a learning period and not many wins at first," Margy Gammell said. "It went from nothing to really good basketball in a short time."
Jan Lesan, retired Creston teacher and coach and runner-up medalist in the state golf tournament, was a senior in that first year of girls basketball. She recalled how the girls were granted a team, but not quite on an equal basis at the time.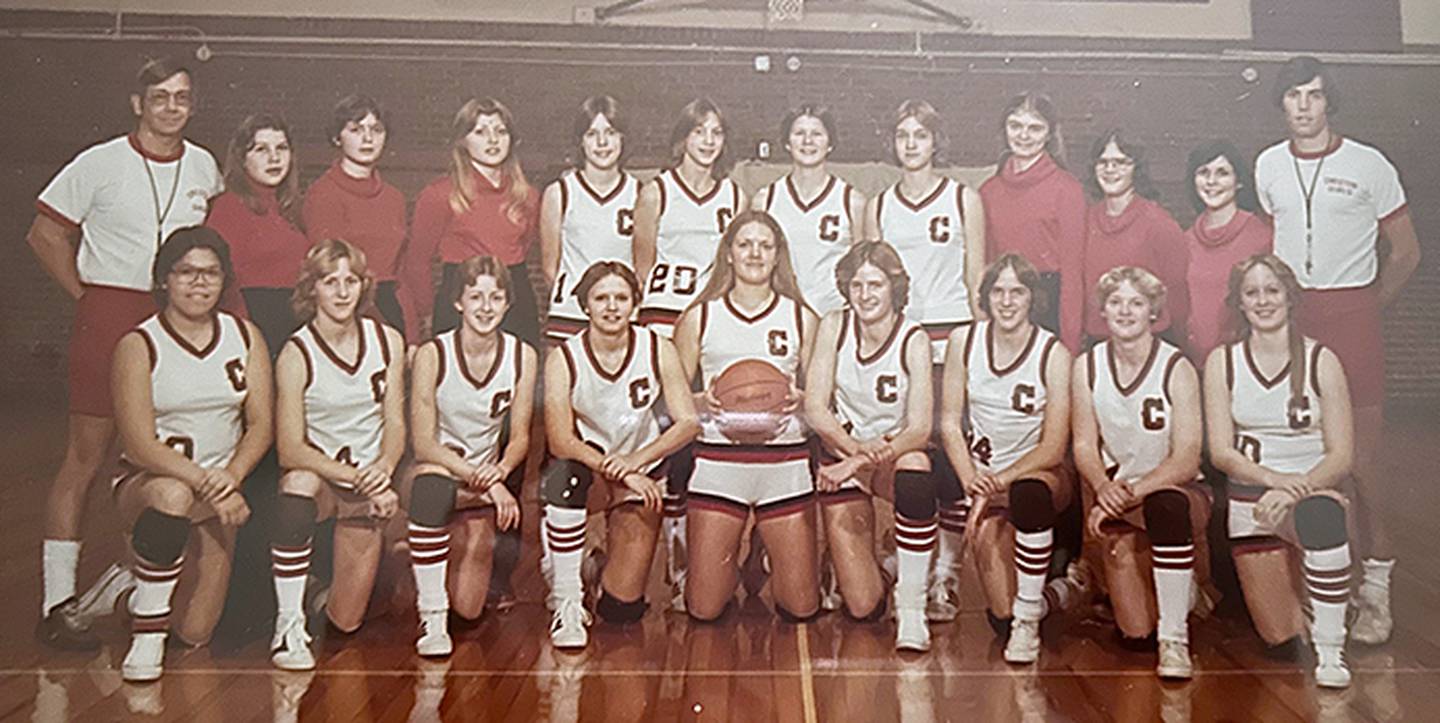 With Southwestern Community College using the junior high court at the Burton R. Jones complex, and wrestling meets held there as well, and boys basketball holding practices and games at the old "Panther Pit" high school, the new girls team was sent to the Cromwell School for practices and games in its small gym.
"We bussed to Cromwell every day for practice and that's where we played our games," Lesan said. "It was full capacity when we played, chairs were on the sides of the court like at St. Malachy. The baseline was up against the wall. The noise was fantastic. The enthusiasm was there and the crowd was behind us, even though we didn't win a lot of games."
That first team in 1972-73 season had a 3-17 record, losing to Prescott in the district tournament, 58-34. But three of the losses were by one point — 46-45 to St. Albert, 62-61 to Greenfield and 59-58 to Mount Ayr. Osceola edged the Pantherettes 70-67.
Players on the first Creston girls basketball team were Dixie Stephens, Ann Roland, Lori Jungst, Judy Christensen, Shelly Sevier, Cheryl Herzberg, Jan Lesan, Peg Trost, Shelly Stephens, Mary Wallace, Althea White, Carol Reed, Caroline Winkler, Roxanne Sammons and Sue Tindle. Gammell's assistant coach was Dan Settle.
Gammell was a good shooting coach and the players' skills developed rapidly during a strong era of female athletics in the mid-1970s. The team in 1974-75 went 15-6 and one year later Roxanne Sammons led a record-breaking team to an 18-7 record and sectional championship, taking second in the district. Sammons scored 1,015 points that year in making third team all-state by the Iowa Daily Press Association, and she became Creston's first 2,000-point scorer with a career total of 2,357 points.
Merri Martin was another outstanding forward on that team and Shellie Stephens was named most valuable guard. Carol Reed followed as a tall, high-scoring forward for Creston as a 1976 graduate.
State tourney teams
One year later Creston started a two-year run of state tournament play when only 16 teams statewide (one class system) made the Sweet Sixteen at Veterans Memorial Auditorium.
In only their fifth year of girls basketball, the Pantherettes made a dramatic run to the Sweet Sixteen in 1977. Entering tournaments with a 16-4 record and the Hawkeye Eight championship, the Pantherettes edged Clarinda in district play, 72-71, on Gail Smith's last-second free throw.
Adel-DeSoto was considered a top contender to win the Iowa championship that year, but was locked in tie with Creston late in the regional game to decide the state tournament berth. Gammell had the Pantherettes stall during the final 42 seconds for a final shot, and Sherri Martin's 12-foot jumper with :04 left provided the winning margin.
With an estimated 1,500 Creston fans attending at Vets Auditorium, Creston defeated South Winnesheik, 45-39. Two-time defending champion Lake View-Auburn knocked out the Pantherettes in the quarterfinals, 63-40.
According to Creston News Advertiser sports editor Max Sandeman, carrying the load for the 1977 team were forwards Gail Smith, Deb Oxenreider, Sherri Martin and Kerri Martin. Guards were Robbie Noecker, Rhonda Piel, Jill Christy and Terri Austin.
The next year, Creston had its all-time best season of 26-3 in reaching the Sweet Sixteen quarterfinals for the second straight year. The Pantherettes rolled through the sectional and district tests, and then topped area rival Mount Ayr 64-56 for the regional championship.
At state, Creston beat No. 6-ranked Elk Horn 69-63. In the second round, Fort Dodge St. Edmond prevailed 73-68 in overtime. The main forwards were Deb Oxenreider, Carol McFee and Kerri Martin. The guard guard included Jill Jarman, Terri Austin, Robbie Noecker and Dorothy "Dot" Loos.
Robbie (Noecker) Tanner, a retired Creston teacher, said it was an incredible experience to play in two state tournaments. The upset regional win over Adel-DeSoto was a highlight. She said Mike Gerleman had joined the Creston staff and assisted Gammell, developing an aggressive, physical style by the defensive guards.
"They sent them down to our regional and the game was played at Southwestern," Tanner said. "I remember when we were introduced, their crowd all held up newspapers in front of their faces as a sign of disrespect for us. We were a nobody and everyone expected Adel to win and go to state. As a kid it had always been a dream of mine to go to state. We had great community support."
Creston stayed strong for several seasons but did not return to state. The 1979 team was 22-5 and won the second Hawkeye Eight title in three years. The 1981 team was 19-5 and the record was 15-6 in 1982.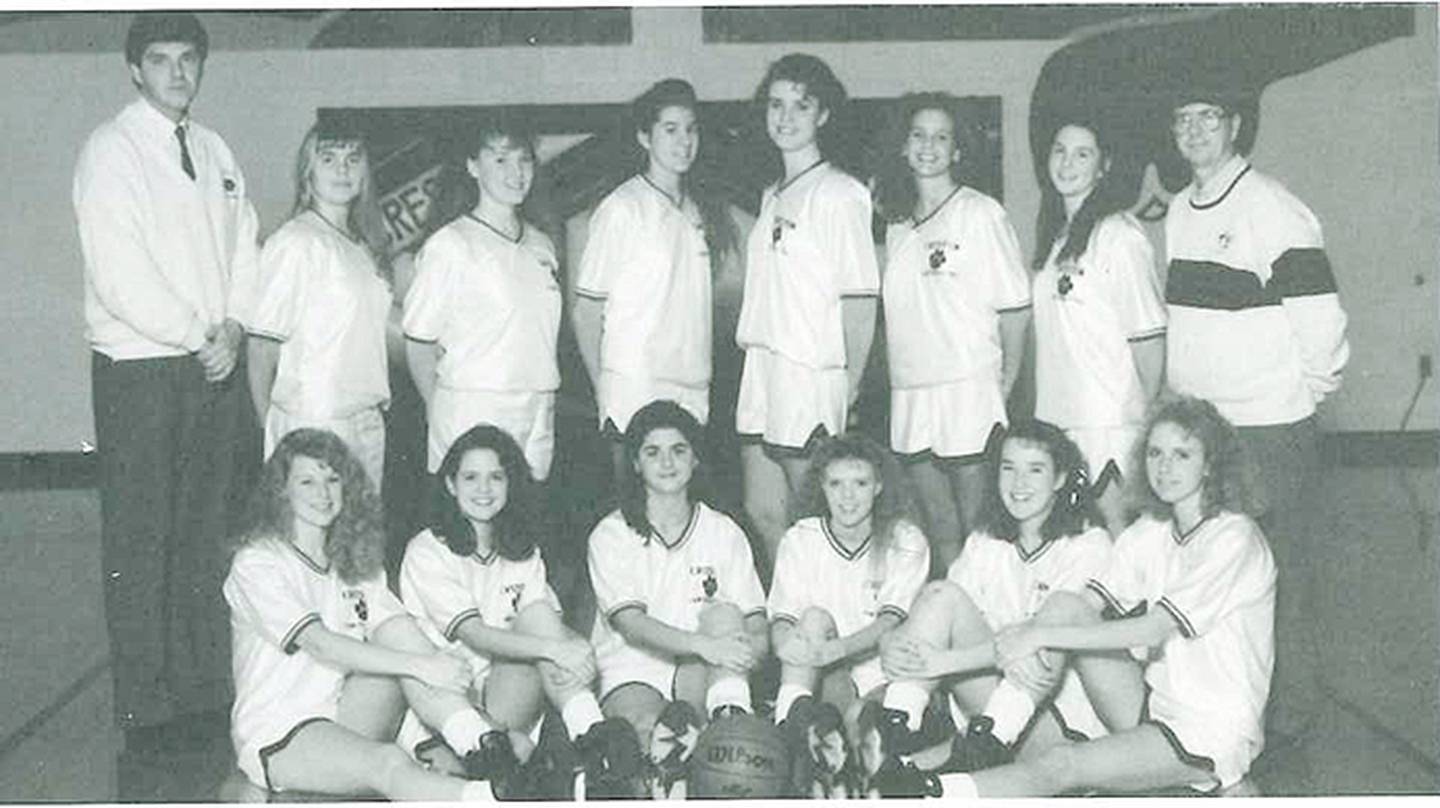 "They were consistently good for a long time and it's amazing to think in the history of 6-on-6 girls basketball in Creston we had only two coaches," current coach Tony Neubauer said.
The mid-to late 1980s and beyond saw the contributions of the Gammell sisters and the Antisdel sisters. Angie Davis scired 23 points a game in 1986-87. Shannon Freeman, Heather Veatch and Jodi Glynn were all-conference guards. Succeeding the graduated Polly Gammell as tjhe main forward threat in 1990 was Melissa Winterstien, now Melissa Driskell.
5-player introduction
The state's largest schools had led the charge to convert to five-player girls basketball, primarily with the thinking that standout players would be better prepared for collegiate competition. Mike McCabe, who had coached boys basketball at Orient-Macksburg, was brought in to succeed Gammell in 1990-91 to help the program manage that transition. Sevier and Tonya Latham were the scoring and assist combination in the forward court in a 12-8 season in 1991-92, with Lani Smith, Melissa Hayes and Jenny Loomis as the guards.
He still coached 6-on-6 for three seasons, and embraced the style.
"I loved it," McCabe said. "It put an emphasis on passing and moving. The shooting was good. We had good kids in the guard court who might not necessarily be good shooters, but there was a place for them in the guard court."
Officials moved the ball quickly upcourt after a basket from one side of the center line to the other for the other offensive trio to begin their possession. The two-dribble rule made the game pass-centric, almost rhythmic. The result was a fast-paced game, with the number of offensive possessions was close to double the typical game in standard rules.
Emily Sevier, all-conference star of McCabe's regional semifinal team in the final season (1992-93) of 6-on-6, averaged over 30 points per game and surpassed 50 points twice against Clarinda. The final 6-on-6 team went 9-12 in a season that included a 65-57 win over state-ranked Mount Ayr, and a 40-34 loss to a ranked Atlantic team. No. 17-ranked Clarke, with an 18-2 record, held off Creston 68-61 in a regional semifinal contest.
"We were a pretty good No. 3 horse in the Hawkeye Eight," McCabe said. "It was Atlantic and Harlan in the state as well as the conference, under Don Jenkins and Randy Platt. We held our own against everybody else."
Sevier was first team all-conference and fellow seniors Lani Smith and Amy Sharp were second-team all-conference in that final 6-on-6 season. Other seniors were Colleen Driskell, Carrie King and Lisa Burkhalter.
A younger group of Creston players also played in the state's five-player tournament series that final season of 6-on-6, to gain experience for the next season. Dawn Woods scored on an inbounds play late in a two-point victory over Clarinda in the first round, but then a state-ranked Indianola team coached by Jerry Wetzel featuring star Sarah Street (sister of the late Chris Street of Iowa Hawkeye fame) blitzed the Pantherettes in the second round of regionals.
"We didn't score much that night," McCabe said. "Our jubilation was short-lived. But it was a good experience for those kids."
Dr. Amanda (Moffitt) Mohr, currently on the Creston School Board of Directors, was on the team that transitioned from 6-on-6 to five-player. Woods, Jamie Fast, Tara Adams, Summer Hook, Melissa Beatty, Jessica Moeller, Leanne Owens, Amanda Parker, Lindsay Courtney, Beth Coen and Morgan Evans were just a few of the all-around players who thrived in the new five-player format.
Hook and Adams were all-conference players on the first five-player team that went 7-15 and lost to top-ranked Atlantic in the regional semifinal, 55-49.
Chuck Eilers, whose daughter Deanne was a standout forward in the late 1980s along with Polly Gammell and sharpshooter Jackie Hulett, was an assistant coach for both Gammell and McCabe. He was part of the transition to five-player basketball.
"The transition was not that difficult," Eilers said. "It was low scoring at first because the shooting was not great, but we still had good free throw shooters. It took awhile for some of the guards to transfer to forward skills, but they were ready physically. We had some good players."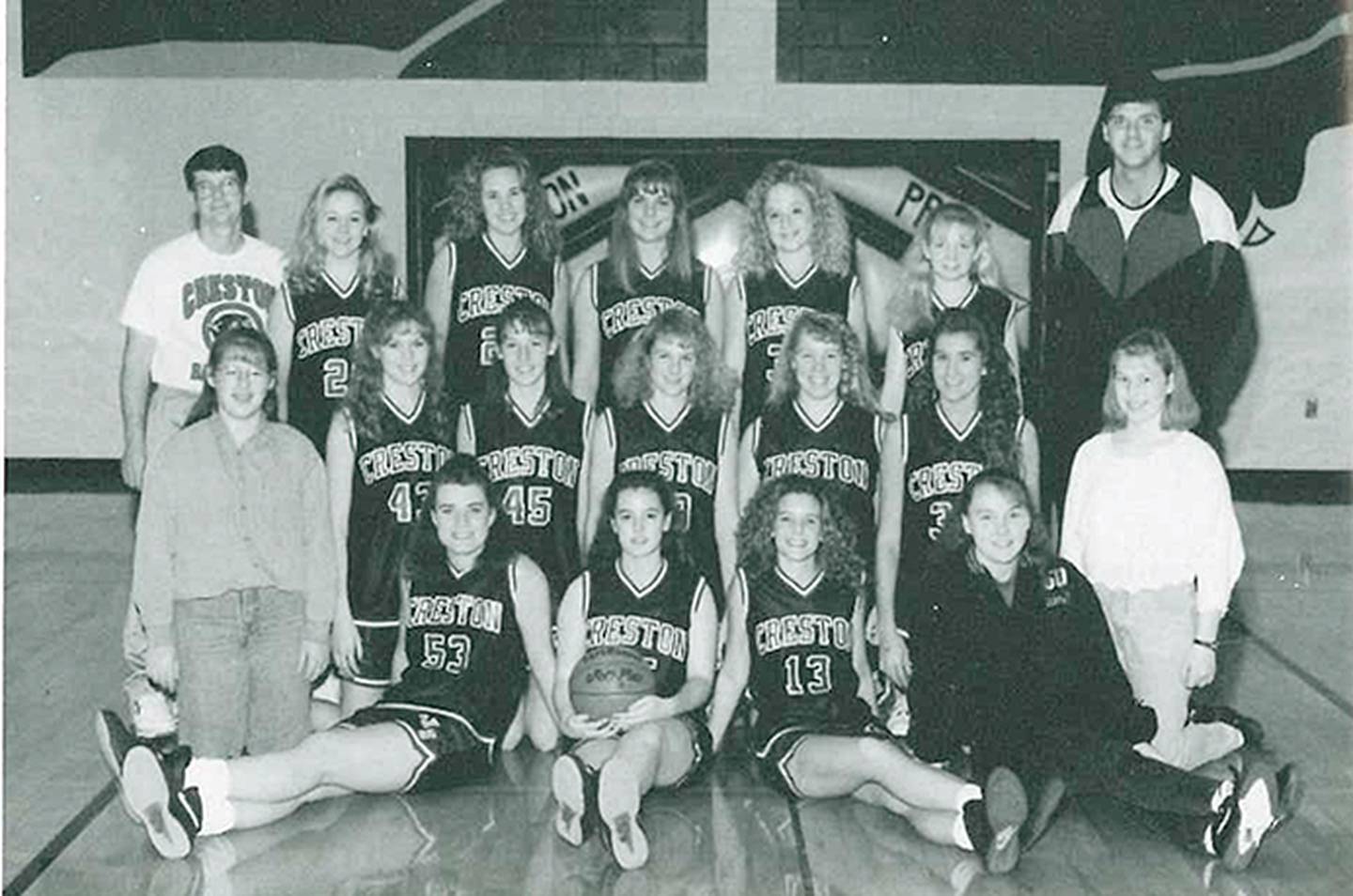 Modern era
After McCabe's final season in 2002-03, the coaching changes became more frequent but there were still successful teams and standout players.
Tim Sauer started in the fall of 2003 and coached girls basketball and baseball for three seasons. Todd Jacobson followed for five seasons through 2011. After that it was Larry McNutt for three seasons, Brent Douma for two seasons and Ryan McKim and Britt Roberts for one season each before Neubauer arrived in 2018.
Last year's seniors were the first players to have the same head coach for all four years of high school since Jacobson's stint. All-stater Brielle Baker, now a senior player at Iowa Wesleyan University, had four different head coaches in four years of high school basketball.
Jacobson coached the five-player team with the most wins in a season when his 15-7 team in 2007 reached the regional finals in a game against Norwalk. Katie McKim, Kari McCann and Meghin Krambeck were some of the leaders of that squad.
Others who made their mark in the five-player record books include Nikki Crawford, Shannel Klejch, Heidi Hellyer, Michele Clausen, Erin Clayton, Christina Thatcher, Amy Goldsmith, Natalie Mostek, Brianna Maitlen, Audrey Bolinger, Katlin Briley, Jenna Taylor, Cammy Rutherford, Taylor Briley, Kelsey Fields (playing at Northwest Missouri State), Sam Dunphy, Braelyn Baker, Brianna Fields, Rylie Driskell, Brianna Fields and current senior Doryn Paup. Maddie Haines and Sydney Hartsock joined some of those on the list of 3-point shooters.
Career 5-player leaders are scoring - Kelsey Fields, 1,394 points; rebounds - Kelsey Fields, 1,019; assists - Lindsey Courtney, 300; steals - Brielle Baker, 184; blocks - Kelsey Fields, 125; 3-point goals - Katie McKim, 145; free throw percentage - Jenna Taylor, 84.1%; 2-point field goal percentage - Doryn Paup, 56.9%; 3-point percentage - Jenna Taylor, 40%. Six-on-six records are not available.
Coach Neubauer hopes some of the young players attending Tuesday's program have those records in their sights as the program continues to grow.