CARROLL — Undefeated through week four, the Panthers (4-0) put their dominance on display Friday at Carroll (1-3) as they defeated the Tigers 50-21 after pulling all starters in the fourth quarter.
Senior quarterback Cael Turner led the charge, throwing 11-12 for 431 yards and scoring six touchdowns (five passing, one rushing).
Turner spread the wealth, connecting with four different receivers in scoring plays.
"That's my favorite part of this team," Turner said. "It's not just one person — everyone can step up and do their job. It's very difficult for the defense when every guy is doing their job every play. You can't stop it."
Turner came into the game leading Class 3A in passing yards with 770 and no interceptions. He's now surpassed the 1,000 mark with 1,201 and no interceptions.
Three drives in a row, the Panthers scored on a long pass play on the first play from scrimmage, putting up 36 points before the Tigers found the end zone for the first time.
Adjustment
The Panthers' first drive of the game was not reflective of the game as the No. 4 ranked team in Class 3A went three and out for zero yards gained.
"It sucked," senior receiver Brandon Briley said. "We just came out and got blown up on the run game."
The drive featured two rushing attempts by all-district running back Brennan Hayes for negative yardage and a sack on Turner to set up fourth-and-23.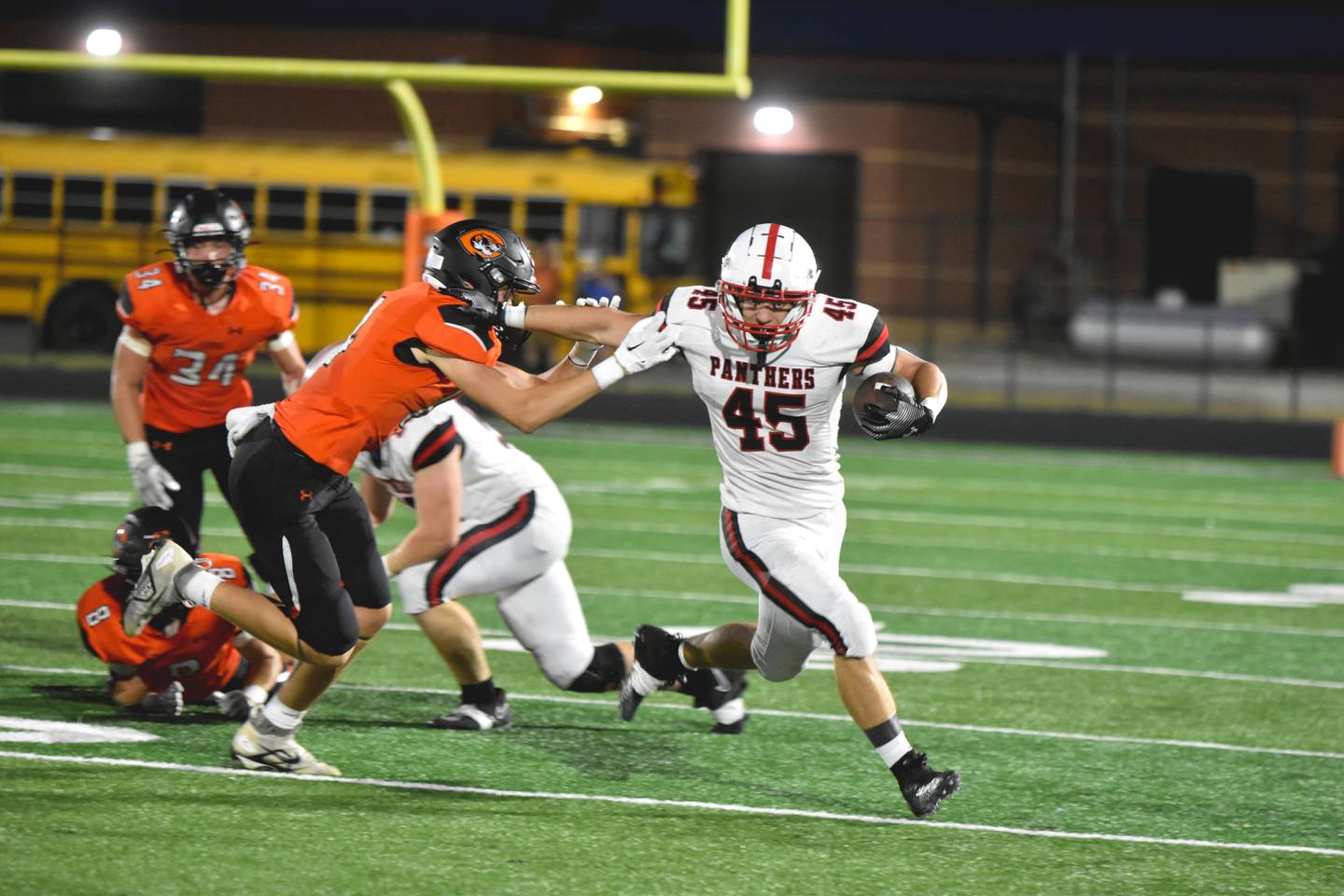 "It was rough," Turner said. "Not really how we saw that one going, but they came out with a different defense than we were expecting. After the first drive, we obviously adjusted to that and kicked it into gear."
The Tigers went for it on a fourth-and-five in their first possession, but the Panthers defense came up with the stop.
Senior defensive back McCoy Haines led the defense with nine solo tackles. Max Chapman logged four tackles for loss to lead the Panthers.
"When playing these big schools with a big crowd and a lot of energy, you've got to believe that you have what it takes to be bigger than your circumstances," Chapman said.
Coach Brian Morrison preaches "11 hats to the football," to the team, meaning all 11 players go for the ball every play.
"It's not about hoping the next guy will make the play. It's you do whatever you can to make the play," Chapman explained. "I feel like that's a really good part of our defense. Everybody is going for the football. If one guy misses, then there's another and another. Eventually, they don't even want to run because they know someone is going to be there."
Onslaught
After the first possession, the Panthers would go on to have the ball seven more times — scoring a touchdown on each drive.
Turner got into a rhythm on the second drive, a 28-yard fade route to Briley under pressure getting the team fired up.
"I blew by my guy and it was a perfect ball by Cael as he was getting hit," Briley said. "It was a really good play."
The drive would end in a 7-yard rushing touchdown by Turner followed by a successful two-point conversion by Josh Schaefer.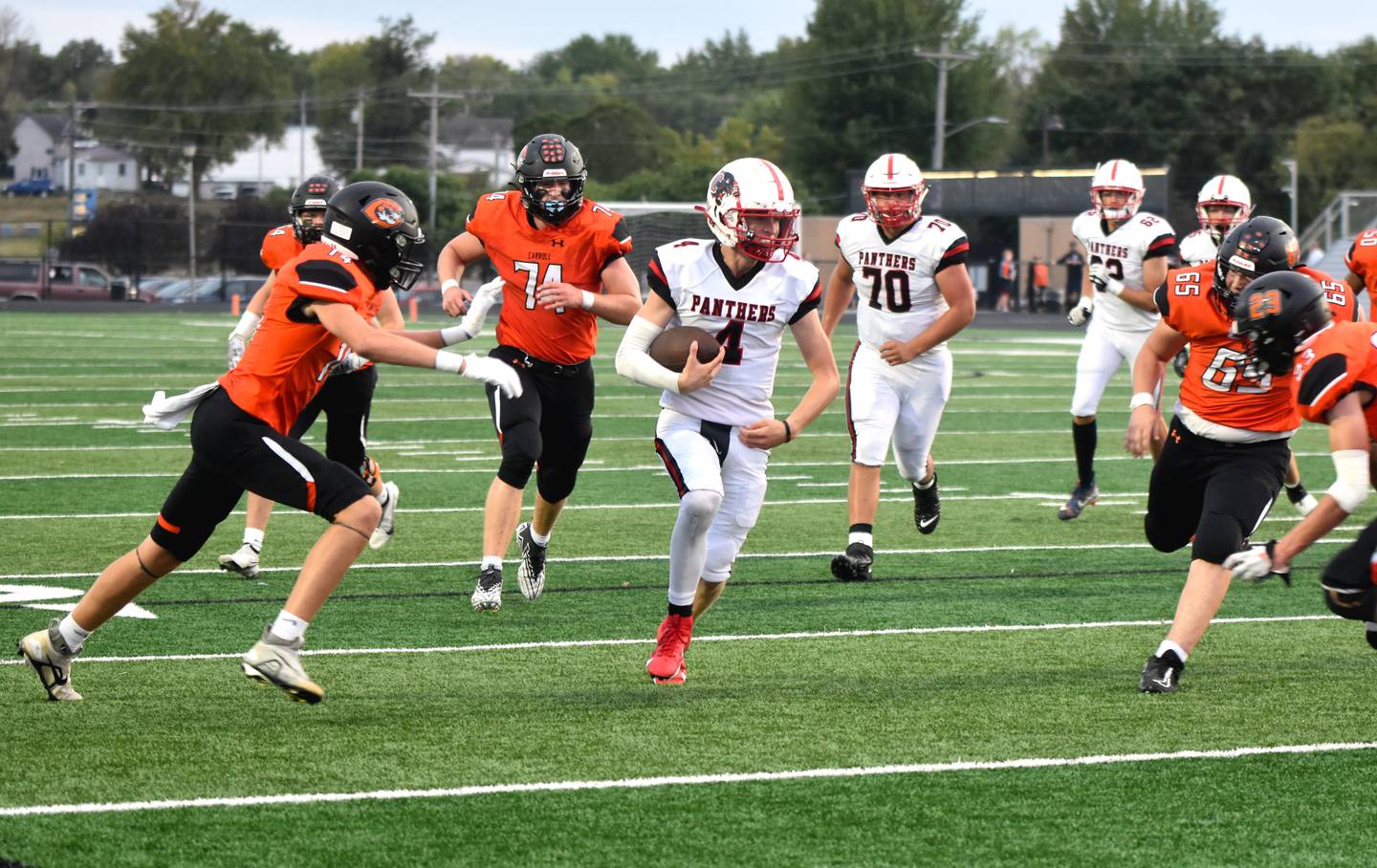 Carroll wouldn't earn a first down on their next two drives while the Panthers scored twice in two plays, the first a 75-yard pass to Hayes and the second a 57-yard pass to Briley to make it 22-0 to end the first quarter.
Hayes only logged 26 rushing yards, but he led the offense in receiving yards with 213 and two touchdowns. Briley had five receptions for 123 yards and two touchdowns.
Creston Coach Brian Morrison said the offensive staff does a great job prepping the team each week. "Our kids do an outstanding job learning what we're doing that week as far as what we want to expose against the other team," he said. "I credit the offensive staff of getting the kids ready because they were."
The Tigers put their first offensive drive together to start the second quarter, getting down the field a little at a time, earning a first down on the Panthers' 11-yard line.
The Panthers' red zone defense came out, Dillon Starlin, Jack Walter and Will Bollinger each coming up with stops to set up a fourth-and-5 on the six-yard line.
Carroll attempted a hard count to get the Panthers' line to jump and earn a first down, but it was unsuccessful, earning them a delay of game penalty. An illegal substitution penalty backed them up another five, and the attempted field goal went wide right.
The Tigers' offense didn't get much time to rest as Turner found Carson Rieck for an 80-yard touchdown on the first play.
"I think the offense, they executed well on a lot of different aspects," Morrison said. "We have a lot of explosive players at different positions and that puts a team in a bunch when you've got to defend four receivers plus a really good, physical run team and offensive line."
Overcome
Next week, in order to defeat Harlan - the Class 3A reigning state champions - the Panthers will need to overcome setbacks.
The next drive showed the Panthers' ability to convert under pressure. Penalties and blown plays set up a third-and-21 for the Panthers.
Turner threw a screen pass to Hayes who broke a tackle to explode for 60 yards. Another penalty took their second-and-goal from the 10-yard line to the 18. Turner found Briley alone in the center for an 18-yard touchdown to end the half 36-0.
"I knew they were going to be man to man coverage," Briley said. "So we just practiced our releases, getting off the ball fast, making moves at the top of the route."
Shutting out a strong run game by the Tigers was no small feat. Chapman said working on the run blitz with the scout team was a huge help. "I think that definitely gave us the edge," he said. "They gave us the right blocks, they hit hard – harder than most teams."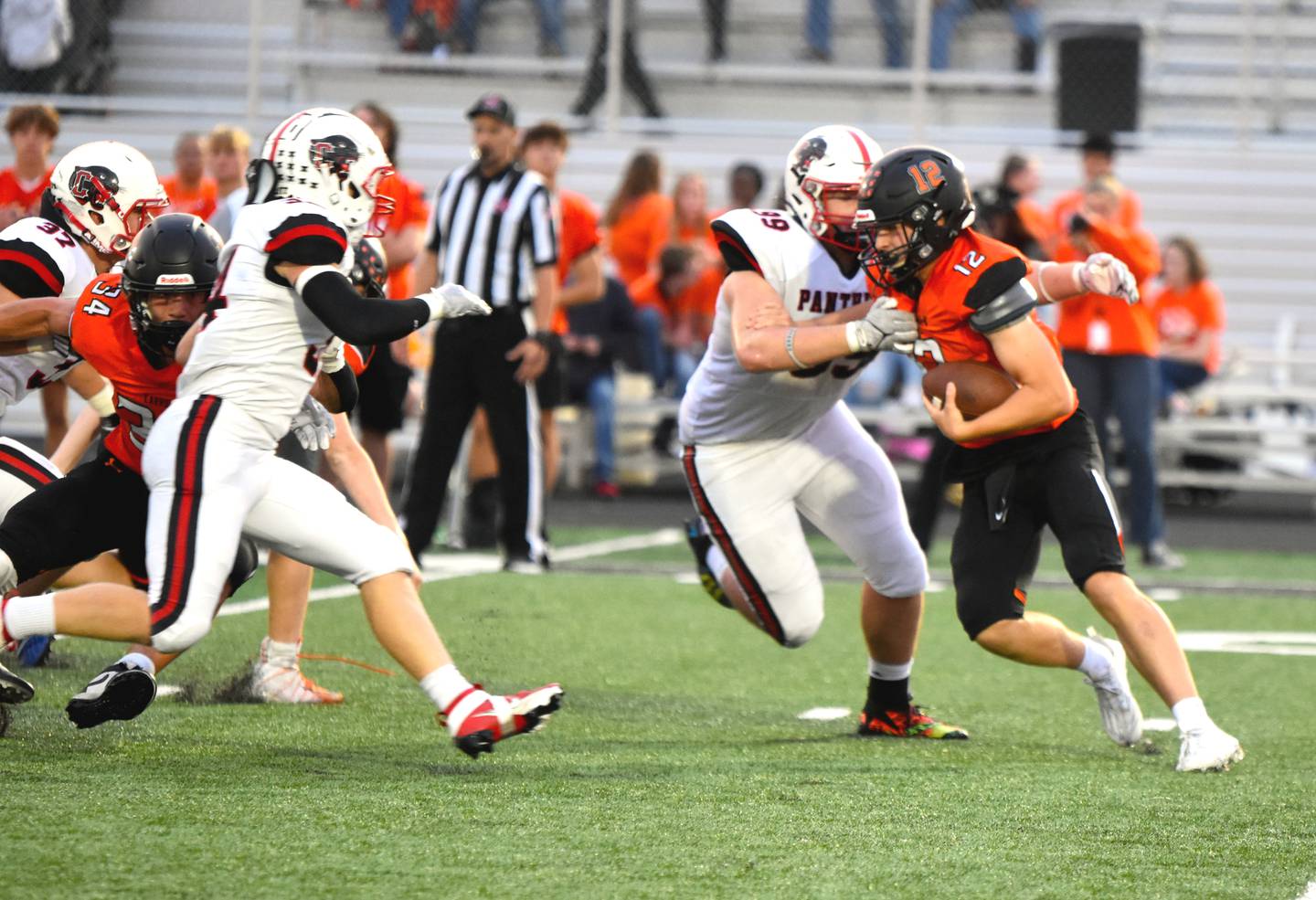 Morrison said the key is being able to line up and play fast as well as winning at the line of scrimmage. "We did that," he said. "They had some chunk runs for over 10 yards, but that was just us not doing our job and we got that fixed so they weren't putting together drives. I thought both phases played really well; I thought special teams played really well."
The Tigers had nearly double the passing and rushing attempts as the Panthers, but finished short in both categories.
Up Next
No. 7 Harlan visits Creston next week for homecoming, and the Panthers are ready to prove themself after falling 56-12 to the Cyclones last season.
Chapman says the matchup is personal. "I remember sophomore year, going into the game, one of their kids had tweeted, 'It's a bye week,'" he said. "If I know anything about Harlan, they're going to be having the same mentality. They lost to Lewis Central week one last year and still came back and won a state championship. To them, it's business as usual. To us, we've always got something to prove."
Harlan fell again this year to Lewis Central while the Panthers pulled off the upset against the Titans.
Morrison said this week he plans to emphasize that while the boys play first and foremost for each other, they also pay for alumni, former football players and the community.
"They're a Hawkeye 10 school, they're a good football program – we understand that," he said. "It's our first district game, that means something. It's homecoming, we'll have a huge crowd."
Briley said in order to find the win, they'll need to play fast and hard and minimize errors.
"Harlan's a tough team," he said. "We've got to go and compete. We've got to win in front of home crowd most importantly."
Stats
Creston 50, Ballard 21
Points by quarter
Cr 22 14 7 7 —50
Bal 0 0 7 14—21
SCORING SUMMARY
First Quarter
CR: Cael Turner 7 run (Josh Schaefer 2pt from Turner), 5:06
CR: Brennan Hayes 75 yard from Turner (Hayes kick), 2:19.
CR: Brandon Briley 57 yard from Turner (Hayes kick), 0:15
Second Quarter
CR: Carson Rieck 80 yard from Turner (Hayes kick), 5:35
CR: Briley 19 yard from Turner (Hayes kick), 1:10
Third Quarter
CA: Carter Essick 1 run (Kieran Polking kick), 5:12
CR: Hayes 73 yard from Turner (Hayes kick), 4:47
Fourth Quarter
CA: Essick 1 run (Essick 2 pt), 8:14.
CR: Weston Trapp 31 run (Hayes kick), 5:15.
CA: Evan Hammer 5 yard from Essick (kick fail), 1:32
—————
TEAM STATISTICS
Cr Ca
First downs 7 17
Rushes-yards 15-108 31-102
Passing 11-12-0 14-22-0
Passing yards 431 219
Total yards 539 321
Punts-avg 1-33 3-32
Return yards 4-67 7-127
Fumbles-lost 0-0 1-0
Penalties-yards 7-68.5 5-21.5
INDIVIDUAL STATISTICS
RUSHING — CR: Brennan Hayes 5-26; Cael Turner 2-5, 1 TD; Weston Trapp 5-61, 1 TD; Tanner Ray 2-17. CA: Cooper Ludwig 8-33; Christian Taylor 10-33; Carter Essick 7-14, 2 TDs; Chase Ragaller 5-19; Logan Menken 1-3.
PASSING — CR: Cael Turner 11-12-0 for 431 yards, 5 TDs CA: 14-23-0 for 217, 1 TD
RECEIVING — CR: Brennan Hayes 3-213, 2 TDs; Brandon Briley 5-123, 2 TD; Josh Schaefer 2-15; Carson Rieck 1-80, 1 TD. CA: Tate Schliesman 5-138; Evan Hammer 3-28, 1 TD; Ragaller 4-27; Edrik Heisterkamp 1-15, Christian Taylor 1-9.
PUNTS-AVG. — CR: Cael Turner 1-33. Mason Stitz 3-34.7
TACKLE LEADERS (total-solo) — CR: McCoy Haines 10-9; Will Bollinger 7.5-6; Max Chapman 7-6; Dillon Starlin 6.5-6; Lucas Travis 6.5-6; Austin Evans 4-2; Dylan Calvin 3-2; Jack Walter 2.5-2 CA: Jared Mohr 4-4; Quinten Polking 3.5-2; Carter Smith 2.5-2; Maddux White 2-2; Caden Mollhoff 2-2.
INTERCEPTIONS — CR: None CA: None.
FUMBLE RECOVERIES — CR: None. CA: None
TACKLES FOR LOSS — CR: Max Chapman 4.0. CA: Cooper Ludwig 1; Caden Mollhoff 1.