As a coach, Mike McCabe always tried to prepare his players for life beyond the softball field.
Now, he's about to apply those principles to a new chapter in his own life.
McCabe told his players Wednesday night at a postseason awards gathering that he will not return next year as head coach. Scott Driskell, activities director, has had McCabe's resignation letter shelved for two weeks to give the 20-year head coach a chance to tell his players first.
The job opening was posted by the district's administration on Thursday. McCabe will maintain his positions as a part-time teacher at St. Malachy School and middle school basketball coach.
"I just told them I've been a coach in the program for 31 years — my first year as assistant was in 1993 for coach (Mike) Gerleman and then I was assistant for Fox (Clinton) until I took over as head coach in 2003," McCabe said. "That's a long time. I told them I felt it was time for a new voice in the program, a new leader. I didn't want to be the guy who stays too long."
Reminiscing Thursday afternoon, McCabe said he remembers when he was trying to provide new energy into the program 20 years ago at the age of 42, after two Creston seasons of 12-29 and 11-30. The Panthers were 21-20 in McCabe's first season.
Creston is coming off one of its most successful softball campaigns in history, winning the 2022 Hawkeye Ten championship with a 19-1 record, including 18 straight victories. The Panthers were 25-5 overall (.833 percentage), falling 5-3 to conference rival Glenwood in the regional semifinals.
Despite the loss of four seniors, a lot of talent returns from that lineup including all of its varsity pitching, so McCabe's announcement came as a surprise. Accepting early retirement as a teacher in the district last year, he had to stop coaching at the end of June last year and re-applied for the coaching position after the period of inactivity required by Iowa Public Employees Retirement System (IPERS) stipulations.
Former Panther player Teri Keeler, McCabe's assistant for 19 of his 20 years as coach, finished the 2021 season as interim coach. It was the end of two traditions in summer athletics, as Steve Birchard retired as Creston baseball coach in 2021. Brandon Phipps succeeded him this year.
McCabe said advice he once heard from his predecessor, Ron "Fox" Clinton, came into play in making the decision recently.
"Fox once told me when it's time, you'll know," McCabe said. "I did not come into this season thinking this was going to be it. Things just occur that clue you in that maybe you should think about this a little bit. The cupboard is not bare, there is certainly a lot of young talent in the program. Maybe that makes it even more appropriate. I want the program to succeed. I put a lot of time into it, as did the players and other coaches."
Unexpected announcement
Citing that success, Activities Director Scott Driskell was caught by surprise when McCabe requested a meeting about three weeks ago.
"I'm excited for coach because I understand that he wants time to do some of the things he wants to do," Driskell said. "But, he's done such a good job for us from every angle. From managing kids, different situations, making it mean something with those extra things like traveling overnight to eastern Iowa. He's always been the ultimate professional and made some lasting memories for the kids."
Under the leadership of McCabe and Keeler, Creston has won seven Hawkeye Ten Conference softball championships and made three trips to the state tournament (2015, 2016, 2020), including a third-place finish in 2015. His overall record was 428-267 (.616).
McCabe and wife Lynn are the parents of two adult children, Brittany Shinn and Bryant McCabe. They have three grandchildren between the ages of 12 and 4.
"I missed a lot of my kids' stuff basically because I was coaching year-round back then," McCabe said. "So, I want to enjoy the grandkids and go to some of those things that I haven't been able to go to very often. I have a wife I owe some time to, for sure."
McCabe, who told his players they just gained their biggest fan for next season, admits there will be facets he'll miss from the daily coaching routine.
"Obviously, I'll miss the relationship with the kids and the day-to-day grind of trying to put a team together," McCabe said. "I will miss the practices. I enjoy those lifelong things, kids stopping by later on and going to their weddings and such. Coaching their kids."
The next coach will be just the sixth in the history of the softball program. The previous ones were Ellen Turbot, Eldon Gammell, Mike Gerleman and Ron "Fox" Clinton. Gammell took the 1975 team to the fall state tournament, Gerleman had a team in the 1978 summer state tournament and Clinton guided the 1996 team to state. Only McCabe has coached multiple Creston teams at state.
Long partnership
Keeler, a 1994 graduate, was a player when McCabe was an assistant before joining him for the long coaching partnership. She said McCabe was a mentor for her as she made the transition from player to coach.
"He was good about helping me take on the role as coach, even though I wasn't that far away in age from the seniors on the team," Keeler said. "He helped me grow as a coach. Ultimately, everything was his final decision, but he valued my opinion and there was respect both ways."
"Whatever it was, it worked for us," McCabe said. "We just had a way that we tried to do things and we were consistent with it. I'm not saying it was the best process, but it was ours, and the kids bought into it. That's the important part."
Driskell noted that the periods of sustained success in Creston athletics history all had a common denominator — consistent coaching staffs. He said that was a factor in McCabe's program.
"It's a strong tradition and the games are well-attended with a lot of young kids there who want to be a part of the program someday," Driskell said. "There are high expectations, and kids want to be a part of that and put in the work to do it."
As he looks back to his decision in 2003 to apply for the head coaching position, the Sheldon native and Briar Cliff College graduate is content with the outcome.
"I know not everyone was a fan of coach McCabe," he said. "Every coach needs to realize that for every one person who's happy, another probably is not. But, I'm grateful for the 20 years I had as head coach and the 31 total. I've had great people to work with as coaches, and so many super kids over the years. I'm sure it will feel very different next spring, but that's OK."
(A recap of the team's awards program this week will appear in Monday's News Advertiser.)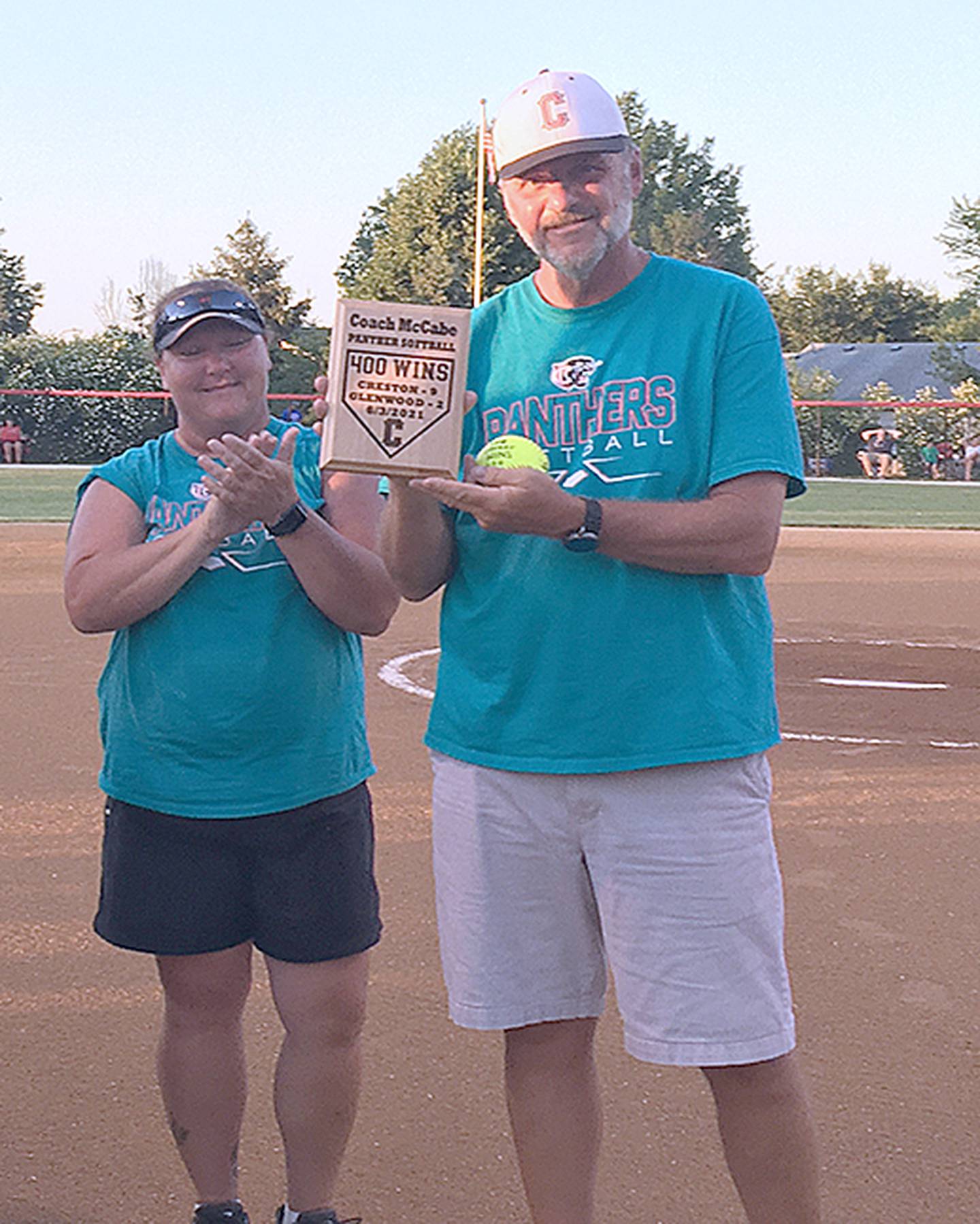 Mike McCabe's softball era
A summary of Mike McCabe's 20 years as head softball coach in Creston, beginning in 2003:
Career record — 428-267 (.624 winning percentage).
Hawkeye Ten championships (7) — 2009, 2010, 2011, 2012, 2014, 2015, 2022.
State tournament appearances (3) — 2015, 2016, 2020.
All-state players (9, plus 4 honorable mention) — Katlin Briley, Madison Frain, Haylee LaMasters, Sara Keeler, Taylor Briley, Gracie Hagle, Natalie Mostek, Alli Thomsen, Nevaeh Randall. Honorable mention: Aubrey Pendegraft, Brianna Maitlen, Shelby Kramer, Carla Smith.
State tournament all-tournament players — Josie Sickels, Haylee LaMasters (both 2015).