The new-look Creston girls basketball team came out firing to start the season Friday, sinking five 3-pointers in the first quarter of a dominant 53-10 victory over Des Moines Hoover.
Hoover, coming off a 3-19 season in which the Huskies scored more than 20 points just 10 times, was overmatched from the start against Creston's young, aggressive team that featured full-court pressure in the opening quarter. Creston had 19 steals in the game.
The Panthers raced to a 23-3 lead in the first quarter. During the scoring barrage, Ava Adamson sank back-to-back 3-pointers with Hollyn Rieck, Kadley Bailey and Ella Turner each making one.
The Panthers also converted numerous Hoover turnovers into transition attacks that resulted either in layup attempts or getting fouled. The Panthers attempted 22 free throws, but only hit 31.8% at the line with seven makes.
Rieck directed the fast break with good vision until going down with an undetermined knee injury late in the first half. She finished with a team-high five assists in just two periods.
"She landed awkwardly and right now it sounds like maybe a hyperextension," coach Tony Neubauer said of his sophomore point guard. "Hoover is a good matchup for us with the style that we want to play this season. The first quarter we shot well. Our free throw shooting has to get better. We had some turnovers, but that will be part of who we are this year."
The Panthers led 35-3 at halftime after a 12-0 second quarter. The mercy-rule running clock was enacted early in the third quarter after a 40-4 lead was established. Ten Creston players dressed varsity and all played extensively in the second half.
"We would normally have Braylee Pokorny in there, too, but she was on church trip so we didn't have her tonight," Neubauer noted.
Sophomore guard Kadley Bailey led a balanced Creston offense with 12 points. Bailey was pushed to the floor by a Hoover player in the first half, sending her to the foul line on a technical foul. That player removed herself from the game at that point and went to the dressing room, but returned in the second half.
"Kadley said the girl was jawing at her. I'm not sure what happened there," Neubauer said.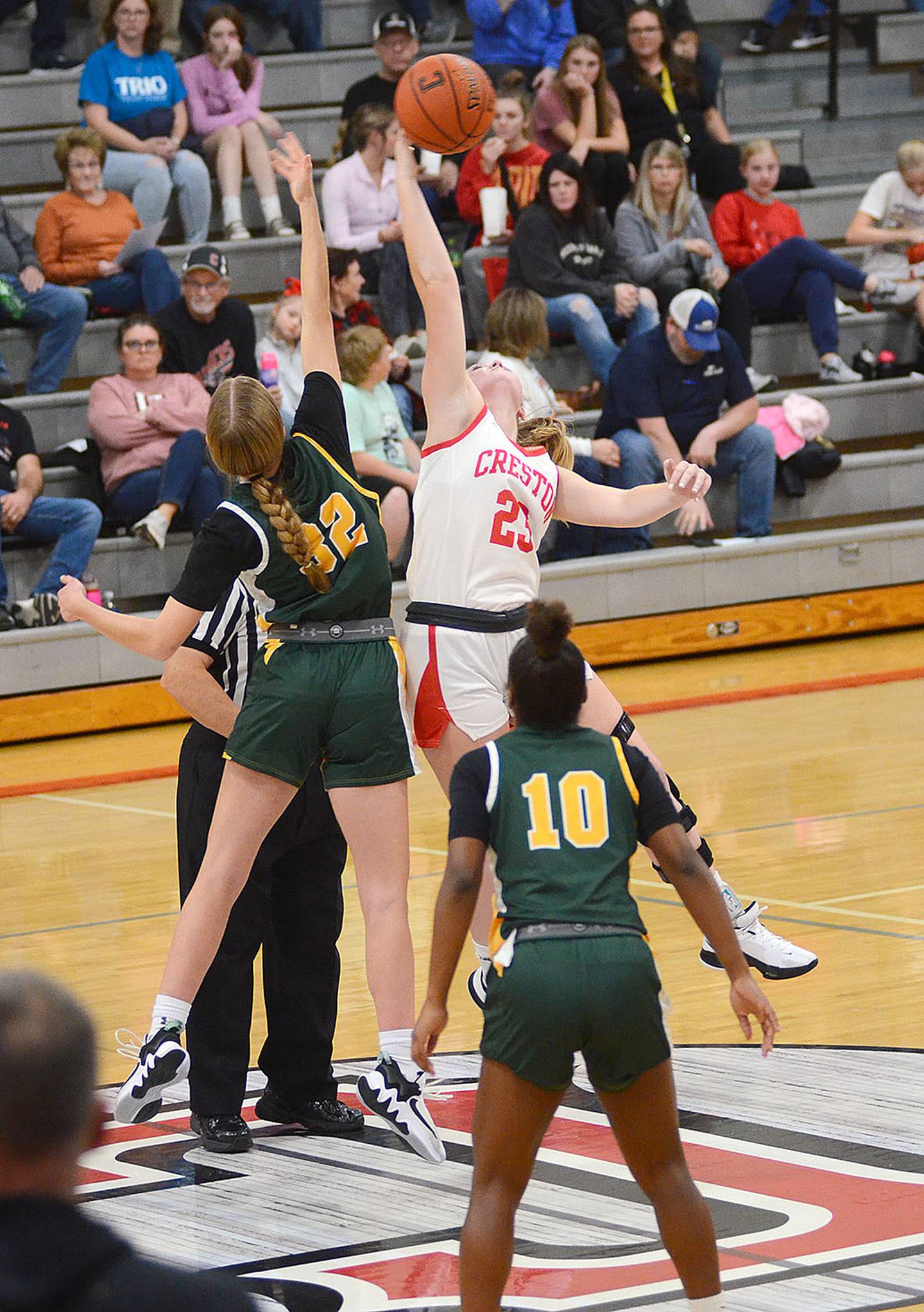 Sophomore post player Brynn Tussey added 11 points and five rebounds for the Panthers. Sophomore forward Ella Turner nearly had a double-double with nine points and a team-high 10 rebounds. She also dished four assists. Adamson provided a spark off the bench with eight points.
Creston shot 6-of-11 from 3-point range after shooting 18 percent from behind the arc last season.
"We'll score by committee this year," Neubauer said. "We're athletic. We have fast kids. They played hard and didn't get silly fouls, playing predominantly man-to-man defense."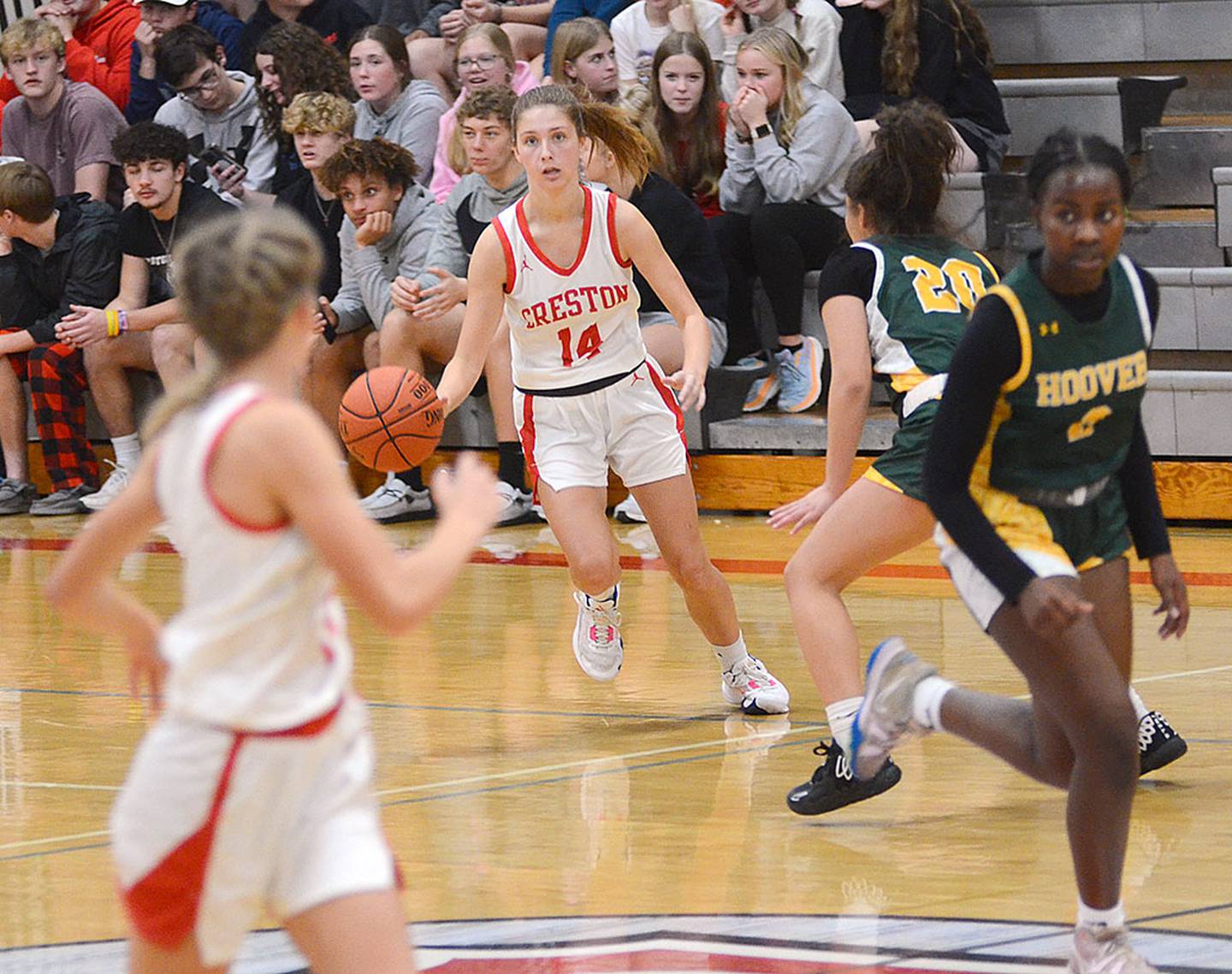 Creston's next game leads off a girl-boy doubleheader vs. Winterset on Nov. 27 at 6 p.m.
HOOVER (10) — Totals — (FG FT PTS)3 3-7 10. Alayna Jarrett 2 1-2 6, Takira Smith 1 1-1 3, Eleanor Ekwall 0 1-4 1. 3-point goals — 1 (Jarrett 1). Team fouls — 17. Fouled out — none.
CRESTON (53) — Totals — (FG FT PTS) 20 7-22 53. Kadley Bailey 4 2-8 12, Brynn Tussey 5 1-2 11, Ella Turner 3 2-4 9, Ava Adamson 3 0-0 8, Jaycee Hanson 3 0-2 6, Hollyn Rieck 1 0-2 3, Alyssa Gerdes 1 1-2 3, Lydia Goins 0 1-2 1. FG shooting — 20-53 (37.7 percent). 3-point goals — 6-11 (Bailey 2, Adamson 2, Rieck 1, Turner 1). Rebounds — 41 (Turner 10, Ady Morrison 6, Bailey 6, Tussey 5, Gerdes 5, Adamson 3). Assists — 15 (Rieck 5, Turner 4, Bailey 2). Steals — 19 (Rieck 3, Bailey 3, Tussey 3, Adamson 3, Gerdes 3, Turner 2). Turnovers — 12. Team fouls — 11. Fouled out — None.