GREENFIELD — Twelve of Highway 34′s 14 wrestlers hit the mat for the first time this season Monday at the Valkyrie Open at Nodaway Valley. The team would end the night with three individual champions and the team title, defeating S.W.A.T. by only four points.
"We are very excited about the win last night," Hwy 34 coach Maggie Arnold said. "I thought the girls competed really well. It was evident their hard work they had put in at practice the last two weeks surfaced in competition."
Winners
Winning their brackets for Hwy 34 were Alainah Galanakis (125), Zoey Vandevender (135) and Savannah Sistad (235). Maddie McCoy (115) of Southwest Valley, Jazz Christensen (100) of Nodaway Valley (S.W.A.T.) and Grace Britten (170) of Nodaway Valley (S.W.A.T.) also won their weight classes.
Galanakis started strong her first time on the mat, getting two takedowns on Oriana Meyers of West Central Valley in the first period. Early in the second period, she pinned Meyers.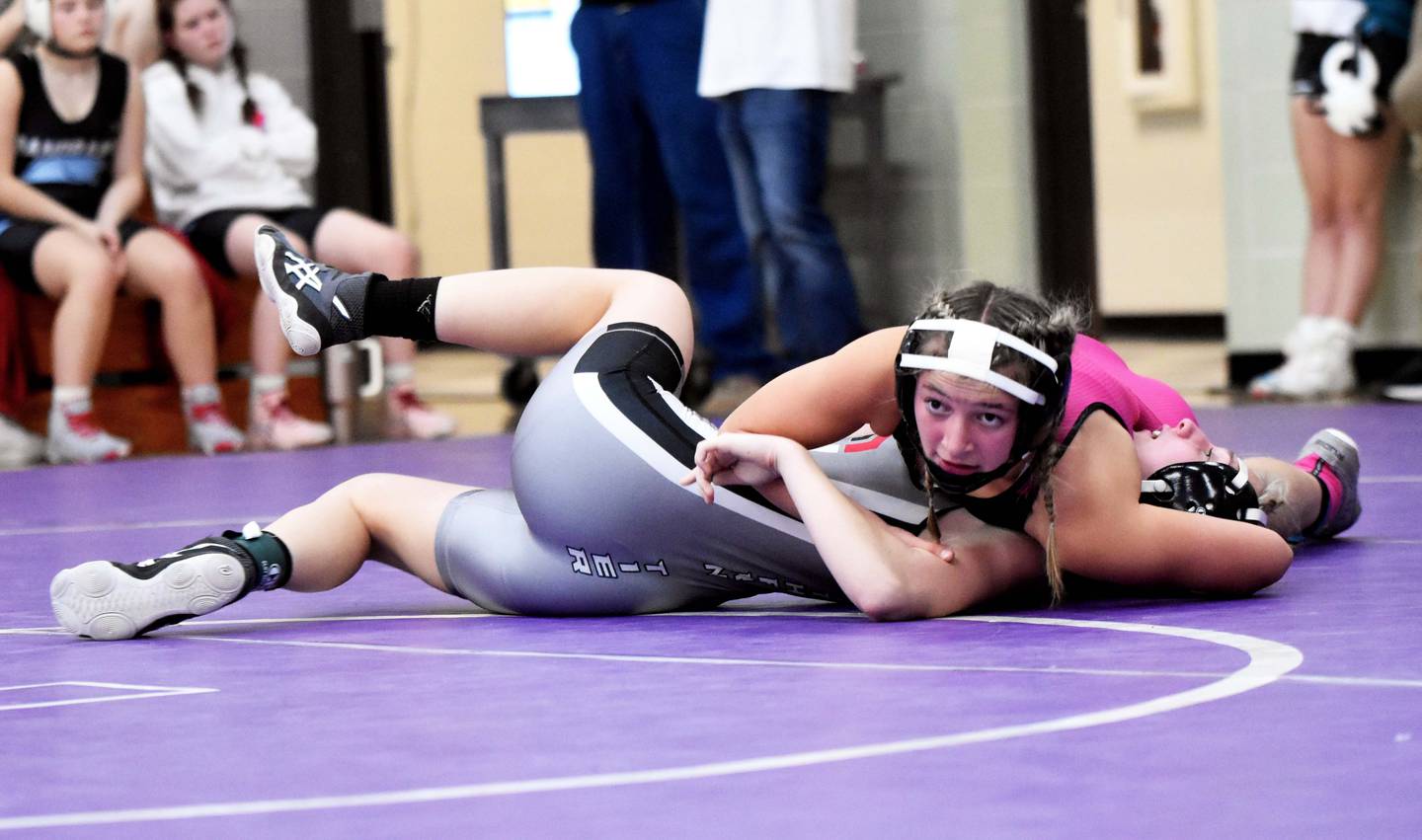 In the semifinals, Galanakis wrestled Emma Hill of Southern Tier. She was up 11-0 on Hill before pinning her with 43 seconds left in the second period. In the finals, it was Raya Parker of S.W.A.T. against Galanakis. The battle lasted three rounds, Galanakis winning in an 8-5 decision.
"The tournament gave all of our newcomers some very valuable experience at the high school level," Arnold said. "Alainah taking first at her first ever tournament was a very encouraging start to her wrestling career."
Returning wrestler Zoey Vandevender picked up right where she left off, finishing at the top of the 135 lbs bracket. She pinned Rhowen Miller of West Central Valley and Josie McCunn of Red Oak in her first two matches. In the finals, Vandevender faced Sophia Schumacher of Western Iowa where she found her third pin of the night for the win.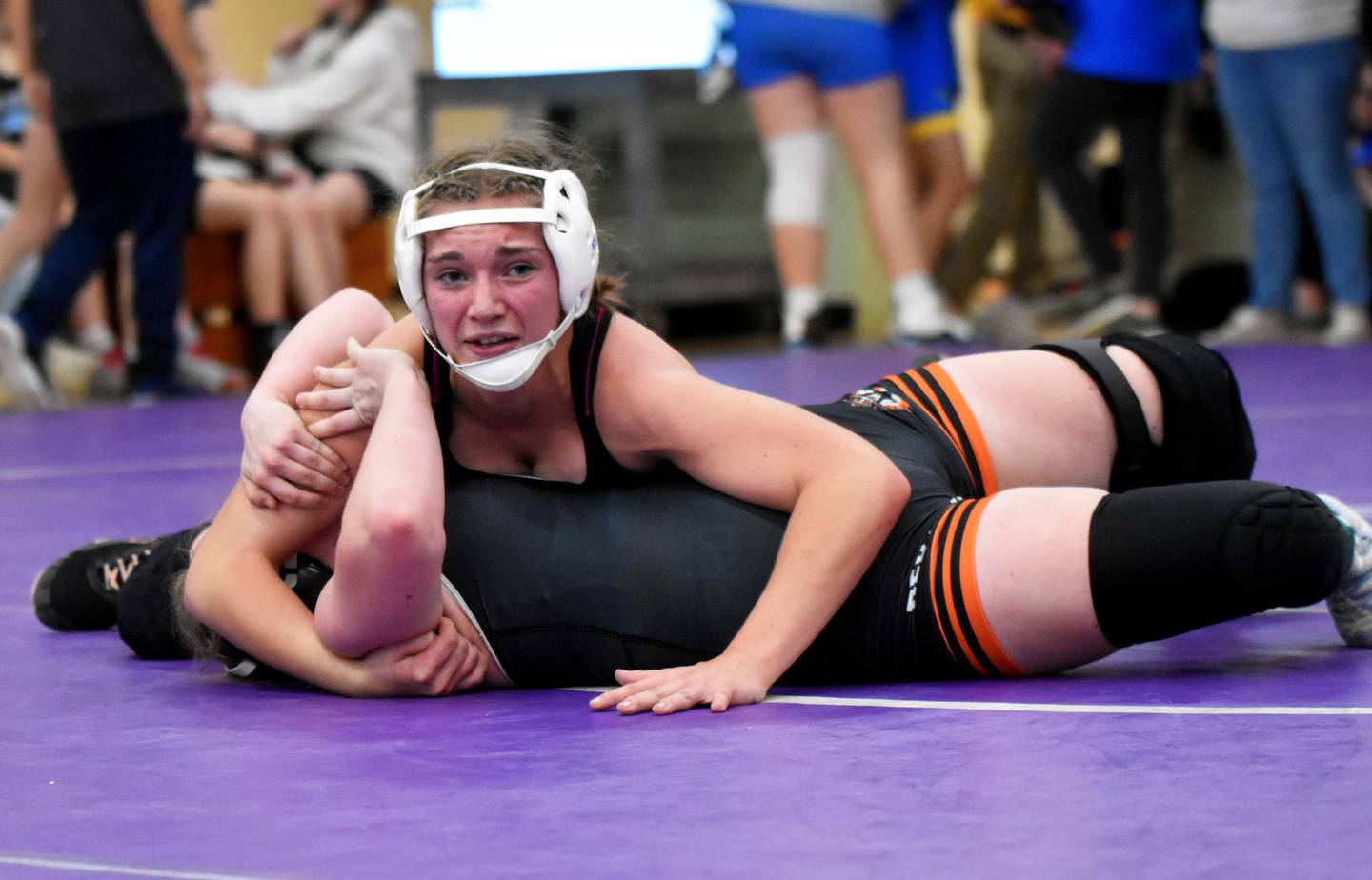 Returning state place-winner Savannah Sistad coasted to the championship, pinning her first opponent in 33 seconds and her next in 21 seconds. In the finals, she went three rounds with Makenna Fetters of Martensdale-St. Mary's, but won in a 2-1 decision.
Second place
Taking second place in their weight classes were Quynn Foster (105), Khloe Parker (110), Evy Marlin (130) and Cheyenne Dike (140).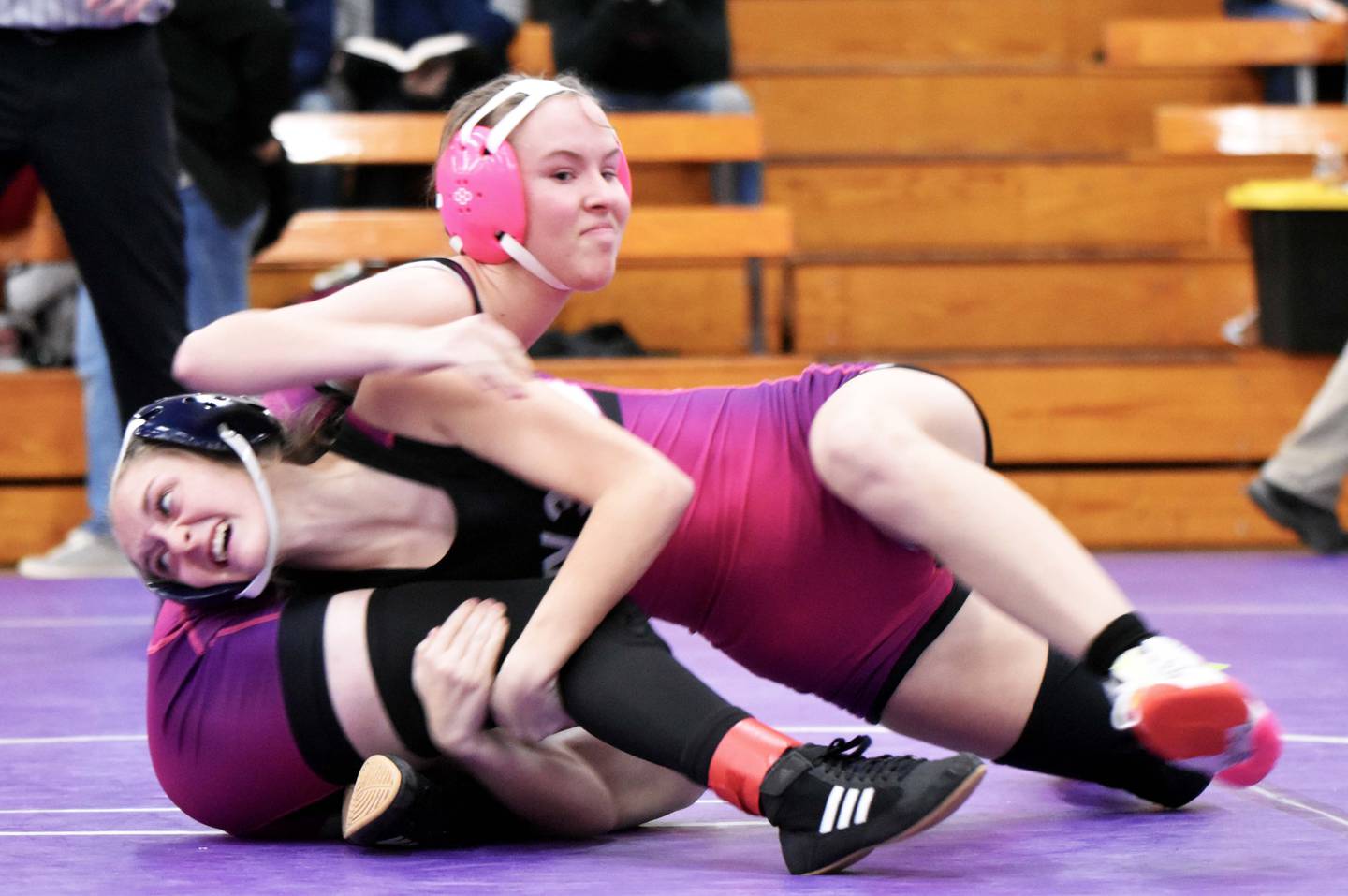 Foster took down teammate Hope Woods in the first round, pinning her late in the first period. In the second round, Foster wrestled Ella Carico of Panorama in another first-period pin. In the finals, she fell in a 9-1 major decision to Myla Nehring of Martensdale-St. Mary's.
After a first-round bye, Parker had an exhilarating semifinals match, going into a fourth overtime before a reversal by Parker sealed the 7-5 victory, advancing her to the finals. In the championship bout, Parker was pinned by Kacy Miller of Western Iowa.
"We had a great semifinal round," Arnold said. "That gave us our boost in the team race in order to hang on for the title."
Marlin, a former S.W.A.T. wrestler, pinned her first two opponents in the first period before facing Nicole Bond of Red Oak. The ladies duked it out for three periods, but Bond took the 5-3 decision and the title.
Third place
Placing third for Hwy 34 were Sydney Hoffman (115) and Mila Kuhns (135).
After Kuhns fell in the first round, she wrestled-back to third by pinning McCunn of Red Oak and Miller of West Central Valley.
Hoffman was pinned in round one by the 115-lbs champion, McCoy of Southwest Valley, but came back to pin Gretchen Wearmouth of Martensdale-St. Mary's and Natalie Waltz of Panorama to take bronze.
Grace Keeler took fourth in the 130 lbs bracket.
The girls return to action Saturday at a tournament in Nevada.
Photos available online at www.crestonnews.com under Photo Store.