DENISON — The Creston volleyball team had an untimely serving lapse in Thursday's Hawkeye Ten match at Denison-Schleswig.
The Panthers served at just a 70.5% rate, far below their season average of 84 percent, in falling in straight sets to the Monarchs, 25-21, 25-23, 25-16.
"We had 18 misses on serves," Creston coach Teresa Arkfeld said. "That was our problem tonight. If you can't the ball in the court then it's hard to get going. We played pretty well other than serving."
In a matchup of teams seeking their first Hawkeye Ten victory, Denison-Schleswig improved to 1-19 for the season and 1-3 in league play, ending a 42-match losing streak dating back to last season's 23-match skid after starting the 2022 season 3-2.
Addison Inman, a 5-9 senior, led the Monarchs with 10 kills. Sophomore Emily Gehlsen added six kills. Maria Cardenas had three blocks.
Jaycee Hanson led Creston with eight kills. Kolbey Bailey added four. Morgan Van Gelder served three aces. Kylie Metheny had a team-high seven digs as the Panthers fell to 0-5 in conference play.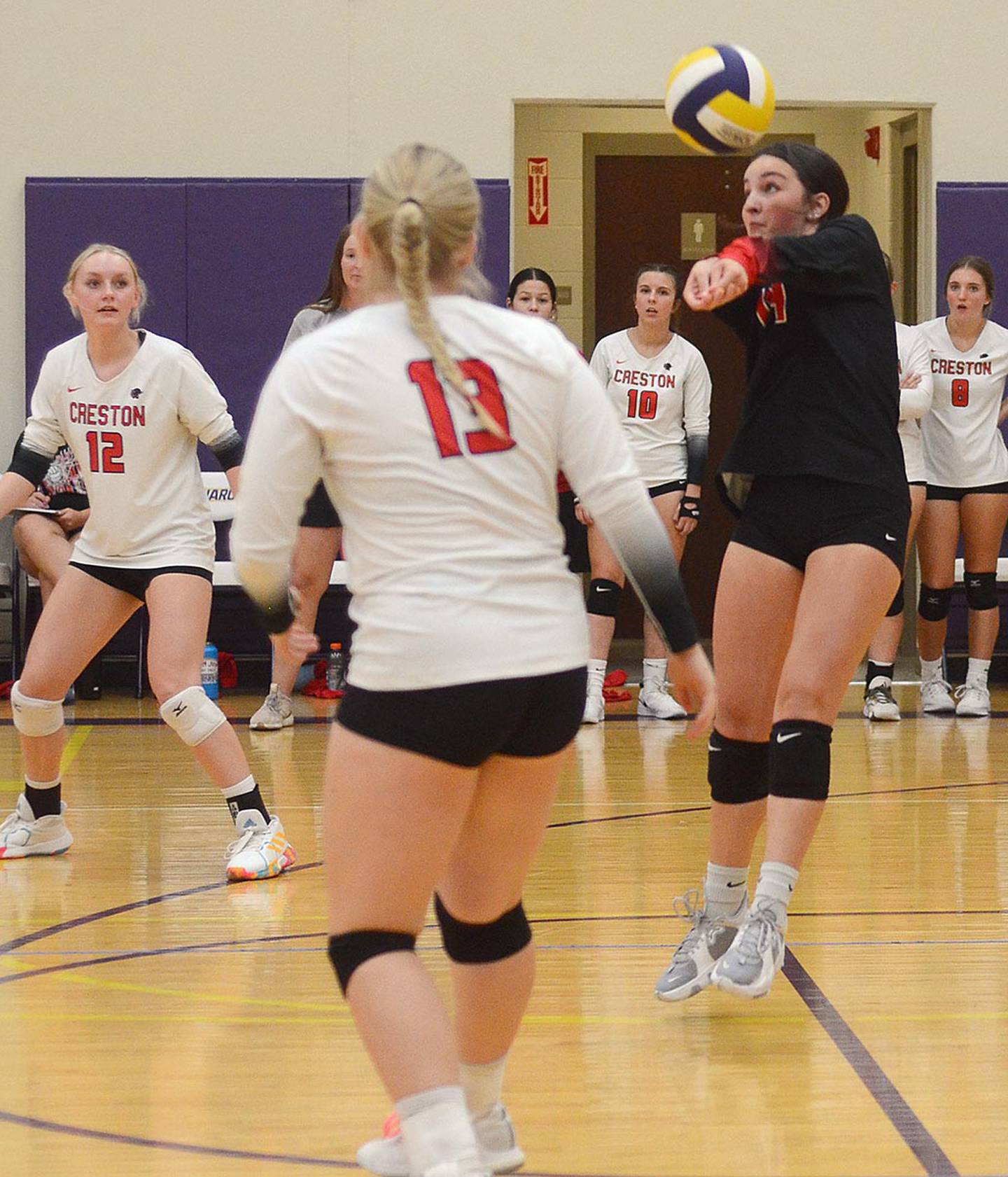 The Panthers were playing without two starters. Setter Kadley Bailey is out of action four to six weeks with a broken hand from a fall in a Peppers dance team practice last week. Hollyn Rieck has assumed the bulk of the setting duties and had 12 assists Thursday.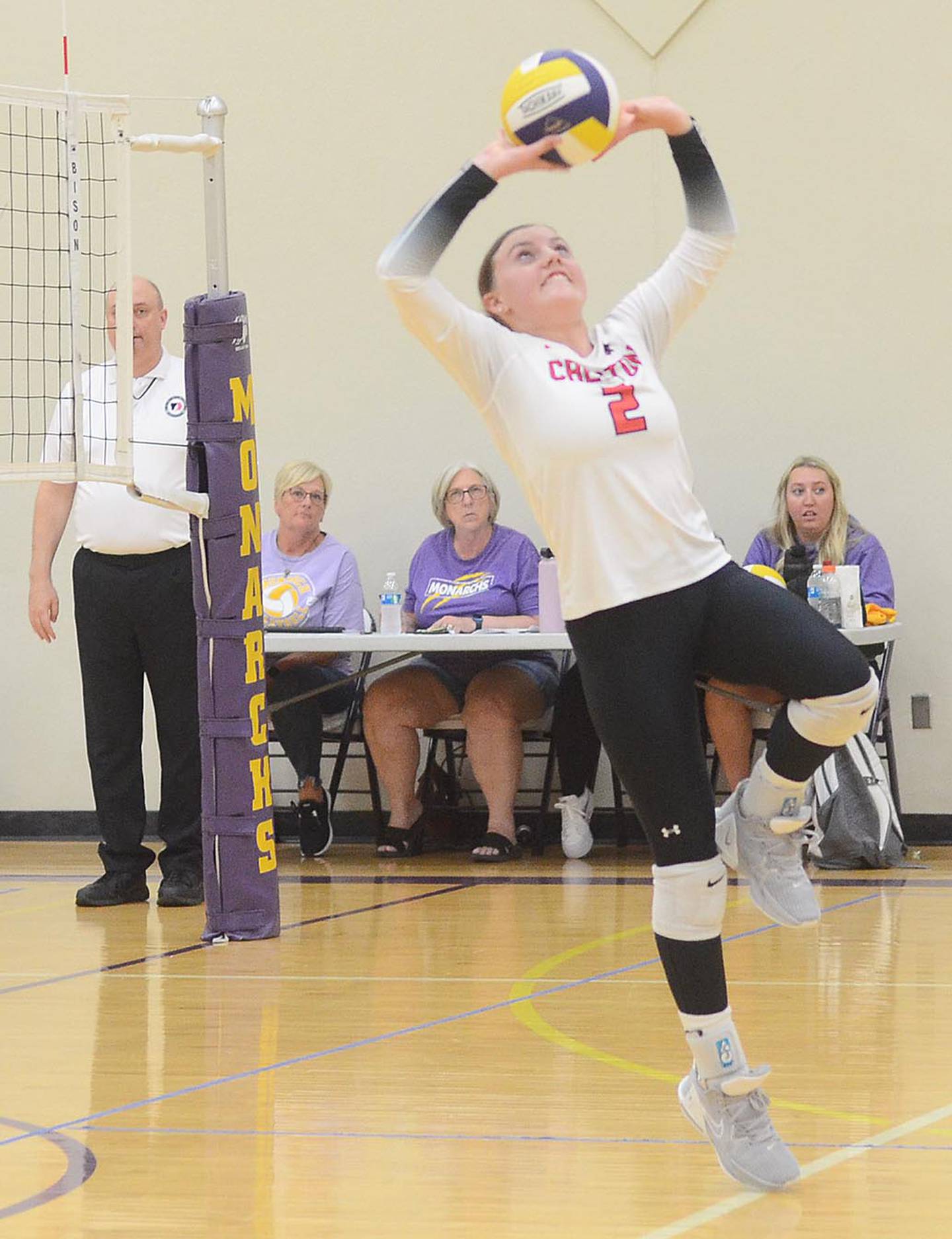 Also out Thursday was defensive specialist Mila Kuhns, but Kuhns was back with the Panthers Saturday at Red Oak.
Creston is now 5-14 overall with a 10-match losing streak after going 0-4 in a competitive pool at Red Oak Saturday. Both finalists, Class 3A second-ranked Mount Vernon, and Class 5A No. 14 Council Bluffs Abraham Lincoln, came from the preliminary pool that also included Creston, Lenox and Clarinda.
Mount Vernon went 6-0 for the day, topping Abraham Lincoln 2-1 in the championship match. Lenox went 1-3, edging Creston in a close match 21-15, 22-20. Izzy Curtis led Lenox with six kills and Sadie Cox added four. Gabby Robles had 12 digs for the Tigers. Delaney Funk had nine assists.
For the day, Kolbey Bailey and Ella Turner each compiled nine kills for the Panthers and Jaycee Hanson contributed seven. Braylee Pokorny had four blocks. Rieck finished with 35 assists and 15 digs. Bailey had a team-high 18 digs. Hanson added 16.
Creston travels to Clarinda (10-8) in a Hawkeye Ten match Thursday. Clarinda beat both Creston and Lenox Saturday in 2-0 matches.
Denison-Schleswig 2, Creston 0
Serving (aces) — Morgan Van Gelder 15-17 (3), Bailee Schmitt 8-11, Braylee Pokorny 6-8, Hollyn Rieck 4-6 (2), Kolbey Bailey 2-6 (1), Jaycee Hanson 8-12.
Attacks (kills) — Jaycee Hanson 8, Kolbey Bailey 4.
Blocks — Kolbey Bailey 1, Brynn Tussey 1, Bailee Schmitt 1.
Setting (assists) — Rieck 12, Bailey 2.
Digs — Kylie Metheny 7, Bailey 5, Hanson 5.
Red Oak Tournament
Clarinda def. Creston 21-15, 21-18
Lenox def. Creston 21-15, 22-20
Mount Vernon def. Creston 21-8, 21-11
Abraham Lincoln def. Creston 21-10, 21-6
Creston statistical leaders
Serving (aces) — Kolbey Bailey 2, Jaycee Hanson 1, Hollyn Rieck 1.
Attacks (kills) — Bailey 9, Ella Turner 9, Hanson 7, Braylee Pokorny 5, Rieck 4, Brynn Tussey 3.
Blocks — Pokorny 4, Bailey 3, Turner 1, Tussey 1.
Setting (assists) — Rieck 35, Bailey 3.
Digs — Bailey 18, Hanson 16, Rieck 15, Turner 14, Mila Kuhns 13, Kylie Metheny 8.