RED OAK — Five Panthers earned medals at the Red Oak Invitational Monday afternoon as the girls raced to a third-place finish and the boys took fourth.
"I feel really good about this," Creston Coach Maggie Arnold said. "This is a very challenging course, and I thought the kids overall handled it very well."
Junior Payton Davis continues her significant improvement over last season, finishing nearly five minutes faster. Her 23:36.08 led the Panthers and earned her seventh overall.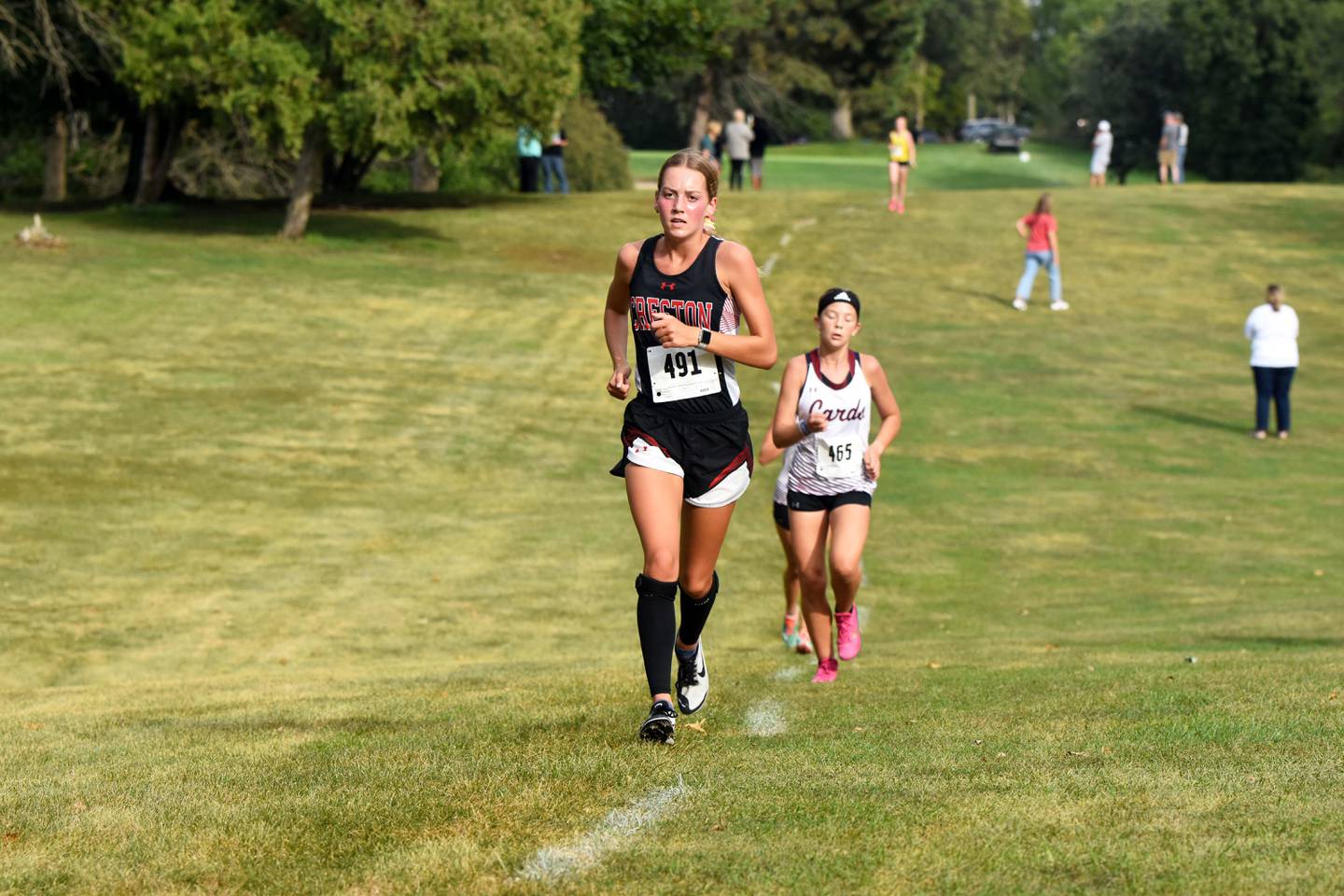 "It feels really good," Davis said. "Honestly, I was really hoping to improve this year from last year. Now it's building my confidence." Midway through last season, Davis was told she had an iron deficiency. After correcting the issue, her times have drastically improved.
Freshman Reese Strunk came in close behind Davis, taking ninth in 24:37.65.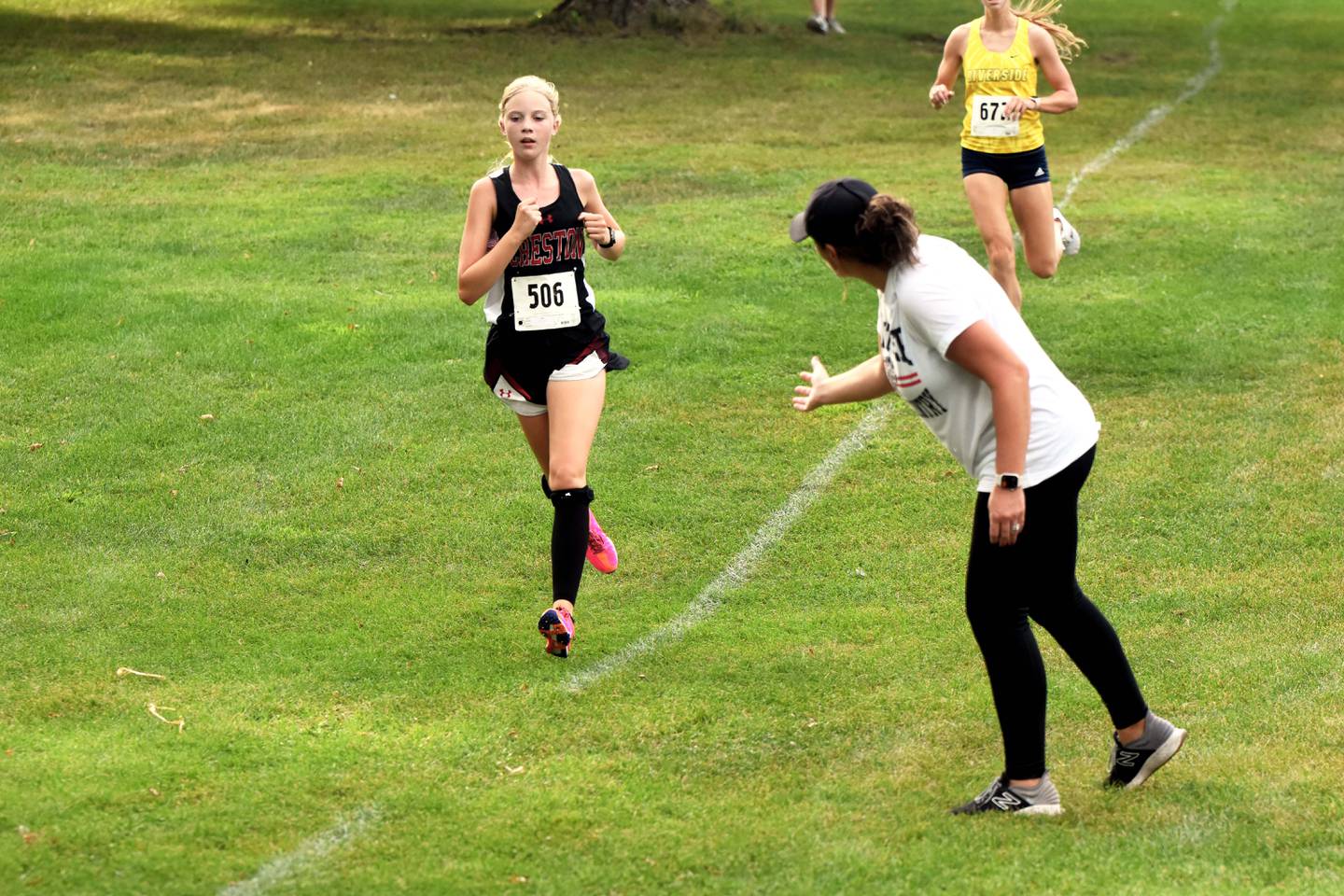 "I was hoping that Payton would have a top 10 finish and Reese would have a top 20 finish, but to get both in the top 10 in the girls race I thought was awesome," Arnold said. "They train really hard together in practice every day, so that's making them better."
Davis said she appreciates having Strunk there to push her in practice and at meets.
Gretchen Hoepker and Karter Clayton finished 23rd and 24th, respectively. Abby Freeman took 35th to round out the Panthers.
"The other three girls, it's their first year being out for cross country," Arnold said. "Looking at them compared to some of my girls from previous teams, they're right where they need to be."
Boys
After finishing fourth for the Panthers in Winterset, senior Anthony Eblen was determined to put the race behind him and get back up to the front of the pack. In Red Oak, he did just that, taking 11th place with a time of 20:32.72, a minute faster than his time last year.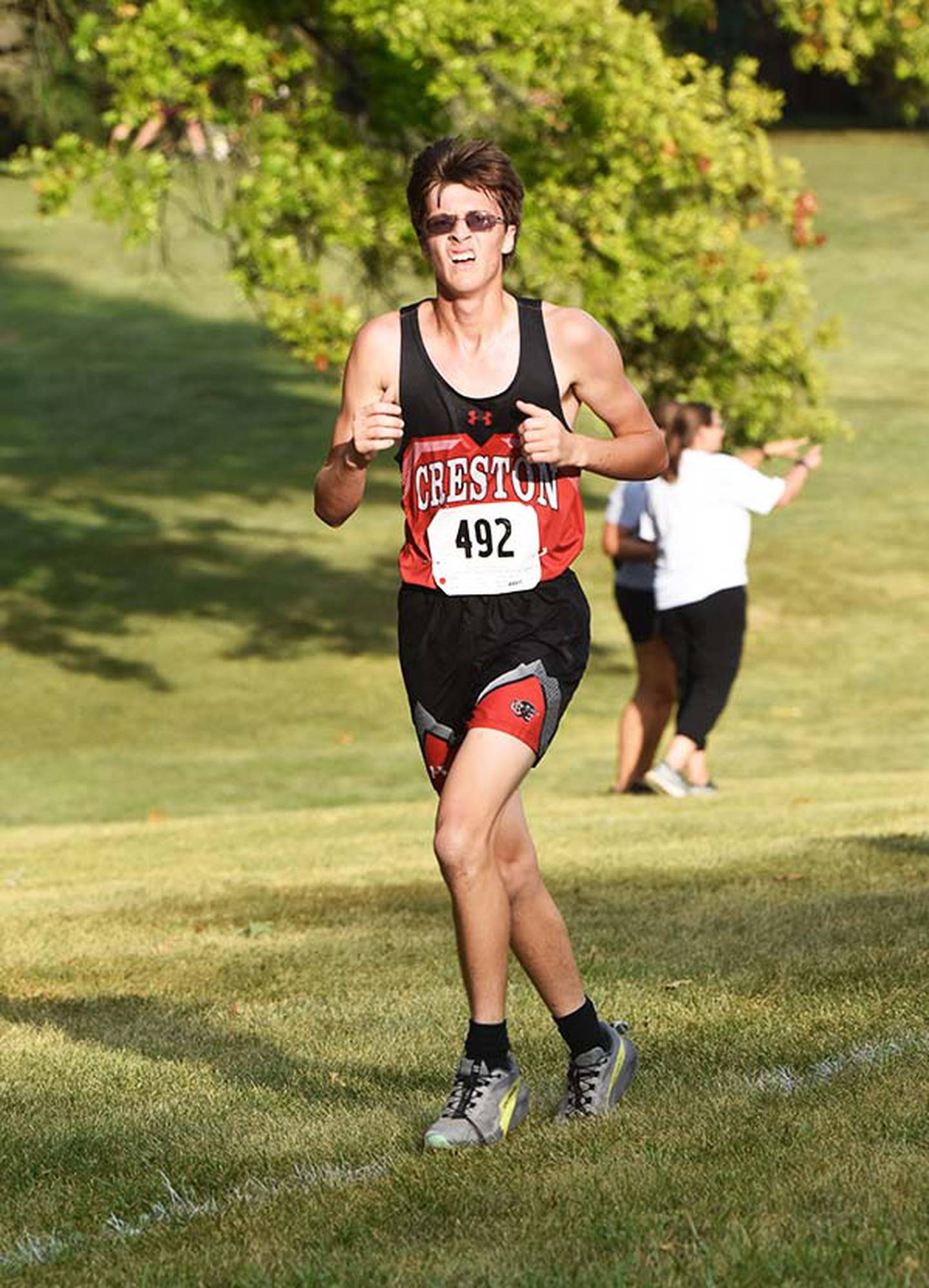 "Anthony was disappointed that he wasn't the number one runner at the last meet, so he came out and he did something about it which is what I always want to see my athletes do," Arnold said. "Having a disappointing race is not the end of the season. He came right back today and picked up where he was before that race."
Close behind him were two young runners - sophomore Owen Weis and freshman Wyatt Goodenberger. Weis finished 15th in 21:14.68 and Goodenberger in 20th in 21:39.42. All three runners earned a medal for their top 20 finishes.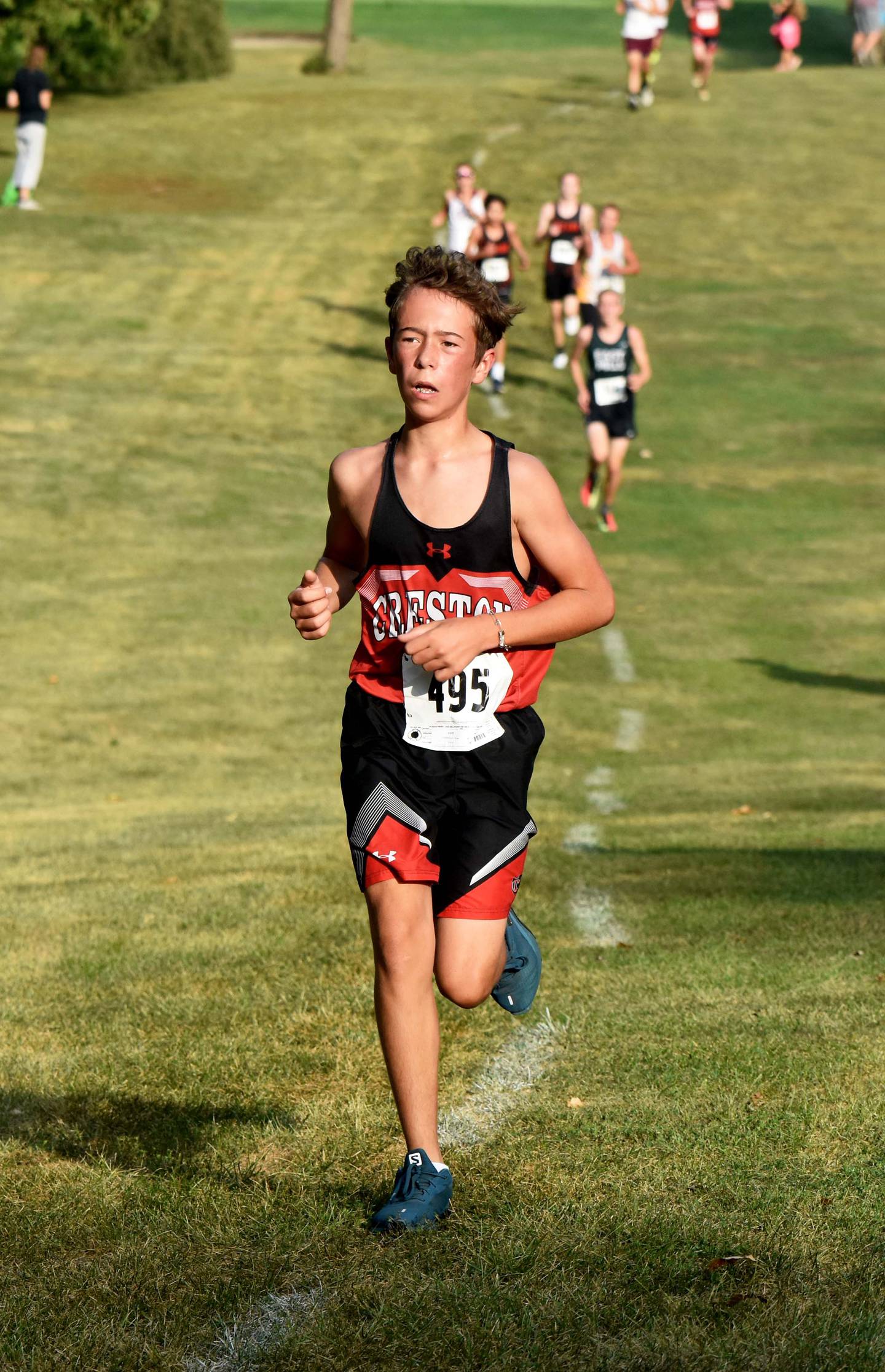 "I thought today went well. I was just trying to get my times down and try to medal," Eblen said. "I love having Wyatt and Owen there. It's good motivation."
Arnold said the young runners are just at the surface of what they can do. "Wyatt and Owen have extreme endurance," she said. "They just have not even yet realized what their potential actually is. They're great little runners, especially being so young. I'm excited to see how their times will come down from year to year, even just as they get stronger and bigger."
Rounding out the scoring for the Panthers were Christian Ahrens, 24th, and Allen Kendrick, 30th. Ahrens ran more than a minute faster than last year. The boys' score placed them fourth out of the five competing teams.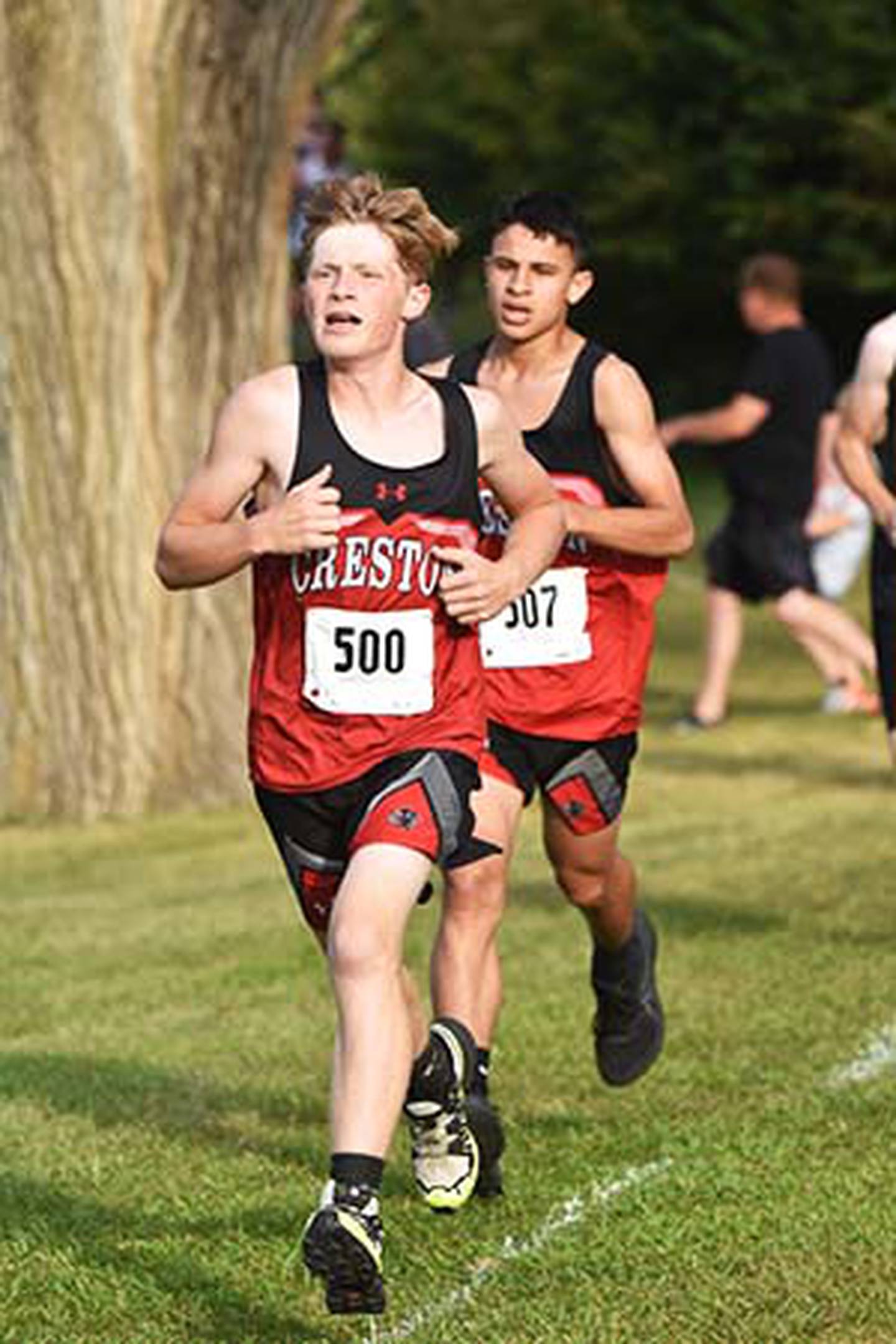 "I don't know that, since I've started coaching, that I've had [three medalists] on the boys side at any meet," Arnold said. "We finished last at Winterset, but in the last three years that I've been coaching, I feel like this is the most complete boys team that I've had, so I'm really happy with their finishes."
Hector Suazo and Gabe Hopkins completed the varsity lineup, finishing 36th and 42nd, respectively.
On junior varsity, Kylen Parsons and David Mohr earned medals for the Panthers. Running without arms, the hilly Red Oak course proved a challenge for Mohr.
"This is a challenging course and I told him, having to use all legs, he's going to have to really utilize the downhills today in order to make it up those hills," Arnold said.
With an uphill right before the finish, Mohr sprinted up against Lucas Sun from Shenandoah, both giving it their all. "David had a heck of a finish," Arnold said. "It was a dog fight there at the end for him. He looked great."
Stats
GIRLS
7. Payton Davis - 23:36.08
9. Reese Strunk - 24:37.65
23. Gretchen Hoepker - 27:06.58
24. Karter Clayton - 27:09.24
35. Abby Freeman - 30:21.21
TEAMS
1. Clarinda - 31
2. Riverside - 45
3. Creston - 74
4. Red Oak - 88
5. Southwest Valley - 135
6. Stanton - 150
BOYS
11. Anthony Eblen - 20:43.72
15. Owen Weis - 21:14.68
20. Wyatt Goodenberger - 21:39.42
24. Christian Ahrens - 22:12.00
30. Allen Kendrick - 23:00.56
36. Hector Suazo - 23:29.37
42. Gabe Hopkins - 23:53.02
46. Kylen Parsons - 24:29.46
62. David Mohr - 30:41.81
TEAMS
1. Clarinda - 20
2. Shenandoah - 57
3. Red Oak - 63
4. Creston - 88
5. Southwest Valley - 149