COUNCIL BLUFFS — Dylan Calvin wasted no time for his moment of redemption Friday night.
Seconds earlier, Calvin unsuccessfully tried to make up ground on Lewis Central 6-foot-7 receiver Lual Maker when he hauled in a pass from Brady Hetzel for a 45-yard touchdown. That closed Creston's lead to 22-20 with 59 seconds left in regulation.
As Maker strolled into the end zone, Calvin dropped to his knees and punched the new Lewis Central turf in frustration.
If the Titans would convert the ensuing two-point play, the game between two state-ranked teams would likely go into overtime. If denied the end zone, LC was headed toward its first defeat as the team ranked No. 1 in Class 4A (Associated Press).
On the two-point play, Hetzel rolled out and looked for his favorite target — Wayne State University recruit Curtis Witte, who earlier had returned a punt for a touchdown against the Panthers.
Witte had to pause to make the catch, and Calvin quickly closed in. The 165-pound Calvin drove the 185-pound Witte to the ground short of the goal line. Josh Schaefer, who had seven receptions in the game, fielded Lewis Central's onside kick and the Panthers ran out the final seconds by kneeling the ball.
Creston 22, Lewis Central 20.
It was an upset that made news statewide, as Lewis Central had reached its No. 1-rating after edging Class 3A defending state champion Harlan in the season opener, 21-20.
Afterward, Calvin admitted he was playing with extra determination after realizing he'd made a costly mistake in coverage.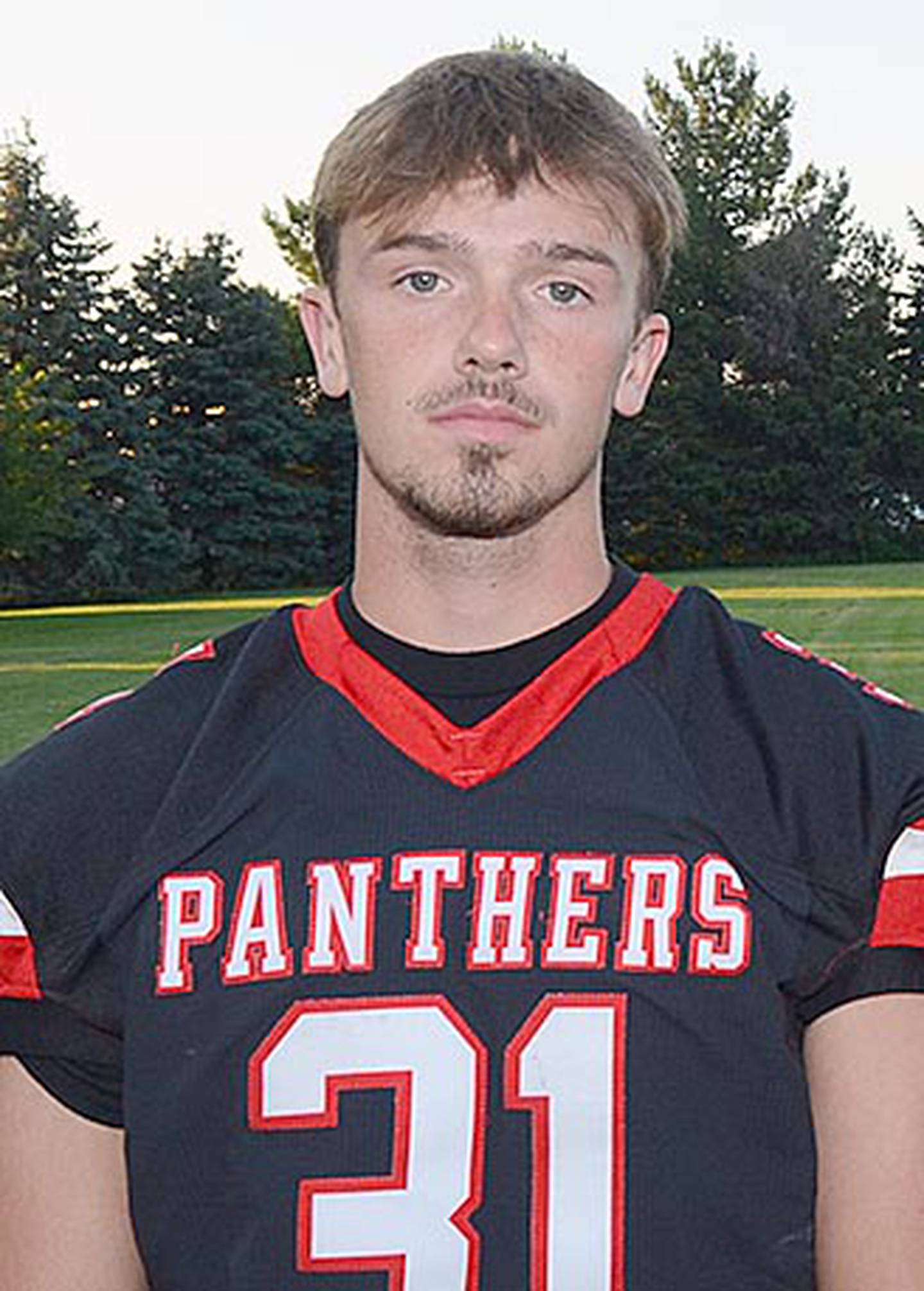 "He got by me and it was a perfect throw," Calvin said. "I was down on the ground. I looked up and thought, man, we can't go out this way. My teammates came up to me and said I have to bounce back. Show how much heart you've got and make the next play. The throw was a little short, so he (Witte) wasn't in the end zone yet. I just stopped him. I thought, he's not getting in. No way."
"That's him," quarterback Cael Turner said. "That's just the kind of player he is."
"That was just sheer will and athleticism," said receiver Brandon Briley.
Turner was as relieved as Calvin afterward, because after playing a nearly flawless game with 14 completions for 165 yards and a rushing touchdown, he lost the ball on a fumble while the Panthers were trying to drive for the clincher to go ahead by two scores with 5:15 left at the LC 15-yard line.
The Panther defense held Lewis Central on fourth-and-two at the Panther 17 on the next drive, but had to give the Titans another possession with 1:47 left on a punt after failing to get a first down. Four plays later Hetzel connected with Maker for the touchdown that closed it to two points.
The Panther defense, which yielded 428 yards in the game, made the stop of the game on the extra-point play.
"You're talking about a team that's been to the dome how many years in a row?" Creston coach Brian Morrison said, referring to his alma mater Lewis Central. "I mean, they expect to win this football game. They expect to march down and get it to overtime. On the extra point we loaded the box to stop the run, and played four tight (one on one) on their receivers. Cover zero. We had kids step up all night, and that time Dylan made the play."
12-year drought
The win was Creston's first over Lewis Central since 2011, when Keaton Hulett made a tackle on a two-point attempt to preserve a 21-19 win in similar circumstances. Friday's win ended a six-game losing streak against the Titans.
On another historic note, Friday's victory over a No. 1-ranked team was the first since Creston beat Harlan 22-17 at home in a rainstorm in 1997. It was Harlan's only loss in a 12-1 championship season.
Nonetheless, Morrison wasn't describing Friday's outcome as a huge upset.
"To be honest with you, our kids practiced to come here and win the football game," Morrison said. "I thought we executed a good game plan on both sides of the ball. They are a very good team. It's always good to win a tough non-district game."
The back and forth battle and dramatic ending, while it didn't have the same immediate high stakes, resembled Creston's 50-49 overtime win over fifth-ranked Dallas Center-Grimes in the Class 3A quarterfinals in 2014, resulting in the program's first and only playoff trip to the UNI-Dome.
Creston defensive lineman Max Chapman stuffed a running play for no gain and had a tackle for loss on Lewis Central's first offensive series, providing the Panthers a chance to score first on quarterback Cael Turner's 4-yard option keeper with 5:18 left in the first quarter. The extra point kick was blocked.
After Creston's next offensive possession stalled, Witte returned a McCoy Haines punt 52 yards for a touchdown and the kick gave Lewis Central a 7-6 lead late in the opening period.
7-6 halftime
The half ended with that 7-6 score as Creston made two defensive stands, one ending in a missed 41-yard field goal and the other on an interception in the end zone by Calvin, who had two picks in the game. (Haines also nearly had one in the first half with nothing but daylight ahead of him, but after one step the ball came loose and officials ruled it an incomplete pass.)
A bad punt snap put Creston in a tough field position situation early in the second half, but Lewis Central missed a second field goal attempt from 25 yards.
After a 2-yard run, the Panthers connected through the air for the go-ahead score. Briley stopped briefly on his route as Turner pump-faked, and then flew downfield and cradled a perfect long pass from Turner for a 53-yard touchdown. Leading 12-7 at the time, the Panthers went for two points and Turner found Josh Schaefer open on a rollout pass to make it 14-7.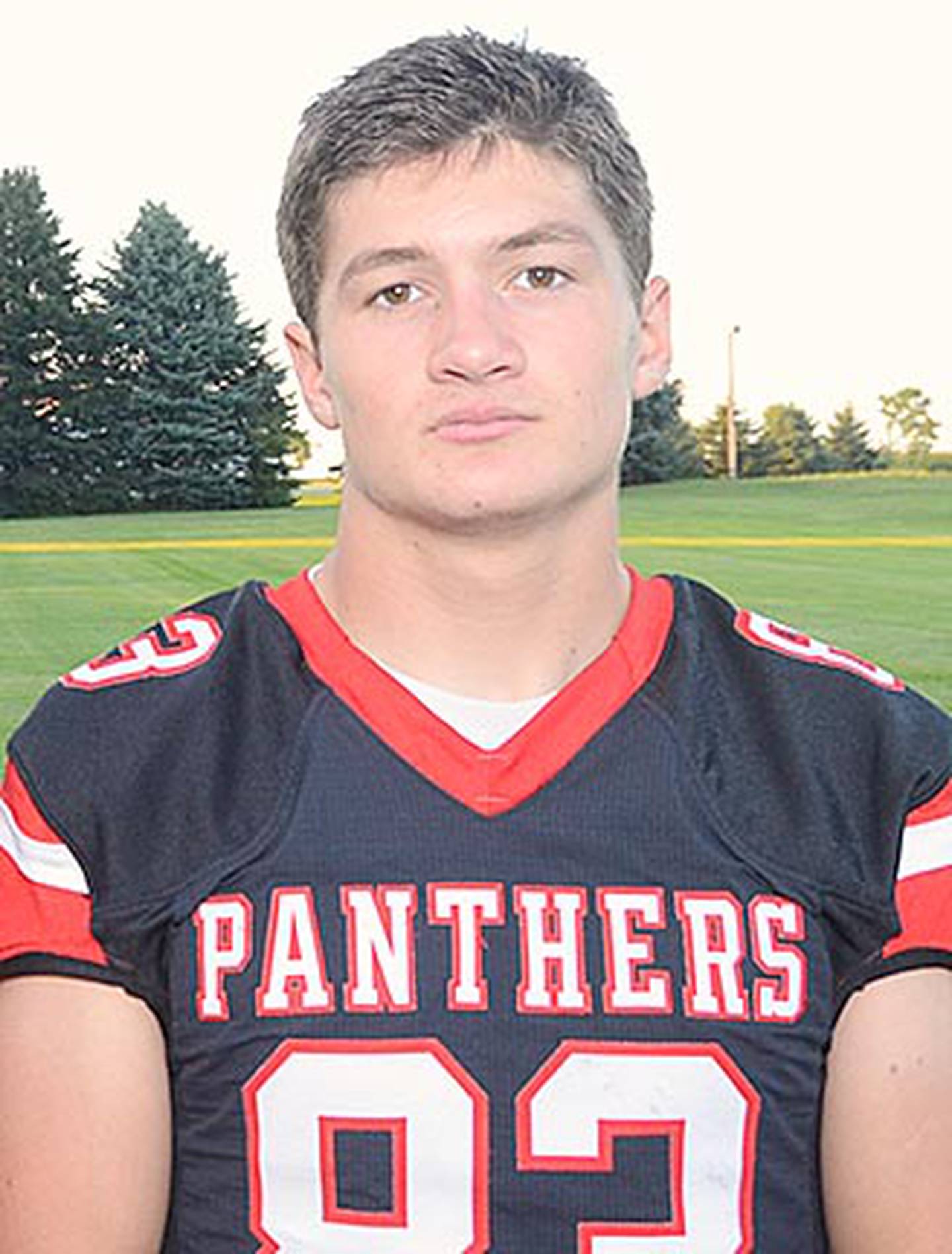 "It was just a simple stop and go," Briley said. "I ran a hitch, got the corner to bite, and once he flew past me I just went to the end zone and Cael put a dot on me. Tuddy."
Kamdyn Cross, son of 1993 Creston graduate Kadon Cross, was the workhorse on a Lewis Central drive that ended with a 9-yard scoring run by Cross as the Titans tied it, 14-14.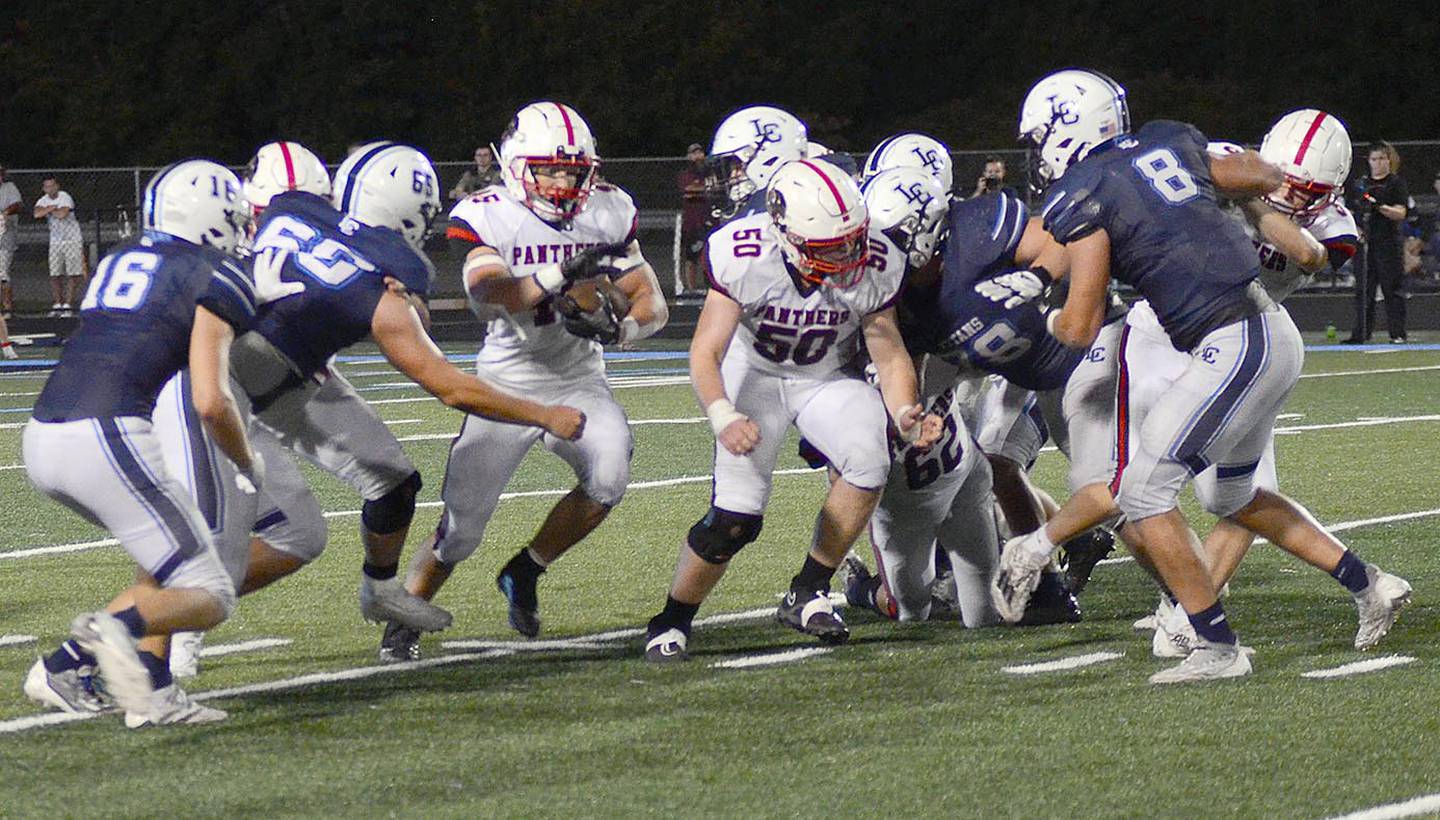 Panther all-state running back Brennan Hayes, who opened the season with 201 yards against Winterset, broke loose on a sweep with 8:23 left in the game for a 73-yard touchdown.
"The blocking was amazing," Hayes said. "I bounced outside and a couple of guys got ahold of me, but they couldn't get me down."
Hayes finished with 190 yards on 27 carries.
As it turned out, a key penalty against Lewis Central on the extra-point kick moved the line of scrimmage inside the 2-yard line, and Morrison opted to go for two points. Weston Trapp scored from a power formation on a direct snap to give the Panthers a 22-14 lead.
After Turner's fumble at the LC 15-yard line with 5:15 left, the Panther defense held on fourth-and-two at the Panther 17 with 2:19 remaining. But, it wasn't over yet.
Maker got behind the Panther secondary for the 45-yard touchdown with 59 seconds left. That earlier two-point run by Creston forced Lewis Central to go for two to tie it, and Calvin made the stop.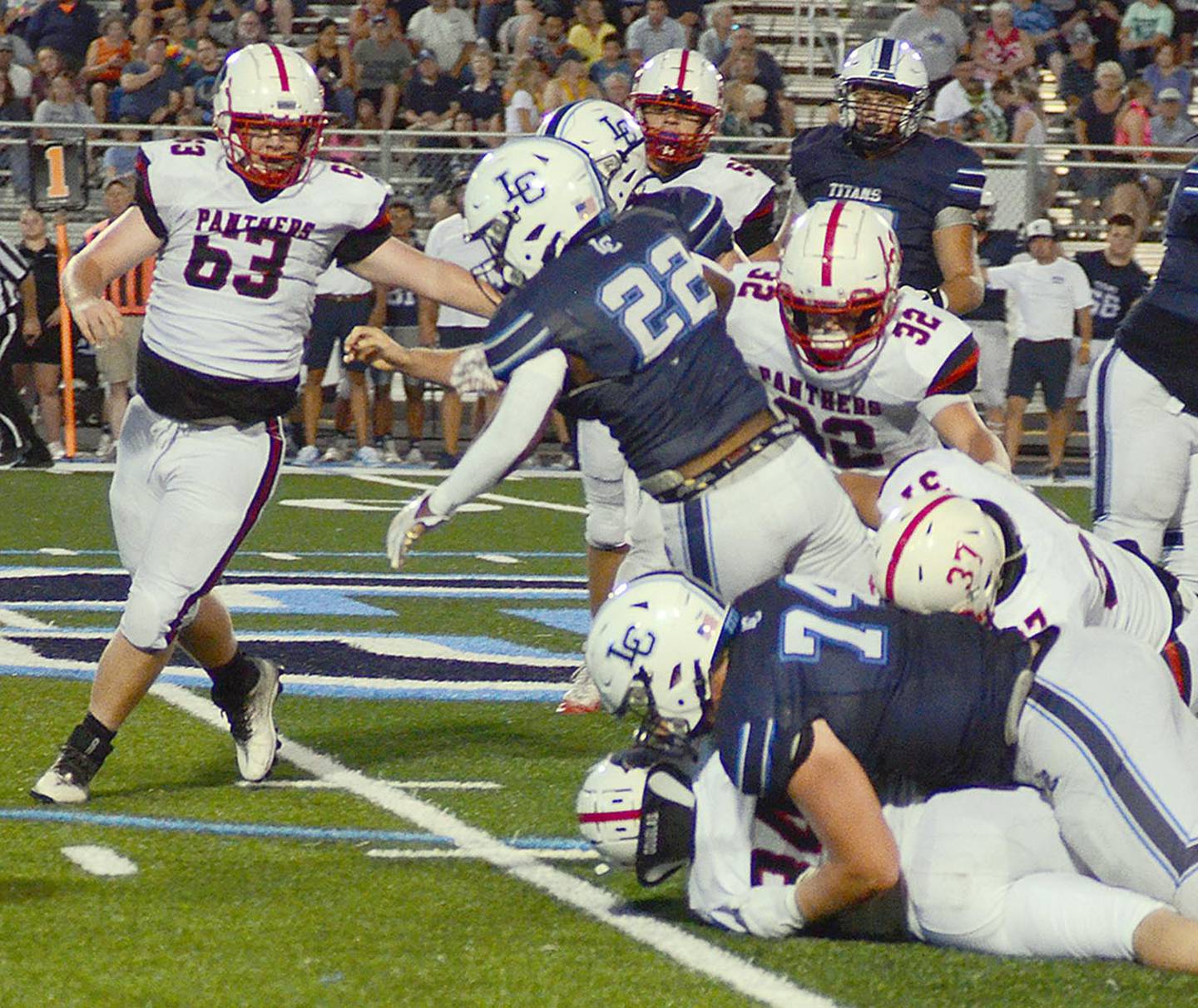 Turner completed 14 of 26 passes for 165 yards and one touchdown. Schaefer had seven catches for 50 yards. Linebacker Austin Evans led an active Panther defense with 9.0 tackles and safety Dillon Starlin had 7.5. Jack Walter and Calvin had much of the coverage duty in limiting Witte to 26 yards on three catches after he had six receptions for 152 yards and a touchdown against Harlan.
This week Creston (2-0) hosts Class 4A Ballard (1-1), which is coming off a 14-13 loss to fourth-ranked Humboldt.
Creston 22, Lewis Central 20
Points by quarter
Cr6088—22
LC70013—20
SCORING SUMMARY
First Quarter
Cr — Cael Turner 3 run (kick blocked), 5:18
LC — Curtis Witte 52 punt return (Jimmy Scott kick), 1:04
Second Quarter
No scoring
Third Quarter
Cr — Brandon Briley 53 pass from Cael Turner (Josh Schaefer pass from Turner), 6:05
Fourth Quarter
LC — Kamdyn Cross 11 run (Daniel Espinoza kick), 9:20
Cr — Brennan Hayes 73 run (Weston Trapp run), 8:23
LC — Lual Maker 45 pass from Brady Hetzel (pass failed), :59
—————
TEAM STATISTICS
CrLC
First downs1617
Rushes-yards37-20435-270
Passing14-26-016-30-2
Passing yards204158
Total yards369428
Punts-avg.7-26.44-31.0
Return yards2387
Fumbles-lost1-10-0
Penalties-yards4-289-56.5
INDIVIDUAL STATISTICS
RUSHING — CR: Brennan Hayes 27-190, 1 TD; Weston Trapp 4-9; Cael Turner 6-5. LC: Chance Chappell 17-124; Kamdyn Cross 13-99, 1 TD; Brody Pattan 2-41; Brady Hetzel 3-6.
PASSING — CR: Cael Turner 14-26-0 for 165 yards, 1 TD. LC: Brady Hetzel 16-30-2 for 158 yards, 1 TD.
RECEIVING — CR: Brandon Briley 4-75, 1 TD; Josh Schaefer 7-50; Tyler Riley 1-28; Brennan Hayes 1-10; Weston Trapp 1-2. LC: Lual Maker 4-69, 1 TD; Ryan Ortega 6-55; Curtis Witte 3-26; Owen Thomas 2-6; Parker Stessman 1-2.
PUNTS-AVG. — CR: McCoy Haines 7-26.4. LC: 4-31.0.
TACKLE LEADERS (total-solo) — CR: Austin Evans 9.0-6; Dillon Starlin 7.5-5; Jack Walter 5.5-5; Dylan Calvin 4.5-3; Lucas Travis 4.0-2; Max Chapman 3.5-2; Milo Staver 3.5-2; McCoy Haines 3.0-2; Will Bolinger 2.0-1; Tom Mikkelsen 2.0-2; Jackson Kerr 2.0-1. LC: Owen Thomas 7.0-6; Curtis Witte 6.0-5; Kamdyn Cross 5.0-4; Nathan Beyenhof 4.5-4.
INTERCEPTIONS — CR: Dylan Calvin 2. LC: None.
FUMBLE RECOVERIES — CR: None. LC: Owen Thomas 1.
TACKLES FOR LOSS (YARDS) — CR: Max Chapman 1.5; Milo Staver 0.5. LC: Nathan Beyenhof 2.0; Owen Thomas 2.0; Caleb Moore 1.0; Nash Paulson 1.0; Gavin Riemenschnieder 1.0.
SACKS — CR: Max Chapman 0.5; Milo Staver 0.5. LC: Thomas 2.0; Beyenhof 1.0.