Two reoccurring themes arise when visiting with Doryn Paup's high school coaches — her athletic versatility, and her upbeat personality as the ultimate teammate.
Doryn, the daughter of Chad and Jodi Paup, was named Creston Community High School's Outstanding Female Athlete during the senior awards program on May 10. She was an all-conference volleyball player as a middle hitter, an all-state basketball player headed to Simpson College to play the sport, and a state qualifier in the discus in track and field while also running the 400-meter low hurdles and middle distances on relays.
Paup was also a JV outfielder and varsity pinch runner in softball until dropping the sport this summer to concentrate on preparing for her first basketball season at Simpson. She missed earning the school's 4x4 Award as a career four-sport athlete by one season.
"That was a very hard decision," Paup said a few days after graduating 15th in her class with a 3.987 grade point average. "I'm playing college basketball. I need to focus on that. Simpson gave me a lifting and running schedule and different drills to do with my shooting."
A demonstration of Paup's dedication to her next athletic journey came moments after the interview for this story in the high school commons, a few days after graduation. Dressed to work out, she joined former Panther teammate and Northwest Missouri State University center Kelsey Fields in the school's gym for a shooting workout.
"Doryn Paup wants to be great in anything she does," said Clay Arnold, Creston's co-head track and field coach.
The lean but strong athlete who stands just over 5-11 — she had 100% attendance in the weight room activities — developed her athletic skills as a youngster trying a variety of sports. (Her older brother Derek was also a multi-sport athlete for Creston and is a football player at Dordt University.) She played soccer, volleyball, basketball and softball on local city recreation teams as well as travel teams representing Creston. She went from season to season enjoying each experience.
"I didn't tell anyone what my favorite sport was until my junior year after basketball," Paup said. "Eventually, volleyball and basketball became my favorites and I had opportunities to play both after high school. I kind of had a breakout year in basketball my junior year and decided to pursue that sport in college."
At Simpson, Paup follows former Panther Jenna Taylor, who was an All-American player on a Storm NCAA Tournament qualifier and conference championship team. Taylor is a part-time assistant coach for Simpson while working as an accountant in Des Moines. Paup is currently undecided on her major.
Basketball
Paup's highest athletic accolades were earned in basketball. As a senior she averaged 21.7 points (highest in Creston five-player history) and 11.7 rebounds and was named all-state first team by the Iowa Girls Coaches Association and third team by the Iowa Print Sports Writers Association.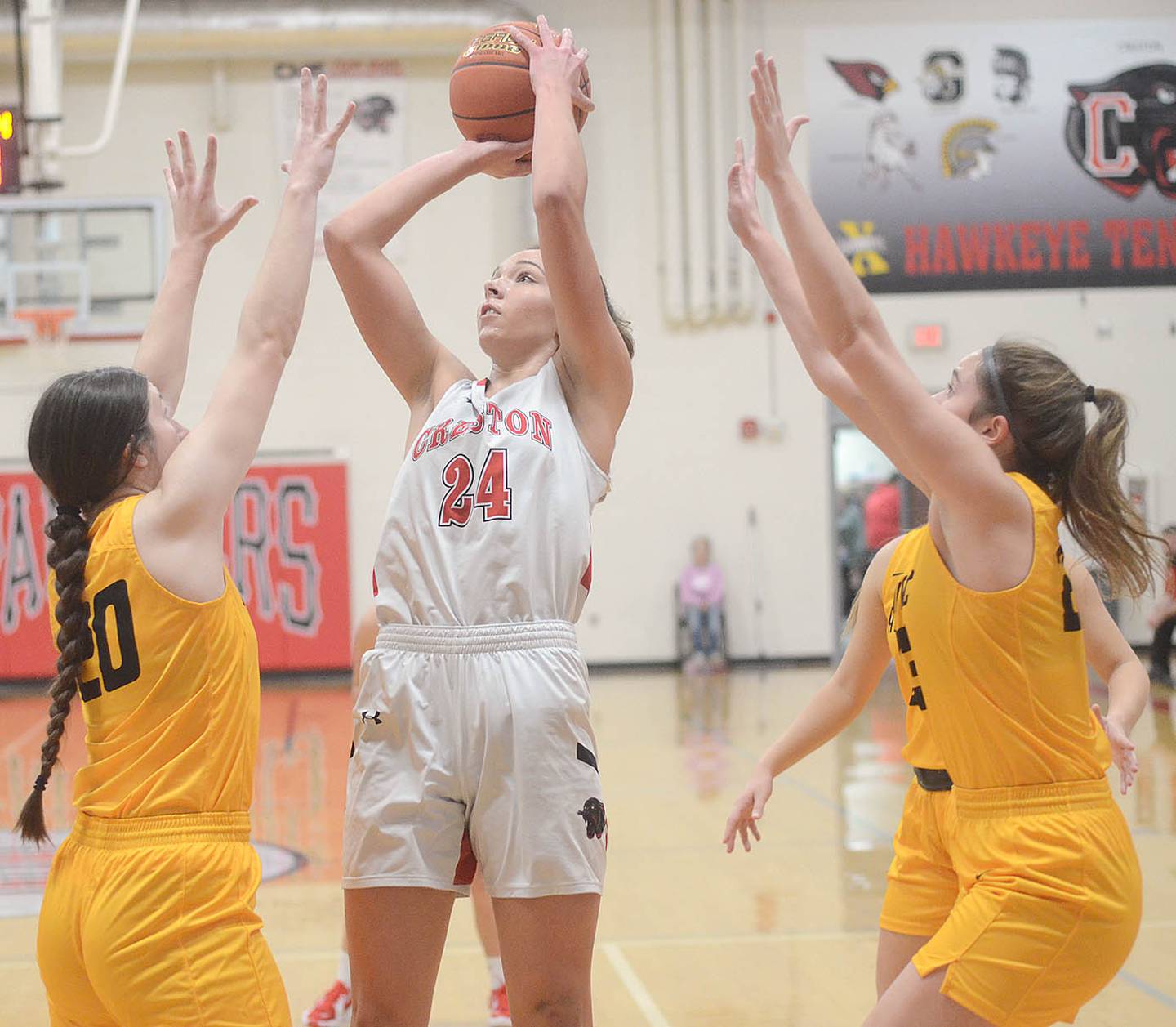 Paup finished third all-time in Creston history in scoring (1,054 points) behind Kelsey Fields and Brielle Baker, second in steals (181) and sixth in rebounds (476). Twice in her career Paup scored 39 points in a game, surpassing the previous high of 35 points shared by Jenna Taylor and Kelsey Fields.
Her 73 steals last season matched the 1999-2000 record held by Amanda Parker, and her 10 steals in one game is a school record, which she did twice. The only player to top her 55.3% shooting from two-point range last season was Kelsey Fields at 56.7% two years earlier.
Basketball coach Tony Neubauer said Paup reminds him of a player he coached at Nevada High School, Lexy Koudelka, who went on to play at Illinois State University.
"Doryn is a special athlete who just has those intangibles like Lexy in how she relates to her teammates," Neubauer said. "Like Bri Fields was the year before, Doryn is a good person who always works hard and leads by example. Our kids knew this year for us to be successful, Doryn had to score. She appreciated her teammates."
As a student growing up at Mayflower Heritage Christian School, Paup became friends with the Fields sisters and as a trio they all went on to earn honors in multiple sports in high school before becoming college basketball players. (Bri Fields plays at Grand View University.)
"I got better going against people like Sam Dunphy and Kelsey Fields, and then Bri Fields when I was younger," Paup said. "In practice last year Brynn Tussey (freshman) would say, 'I have to go against Doryn again.' I said, that's how you become a better player. I told her after our last game, I can't wait for her to become the next good (post) player."
Neubauer said Paup's even demeanor was helpful in dealing with constant double teams and even triple teams in the lane area as a senior.
"She did a good job in the weight room of becoming physically stronger and she put a lot of time in on her mid-range scoring," Neubauer said. "They will like her ability to score on the move in college, where she won't face those double teams. She's comfortable playing in traffic. Nevaeh Randall did a good job of playing high-low post stuff with her last year after Bri was gone, and Jacy Kralik was really good at getting her the ball where she needed it and when she needed it."
Paup said she showed her teammates "crazy eyes" at the moment she broke free and needed the pass for a scoring opportunity.
"I remember getting those crazy eyes from Kelsey when I was younger and she was the one getting double-teamed," Paup related.
Volleyball
While Creston was mired in a 2-23 volleyball season last fall with one conference victory, Paup shined as a second-team All-Hawkeye Ten standout as a team leader in four of the five major statistical categories. Even though she was an effective middle hitter, Paup also compiled 246 digs and 24 service aces while making 37 blocks and 210 of the team's 472 total kills. She finished with 100 career blocks. Paup played in KMA's All-Star Volleyball Classic.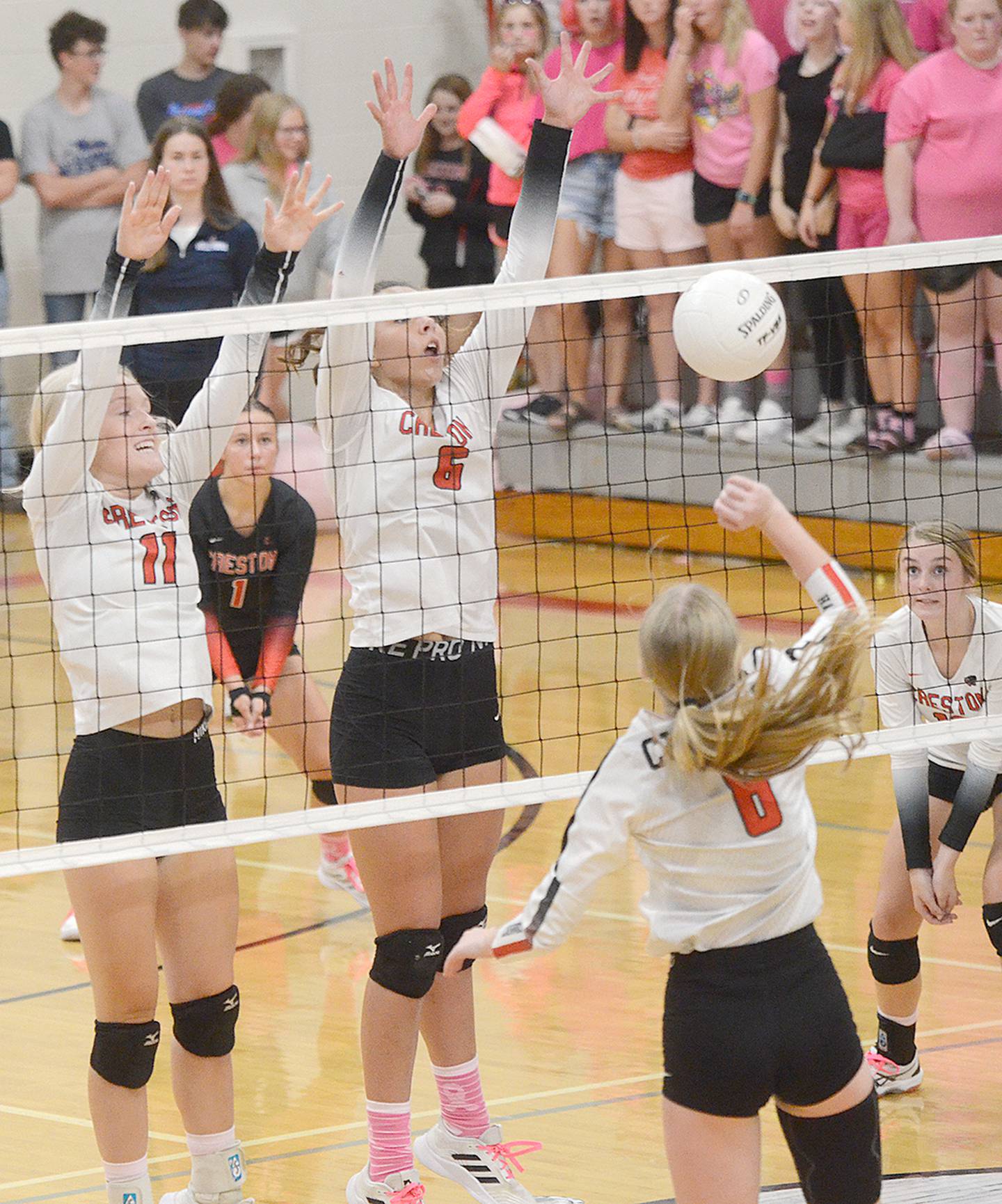 "I try to be an optimistic person and I would say we're still playing as a team and trying to keep people together," Paup said of her senior volleyball season. "I remember against Harlan on senior night we were up 2-0 before losing in five. Against Atlantic in a triangular we were winning, and then Ava Rush came back from a cross country meet to play libero for them and we lost. It was still one of my favorite sports. I will miss volleyball."
Panther coach Teresa Arkfeld said Paup was the emotional glue of the team, providing those sparks with her hits and blocks while being a good teammate.
"Doryn is probably the best overall player Creston has had for awhile," Arkfeld said. "She played all the way around, and you don't see that from a middle hitter very often. She was athletic enough to help us on defense in the back row, and our top server. She had 210 kills and our next highest was 69, so we are losing a major player from our team. She wanted to have fun, win or lose."
Track and field
Paup's versatility as an athlete was on full display in track and field. She placed 17th in the state meet discus throw, but also scored consistently in the 400-meter low hurdles and ran on the 4x400 and 4x800 relays. Not many state-caliber discus throwers can run the 400 in 65 seconds or the 800 in 2:35.
Second in the high jump in the Hawkeye Ten meet while in middle school, Paup didn't participate in field events until her junior season. She began throwing the discus last year, reaching a best distance of 92 feet, 5 inches at the Hawkeye Ten meet. This year, her career best throw was 112-3 at the state qualifying meet, ranking 18th going in, and she placed 17th at state at 111-5.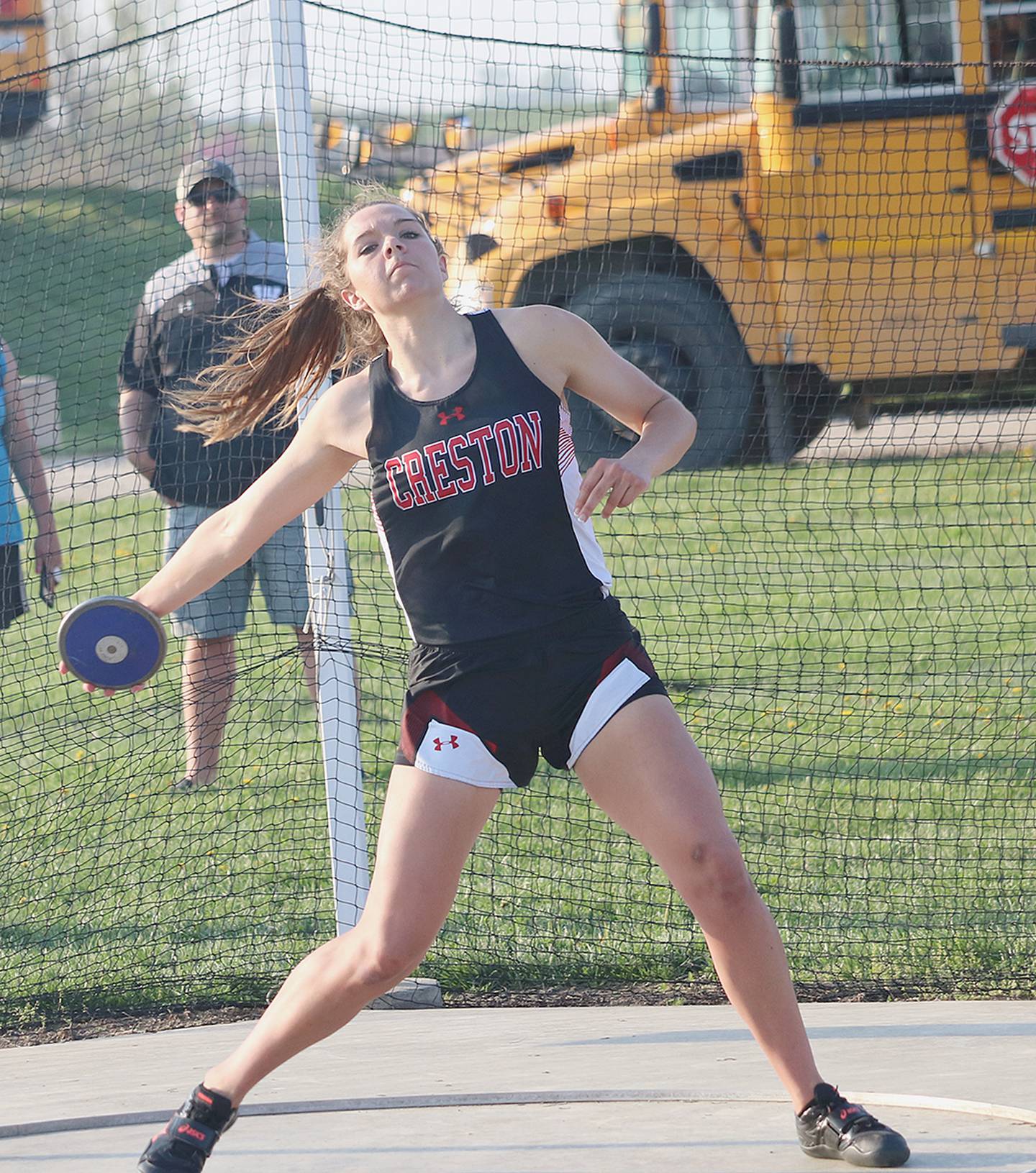 "If she had six years of experience throwing the discus like every other senior up there, who knows what she could have thrown?" Clay Arnold said. "She's an absolute athlete who works hard. She would come out on her own or with her dad to work on the hurdles when she was starting those last year."
Paup's early high school track career had some bumps. The 2020 season was cancelled by the COVID-19 pandemic her freshman year, and as a sophomore she was battling health issues, ultimately diagnosed with anemia. Her symptoms were regulated by taking iron supplements, but until then her sophomore season workouts were often curtailed by not feeling well.
"Coming in as a freshman, Doryn was set up to join our best roster ever," Arnold lamented. "We had MaKenna Hudson, Peyton Rice, Braelyn Baker, Paige Davis, both Fields sisters, Molly Sickels, Emma Hanson, Abbi Hood. We were planning on winning the conference for the first time since 1982 and Doryn would have plugged right into some of those relays and she was going to high jump for us. Then we didn't have a season, and the next year Doryn had some health issues. She really came on for us as a junior and senior."
While she enjoyed soccer as a youth member of the Wildfire travel team, Paup credits track and field for helping her reach her potential as an athlete. In particular, it was a benefit to a running sport like basketball.
"I would recommend track to everyone if you want to get better on the court," Paup said. "It works on your grit, and your endurance. Plus, being on that team is a great family atmosphere."
Co-coach Maggie Arnold said Paup's presence on the team was more valuable than just her distances and times.
"When you have someone with that type of athletic ability, you can just put her wherever the team needs her to be and she will adapt," Maggie Arnold said. "Strength is what she has over her competitors. She's the Hawkeye Ten Character winner, too. There are so many traits that she has that you can't coach — perseverance, her kindness. At the state meet sendoff, I said, 'Look at Doryn Paup one more time before she leaves this school, because this is the person that everyone should strive to be."
Softball
Paup said she grew up enjoying softball, but didn't invest as much study and individual work on the skills of the sport as with volleyball and basketball. While playing JV outfield, she also helped the 25-5 conference champion varsity team last year as a pinch runner, successful on seven of eight stolen base attempts.
"I liked playing the field in softball and enjoyed being a part of the team, but I wasn't as knowledgeable about how to hit certain pitches as some of the others who concentrated more on softball," Paup admits.
Paup had some other summer obligations and missed portions of seasons, such as an annual church camp, but retired coach Mike McCabe remembers her as a diligent worker who did her best to contribute. As a standout in sports like volleyball and basketball, she accepted a lesser role in the summer sport.
"There is none better than Doryn Paup when it comes to being a teammate," McCabe said. "She is a real model for those kids who are stars in one sport, or starters, and not in another sport. How do you handle that? You work hard and be a good teammate, and that's what Doryn did. I was very grateful to have had the opportunity to have coached her. She is a wonderful young lady and will be really successful."
Neubauer summarized the lasting impression Creston coaches have of Doryn Paup's legacy.
"Doryn is special," Neubauer said. "Doryn Paup is what you would like your own daughter to be like."