In Creston baseball, there are two unwritten rules. The first is to always steal second base. The second rule is to steal third too.
The Panthers (5-6) ended a six-game losing streak Wednesday against the I-35 Roadrunners (4-3) in a 10-4 victory featuring nearly 20 stolen bases.
"We get to first base, we want to get to second," Coach Brandon Phipps said. "We did take a lot of bags tonight just because we got on base."
The win is the team's first victory since all-conference and all-district senior centerfielder Gannon Greenwalt unexpectedly left the team for unknown reasons.
Though I-35′s Chase Dixson was hit by a pitch to get on base and stole his way to third before getting home in the first inning, the Panthers didn't flinch when it came time to bat.
Juniors McCoy Haines and Cael Turner hit back-to-back triples to set the pace for the Panthers. Eighth-grader Tom Mikkelsen hit a single to send Turner home and take the 2-1 lead, a lead the Roadrunners would fail to catch.
The Panthers defense found three outs in four pitches in the second inning so the offense was able to get back to work.
Junior designated hitter Quinten Fuller took a pitch to the thigh to make it to first. As he took off to steal second base, junior Milo Staver hit a ball deep for a double, sending Fuller to third. Sophomore Tyler Riley followed with a double of his own to bring Fuller home and Staver to third.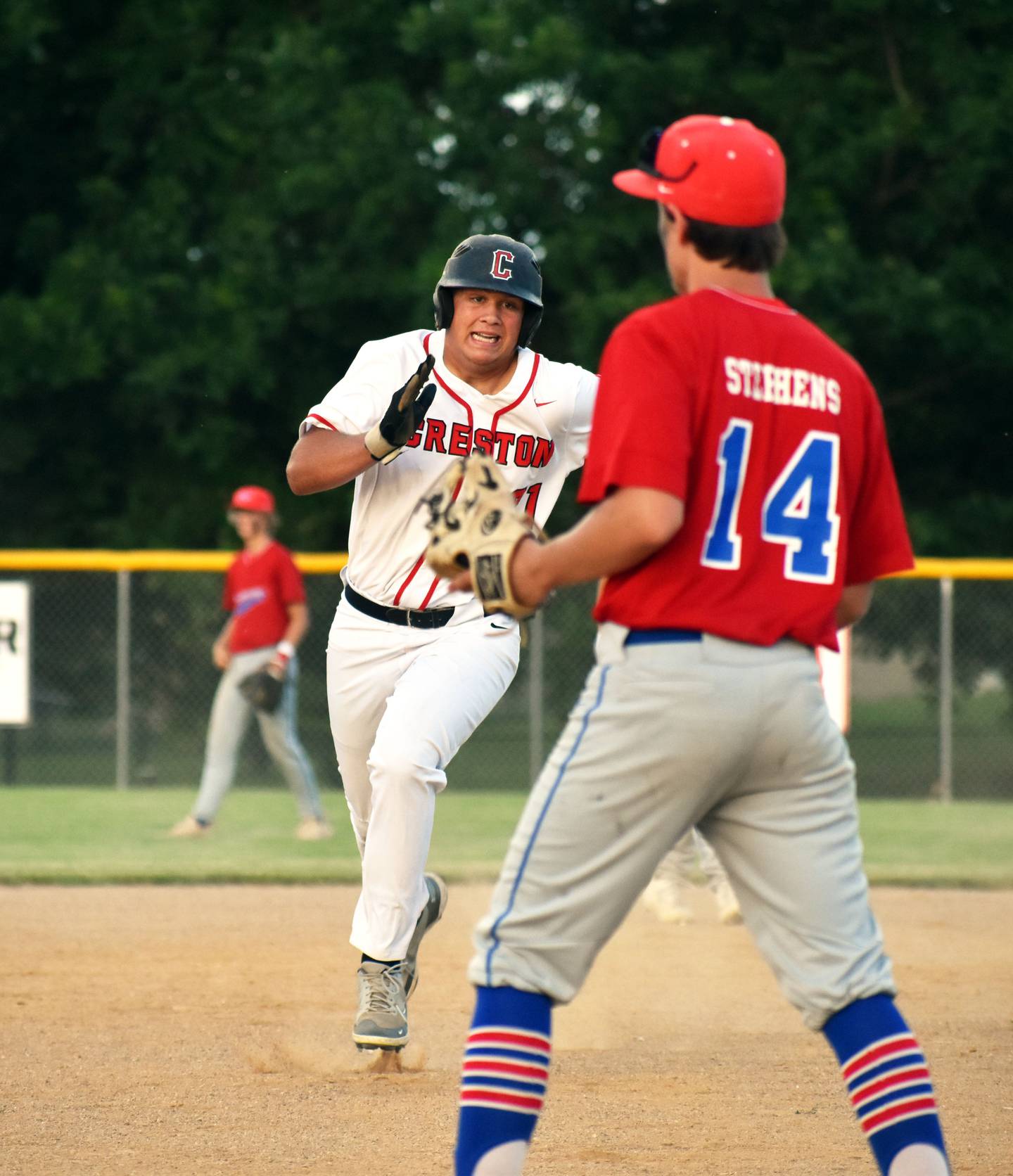 Dylan Calvin was brought in to run for Staver and stole home, earning the run and providing an opportunity for Riley to steal third. Haines came back in with a double to send Riley home and followed with a steal. Cael Turner's single gave Haines the fourth run of the inning, putting them up 6-1.
Dixson found home again for I-35 on an error, but senior pitcher Kyle Strider ended the inning with a strikeout to prevent another run.
"Tonight we got back to doing what we do and playing pitch by pitch, and playing Creston baseball the way we want to," Phipps said. "We were really good at the plate, but defensively I thought we stepped it up. Kyle did a nice job on the mound."
Strider pitched six innings, throwing 67 strikes on 113 pitches, allowing four runs and striking out six batters.
The third inning featured five more stolen bases and a run by Dylan Hoepker.
The Roadrunners found an opening in the fourth when third baseman Haines went up to defend on a bunt, leaving third open for Brock Stephens to steal. On trying to defend the play, Haines was overthrown and Stephens capitalized, stealing home to score for I-35.
Strider throwing to get a runner out on the lead off at first created an opportunity for the third base runner to steal home for their fourth run of the night.
In the fourth inning, Haines was put out trying to steal third, and in the fifth, Calvin was called out in an attempt to steal home.
"We know we want to be aggressive," Phipps said. "Granted, it kind of hurt us in some aspects, but it definitely pays off way more than it hurts us."
Up 7-4 with three innings left, the Panthers found themselves in familiar territory, several of their last six games lost in the final innings.
"We know we've got to finish games," Phipps said. "We've lost three games by three runs. We win those games, and our record and everything looks a lot different."
The fifth and sixth innings weren't perfect defensively, but the Panthers kept their cool, not allowing any runs.
After hitting a batter with the pitch, Strider recovered, throwing two sequential strikes before a hit ended in a double play from second to first.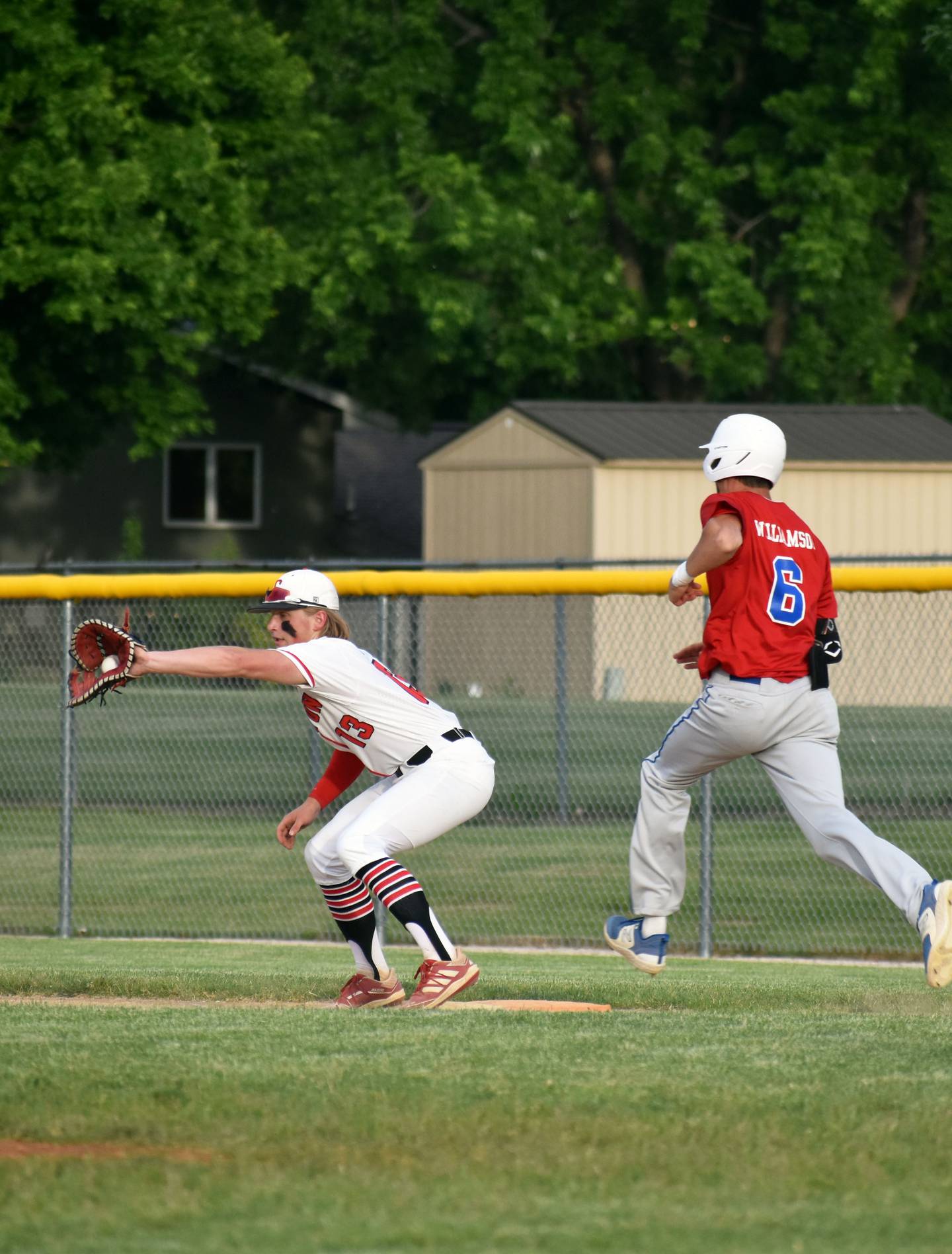 "The last six games have been really hard on us as a team, but we just knew that we need to stay calm," Phipps explained. "We talked a lot about needing to keep doing what we're doing and it's going to come into play the way it's supposed to."
The offensive fire continued in the sixth, the Panthers scoring three runs with Mikkelsen, Fuller and Staver.
Creston brought in relief pitcher Tanner Klejch for the final inning. Throwing nine strikes on 13 pitches, Klejch quickly ended the game, giving the Panthers the victory they've been itching for.
"We know, at the end of the day, if we keep doing things the right way, things will shake out," Phipps said. "It worked out the way it was supposed to tonight, and hopefully things continue on that way."
The Panthers return to action tonight in Glenwood.