DES MOINES —Southwest Iowa was well represented over the three days of the State Track and Field meet in Des Moines last weekend.
Competition was fierce, with 25 new state records set over the course of the meet. But Southwest Iowa teams earned four first-place finishes, six second-place finishes and two third-place finishes.
Boys
The Mount Ayr boys took first in the distance medley relay and second in a close finish for the sprint medley relay. Junior Ryce Reynolds anchored both events in addition to earning first in the 400 meter dash and 400m hurdles.
Reynolds was announced as the only Iowa high school athlete in history to win both the 400 and 400m hurdles twice. He set a new state record in each event in a time of :48.21 and :52.7, respectively.
"I looked around and everyone was cheering," Reynolds said. "It's so great, and it's so awesome that that many people are here to support me. Not even necessarily if they're here for Mount Ayr, I'm sure they're here for someone else, but just the feeling of them congratulating me for an accomplishment like this is amazing."
The four top-two events combined with their sixth-place 4x400m relay team earned the Raiders fourth place in Class 1A. Not far behind was another Pride of Iowa school, the Lenox Tigers, in ninth.
Led by sophomore Gabe Funk, the Tigers put together a second, a third and a fifth place finish in hurdle events.
After having to re-run with an alternate Thursday, the Tigers shuttle hurdle relay team narrowly qualified for finals. On Saturday, the team posted a season-best time of 1:01.39 for fifth place.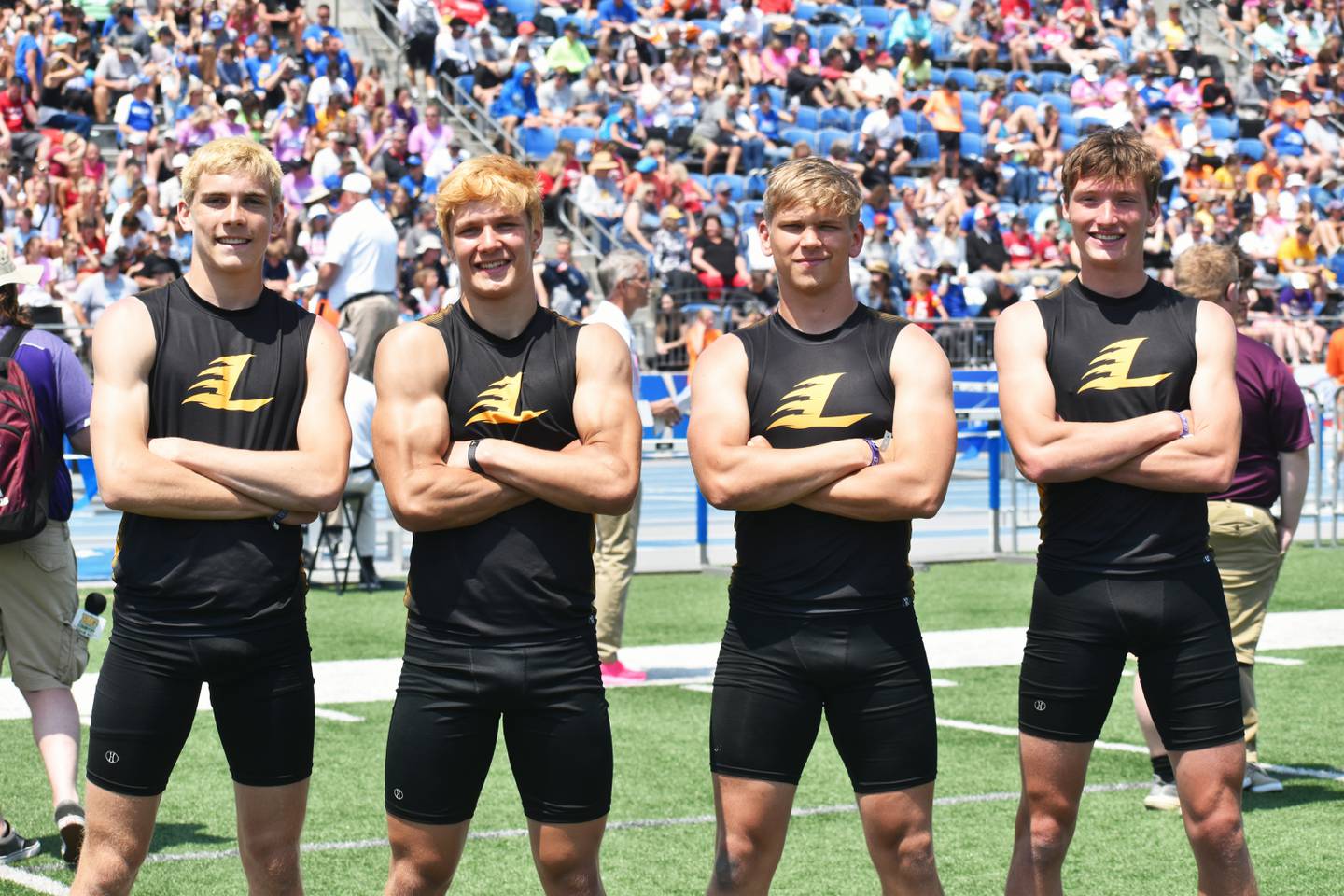 Funk competed in three back-to-back events Friday. "I was kind of worried, but I made sure to drink a lot of water the night before," Funk said. "The back to back kind of helped out because I stayed loose and warm and good."
In the 110m hurdles, Funk qualified for Saturday's finals. Going into the finals, Funk said his goal was to race his hardest and chase down Triston Miller of Columbus Junction. Funk ended up second in the event in a new personal best and Lenox school record time of :14.87. Miller took first in a new state record time of :14.35.
Funk competed in the 400m hurdles Friday with teammate Samson Adams. Adams blew away his heat in a new PR of :55.87. The time earned him 10th place. Funk competed with Reynolds, finishing third in a new PR and Lenox school record of :53.92.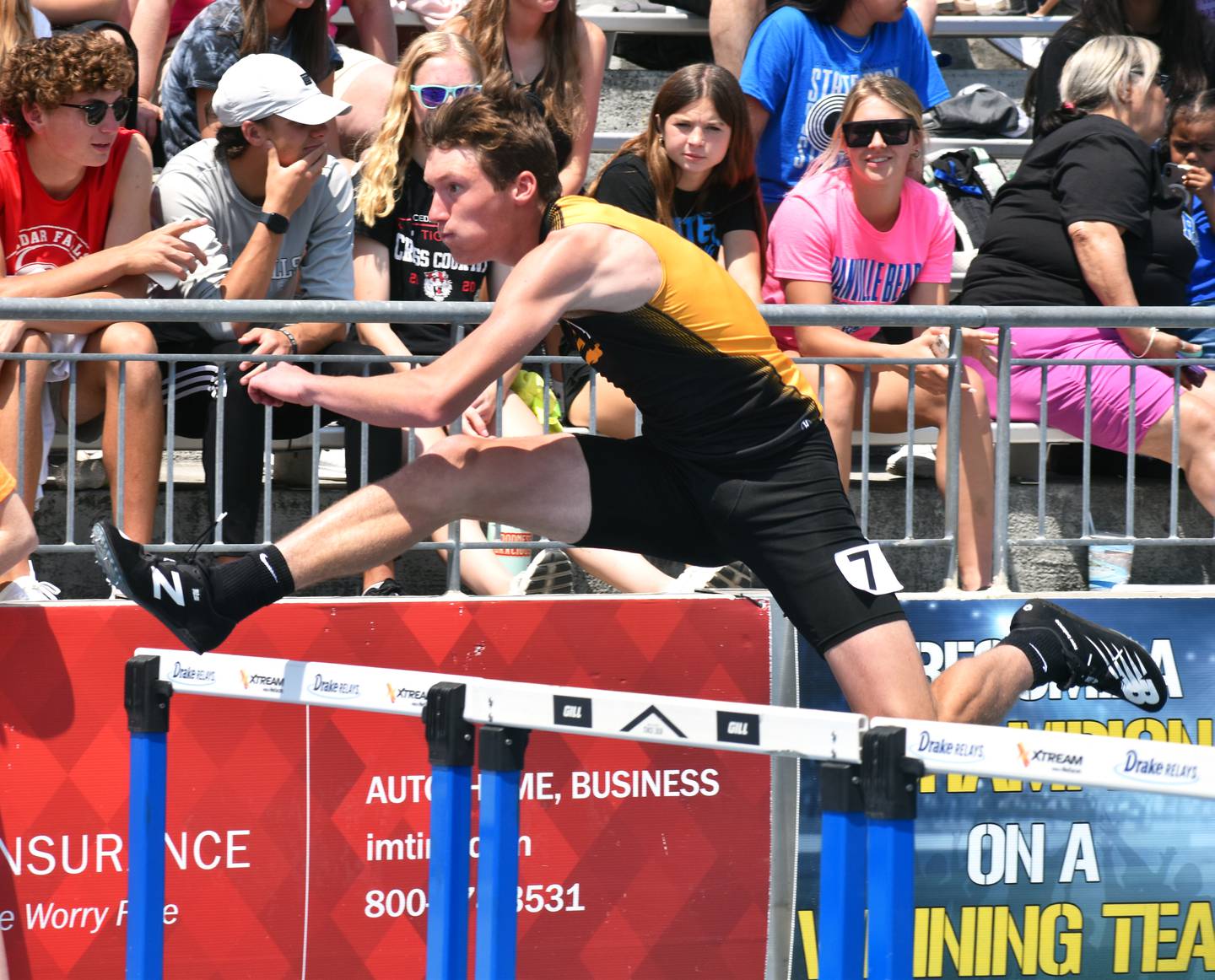 "It's just amazing," Reynolds said. "Gabe, he did an amazing job in that race today just a little bit ago. POI, we're kind of in a smaller area of small schools. It's just awesome that we can come here and perform as well as we do in front of so many people, that's just great."
Adams also earned points in the high jump, placing sixth with his jump of 6-01.
In Class 3A, the Creston Panthers competed in the distance medley relay Friday and Brandon Briley ran in the open 800 on Saturday.
In the relay of Tyler Riley, Chris Aragon, Austin Evans and Briley, the team fell behind early and was unable to catch up, placing 24th in a time of 3:47.51, nearly 10 seconds slower than their district qualifying time.
"I don't really know what happened there," Briley said. "From the start, we were a little bit behind everyone else. We didn't run as good as we could have."
With another race to run, Briley said he put the performance behind him and prepared for his open 800.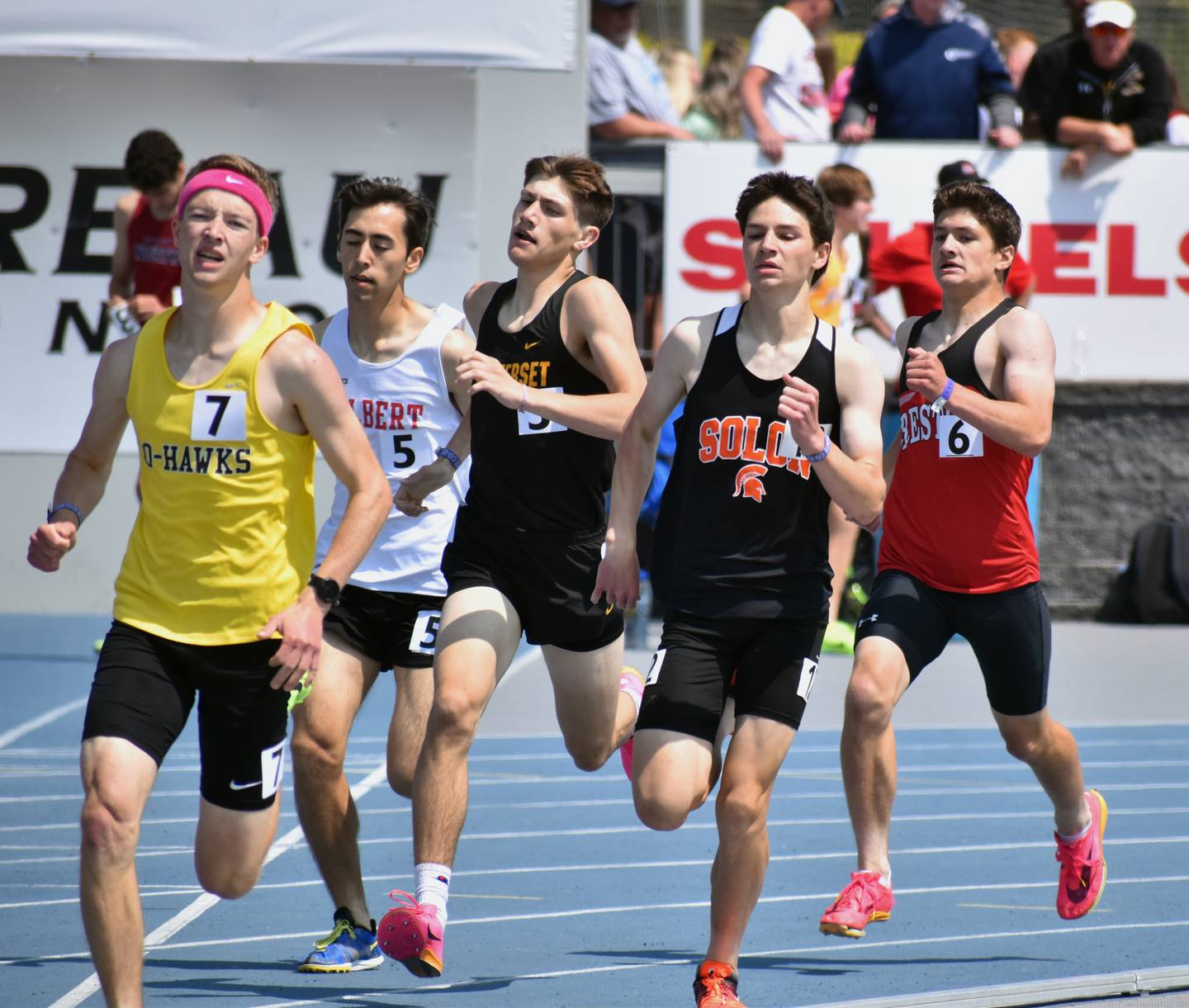 Racing from the slower heat, Briley knew he'd need to win his heat for a best shot to place in the event. Briley raced with the top five for the nearly the entire race until passing several down the final stretch to place third in his heat in a PR of 1:58.94.
"I'm super stoked about it," Briley said. " I finally broke that two-minute mark." In a fast year with two runners breaking the state record, Briley took 11th, but says he'll be back next year.
Girls
The Nodaway Valley girls represented the Pride of Iowa with their eighth-place finish at the meet.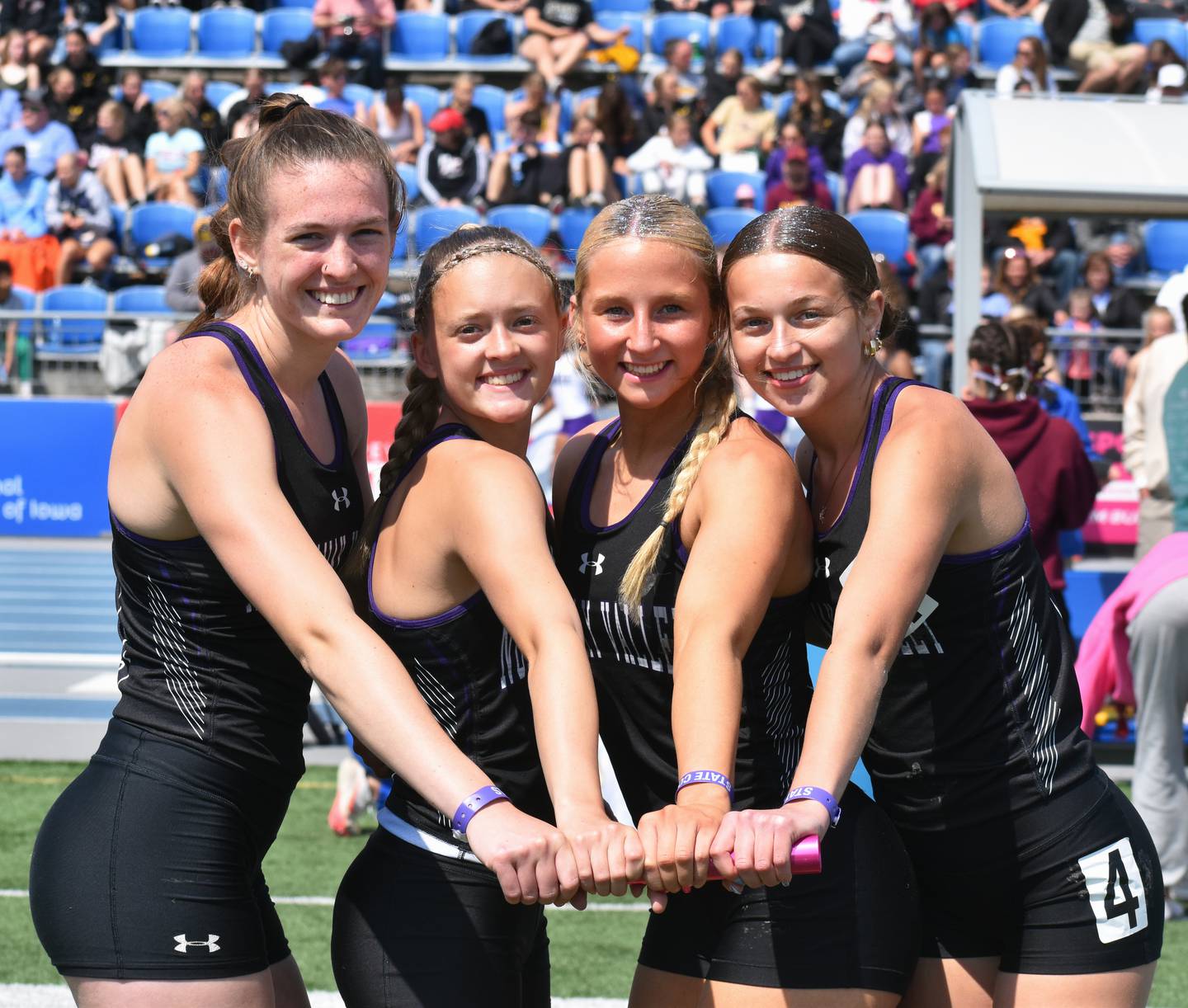 Earning silver in two relays, Emma Lundy, Abby Engles, Maddie Wetson and Annika Nelson put up season-best times in the 4x100m relay and 4x200m relay.
Lundy also took fourth in the 200m dash in a new PR of :25.81.
Aubree Shields placed second in the high jump for Mount Ayr, her 5-04 mark tying the school record with Dawn (Huff) Elliott, mom of NFL running back Ezekiel Elliott.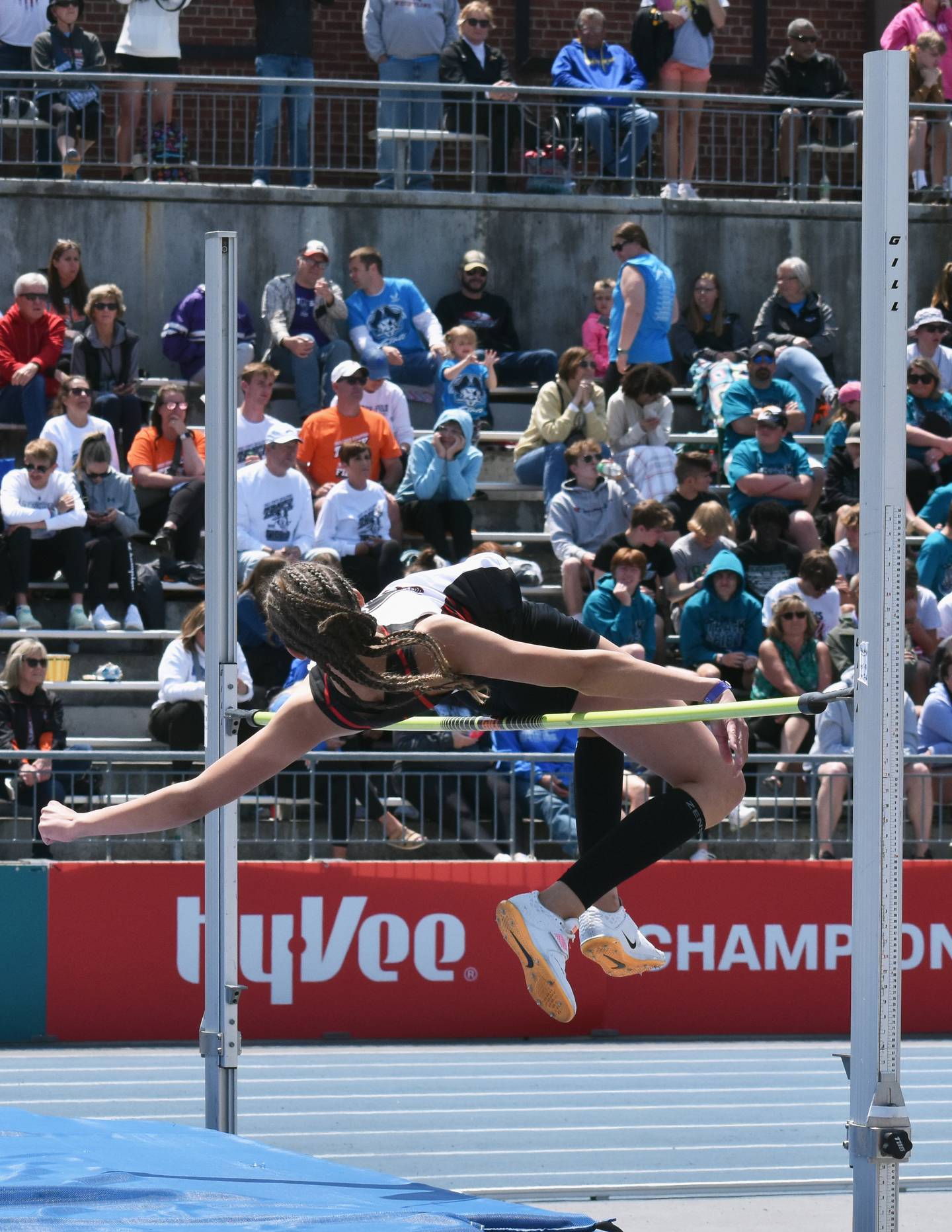 Aleksys Gannon hoped to make history as Murray's first female state champion Saturday as she came in with the fastest preliminary time in both the 100 and 200.
In the 100, Gannon placed second to Mia Walker of Newell-Fonda in a PR of :12.54. "I didn't run my race and I knew that coming off the track, but I still got the school record so I was excited for that," Gannon said. "It's tough, I came in ranked first but I had to come off and regroup."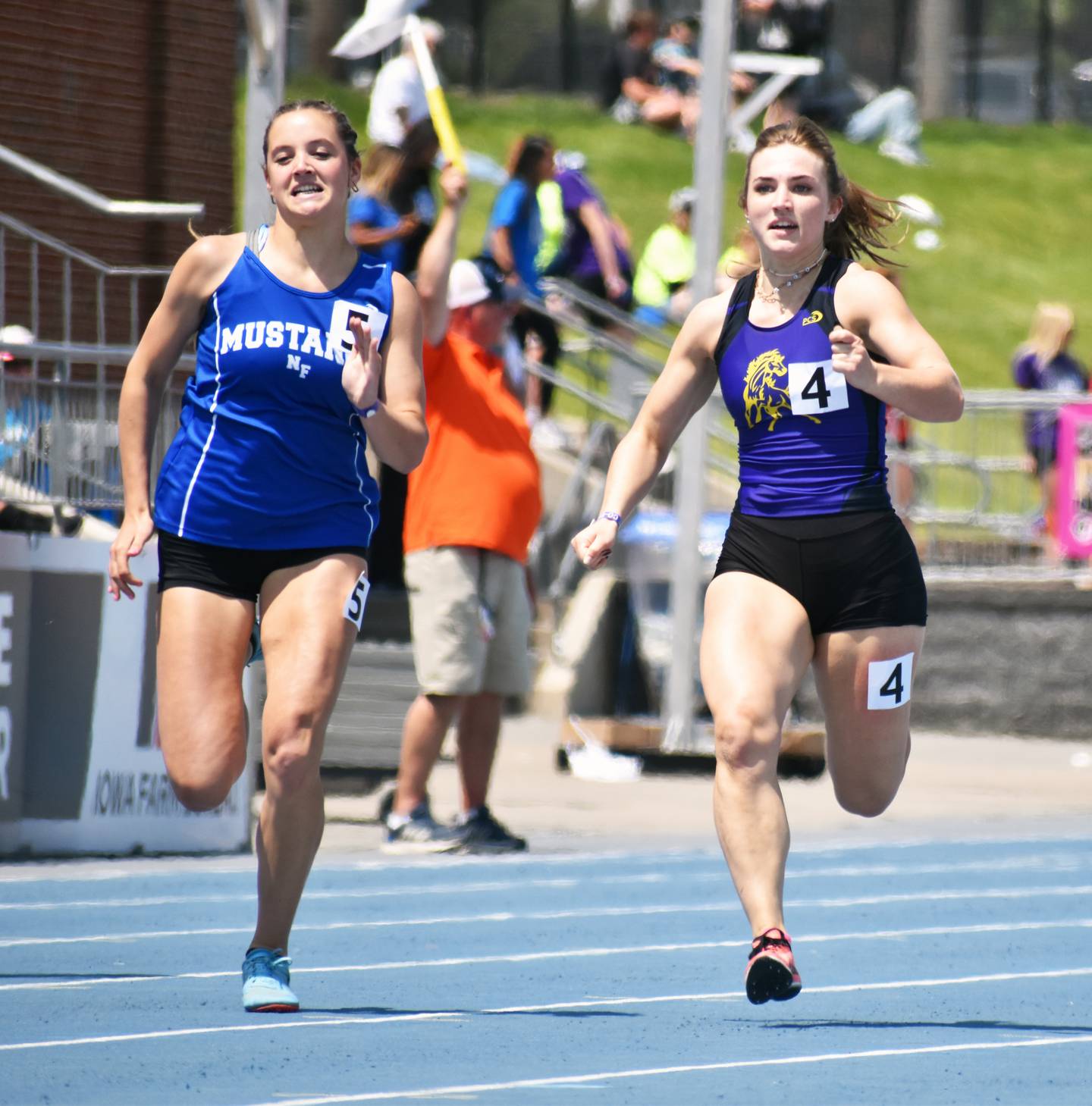 Gannon and Walker faced off again in the 200 meter dash. Gannon had the lead on her early, but Walker made a push to catch her at the end.
"I heard her coming," Gannon said. "I told myself, whatever you do, don't slow down."
The crowd waited for the results with bated breath as the two crossed the line simultaneously. Gannon's name went up first in a time of :25.29 and Walker's followed, also in :25.29. The announcer clarified Gannon had won by one one-thousandth of a second, :25.284 to :25.285.
"When I saw my name on the screen, it was so amazing," Gannon said. "It's once in a lifetime, and I'm so grateful for that."