Creston native Dave Hartman doesn't have a false sense of security, just because the Panther softball team he inherits from retired coach Mike McCabe went 25-5 last year and won the Hawkeye Ten Conference by three games at 19-1.
The first-year Creston head coach, joined by longtime assistant Teri Keeler and freshman coach Peyton Rice, says each season takes on its own competitive nature.
"We have a good corps of players coming back," Hartman said. "But, it looks like the conference was extremely young last year and it will probably be a better conference. Kuemper and Harlan lost some pitching, but the others are back and most of the top players are back in the conference. We have a chance to compete in the league."
Conference honors aren't the end-all in Hartman's view, however. He said every program he's ever been associated with designs their work to compete for a state title. He was on Southeast Polk's staff for two Class 4A state baseball championships under head coach Scott Belger, also a Creston native. Hartman was also head coach at Southeast Polk.
"My goal is to win the whole thing, just like it has been for 36 years that I've coached," Hartman said. "It doesn't always work out, but that's what we're striving for. During the season we use every game to try to get a little bit better, and be in a position to have a shot at the end. We need to do the things necessary to beat the Atlantics, the Glenwoods, the Indianolas and the Carlisles when the season is on the line."
It's been a crash course in Hartman's terminology for different defensive coverages and offensive strategies, including some base running nuances, since official practices began May 1. He said he gained insights from Keeler and McCabe about his team, and watched "countless hours" of high level high school softball games on YouTube to prepare for the transition from coaching baseball.
"You will see fingerprints of baseball, but some of the things we're doing are just good strategy, whether it's baseball or softball," Hartman said.
Four seniors graduated from last year's conference championship team, including all-state shortstop Gracie Hagle (now playing at Grand View University), right fielder Morgan Driskell, first baseman Halle Evans and Anna Mikkelsen, who shared the catching position with returning sophomore Ava Adamson.
Pitchers return
Eleven letter winners return, including both varsity pitchers from 2022. Coaches in the conference voted sophomore Taryn Fredrickson second-team all-conference after a 12-3 season, 2.12 ERA and 90 strikeouts in 92 innings with 97 hits allowed. Senior Keely Coen earned honorable mention in going 13-2, 3.15 ERA, 53 strikeouts in 91 innings with 89 hits allowed.
Hartman expects to again use both hurlers on a regular basis, whether in the same game or splitting games in doubleheaders.
"They are very close," Hartman said. "Taryn throws slightly harder, but it's not by much. Keely throws a few more strikes. Taryn has a screwball as a changeup, and a little curveball. She works in and away. Keely has a good drop ball, so her stuff works up and down. it's a good combination. We also have Ady Morrison as a lefty, which gives people a different look, mostly on the JV level this year."
Record power hitter
Among the returnees in the regular lineup is senior Nevaeh Randall, who will move from third base to shortstop with the graduation of Gracie Hagle. Randall was third-team all-state last year with 10 home runs and 43 RBIs. She broke Haylee LaMasters' career record of 22 homers with 26 roundtrippers heading into her final season. She batted .456 last year.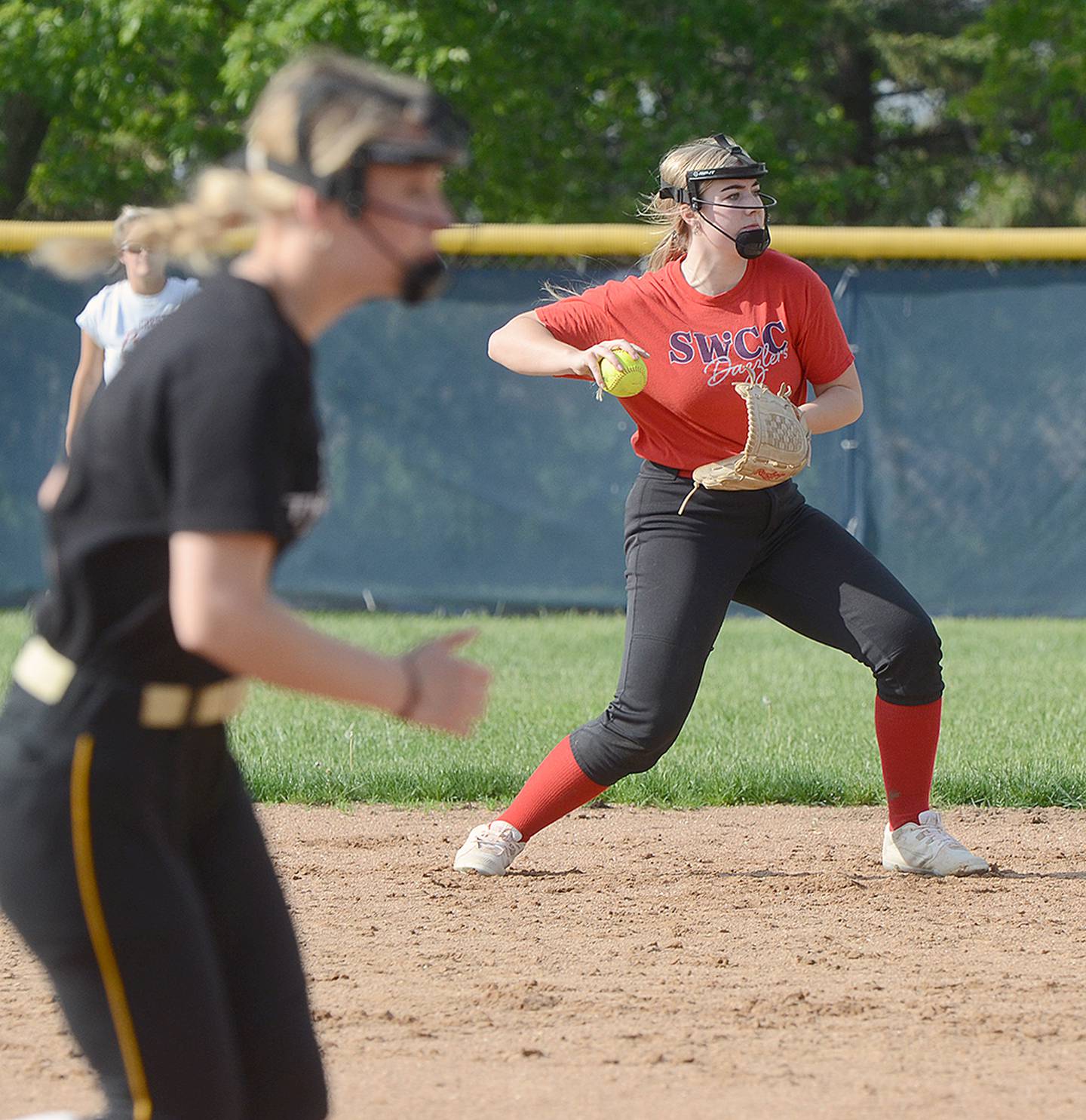 "One of the big surprises is how well Nevaeh is playing at shortstop in preseason," Hartman said. "She's very athletic and a good infielder. People underestimate her speed. She's one of our fastest baserunners. And the good thing is that Zoey Vandevender has looked good at third base. We can also use Daile Keeler at third, or first. She can hit it and will be in the lineup somewhere."
Keeler, outfielder Jacy Kralik, Fredrickson when not pitching and freshman Jaycee Hanson have all worked at first base.
Sophie Hagle returns at second base. Hartman said both pitchers can also play that position, and they have shown good hitting in practice.
While Adamson returns as a catcher, Hartman said she's athletic and can play anywhere in the infield if he inserts Mila Kuhns at catcher. Both Kuhns and Adamson (five home runs last year, .400 average) have power bats.
With Driskell graduating, one of the outfield spots is open. Hartman said Kuhns could play some right field, but corner outfielders Caitlin Bruce and Kralik both return as well. Sophomore Sasha Wurster adds corner outfield depth. Center field is anchored again by sophomore Jersey Foote, one of the top players in the conference last year.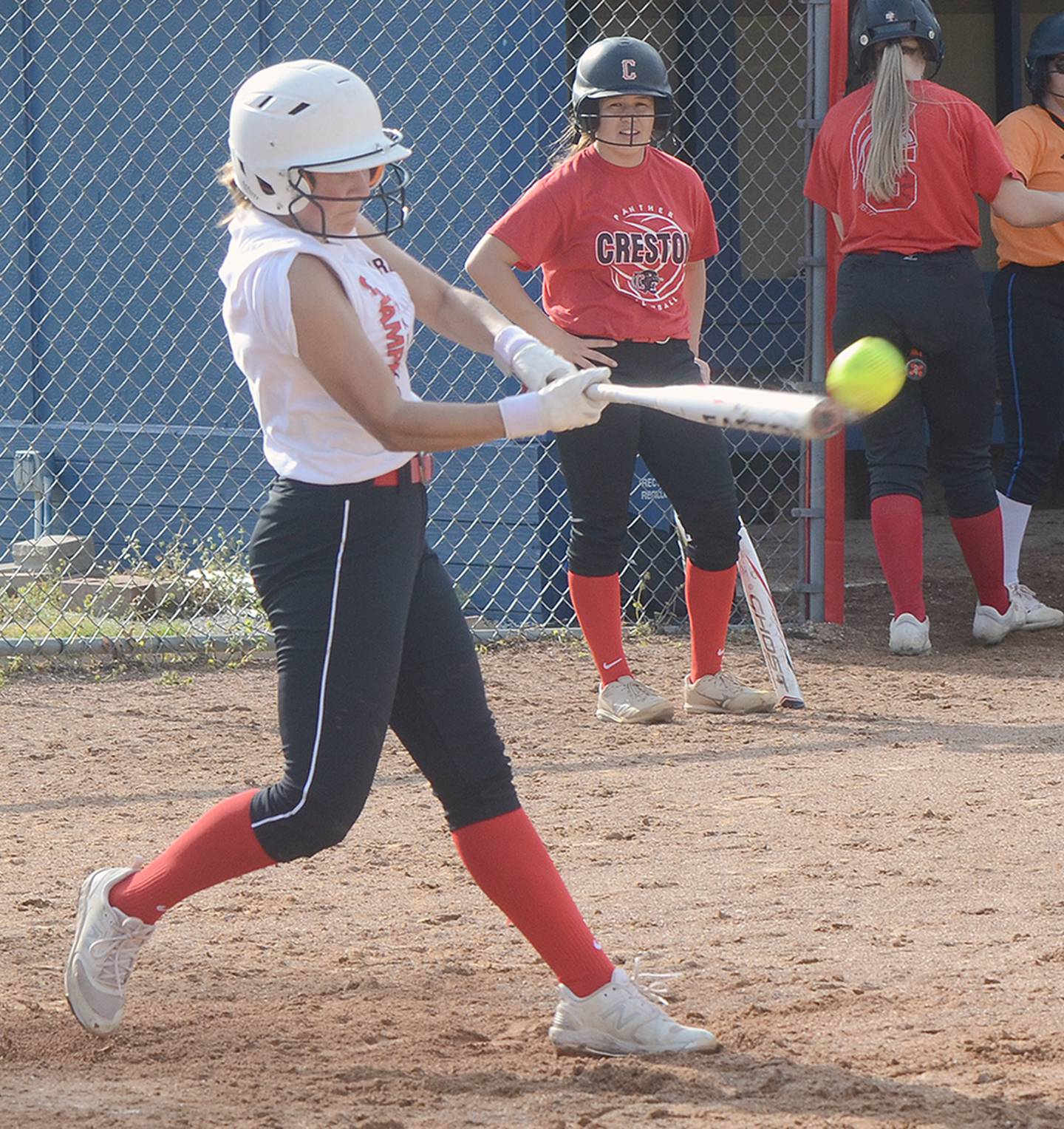 Foote hit .448 with five home runs, 27 RBIs and a team-high 44 runs scored last year, while showing exceptional range in the outfield.
"A lot of things are kind of fluid right now and we can go with a lot of different combinations in the infield and outfield, but you can be sure that Jersey will be in center," Hartman said. "She's a very good player."
Conference outlook
Atlantic returns young, effective pitching this year in freshman Zoey Kirchhoff (174 strikeouts last year) with a lot of experience in the lineup as well, including top offensive threat Jada Jensen. The Trojans should be a top contender in the Hawkeye Ten, Hartman predicts. Glenwood, which ousted Creston 5-3 in the regional semifinal last year before losing to Indianola, returns pitcher Allison Koontz and some top hitters, too. Koontz also hit nine home runs last year.
Creston opens the season Monday at Ames. The Panthers then play road games at Red Oak, Harlan, Glenwood, two strong opponents at Ankeny Centennial (Central Springs and Centennial) on June 2 and the a doubleheader at Atlantic on June 5 before finally open at home June 6 vs. Clarinda.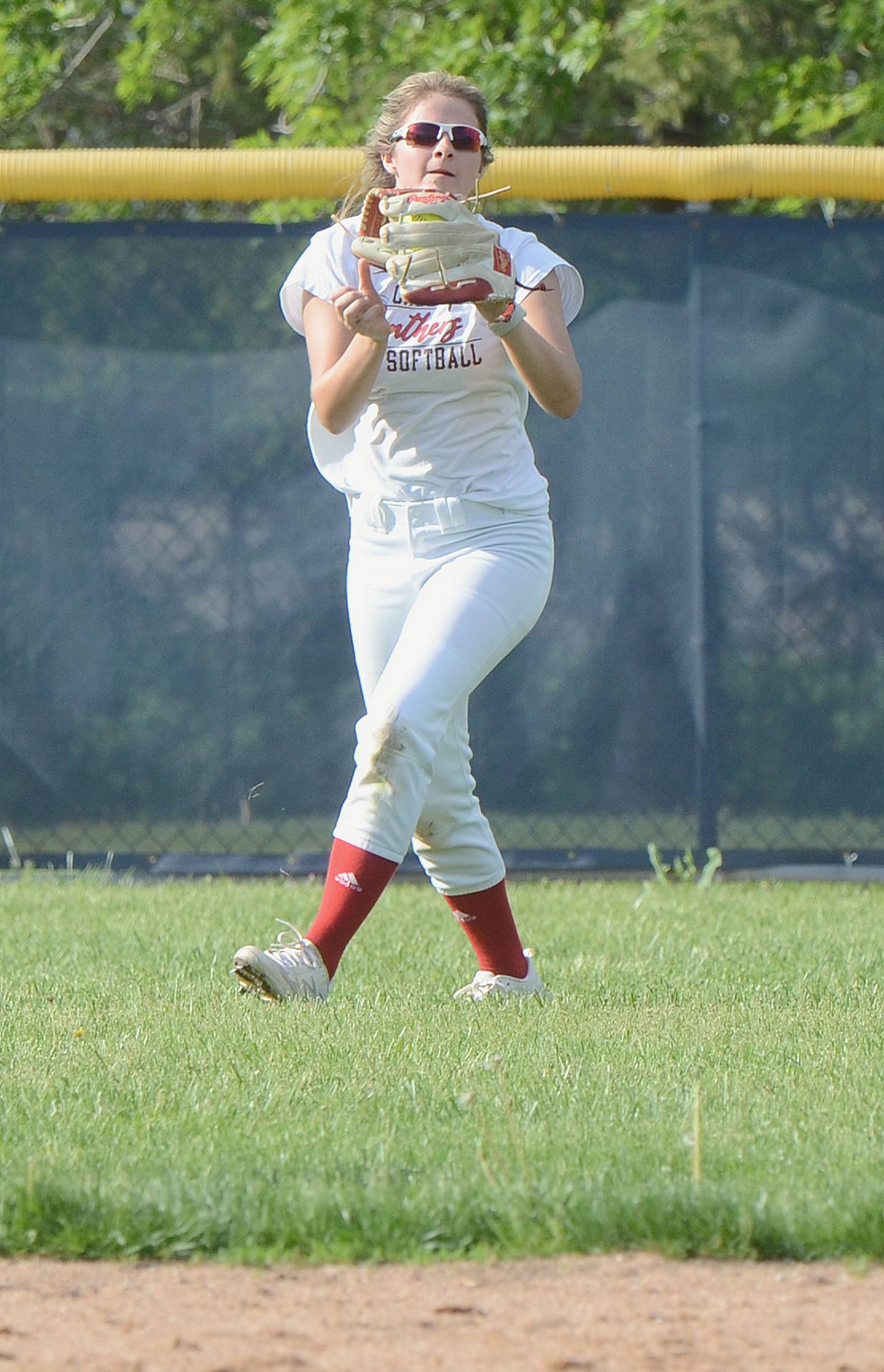 The tentative varsity roster (* - letter winner):
Seniors — *Keely Coen (P/Ut), *Daile Keeler (1B/3B), *Jacy Kralik (OF/1B), *Nevaeh Randall (SS); *Caitlin Bruce (OF).
Juniors — *Sophie Hagle (2B).
Sophomores — *Jersey Foote (CF), *Taryn Fredrickson (P/Ut), *Mila Kuhns (C/OF/Ut), Ady Morrison (P/OF), Zoey Vandevender (3B/SS/C), *Ava Adamson (C/1B), Sasha Wurster (OF).
Freshman — Jaycee Hanson (1B).