The mood at the Creston wrestling banquet was much more celebratory this year compared to last. After missing a trip to state duals and finding no wins at the state tournament in the 2021/22 season, the Panthers came back with a vengeance this year.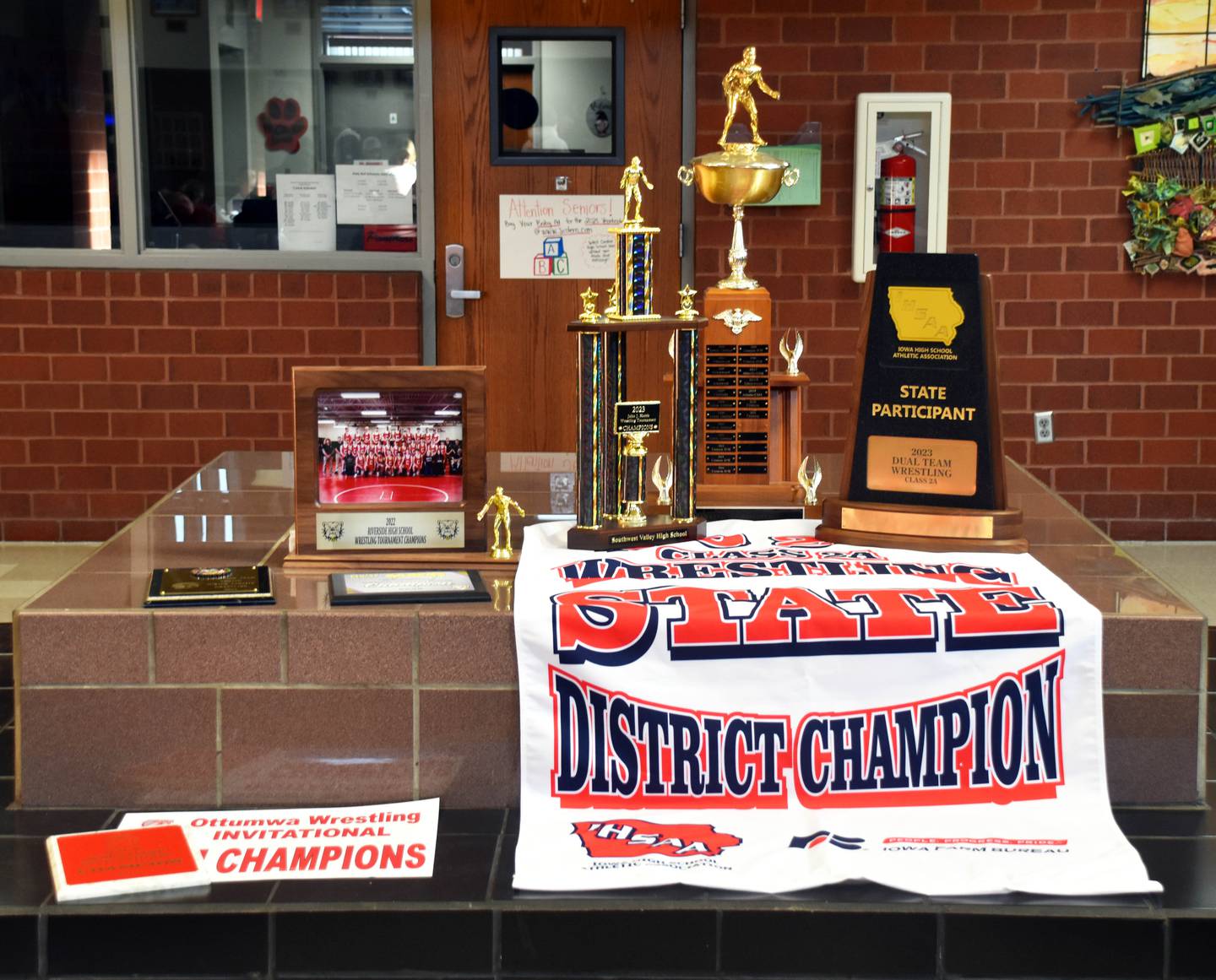 "If you don't get what you want right away, you've got to work on it," coach Cody Downing said.
This season, the Panthers held a 20-2 record including the titles of Hawkeye 10 Dual Champions, Hawkeye 10 Tournament Champions, District Champions and State Dual team qualifiers, fifth place. They took first at the DCG, Riverside, Dewitt "Saber," Ottumwa and John J Harris Invitationals as well as second at the Creston Panther Invitational and first at Atlantic "JV State."
Downing made note this is only the 15th time Creston has made it to the State Duals. "People don't realize how difficult it is," he said. "Some schools never make it."
In addition, he said he is proud of their "three-peat" as winners of John J. Harris Invitational and said they will go out and win again next year.
The Panthers sent eight wrestlers to the state tournament in Des Moines. "Eight is a great number," Downing said. "Eight is a good group of kids to take to state. We were really close to taking 10 or 11. The last couple years we only took two or three, this year it wa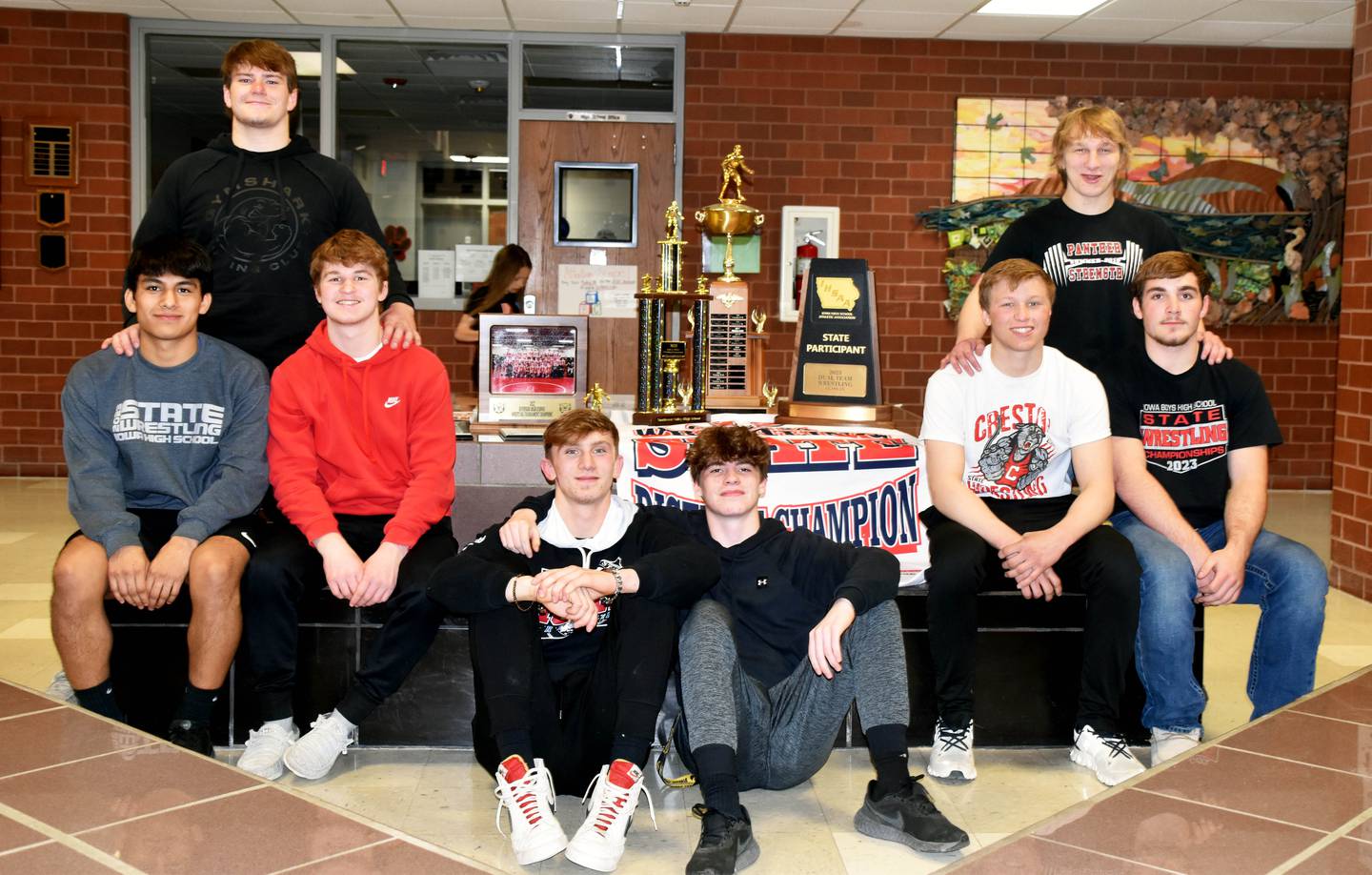 s fun taking the group. People were talking about Creston."
It wasn't just the success on the mat Downing acknowledged, but also their academic aptitude. "The next one is probably the one I'm most proud of," he told the wrestlers and their families. "Your team has to make it to regional duals and your 14 starters that wrestle in regional duals have to have a minimum team GPA of 3.25. Ours was 3.52."
In addition to the team recognition, Trey Chesnut and manager Jenna Busch were honored for their individual academic achievement with the Hawkeye 10 Academic All-Conference Award. Chestnut was also rewarded alongside Austin Evans, Will Bolinger and Max Chapman as state participants with a GPA over 3.5.
Seniors
The team recognized its five wrestling seniors and one senior manager: Chesnut, Chris Aragon, Kaden Street, Owen and Carter Henderson and Busch.
Hendersons: "Owen and Carter are probably the rare thing in the program that they weren't the stars, but they accomplished a lot with their teammates – two state dual trips in three years for these guys, 39 straight conference dual wins," Downing said. "That was the sacrifice both these guys made and us coaches recognize it for sure. Their teammates recognize it. On most teams, they would be successful varsity wrestlers, they just happened to be in weight classes where we had tons of depth."
Both found their way to make an impact in their four years on the team. Owen was a starter as a freshman at 113-pounds and Carter went to the finals in a couple varsity tournaments this year.
"The success of our guys in the middle, these guys had a lot to do with it," Downing said. "I think a lot of kids would have quit and they didn't. That speaks volumes of their character."
Aragon: Though Aragon spent his first three years in the junior varsity lineup, this year he earned his spot at the state tournament. "All the sudden, the lights came on for him. I could tell last summer, he had some big wins in camp. It seemed like something changed in his demeanor and he had a bit more killer instinct," Downing said. "I think he's what our seventh and eighth graders, our Express kids, need to look at that's a more realistic expectation than coming in and being a state qualifier, state place winner as a freshman. That's not that realistic. This is more the path. Especially on a successful team, you're going to have to put the time in; you're going to have to earn that right. He did it and he didn't give up."
Aragon finishes his career with 53 wins and as a 2023 state qualifier at 145-pounds.
Street: At one point in his middle school wrestling career, Street said he was the worst wrestler in town. This year, he was one win away from placing at the state tournament.
"He is an encyclopedia for wrestling knowledge," Downing said. "His memory for wrestling just speaks to his love of the sport. He's going to get a chance to do that in college next year."
Downing said missing out on going to the state tournament last year likely lit a fire under Street this year. " He definitely dedicated himself to being a better wrestler," he said. "I'm proud of him and everything he did this year. He was right there about being a state place winner. I think he had a great season and there's more to come."
Street finishes his career with 102 wins and as a 2023 state qualifier at 170-pounds.
Chesnut: Since his freshman year, Chesnut has been in the varsity lineup at times, but he's also demonstrated the ability to succeed in the classroom.
"All the academic awards he got, he's really a role model of what student athletes should be," Downing said. "He was one of the better wrestlers on the team this year.
Chesnut finishes his career with 111 career wins and as a 2023 state qualifier at 132-pounds.
Busch - After four years of being a wrestling manager, Busch's time comes to a close.
"Every time we're gone as a team, they're gone," Downing said. "The managers commit their weekends, they commit a lot of weeknights. I have them manage all of our inventory. They're asked to do more than probably meets the eye. Jenna's done this four years now, so we must not be that bad. I appreciate everything you do."
Aragon, Street and Chesnut all made it to state for the first time as seniors. "It's really a story of just perseverance, coming to work every day and putting your time in and not expecting instant results," Downing said. "These guys got gradual results. Ending your career at the state tournament is not a bad spot to end it, and these three all did."
As far as the entire senior class goes, Downing said they are what every class should try to be. "Guys that never gave up whether they're the star wrestler, whether they're a state qualifier freshman year, these guys stuck together."
Underclassmen
Juniors - The junior class makes up a bulk of the lineup with eight of the 14 varsity wrestlers and five of the eight state qualifiers. The eight starters include Christian Ahrens, Lincoln Keeler, Austin Evans, Milo Staver, Will Bolinger, Jagger Luther, Quinten Fuller and Max Chapman. Competing at the state tournament were Ahrens, Keeler, Evans, Bolinger and Chapman.
"Each one of them contributed in different ways this year to our season," Downing said. "We can do a lot of good things next year with this group. Some of these guys got to the state tournament this year, some were knocking at the door. I know a couple of them are disappointed in how the season finished."
Sophomores - While the sophomore class is small at only four wrestlers, Downing said they will have increased opportunities over the next two years.
"This whole group, they never miss. They're going to be expected to make big steps this off season," Downing said. "Our sophomore class, we're asking them to step up big time and get some reps next year."
Freshmen - "My first thought after a couple weeks was I can work with these guys," Downing said. "I told coach, we're going to be fine. Absolutely no doubt this group can do a lot of things the next three years."
From 80 to 200 pounds, the group has good size and weight distribution. "They probably need to buy in a little bit more to the practice piece," Downing said. "I felt it was there more at the end of the year. One day off, even a mental day off, can backfire on you. This class can help us, they already helped us big time this year."
Three freshman wrestled at State Duals this year - Lane Travis, Kylen Parsons and Gunner Martwick.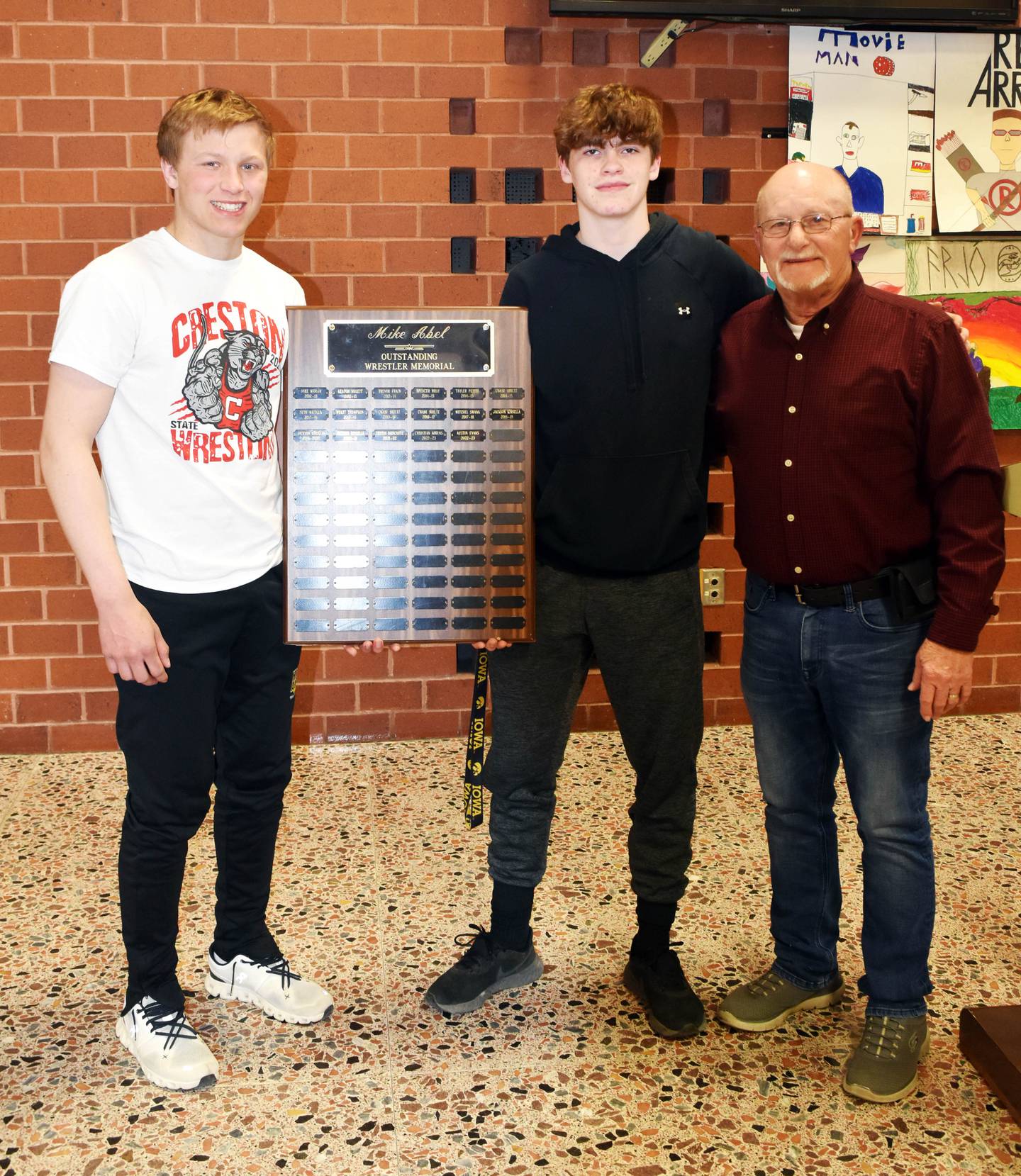 Letterwinners
Freshmen: Brodrick Phelps (1), Owen Weis (1), Gunner Martwick (1), Kylen Parson (1), Jackson Pettegrew (1) and Lane Travis (1).
Sophomores: Tyson Looney (2), Luke Travis (2), Will Stuart (1) Logan Stone (1) and Sasha Wurster.
Juniors: Jagger Luther (3), Austin Evans (3), Will Bolinger (3), Quinten Fuller (3), Lincoln Keeler (3), Max Chapman (3), Christian Ahrens (3), Brandon Briley (3), Boone Pryor (2), Carson Rieck (2), Milo Staver (2) Jackson Kerr (1), Ashlyn Baker and Makenna Brown.
Seniors: Owen Henderson (4), Carter Henderson (4), Chris Aragon (4), Kaden Street (4) Trey Chesnut (4) and Jenna Busch.
Awards
Hardest worker: Austin Evans, Chris Aragon and Trey Chesnut
Best teammate: Kaden Street
Most improved: Chris Aragon and Milo Staver
2023 Coaches Award: Kaden Street, Quintin fuller, Carson Rieck, Brandon Briley, Brodrick Phelps and Jackson Kerr.
Mike Abel Outstanding Wrestler Award: Christian Ahrens and Austin Evans.