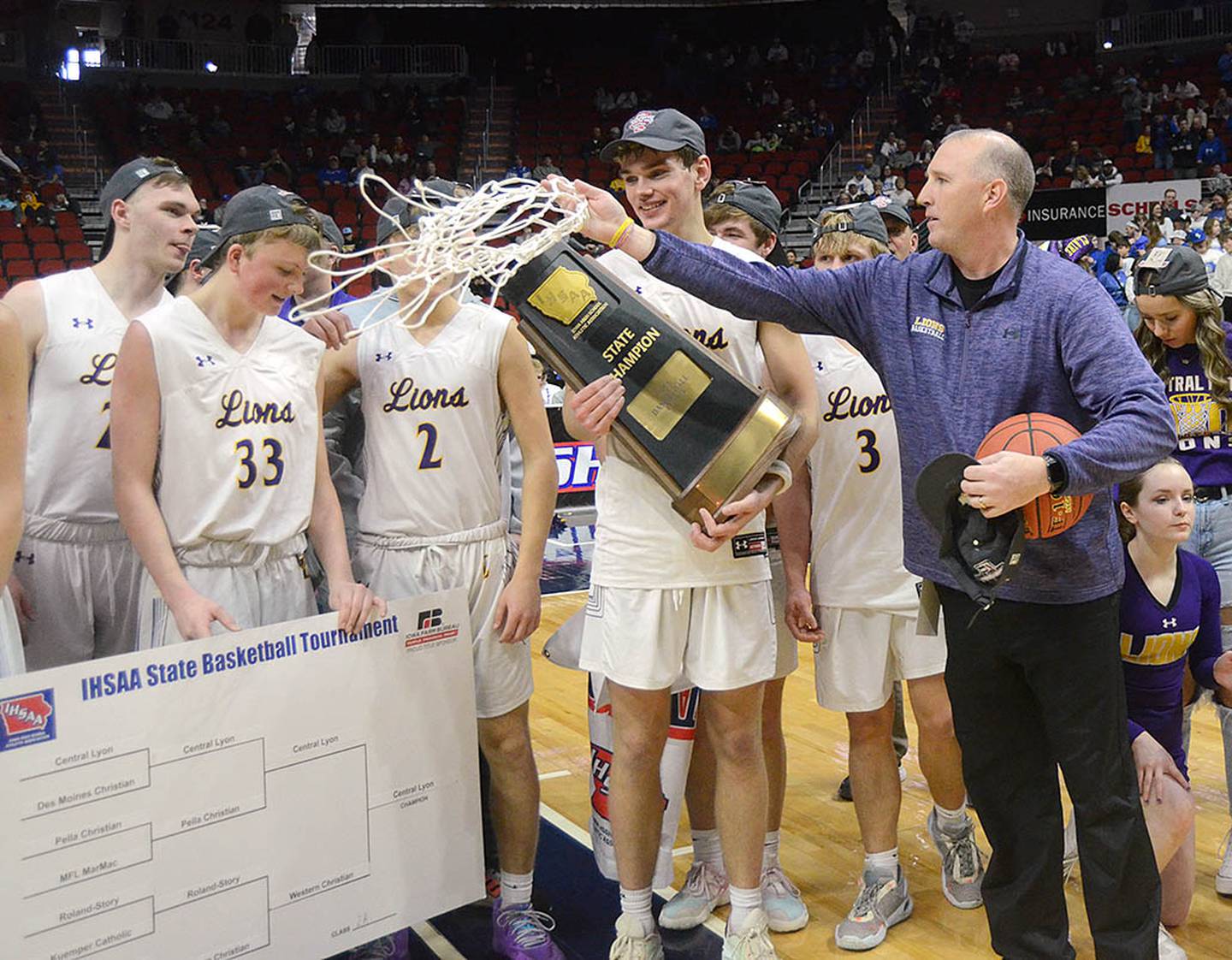 DES MOINES — Championships never get old for Ben Gerleman.
And, the 1997 Creston graduates is familiar with the path of redemption in the second trip to the state tournament. As part of the all-state guard backcourt duo that included Kyle McCann, Gerleman's talented group of Panthers coached by his father, Mike Gerleman, came within a one-point semifinal loss in 1996 of possibly being a two-time state champion.
The team that knocked them off in that game and went on to sail to a 3A title was Western Christian. Creston returned in 1997 and rolled to a state championship after taking third place in 1996.
And, it was Western Christian as the opponent again Friday afternoon as Gerleman's Central Lyon team gained its first state championship, 72-59, after falling to Rock Valley in the 2022 title game in the school's first state trip.
Gerleman also coached George-Little Rock to a state championship in 2006, and third place in a return trip in 2008.
After his third state championship on Friday, Gerleman said he could relate to the experience of his players, after nearly reaching the mountain top last season with a team that included his son Mason as a starting guard.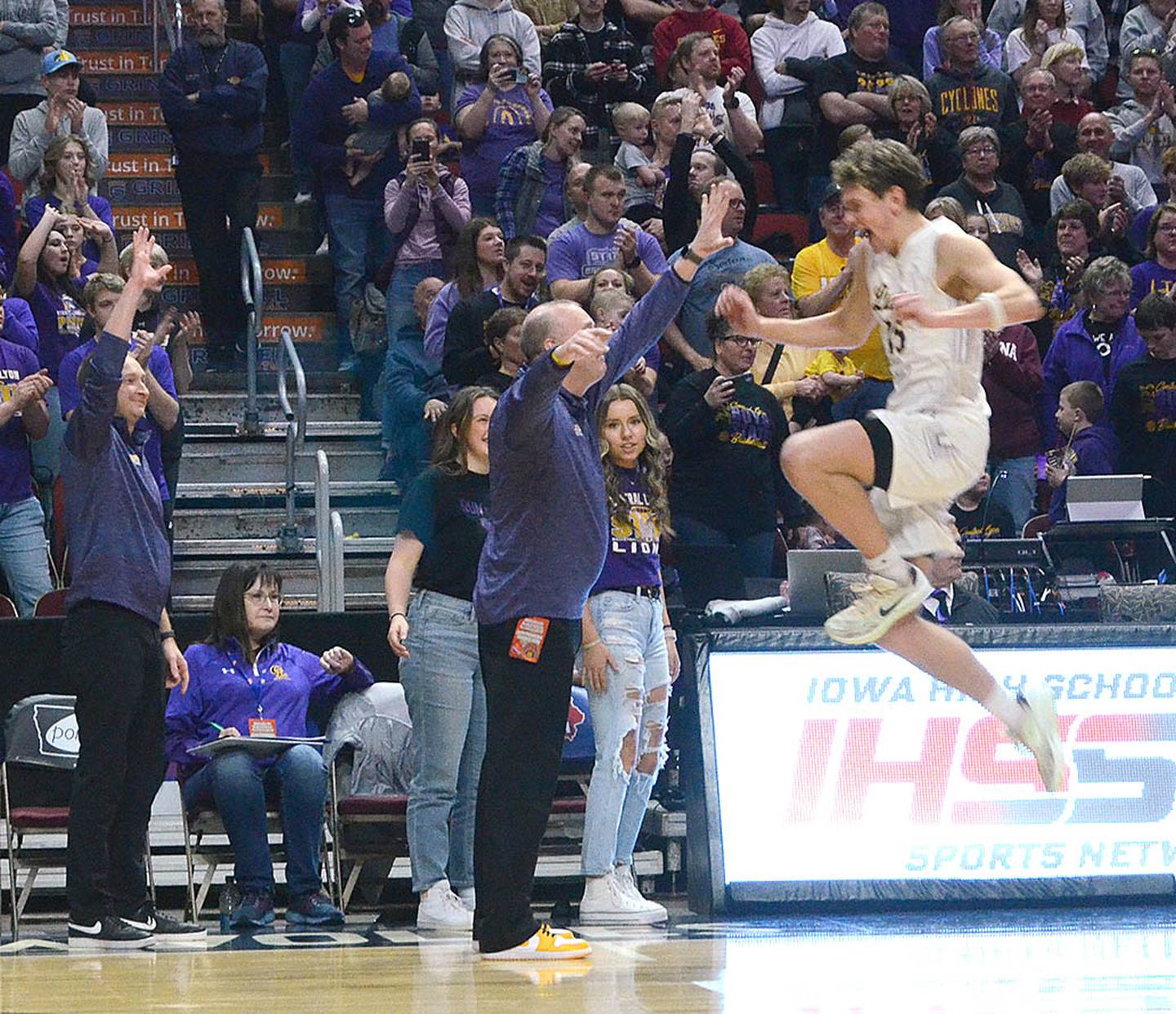 "I definitely know what they're feeling," Gerleman said. "It definitely helped to have that experience last year, and know all the little things that go along with being here. This year it was a much different feeling walking into the locker room. They went in with a mission. It's a little bittersweet for me, because last year I thought we were good enough and my son just missed out on it. I miss that for him, but at the same time, I'm unbelievably thrilled for the kids we have this year."
Second championship
Many of the players had a similar experience in football, where Central Lyon combined with George-Little Rock took second place in 2021 before topping Williamsburg 10-6 in the title game last fall. He said the experience of playing in games on a big stage became valuable in Friday's title game, which was tied 32-32 at halftime.
"We said at halftime that winners win, and we have a bunch of winners," Gerleman said. "This group of kids have been in four state championship games. It ended up the same in both. We lost that football one and won the second one. In basketball we lost last year and won this one."
Backing in the glory of the football championship, the players met late last fall with Gerleman regarding the plan to begin basketball practices. He threw out a nugget of inspiration.
"I said winning a state title in football was exciting, but you know what, it's been since 2006 since the same school won both football and basketball," Gerleman said. "That's the only time I mentioned it to them."
Harlan was the school that last accomplished that football-basketball double in 2005-06, which included a one-point victory over Creston in the 3A basketball semifinals on the way to winning in the first year of competition at Wells Fargo Arena. (Creston had also played in the 2005 state tournament in the final year it was held at Veterans Memorial Auditorium.)
Several of Gerleman's key players were also part of the football championship. Quarterback Zach Lutmer, a University of Iowa football recruit as a defensive back, led the Lions Friday with a game-high 25 points. He also had seven rebounds and distributed six assists.
Two of the football team's receivers, 6-7 senior Andrew Austin and 6-5 junior Reece Vander Zee, were primary contributors to the basketball championship. Vander Zee had 21 points, five boards, three assists, two blocks and two steals. Austin, who was named captain of the all-tournament team, scored 17 points with a game-high eight rebounds. He totaled 58 points and 36 rebounds in three tournament wins over Des Moines Christian, Pella Christian and Western Christian.
Senior Josh Elbert, a running back and defensive back in football, added six points, three assists and two steals along with some of the toughest defensive assignments.
Tate VanRegenmorter scored 19 points for Western Christian, which won the 2020 title among its 10 championships in 23 state appearances.
Western Christian of Hull and Central Lyon of Rock Rapids are only 20 miles apart in northwest Iowa, but they do not meet in the regular season. Western Christian is an independent, while Central Lyon is in the Siouxland Conference, which schedules 18 conference games for each member.
Gerleman said Western Christian, a familiar Sioux City area powerhouse, was a respected opponent.
"We thought we would probably face them last year to go to state, but they got upset before that game," Gerleman said. "They've got talented kids, and coach (Derek) Keizer does a good job, and those kids were really motivated after getting upset last year.
Second-half spurt
Gerleman called a timeout when Western Christian moved out to a 38-32 lead with 6:10 remaining in the third quarter. Vander Zee and Elbert then hit consecutive 3-point shots as the Lions tied it at 40-40, and Central Lyon never trailed again.
The Lions went on a 13-0 run to take a 57-44 lead with 5:47 left. Western Christian was shut out for a stretch of 5:30 over the end of the third quarter into the fourth period.
"They got off to a really good start in the second half, but our kids kept their composure," Gerleman said. "We liked what we were doing defensively and we rebounded really well during that stretch, that's probably what allowed us to get that separation."
It's been a busy two years in the Gerleman family. Mariah, Ben and Nicole Gerleman's daughter, is a junior at Central Lyon and has been on two state runner-up girls basketball teams including the week prior to the boys' title this year. She has also been on two state placewinning golf teams coached by Ben. Son Mason averaged 16.9 points per game for the state runner-up Lions team in 2022.
Gerleman is in his 22nd year as a head coach, with 294 career wins. He has coached in four state tournaments, two for George-Little Rock and the first two state trips in history for Central Lyon.
Gerleman said many new players contributed to the second run to state.
New starters in addition to Vander Zee this year were the 5-10 Elbert at guard, and 6-6 sophomore Ephraim Hoefert. Matt Elbert, a 5-11 sophomore, saw eight minutes of playing time in Friday's win.
"Zach and Andrew were the only returning starters this year, and Reece was our sixth man last year," Gerleman said. "Those three were the only ones who got any minutes last year. We've had a lot of guys step up to make winning plays this year. I'm very proud of them."