After dispatching Albia 43-30, the Glenwood Rams faced Creston Tuesday for a shot at the state duals. After a rollercoaster dual, a freshman's pin all but sealed the victory for the Panthers in a 36-33 battle.
Their third time facing the rival Rams this season and second time just this week meant familiar opponents for most of the wrestlers.
Creston saw an injury-free lineup for one of the first times this year.
The dual began with Lincoln Keeler facing Glenwood's Briten Maxwell. While neither wrestled in the teams' first meeting, Keeler took the Hawkeye 10 title at 126 Saturday.
The first period saw Keeler take his opponent down, but the match stalled as no additional points were scored until the third when Keeler escaped his opponent and followed with a takedown. The match opened the dual with a 3-0 Creston lead.
Glenwood's state-ranked and Hawkeye 10 titleholder Matt Beem defeated senior Panther Trey Chesnut with a late first-period pin to reverse the lead 6-3 in Glenwood's favor.
Another conference title winner, Creston's Austin Evans at 138, took the mat against Ian Connell, and got out to a quick start. Evans was already out to a 7-0 lead when he found the pin with 18 seconds remaining in the first period. The Panthers regained the 9-6 lead.
The 145-pound match began the electricity in the crowd as senior Panther Chris Aragon took on Reese Fauble. In their December bout, Aragon lost in a 7-5 decision, but on Saturday, Aragon took the Hawkeye 10 title at 145.
The pace was fast from the get go — Aragon with two takedowns and Fauble with an escape in the first period. Another escape by Fauble in the second narrowed the lead and a takedown tied them up as Aragon fought to keep his shoulders off the mat.
To start the final period, Fauble was up 7-5. Aragon began in the bottom position, working to reverse control and tie the match. He was able to escape, down by only one and the crowd went wild as he looked for a takedown to take the lead.
With 15 seconds left, it was Fauble who found the takedown and the 9-6 decision to tie the team score at 9-9.
"It was a great match," Creston coach Cody Downing said. "I thought we'd win that match, but that's the way it goes in this stratosphere. That's what makes regional duals so fun."
The gym went from loud to quiet as Milo Staver and Tate Mayberry began their 152-pound bout. Similarly to their previous matchups, the first period was spent on their feet, circling for control, but neither was able to score.
The second period saw Rams fans upset when an escape and take down weren't awarded points as they happened out of bounds.
Down 1-0, it was Panther fans turn to get riled up in the third as cries of stalling came from the crowd against Mayberry. After a warning from the referee, Mayberry was hit with stalling with only 30 seconds left in the match – tying them at one point each.
As the clock ticked down, Staver was able to flip control, scoring two points on a last-second reversal to best state-ranked Mayberry in a 3-1 decision.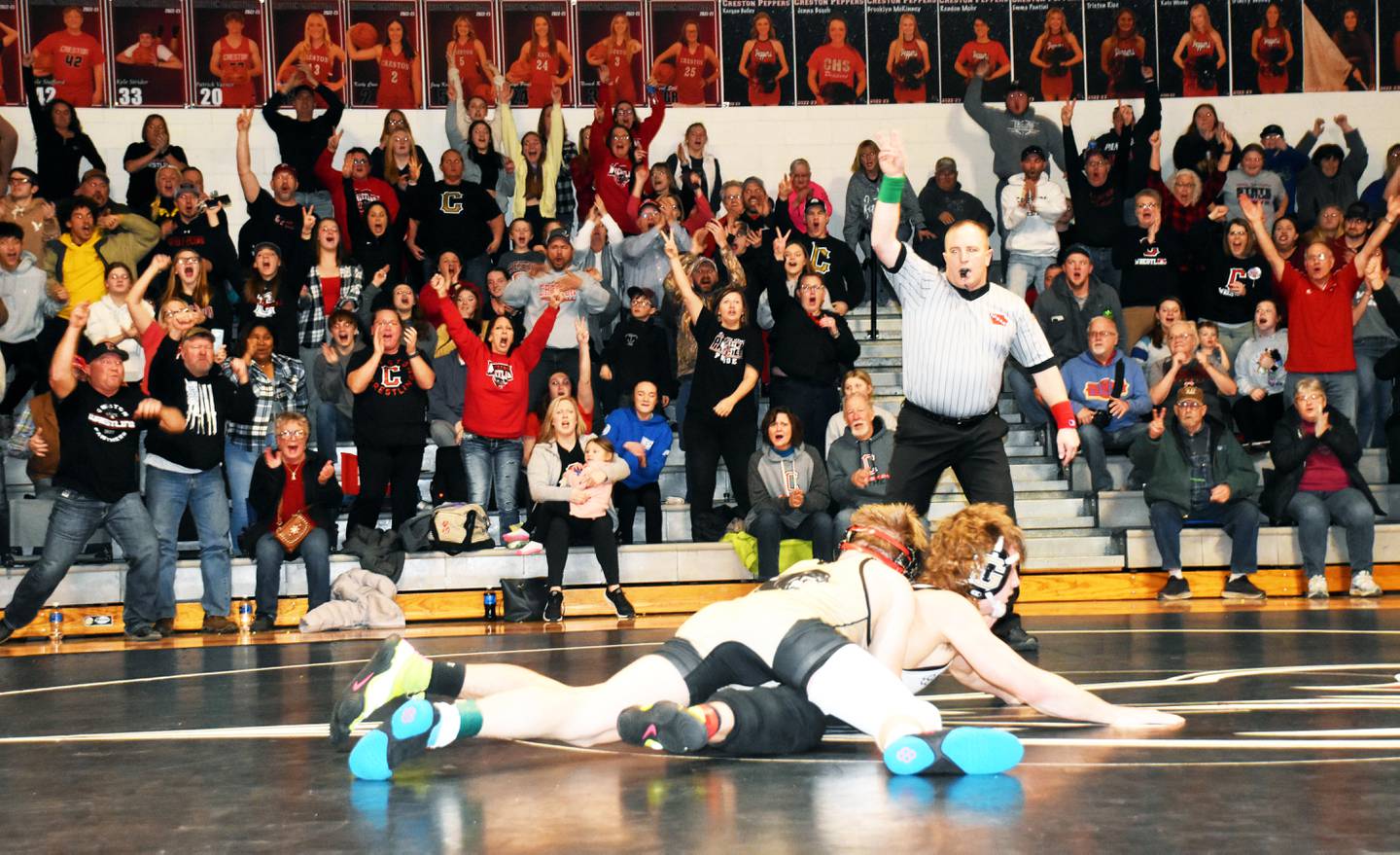 "That may be the loudest I've ever heard our gym, and I've heard it pretty loud," Downing said. "This is my 17th regional duals as either a wrestler, coach or assistant coach and that was pretty loud. That was a huge win. If you look at the final score, that was a huge win for us."
Staver said the crowd helped feed his energy and keep him pumped up. "It's the best feeling in the world to win with the home crowd here in a meet with this much at stake," he said. "To win is just amazing."
Two of the Panthers' veteran wrestlers took the mat at 160 and 170, making quick work of their opponents.
Will Bolinger was quick and aggressive out of the gate, finding his pin over Scott Reed in a short 34 seconds. It was a welcome win after Reed's last-second upset over Bolinger earlier in the season.
Senior Kaden Street didn't get it done as quickly, but after being up 8-1 at the end of the first, he pinned Austin Wear shortly into the second.
The three back-to-back victories grew Creston's lead to 24-12, though it wouldn't last.
The Rams came back with their own string of unanswered victories, beginning with the defeat of Creston's Jagger Luther in a close decision.
Luther found the first points of the 182-pound match against Gavin Connell, but by the end of the second, Connell had the 4-2 advantage.
With 45 seconds remaining, Luther scored on a reversal, tying the match, but was unable to hang on as Connell escaped and took the 5-4 decision.
State contender CJ Carter took the mat for Glenwood, and found a first-period pin over Gunner Martwick to chip away at Creston's 24-18 lead.
Freshly back from a wrist injury, Creston's Quinten Fuller faced off against Matt Koehler, both state ranked this season. Though Fuller scored the first points, he was flipped and nearly pinned in the first. Thirty seconds into the next period, Koehler got the pin over Fuller, tying the team score 24-24.
Another battle of state ranked wrestlers took place at heavy weight with junior Max Chapman facing Trent Patton. Chapman found a quick takedown and retained his lead through two periods.
A miscalculated throw attempt put Chapman on his back, and Patton took advantage of the opportunity, getting the pin with less than a minute left in the bout.
"That's kind of what big guys are sometimes," Downing said. "We've got to learn to stay off our back in that situation, but we were able to overcome it."
Despite the change in lead, 30-24, Downing said he didn't panic. "I told coach (Chris) Loudon, 'I think we're going to be OK,'" he said. "We're going to get the forfeit at 106, I think we can get bonus points at 113, it's just a matter of pinning at 120."
The Glenwood forfeit at 106 tied the conference rivals at 30-30 with two matches left.
Normally the 106-pound wrestler, freshman Lane Travis was bumped to 113 to wrestle Hunter Codney. "Lane's probably our best little guy down in those weights," Downing said. "My thought was to weigh both him and Kylen (Parsons) in at 106 and put Lane against the better wrestler. When they didn't weigh in at 106, my decision was made to go with Lane at 113."
Before he took the mat, Travis got some motivation from teammate and final wrestler Christian Ahrens. "He told me, 'go out there, have fun and pin that kid,'" Travis said.
Travis took the advice, gaining the early lead in the match before getting Codney on his back late in the second period. With seconds left in the second, the referee's hand slapped the mat to thunderous cheers from Creston fans and wrestlers.
"I think he had some nerves because there wasn't a lot of energy or action there but he turned it on in the second period," Downing said. "That was deafening."
Going into the final match, Creston had the criteria to win in a 36-36 tie barring an unsportsmanlike, but Ahrens wasn't going to let it get to that.
"Nobody likes to wrestle last," Ahrens said. "Right there, the team needed me not to lose, and that's what I got done."
One of the best pairings of the night, Ahrens faced conference rival and state-ranked wrestler Vinny Mayberry. Each having a victory over the other this season, the match was a toss-up.
"I think they're both state place holders," Downing said. "It's a great match, but we always believe in Christian. I think Christian was a little more hesitant than he normally is in that situation. He wanted to win, but for his team, he was being way more cautious and not risking."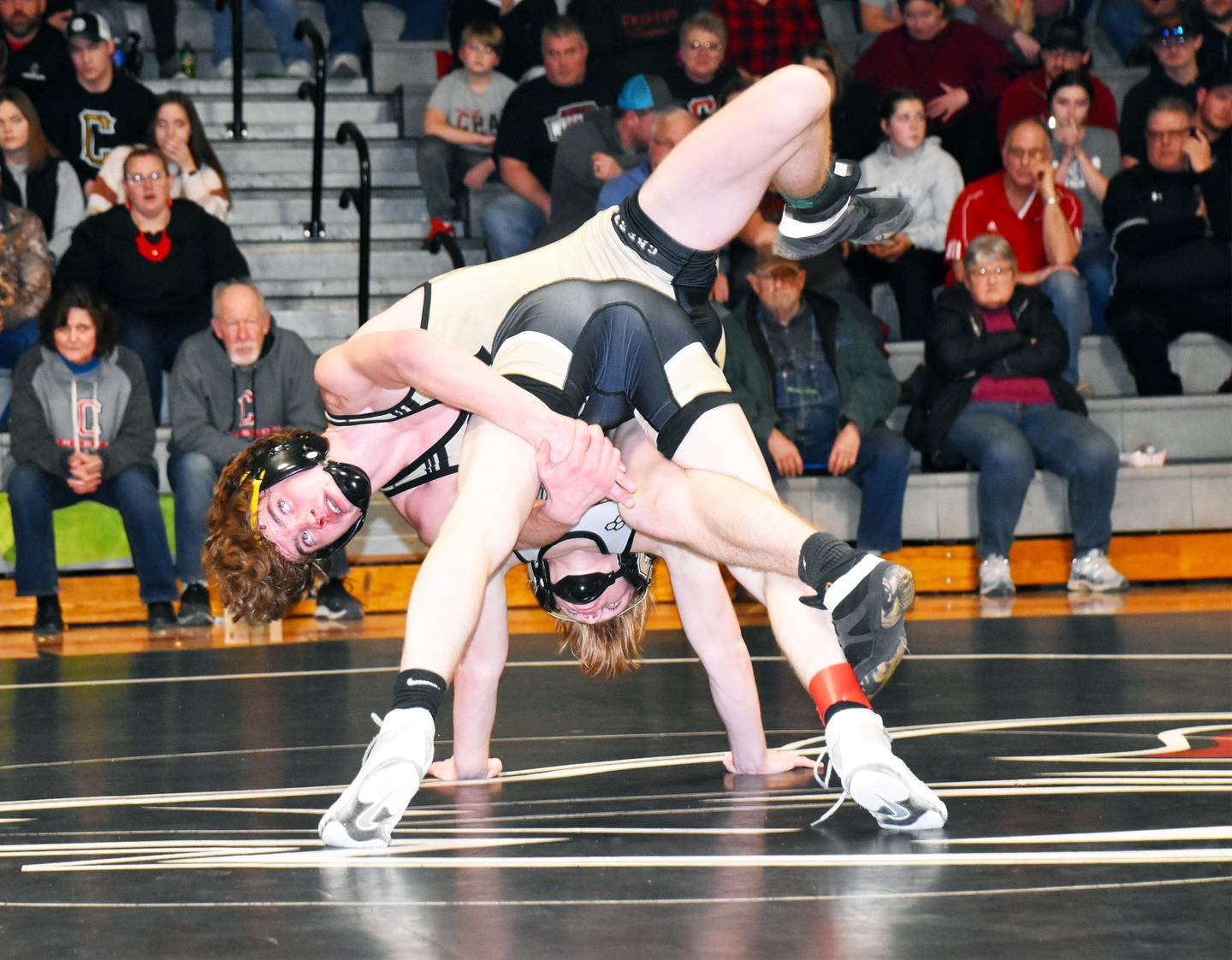 The match was slow — Mayberry earning two points on an early takedown, but it would be the only points of the match. As the clock hit five seconds remaining, Panther fans began to cheer as they saw the path to state unfold before their eyes.
Ahrens said he's excited for the trip to state Saturday. "Last year we didn't get what we wanted," he said. "This year we're going back chasing the state title."
Last year, the Panthers reached the regional dual tournament and sent four wrestlers to the traditional state individual tournament, but they watched two teams (Atlantic and Winterset) advance to the Iowa state duals tournament after previously defeating them. Atlantic edged the Panthers, 29-26, in a regional dual and ended up sixth at state duals. Winterset advanced from its regional.
Senior Street is ready for another shot. "Everyone wanted a chance again," he said. "One step at a time. Win the first dual, hopefully win the second. If we make it to the finals, then to put it away would be pretty awesome."
Downing said his goal is for the team to keep loose and not think about it too much. "Don't over emphasize it — It's just a wrestling meet," he said. "We had a lot of fun this week, now we get to go to Iowa City and have fun."
The Panthers will be facing seven other teams in the state duals team tournament Saturday at the Xtreme Arena in Coralville. Wrestling begins at 9 a.m. and wraps up at 8:30 p.m. with the championship dual.
Other advancing 2A teams are Osage, West Delaware, Sergeant Bluff-Luton, Mount Vernon, Humboldt, Webster City and Williamsburg.