OSCEOLA — An athletic Clarke girls basketball team took advantage of some Creston foul trouble and drained three timely 3-pointers down the stretch in rallying past the Panthers Monday night, 70-67.
Playing a solid man-to-man defense that largely held the Clarke offense in check, Creston established a 34-23 halftime lead. Doryn Paup had 13 points at the break with help from Aleah Calvin with eight points and freshman Kadley Bailey with seven.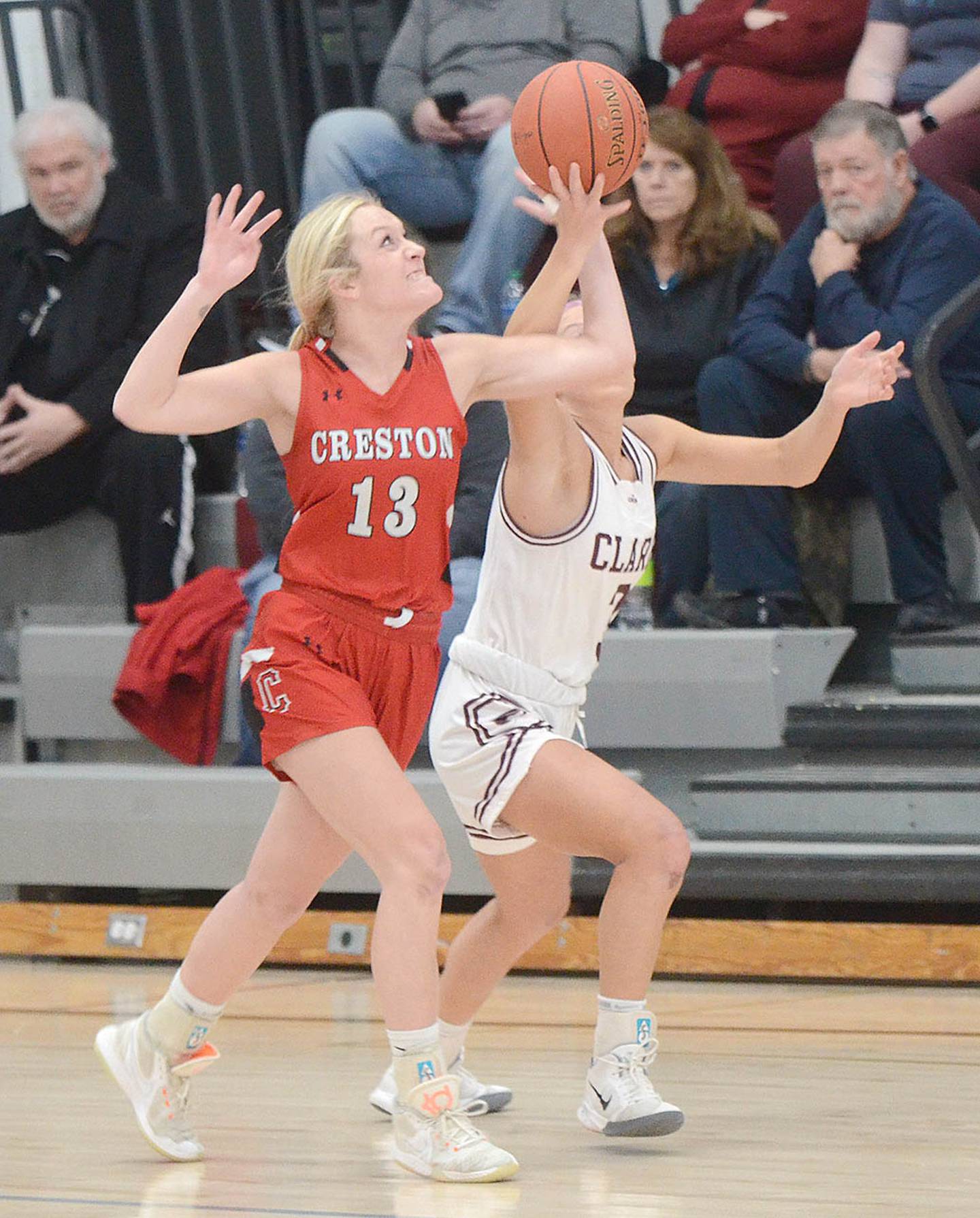 Early fouls by Creston in the third quarter led to seven straight points from the free throw line as the Indians closed it to 34-30. More importantly, Paup, Calvin and freshman starter Ella Turner all ended up with four fouls and Creston coach Tony Neubauer changed defenses in an attempt to limit the fouls. Paup came into the game averaging 19.4 points per game.
"We had to go to our matchup zone to protect Doryn," Neubauer said. "They are a decent team. I thought we dictated the tempo in the first half and they dictated it in the third quarter. We had some dead possessions and they got to the free throw line."
Turnovers on the offensive end and fouls leading to Clarke free throws turned the momentum Clarke's way. For the game, Creston was outscored 22-11 at the free throw line and 18-12 from 3-point range.
"We told our girls at halftime that any time you have a chance to get to the hoop, we have to go aggressively," Clarke coach Daniel Schmidt said. "The worst that can happen is that we kick it out for an outside shot. We got free throw opportunities and got into the bonus early."
After Creston's Hollyn Rieck hit a 3-pointer early in the fourth quarter for a 48-43 Panther lead, the Indians started a parade to the charity stripe thanks to the early bonus situation. Ava Hagen, Maddy McCoy and Tory Henry made 3-pointers during a 90-second stretch midway through the period to push the Indians ahead 66-57.
But, Creston wasn't finished. Bailey sank a 3-pointer and Paup scored three straight field goals as Clarke suddenly had its own turnover issues against Creston's late defensive pressure.
Suddenly, it was a 68-66 game and Clarke turned the ball over again with 36 seconds left. Creston senior guard Jacy Kralik, who returned to action Friday at Harlan after an elbow injury, was fouled while grabbing an offensive rebound with 18 seconds left.
Kralik made the first one to shave it to 68-67 and missed the second one. Tory Henry was fouled by Creston with seven seconds left and sank both free throws for the final 70-67 margin.
"We kept battling back and all of a sudden we were up by six," Schmidt said. "That's how we've been, kind of spurty. Paup getting that fourth foul was big. She's a stud. I was amazed at how many passes got into her when we were denying."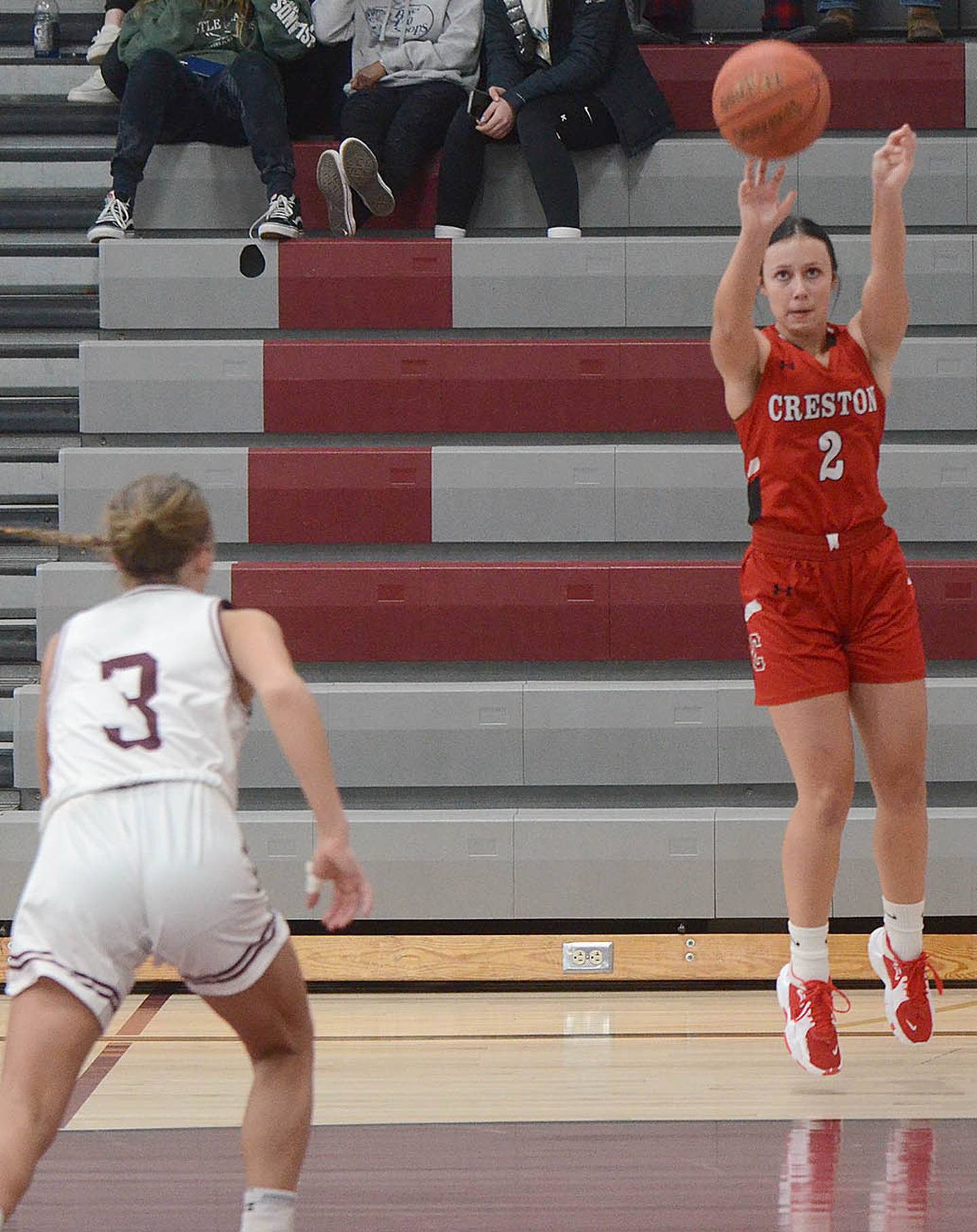 Ali Henry led Clarke with 24 points, including an 8-of-10 night at the free throw line. Tory Henry and Josey Dunbar each scored 16 points. On a night when it was announced as Officials Appreciation Week nationwide prior to tipoff, a Clarke fan was ejected during the second half for comments made toward the officials.
Paup finished with 32 points for Creston. Calvin and Bailey each netted 12 points. The Panthers, now 4-14 with a 3-7 Hawkeye Ten mark, host Red Oak on senior night Friday. Seniors and their parents will be introduced between the girls and boys games, after the 6 p.m girls contest.
Clarke improved to 12-5 overall.
CLARKE (70) — Totals — (FG FT PTS) 21 22-28 70. Ali Henry 8 8-10 24, Tory Henry 4 6-9 16 Josey Dunbar 5 6-9 16, Ava Hagen 2 2-2 8, Maddy McCoy 2 0-0 6. 3-point goals — 6 (Hagen 2, T. Henry 2, McCoy 2). Team fouls — 20. Fouled out — none.
CRESTON (67) — Totals — (FG FT PTS) Doryn Paup 15 2-5 32, Aleah Calvin 3 6-8 12 Kadley Bailey 5 0-0 12 Ella Turner 1 2-2 4, Jacy Kralik 1 1-2 4, Hollyn Rieck 1 0-0 3. 3-point goals — 4 (Bailey 2, Kralik 1, Rieck 1). Team fouls — 21. Fouled out — Turner.