DES MOINES — After a grueling eight hours of wrestling, three Highway 34 wrestlers took their spots in the top six in their weight class Friday at the historic girls regionals tournament at Hy-Vee Hall.
Savannah Sistad took the top berth, winning the 235-pound weight class and clinching a ticket to the state tournament.
Zoey Vandevender and Grace Keeler battled back from the consolation bracket, doing enough to secure fifth and sixth place, respectively, but coming just short of a state qualification.
Senior Riley DeGonia was out with injury and did not compete.
The six wrestlers logged 11 pins in 24 matches — Sistad going a perfect three-for-three.
Though the event was large in both magnitude and importance, head coach Jacob Lister told the girls to think of it like any other tournament.
"I explained to them, looking at the matches themselves, it's not any different," he said. "The mat's the same size regardless."
Fitzgerald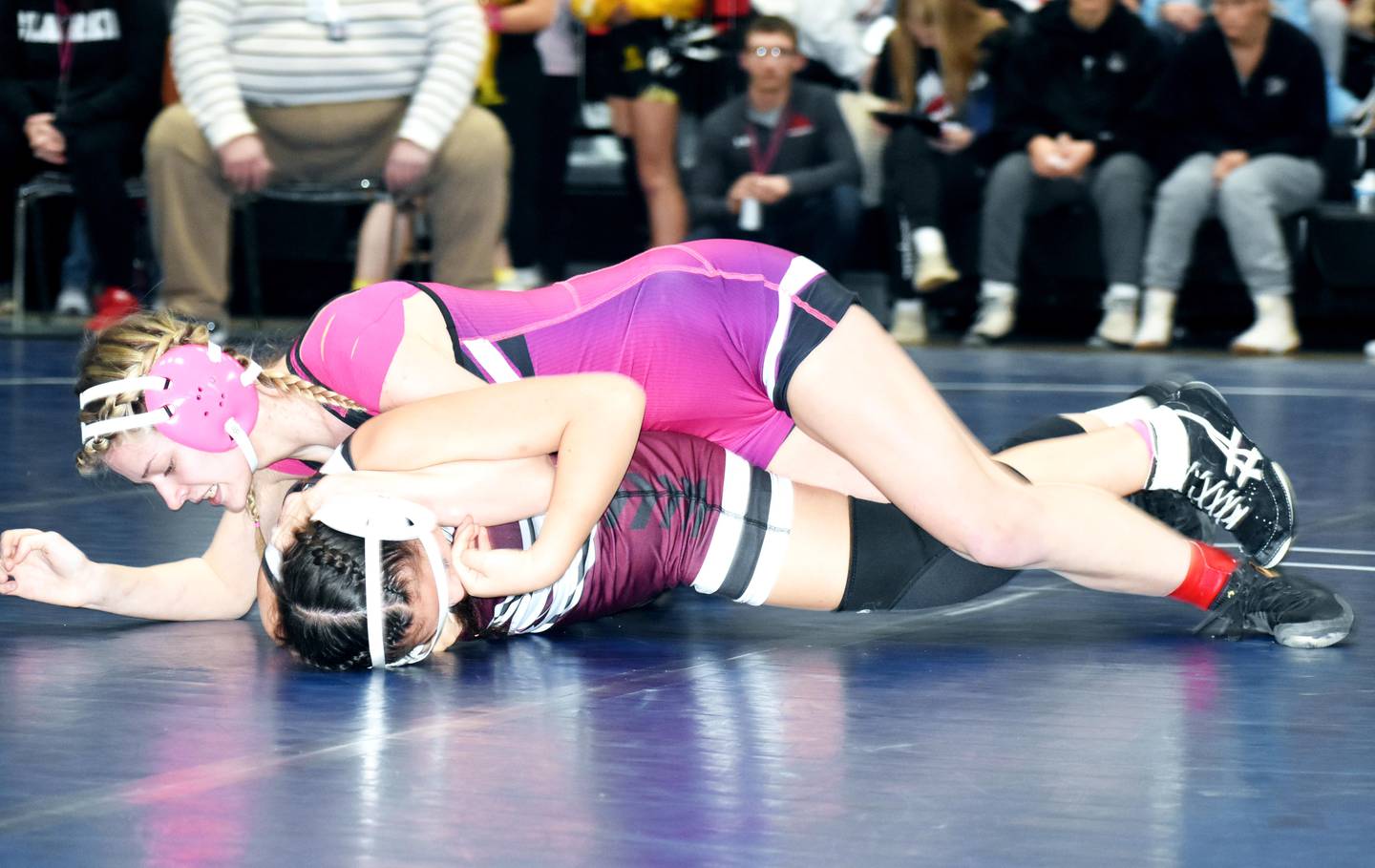 Senior wrestler Jaycee Fitzgerald took that to heart as she prepared for her first match. "It was quick," she said of the 32 second pin that began the day, "I had wrestled her before and beat her. I just went out there and didn't think about the time I beat her. I just went out for blood."
Though Fitzgerald hoped the quick pin would set the tone for the rest of her day, she was pinned by Brooklyn Rudkin of West Marshall to send her into the consolation bracket.
She needed to win her next match to stay alive with a shot at the top four and a state qualification, but Ella Hron of Ankeny won the battle, pinning Fitzgerald in 1:04.
"There are things I could have improved and done different, but you can't take it back," Fitzgerald said. "Our team is like a family. Everything, win or loss, we were all there for each other. The season's meant everything to me and I'm really sad it's over."
Fitzgerald's opponents who defeated her went on to finish third and fourth at 105.
Foster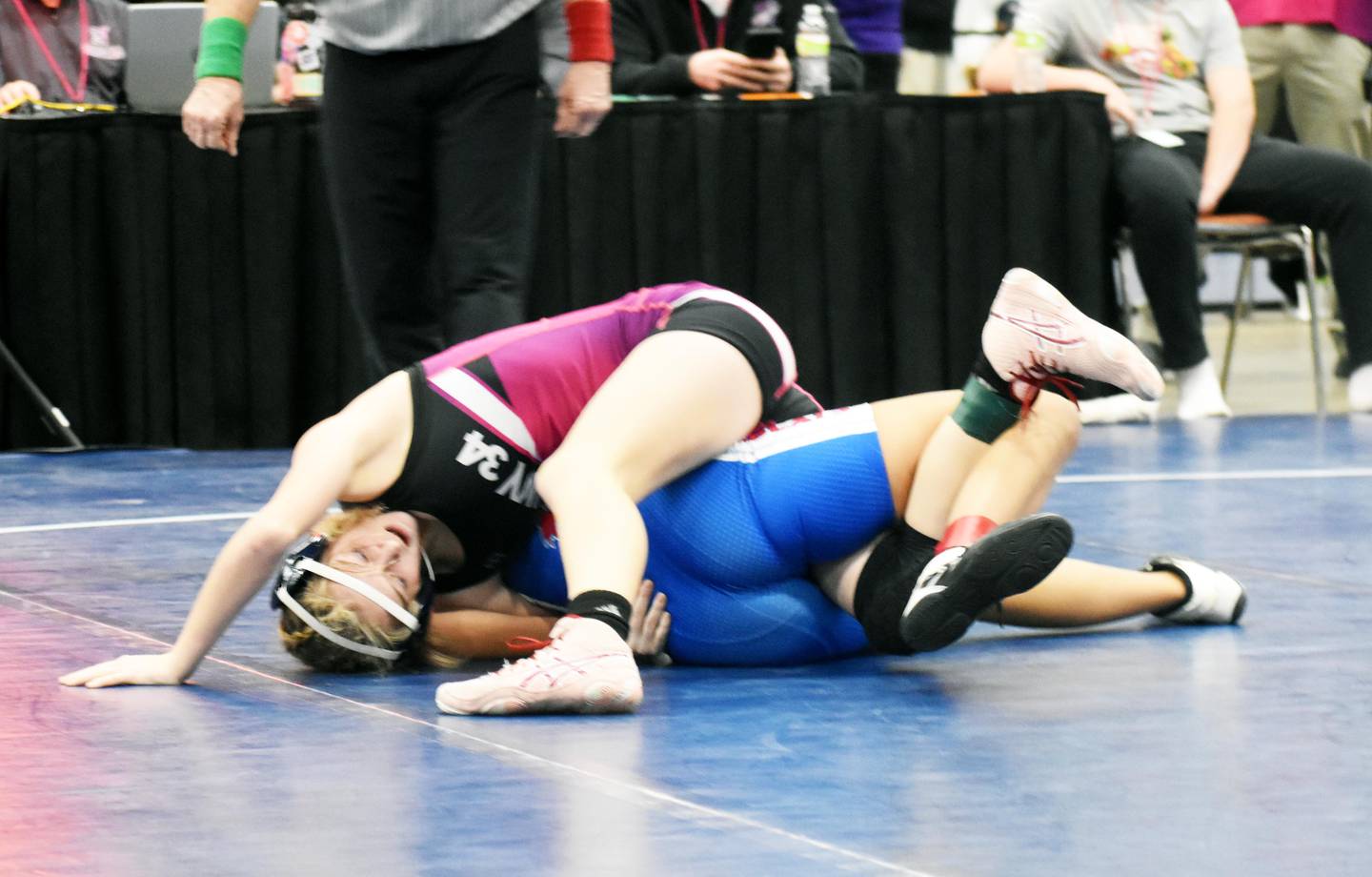 Though Quynn Foster's day didn't go as she hoped, Lister was impressed with her consistent adjustments.
"There were a lot of great big improvements," Lister said. "She stopped reaching back like she had been. It was small, little errors that had we fixed those, it would have been different."
Foster, a second-year wrestler, battled into the second period in both of her matches before being pinned by Madison Kirby of Williamsburg and Kaitlyn Yepez of Marshalltown.
Kirby went on to take third at 110-pounds.
Keeler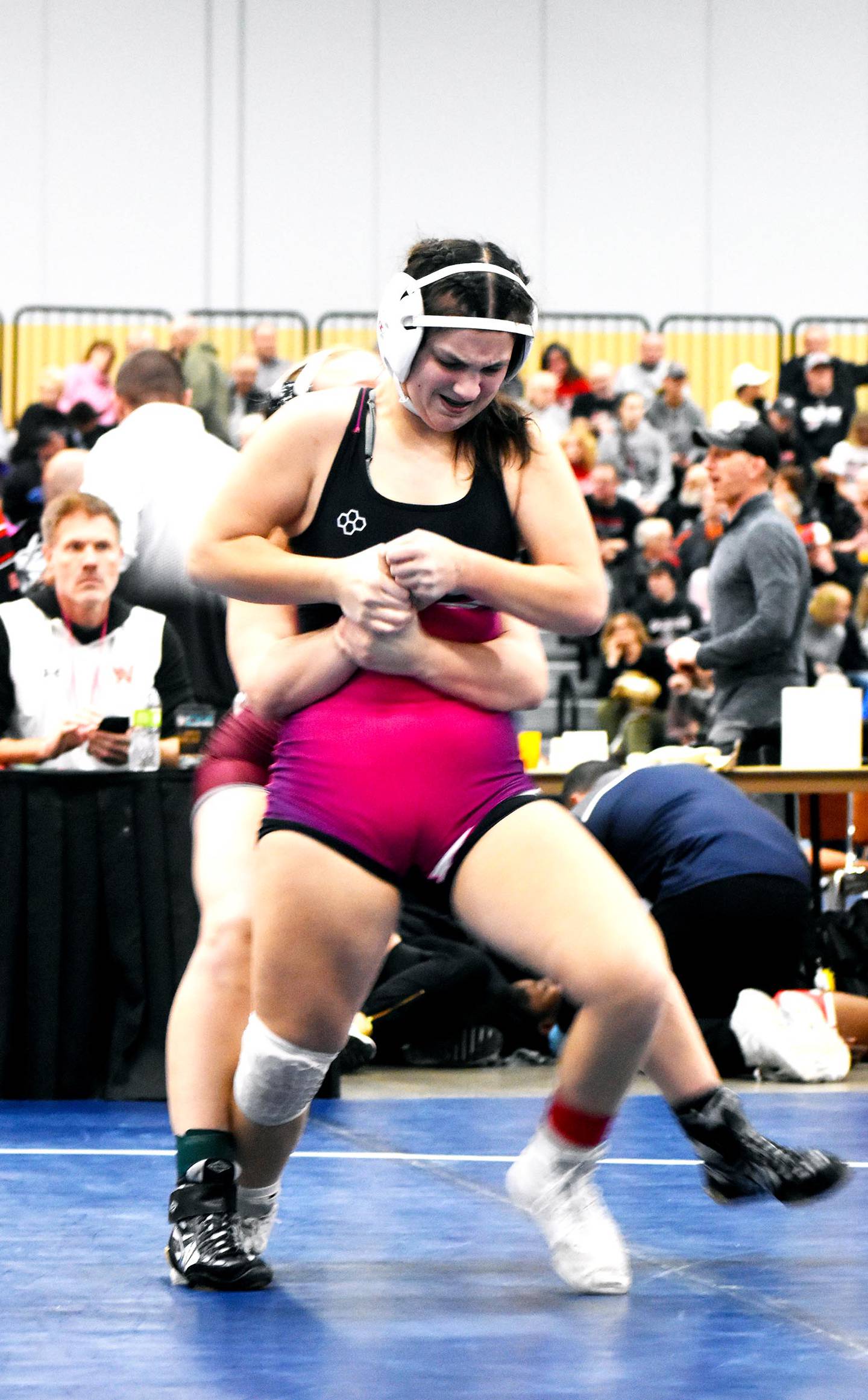 First-year wrestler Keeler started the day strong with a first-period pin over Essence Ferguson of Des Moines Public Schools.
Her second bout was one of the few of the day to go the full six minutes. Keeler fought, writhing to keep her shoulders from the mat as the time ticked down. Lily Hans of Ankeny won the match in a 11-4 decision, sending Keeler to the consolation bracket.
In order to stay in contention for a state tournament berth, Keeler had to win her next match. She faced Lillian Fischer of West Marshall and was able to find the pin in the second period.
This match was followed with a bout against Elaina Merfeld of Indianola where, once again, Keeler pinned her opponent in the second period — sending her to the fifth and sixth place match where she could earn the chance to wrestle back for fourth.
In her final match, Keeler was unable to find victory - falling to Shannon Finn of Williamsburg in a 47 second pin.
Her opponent Hans went on to place fourth at 130.
Kuhns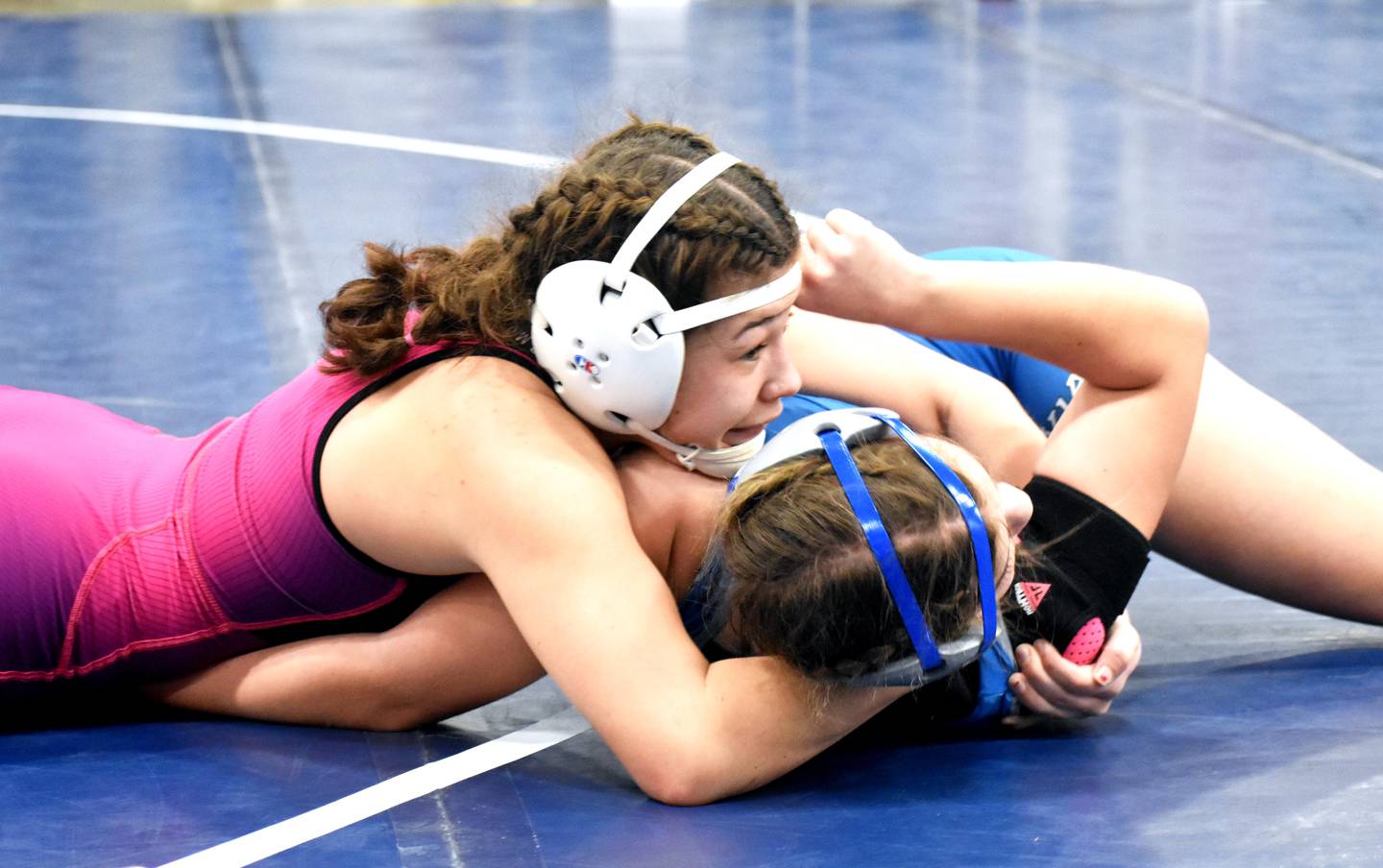 After being pinned shortly into her first match, Mila Kuhns came back to pin her second opponent, Elliot Rincon of Des Moines Public Schools, in a short 35 seconds.
Fighting to stay alive, Kuhns had her opponent Breegan Ellison of Moravia, in control for most of their match. At one point, Kuhns had the 10-1 lead over Ellison.
"She was in that match, taking really good shots," Lister said. "She'd been working on a lot of things that she's doing really well. It came down to one small fundamental thing that I thought was a small thing that I think if you fix that, it changes the match completely."
With only 30 seconds left in the bout, Kuhns was flipped and pinned — eliminating her from state contention.
Vandevender
Another first-year wrestler, Vandevender began the day with a 3:06 pin over Andrea Taylor of Indianola.
In her second match, she would face a girl who ended up taking the 140-pound title, Sarah Lewis of Centerville. Lewis quickly pinned Vandevender in 24 seconds.
In order to remain in contention, Vandevender needed to win her next match. With only four seconds left in the first period, the referee slapped the mat, indicating Vandevender's pin over Kaydance Hancock of Ottumwa.
She went on to pin her next opponent, Madisen Theel, of Cedar Falls in 3:14, but lost to Cieanna Ficken of West Marshall in a 1:08 pin.
Vandevender faced Taylor again in the fifth place match. With a victory, she would have a chance to wrestle back for fourth. The battle went the full three periods before Vandevender won in a close 4-2 decision.
She faced Gia Blaser of Ankeny for the chance to go to state, but Blaser won in a quick pin.
"Zoey, a brand new wrestler, was one match out of making it to state," Lister said. "She clinched fifth right now first year in."
Sistad
Sistad, the team's most seasoned wrestler, had a perfect day — wrestling less than six minutes in the entire day, but she spent her off time studying her opponents.
"I just wanted to make sure I took it one match at a time," Sistad said. "I made a point to watch my opponents' matches so I could know what to prepare for instead of guessing."
Her first match was a 30 second pin over Abigail Slater of BGM, Brooklyn.
She followed that with a 1:35 pin over Lanie Frericks of Indianola.
In the championship match, Sistad battled for 3:47 against Briar Ludeman of Cedar Falls before finding the pin and the title at 235.
"It feels really good," Sistad said. "Again, I'm going to take it one match at a time. I'm hoping to have some fun, see some friends."
State Tournament
The state tournament is held Thursday and Friday in Coralville.