Creston girl's first-quarter play with Carroll Kuemper Friday gave a feeling the Panthers were going to match up with them for the rest of the game.
But a buzzer-beating three at the end of the first stanza changed that feeling as the Knights went on to a 70-44 win.
"I thought we played really hard int he first. Kids are kids. The girl hit the one at the buzzer and we went into a lull after that," said Panther coach Tony Neubauer.
He explained how the game changed at that point.
"The second was the difference in the game." We did din't rebound well and didn't get in our offense," he said.
Kuemper (10-7) jumped out to a 8-3 lead before the 4 minute mark in the first quarter. Panther Aleah Calvin two free throws followed by Ella Turner's basket off a steal forced the Knights to call a time out. The break didn't help the visiting team as Creston continued its scoring run with Hollynn Rieck, Doryn Paup, and Lydia Goins to bild a 13-8 lead. The steals continued for Creston but could not be turned into points. Kuemper would end the Panther scoring run and took over 14-13.
Then the Kuemper three fell in at the buzzer.
Neubauer's explanation of his team's play in the second quarter gave Kuemper the chances to extend the advantage. Kuemper was up 30-15 when Creston called a timeout with 2:59 left in the half. Paup would finish Creston's scoring in the second quarter as Kuemper was on top 36-20 at the half.
Paup would finish with another 30-point plus game this season with 33. She was 13-19 from the field and 7-12 from the free-throw line. She provided nearly half of the team's score. Nevaeh Randall did not play and was not in uniform. Neubauer respectfully declined to explain the reason. Jacy Kralik, who was injured Jan. 9 at Red Oak, also did not play.
"We just can't have lulls like that," Neubauer said of the offensive production. "We got to find somebody who can score beside Doryn."
Paup showed her strength in the third quarter scoring consecutive points for Creston. Combined with some scrappy defense by getting hands in to interrupt Kuemper passes, the Panthers were able to cut the deficit to 10.
But it came at a price.
"I was proud we battled back in the third to get it down to 10. But we exhausted so much energy getting there, we can't have lulls like that," Neubauer said.
Creston's recent struggle with the long distant shot also showed. The Panthers only made one 3-point shot at Shenandoah last week and one against Kuemper. "We got to put the ball int he basket. It's the small things you got to do consistent," Neubauer said. "When we play consistent we got a chance. We just were not consistent tonight."
"I was happy when we came out at half time. Kuemper is a good team. We have to do other things better," Neubauer said.
Creston finished 17-54 shooting from the field including 1-17 from the 3-point line. The Panthers were 9-19 at the free throw line. Turner finished with five points from 2-9 shooting.
Paup had seven rebounds. Keely Coen and Rieck each had five. Coen had four assists and Rieck had three.
Creston (4-10) plays at 6 p.m. today at Atlantic. It's the first of three road games this week. Creston plays Tuesday at Glenwood and Friday at Harlan.
BOYS
A fast paced and energetic Kuemper boys progressively kept Creston behind as the Knights won 88-65. Carroll was up 8-2 because of its speed and distance shooting before Creston called a timeout at the 6:12 mark in the first quarter.
"Both of those facto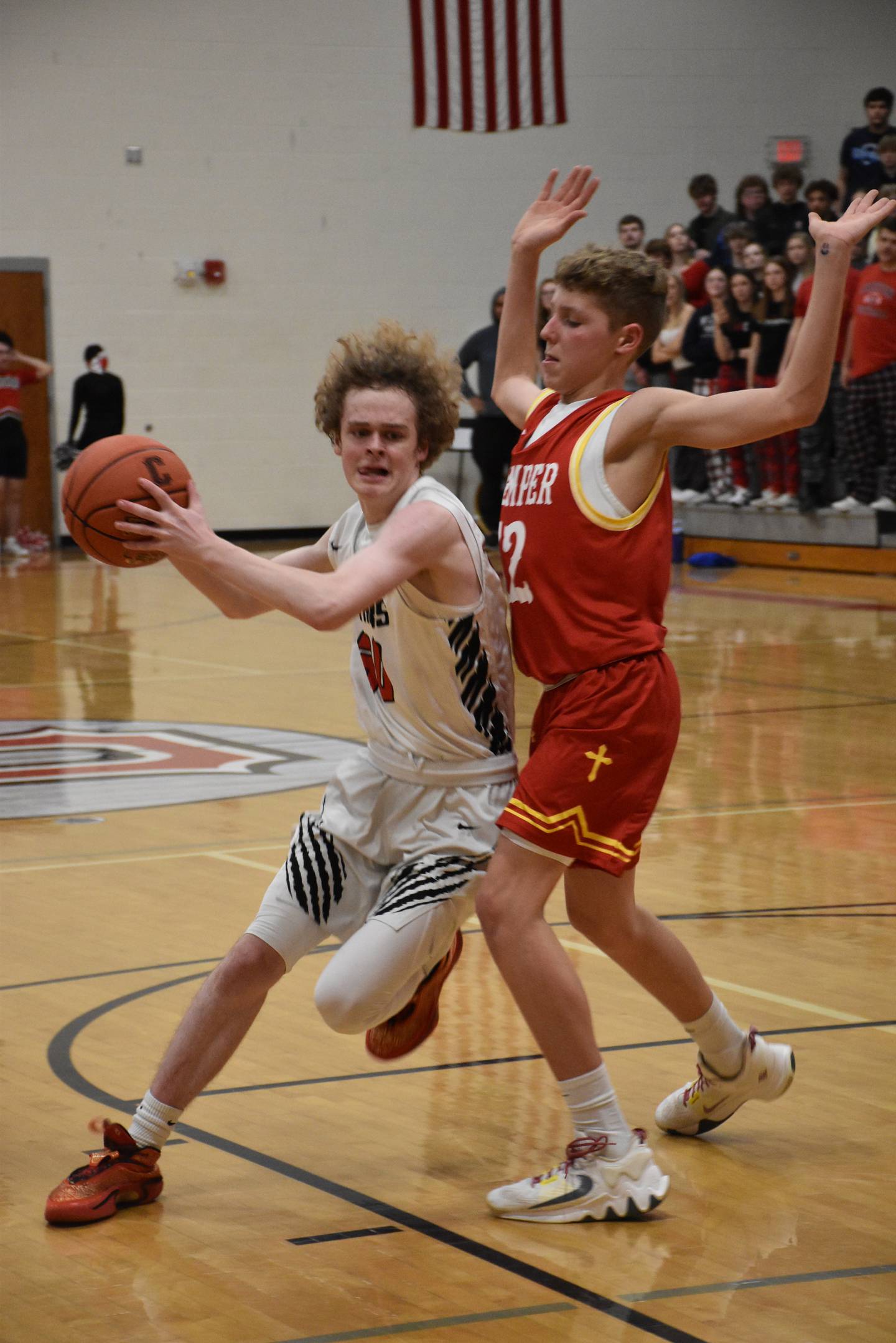 rs we knew. I though we were weathering the storm pretty well in the first. I don't think they missed a three. But we were getting layups," Creston coach Bryce Schafer said.
The time out helped as Creston was able to establish their own offense and keep Kuemper close trailing 14-11. But Kuemper didn't completely give up the long shot before the quarter ended up 24-17.
"Eventually they will cool and if we get these shot opportunities we will stay in the game," Schafer said. "I felt like our guys got a little nervy about the amount of perimeter shots they were hitting."
Kuemper's 3-point shooting continued in the second quarter as they built a double-digit lede. A third-straight 3-point shot put the Knights ahead 45-24. Creston's Cael Turner and Patrick Varner, from the field and free throw line, were able to cut it less than 20 but Kuemper's play made it difficult to get closer.
"They started hitting shots and it feels like we have to hug them. They ar faster than we are," Schafer said. Kuemper would adjust to the Panther defense and then pass to an open player for a shot.
"Those are all just adjustments they have to understand they have to slow down and keep doing what we do. Eventually it will pay off."
Varner was high scorer for Creston with 18. Turner finished with 14 and Anson had 13 points.
Coach said the deficit was also contributed to defensive breakdowns, which makes it look worse since Kuemper was shooting well.
"Down the stretch, we clipped it to 14. Then we take a quick shot. Turnover. Turnover. All of a sudden It's back to 22," he said. "If we get that to 12 and 10 and we can breathe a little bit. I don't want to take anything away from them. They are an excellent team" he said. Kuemper is 12-3.
Schafer said Creston missed 10 layups and but was as concerned as allowing 88 points.
Creston (7-3) plays today at Atlantic, the first of three road games this week. The Panthers are at Glenwood Tuesday and Friday at Harlan. All games are after the girl's games.