A few hours after they were announced as the preseason No. 11-ranked Class 3A team by the Iowa Girls High School Athletic Union, the Des Moines Christian girls came out shooting in midseason form in a 64-30 victory at Creston Friday.
The Lions, coming off a 17-7 season that included a regional finals appearance, shot 53.5% from the field including seven 3-pointers in establishing control of Friday's season opener from the start. Junior forward Abby Hall sank four of her five 3-point attempts in leading the Lions with 20 points.
Three other Des Moines Christian players reached double figures with 10 points each, including last season's scoring leaders Kaitlyn Mumm and Maren Miller, along with junior guard Tori Burton.
"You always hope you'll shoot well, but I didn't know if we would come out and shoot that well," said Des Moines Christian coach Brad Johnson. "They played some 1-3-1 against us last year so we were trying to be ready for it. We had the two tall girls (6-2 Mumm and 6-0 Miller), so we were trying to attack it inside. If they tried to take that away we were able to hit some 3-pointers."
Johnson's teams, which normally defend in a 1-2-2 zone alignment, matched up with Creston in man-to-man on Friday, with extra help assigned to Creston senior Doryn Paup, who torched the Lions for 31 points a year ago. On Friday, Paup was Creston's scoring leader with eight points, which moved her past 600 career points and into 10th place on the school's all-time five-player scoring list.
"We tried to play good team defense, knowing that 24 (Paup) was going to be a tough player," Johnson said. "The Miller girl guarded her pretty tough inside. She was hurt and didn't play last year when we played Creston. So, that helped us tonight."
The Lions sank four 3-pointers in taking an early 17-4 lead Friday, finishing the first two quarters in command by scores of 24-7 and 43-13.
"That's the first time in the seven years I've played them at Nevada and Creston that they didn't come out in a 1-2-2 zone defense," said Creston coach Tony Neubauer. "That's on me. We weren't as prepared for man as we should have been. We just needed to settle down a little bit on offense. We got sped up a little bit. some of these kids are playing in their first varsity basketball game."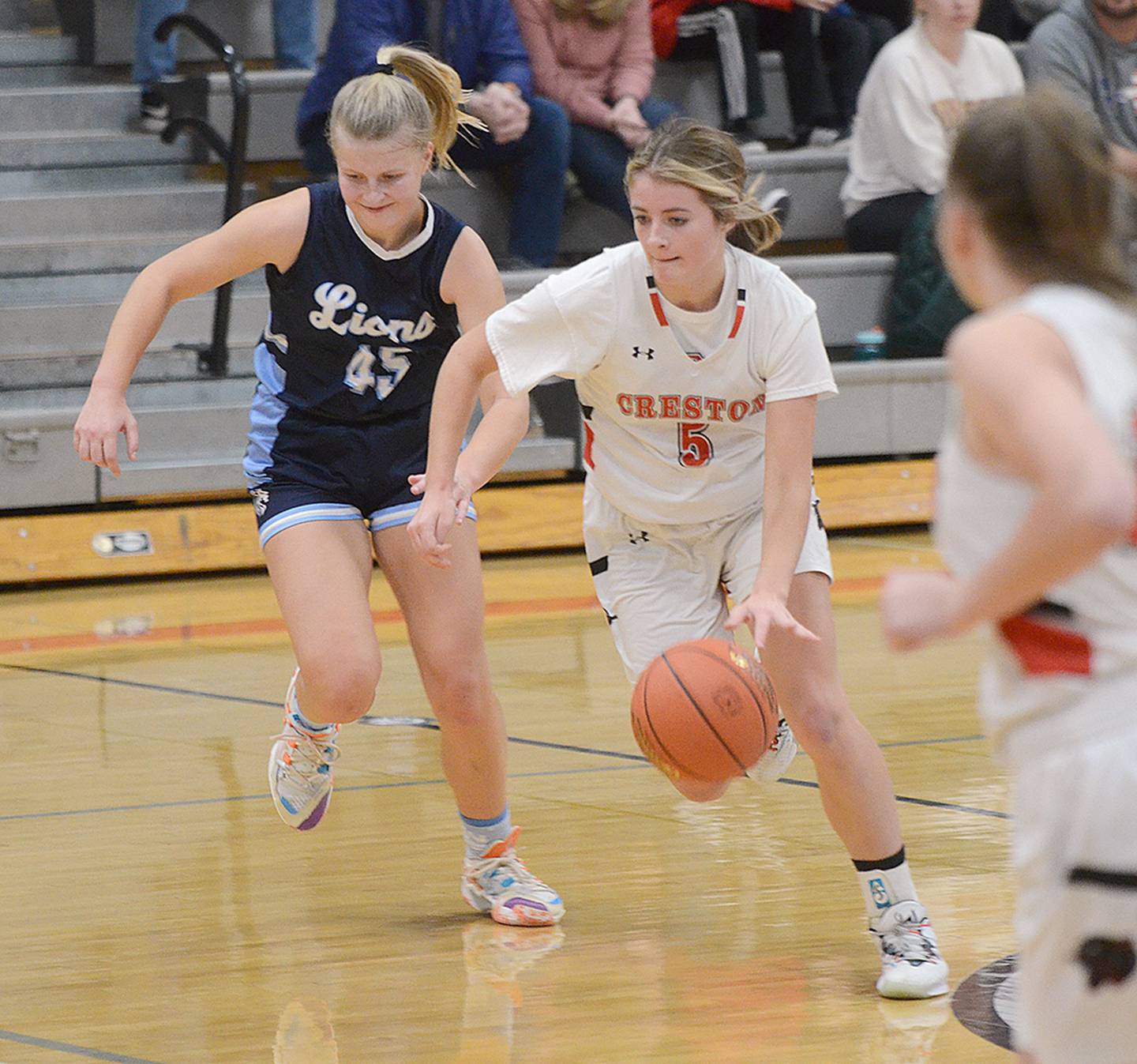 While Creston's five seniors started the game, most of the primary substitutes were freshmen or sophomores making their varsity debuts. Kadley Bailey, a freshman guard, was Creston's second-leading scorer with five points. Scoring four each were seniors Nevaeh Randall and Aleah Calvin and freshman Hollyn Rieck.
After the first-half struggles, Creston was outscored just 7-6 in the third quarter as the Lions took a 50-19 lead into the final period. There just wasn't enough offensive production to get back into contention.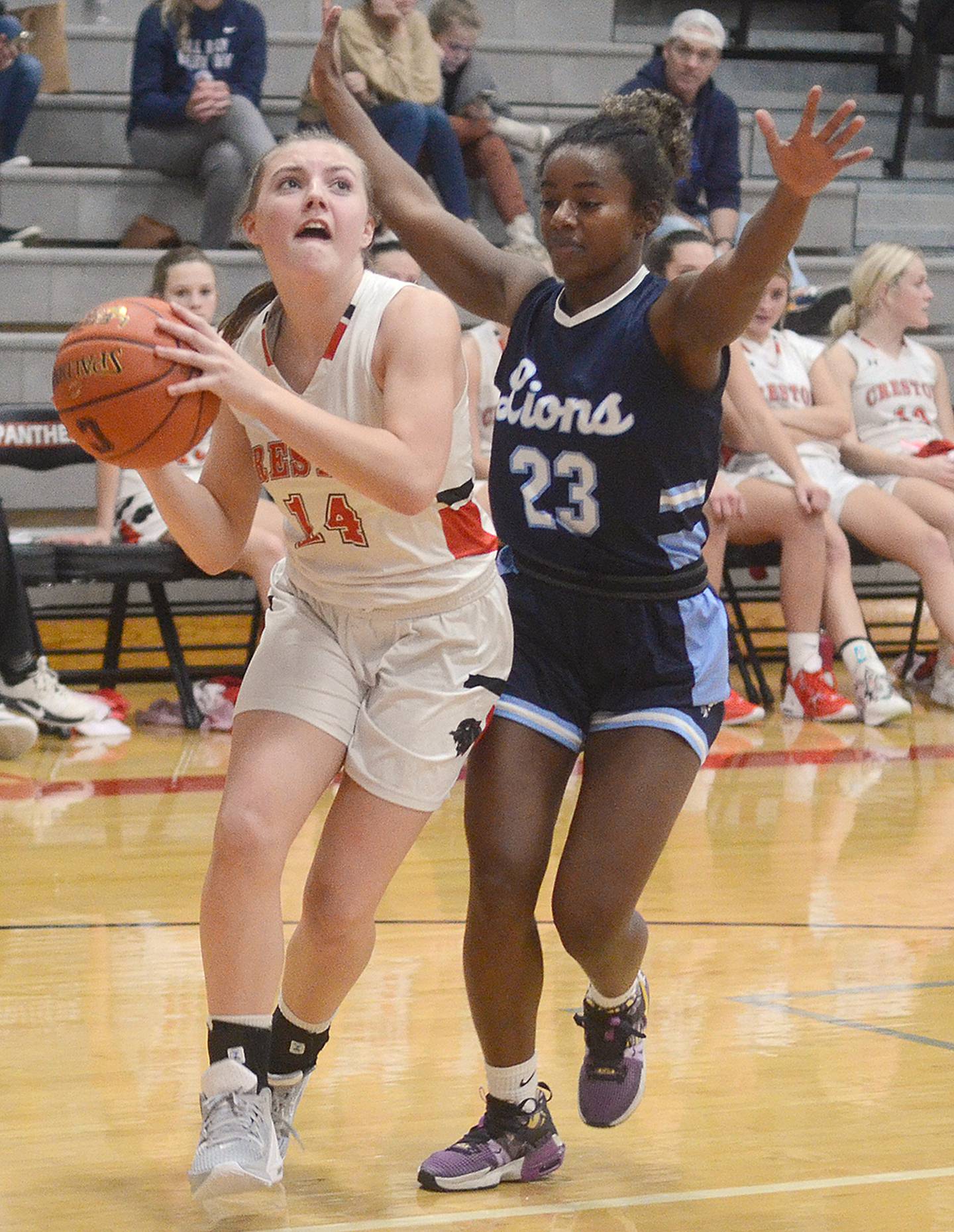 "Like I told the kids, it's one game in November," Neubauer said. "I thought we settled down a little bit in the second half even when they still had their starters in. We just have to put the ball in the basket. It's a different dynamic for us this year and we have to find ways to score. We're ont in a panic mode. It's going to take time. They are a good team with their top two kids back from a regional final team."
It was the first Creston game played with the new shot clock in Iowa high school basketball, but there were no shot clock violations. The closest it got was a possession with ;04 left on the 35-second shot clock.
Creston is idle until playing at Class 4A 15th-ranked Winterset, led by senior guard Jena Young, on Monday, Nov. 28 to start a girl-boy doubleheader.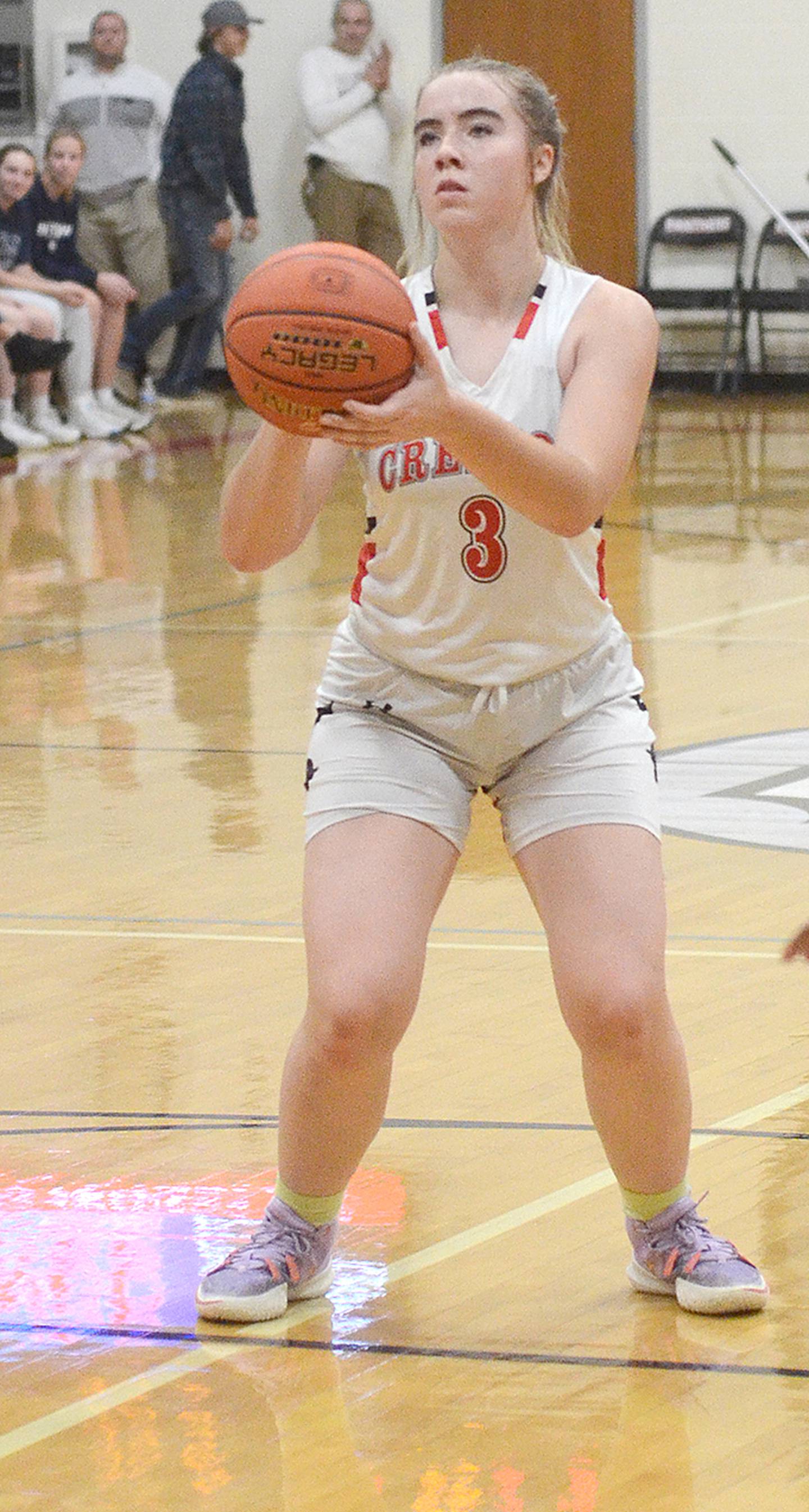 DM Christian 64, Creston 30
D.M. CHRISTIAN (64) — (FG FT PTS) Totals — 23 11-16 64. Abby Hall 6 4-5 20, Kaitlyn Mumm 5 0-0 10, Maren Miller 5 0-1 10, Tori Burton 4 0-0 10, Paige Hilgerson 1 4-5 6, Etta Fish 1 1-3 3, Grace Hudson 1 0-0 3, Maddie Miesen 1 2-2 2. FG shooting — 23-43 (53.5 percent). 3-point goals — 7-17 (Hall 4, Burton 2, Hudson 1). Steals — 13 (Mumm 3, Burton 2, Hilgerson 2, Hall 2, Hudson 2). Rebounds — 20 (Miller 7, HIlgerson 3, Burton 3, Hall 3). Turnovers — 14. Team fouls — 17. Fouled out — Hudson.
CRESTON (30) — (FG FT PTS) Totals — 13 3-12 30. Doryn Paup 4 0-0 8, Kadley Bailey 2 0-0 5, Nevaeh Randall 1 2-4 4, Aleah Calvin 2 0-1 4, Hollyn Rieck 2 0-2 4, Ava Adamson 1 0-1 2, Brynn Tussey 1 0-0 2, Keely Coen 0 1-2 1. FG shooting — 13-34 (38.2 percent). 3-point goals — 1-6 (Bailey 1). Rebounds — 21 (Paup 7 Bailey 3, Rieck 3, Randall 2, Kralik 2, Ella Turner 2). Assists — 11 (Kralik 2, Turner 2, Bailey 2, Jaycee Hanson 2). Steals — 9 (Paup 3, Randall 2). Blocked shots — 1 (Kralik 1). Turnovers — 26. Team fouls — 16. Fouled out — None.