A new era of Panther basketball will tip off Friday night when Des Moines Christian girls visit Creston Friday to open the 2022-23 season.
Fans will notice a new feature to Iowa high school basketball with a 35-second shot clock erected above each basket. It is mandatory only for varsity competition, but may be used in other levels of high school basketball.
Creston coach Tony Neubauer said his team scrimmaged with use of the clock at a summer team camp and has practiced with it in the preseason. He expects little change in the game, with one exception.
"In the first half of games you won't notice it a lot, but the end of games changes drastically," Neubauer said. "If you're up six at the end of the game, you can't hold onto the ball anymore. You have to keep playing basketball. If you're down by eight with three minutes left, you can get right back into the game. It will put pressure on kids to keep making plays."
Meanwhile, Creston's roster has also undergone a transformation from four straight years of having tall, dual threats in both post positions. All-staters Sam Dunphy and Kelsey Fields, now playing at Northwest Missouri State, were succeeded last year by Brianna Fields and Doryn Paup.
Bri Fields, now playing at Grand View University, averaged 16.5 points per game and ranks 10th in Creston five-player history with 800 career points. Two other senior starters last year were Morgan Driskell, also a 6-footer, and point guard Gracie Hagle, who is at Grand View as a softball player.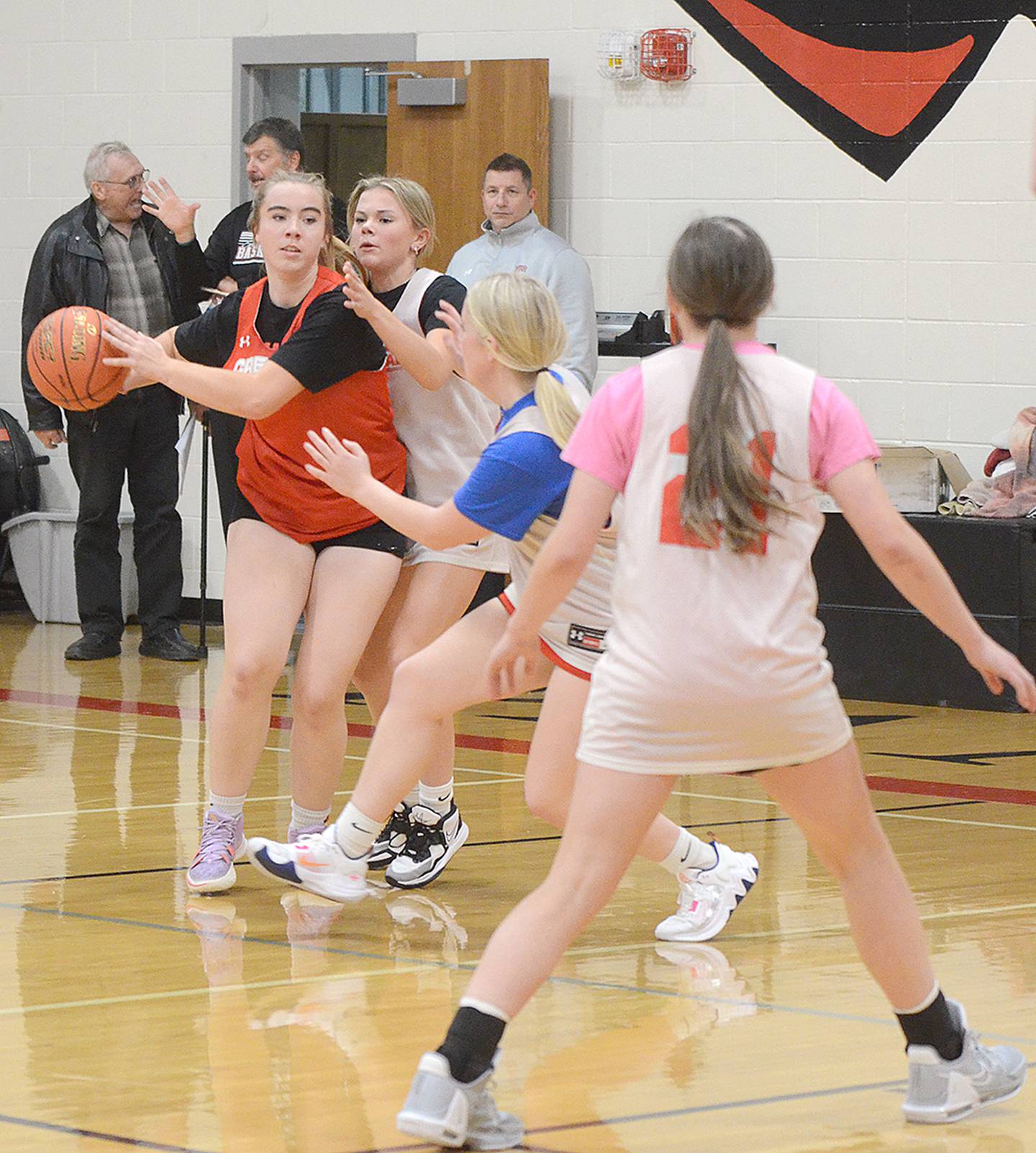 The good news for Neubauer is that Paup, the team's lone 6-foot inside presence, returns as one of five senior letterwinners. Paup was unanimously voted to the All-Hawkeye Ten first team last year and earned third-team all-state honors by the Iowa Girls Coaches Assocaition.
Paup averaged 18.8 points and surpassed 30 points five times last season, including a 39-point performance against Red Oak. Her 73 steals tied Amanda Parker for Creston's all-time season best.
"We're not short by any means, but we're not as tall as we were," Neubauer said. "We will emphasize some different things. Doryn scores more off movement and cuts than some of the tradtional post players. I think we still have a lot of kids who can play that high post, short corner look that we've had."
Joining Paup as seniors on an otherwise youthful Panther team are Nevaeh Randall, Jacy Kralik, Aleah Calvin and Keely Coen. All four saw considerable varsity duty last year. Kralik averaged 4.3 points per game, playing both wing and point guard when Hagle wasn't in the game.
"Nevaeh will get some time in the post position again this year and Aleah plays well there," Neubauer. "At that position we also have kids off the bench like (freshmen) Brynn Tussey and Ella Turner. Ella can play several different spots."
Kralik and Coen will provide experience on the perimeter. New to varsity play will be returning letterwinners Alyssa Gerdes, Lydia Goins and Ava Adamson along with new freshmen Hollynn Rieck, Kadley Bailey and Turner. Another freshman on varsity is Jaycee Hanson, primarily a forward to help with inside depth.
"We still have a lot of moving parts and some things to work out still," said Neubauer, again assisted by Bryant McCabe and Ryan Kissell. "The seniors have been great leaders in helping the younger kids every day in practice."
Conference outlook
After Friday's opener, the Panthers have 10 days off before going to Winterset, which returns standout guard Jena Young, a University of Iowa softall signee. Glenwood has won three consecutive Hawkeye Ten titles and returns one of the top players in Iowa in senior Jenna Hopp, but the Rams lost several other standouts from last year's state tournament team.
"I see a lot more parity this year," Neubauer said. "Glenwood is still good, but the gap has closed. Lewis Central will be really talented. Atlantic has two very good players back in (Jada) Jensen and (Paytn) Harter. St. Albert will be good again. Kuemper could be really good with the (Catherine) Mayhall girl. The league is stressful and brutal, but that's what makes it fun for the fans. There's a lot of good basktball and almost every night the game could go either way."
Des Moines Christian will be a good early test, returning its top two scorers from a 17-7 team in 6-1 Kaitlyn Mumm and 6-0 Maran MIller. The JV 1 (formerly known as freshman game) will be at 4:30 p.m. followed by JV 1 at 6 p.m and varsity at 7:30 p.m.
Roster
(* — letterwinner)
Seniors — Keely Coen* (5-4), Neaeh Randall* (5-8), Jacy Kralik* (5-7), Aleah Calvin* (5-8), Doryn Paup* (6-0).
Juniors — Lydia Goins* (5-3).
Sophomores — Ava Adamson* (5-6), Alyssa Gerdes* (5-1), Ady Morrison (5-6), Taylor Smith (5-4), Carly Sheil (4-8), Averi Culbertson (5-5).
Freshmen — Ella Turner (5-6), Kadley Bailey (5-4), Jaycee Hanson (5-8), Hollynn Rieck (5-4), Brynn Tussey (5-8), Braylee Pokorny (5-6), Abby Freeman (5-3), Emily Engdahl (5-4), Alejandrina Villanueva (5-6), Kaylynn Smolk (6-2).
Varsity schedule
Nov. 18 — vs. Des Moines Christian, 7:30 p.m.
Nov. 28 — at Winterset, 6 p.m.
Dec. 2 — vs. Nodaway Valley, 7:30 p.m.
Dec. 6 — vs. St. Albert, 6 p.m.
Dec. 9 — vs. Atlantic, 6 p.m.
Dec. 13 — vs. Shenandoah, 6 p.m.
Dec. 15 — at Glenwood, 6 p.m.
Jan. 3 — at Clarinda, 6 p.m.
Jan. 6 — vs. Denison-Schleswig, 6 p.m.
Jan. 9 — at Red Oak, 6 p.m.
Jan. 13 — vs. Lewis Central, 6 p.m.
Jan. 17 — at Shenandoah, 6 p.m.
Jan. 20 — vs. Kuemper Catholic, 6 p.m.
Jan. 23 — at Atlantic, 6 p.m.
Jan. 24 — vs. Glenwood, 6 p.m.
Jan 30 — vs. Clarke, 7:30 p.m.
Feb. 6 — vs. Clarinda, 6 p.m.