Creston's first football playoff team in six years was celebrated at the annual team awards banquet held Monday night in the high school commons.
Families of the players joined coaches and team members in a meal catered by Zipp's Pizzaria of Adair before awards were presented.
After the event, head coach Brian Morrison reflected on the program's second consecutive six-win season, which led to a Class 3A playoff appearance at North Polk. The Comets won that game 52-20 to conclude Creston's overall season record at 6-4.
A key to the playoff qualification was a 4-0 non-district start, including a come-from-behind 40-36 win at Gilbert. Atlantic edged Creston for third place in the district behind Harlan and ADM with a 26-21 win on Creston's senior night. But, Creston gained a postseason berth in the state's RPI rankings as Atlantic finished 5-4 overall in the regular season.
"We knew we had to be 4-0 to have a shot, the way our district laid out with two really good teams in ADM and Harlan," Morrison said. "We knew Atlantic returned a lot of good kids and would be improved. I was proud of how the kids handled some adversity, winning close games and coming back in some of those."
The fourth non-district game was an example of that. In a thrilling 40-36 victory, the Panthers scored 26 unanswered points over the final 6:10 of the game.
Along the way, the Panthers posted two shutout victories — 39-0 over Knoxville on homecoming and 69-0 at Saydel. Other wins were 28-12 in the season opener over Clarinda, 31-14 at Winterset and 35-9 over Denison-Schleswig. District leaders Harlan (a state finalist this week) and ADM joined Atlantic in gaining wins over the Panthers in district play, before the playoff loss at North Polk.
In his closing remarks, Morrison said this year's team set the stage for continued success.
"Just having an opportunity to get to the playoffs for this group was tremendous," Morrison said. "I know it's been a goal of theirs for a long time. Last year's seniors set the table for us and this year's group got it accomplished. They can always hang their hat on that."
During presentation of team awards, senior quarterback Kyle Strider and junior running back Brennan Hayes were announced as offensive co-MVPs.
Strider completed 118 of 235 passes for 1,766 yards (fifth in Class 3A) and 14 touchdowns with seven interceptions. He also rushed for 297 yards and nine TDs. Hayes carried the ball 184 times for 1338 yards (ranking fourth in Class 3A) and 11 touchdowns. He also caught eight passes for 89 yards and two TDs.
Senior safety Gannon Greenwalt was defensive most valuable player. He led the team with 54.5 overall tackles, including 35 solo stops. The defense had 13 interceptions this season, led by Cael Turner's five and four by Dylan Calvin.
All-district awards will be announced when Harlan's season is completed after Friday's championship game against Mount Vernon. Morrison said the team received all-state academic recognition for the 13th consecutive year with a team GPA over 3.25.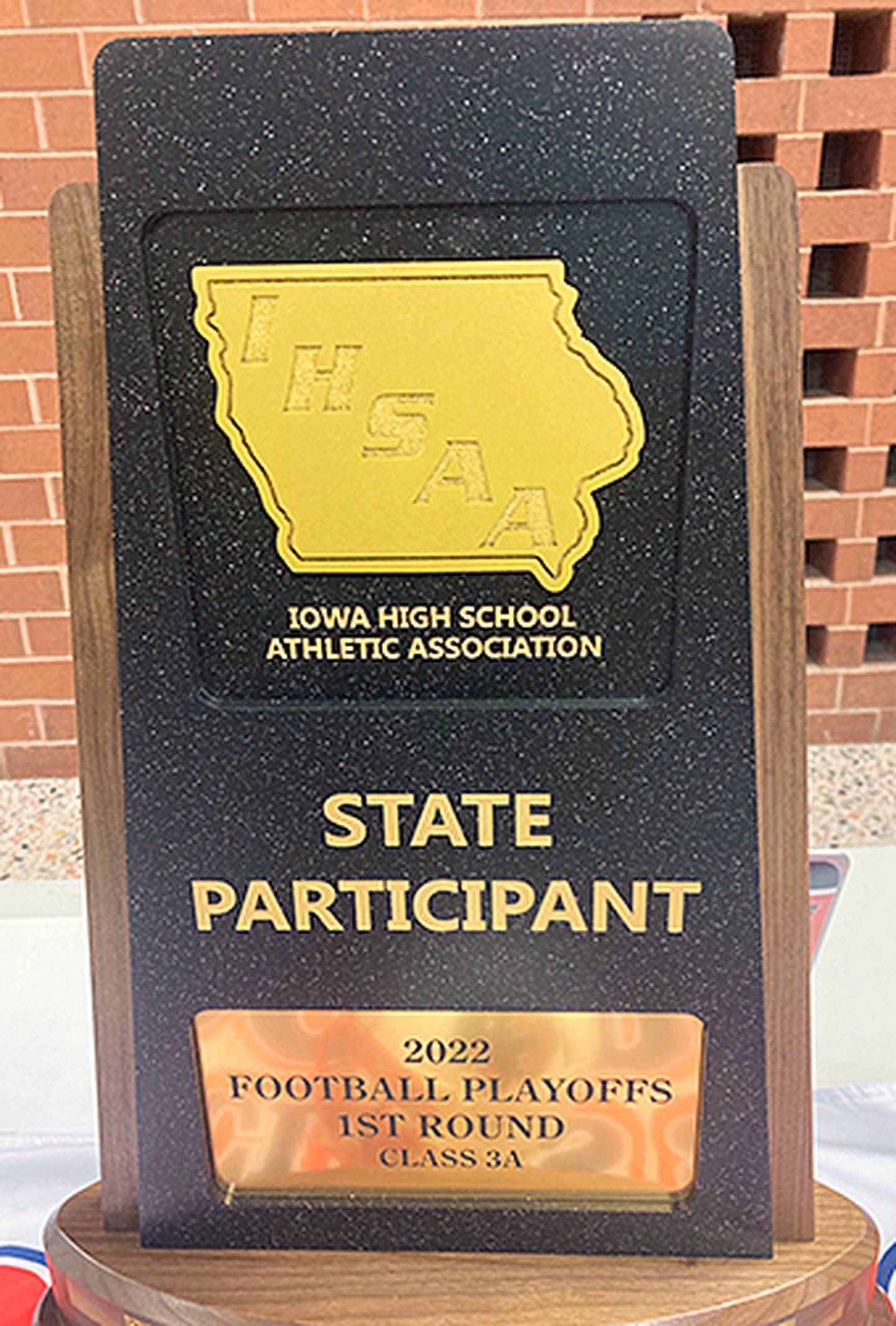 Letterwinners
(Years lettered)
Seniors — Noah Felix (3), Kyle Strider (3), Trey Chesnut (3), Gannon Greenwalt (3), Chris Aragon (2), Owen Henderson (3), Carter Henderson (3), Ty Morrison (3), Cade Wurster (3), Austin Seaton (3), Kaden Street (3), Payton Conley (3), Briar Davis (2), Kohl Ringer (3).
Juniors — Cael Turner (2), Jack Walter (2), Dillon Starlin (2), McCoy Haines (2), Lincoln Keeler (2), Gavin Bolton (2), Dylan Calvin (2), Austin Evans (2), Carson Rieck (2), Will Bolinger (2), Brennan Hayes (2), Tucker Rohrig (2), Lucas Rushing (2), Jackson Kerr (1), Max Skellenger (2), Savannah Sistad (2), Quinten Fuller (2), Max Chapman (2), Jagger Luther (2), Wyatt Barber (2), Brandon Briley (2), Steven Bell (2).
Sophomores — Weston Trapp (1), Casen Dryden (1), Maddix Leppla (1), Tyler Riley (1), Gavin Larson (1), Aiden Snodgrass (1), Xander Drake (1), Nathan Bunz (1), Stephen Sistad (1), Lucas Travis (1), Tyson Looney (1), Dawson Kibbe (1), Mattias Schultes (1), Eli Schaffer (1), Marshall Howard (1), Brayton Schoon (1), Jayden Myers (1), Camden Smith (1), Josh Schaefer (1).
Team awards
Team offensive MVP — Brennan Hayes, Kyle Strider.
Team defensive MVP — Gannon Greenwalt.
Special teams MVP — Carter Henderson, Will Bolinger.
Scout team MVP — Weston Trapp, Owen Henderson.
Team captains — Ty Morrison, Gannon Greenwalt, Austin Seaton, Kyle Strider.
Statistical leaders
Passing — Kyle Strider 118-235-7 for 1,766 yards and 14 TDs; Cael Turner 2-5-0 for 51 yards and 1 TD.
Receiving — Cael Turner 34-532 and 4 TDs; Brandon Briley 26-398 and 2 TDs; Dylan Calvin 24-363 and 1 TD; Xander Drake 7-207 and 3 TDs; Brennan Hayes 8-89 and 2 TDs.
Rushing — Brennan Hayes 184-1,338 and 11 TDs; Kyle Strider, 94-297 and 9 TDs; Weston Trapp 26-174 and 4 TDs.
Total tackles — Gannon Greenwalt 54.5; Austin Evans 47.5; Ty Morrison 40.5; Austin Seaton 39.0; Max Chapman 33.0; Dylan Calvin 32.0; Cael Turner 32.0.
Sacks — Austin Evans 5.0; Payton Conley 4.5; Cade Wurster 1.5; Quinten Fuller 1.5.
Tackles for loss — Max Chapman 8.5; Austin Evans 8.0; Cade Wurster 5.5; Austin Seaton 5.5; Payton Conley 5.5.
Interceptions — Cael Turner 5; Dylan Calvin 4; McCoy Haines 2.
Kick returns — Xander Drake 11-171; Brandon Briley 7-124; Gannon Greenwalt 4-68.
Punt returns — Xander Drake 1-30.
Extra-point kicks — Brennan Hayes 27-35.
Punts (avg.) — Dylan Calvin 22-28.6; Cael Turner 4-28.0.