GREENFIELD — The satisfaction in winning and heartache in defeat are the same as the boys experience, but this wrestling meet Monday night was all for the girls.
Nodaway Valley High School hosted 11 girls wrestling teams in one of the first sanctioned girls wrestling meets in the Iowa Girls High School Athletic Union's history of celebrating Iowa's girls.
The IGHSAU announced at the close of last year's girls state tournament, hosted by the Iowa Wrestling Coaches Association, they would sanction girls wrestling for the first time this season. Girls now would have their own sport entirely and no longer wrestle boys.
Two of the teams present were Highway 34, a cooperative between Creston, Lenox and East Union, and the SWAT (Southwest Area Team) Valkyries, a cooperative drawing participants from Nodaway Valley, Southwest Valley, CAM, Atlantic and Griswold.
"I think it's a big step in girls wrestling," said Southwest Valley's Ady Lundquist, who wrestles for SWAT. She finished third and second at the girls state tournament the last couple of years, respectively. "Watching all the matches, you can tell a lot of girls don't have a lot of experience, but it's also the first one of the year. Watching our girls now compared to the end of the year, that's going to change drastically. Most of the matches we're losing, they just can't finish in situations they're not used to."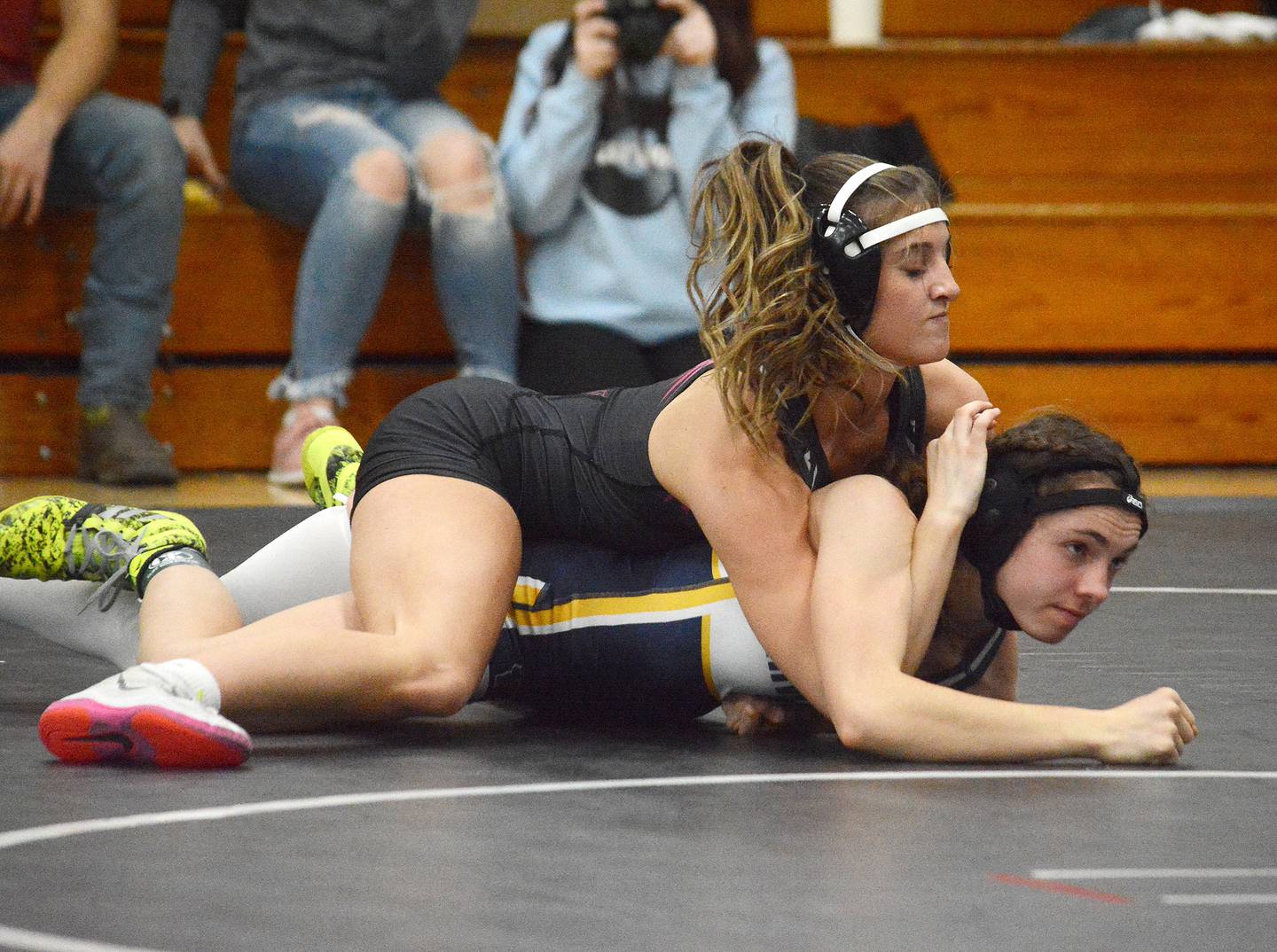 Lundquist and Nodaway Valley's Grace Britten were two of 11 Valkyries who were champions of their divisions.
To wrestle in a sanctioned girls meet on her home mats, in front of her home crowd, was a dream come true for Britten.
"This is something I've been waiting for since the beginning of my career. I've helped with the (Nodaway Valley home tournament) Coach Riley Tournament for the last few years now, but this one's for me and my team," Britten said. "Like Ady said, this is a big step for us."
The first match in girls wrestling state history was Kacy Miller of West Monona vs. Jacyee Fitzgerald of Hwy. 34.
Fitzgerald of Lenox is eager to experience the chances participating might afford her.
"I feel like I have a better chance wrestling girls. Our team has a bond like a family. I just love being around all of them," Fitzgerald said. "I only had one match tonight, but it was good experience."
One of the biggest names on the Hwy. 34 roster this year is Creston's Savannah Sistad, who won the state tournament in her division last season. She has a broken wrist keeping her from the mat right now but she hopes to be able to compete by late-December.
"It's so nice to have something that's actually mine, something that's actually mine and tangible. I've been wrestling since I can remember. I love the feeling of working hard for something and meeting everyone that the wrestling community brings with it," Sistad said. "It's always like a family reunion when you go anywhere."
The Hwy. 34 girls logged 6 pins in the scramble. Riley Degonia, a senior from Creston led the team with 4 team points and 2 pins.
Quynn Foster from East Union posted the fourth fastest pin of the meet in a time of 0:27.
Other Hwy. 34 wrestlers with falls were Aubrie Mohr, Grace Keeler and Mila Kuhns.
Hwy. 34 head coach Jake Lister said one of his favorite parts of starting a girls wrestling cooperative has been to see who has come out for the sport. They have 10 wrestlers at the high school level. SWAT has 19 on its roster.
"We have pulled in a lot of individuals who weren't previously doing a winter sport. We have a lot of brand new girls to wrestling," he said. "We have a few with experience, but most of them are brand new. It's been interesting to watch them grow. I've seen growth already in their ability level from two Mondays ago until now. They look like completely different wrestlers and have made crazy leaps and bounds. It has been really impressive to watch.