An unblemished 3-0 record heading into the final non-district game at Gilbert on Friday? Check. New uniforms? Well, finally, the Panthers can check both boxes as Creston defeated Denison-Schleswig Friday 35-9 under the watchful eye of an orange waxing gibbous moon.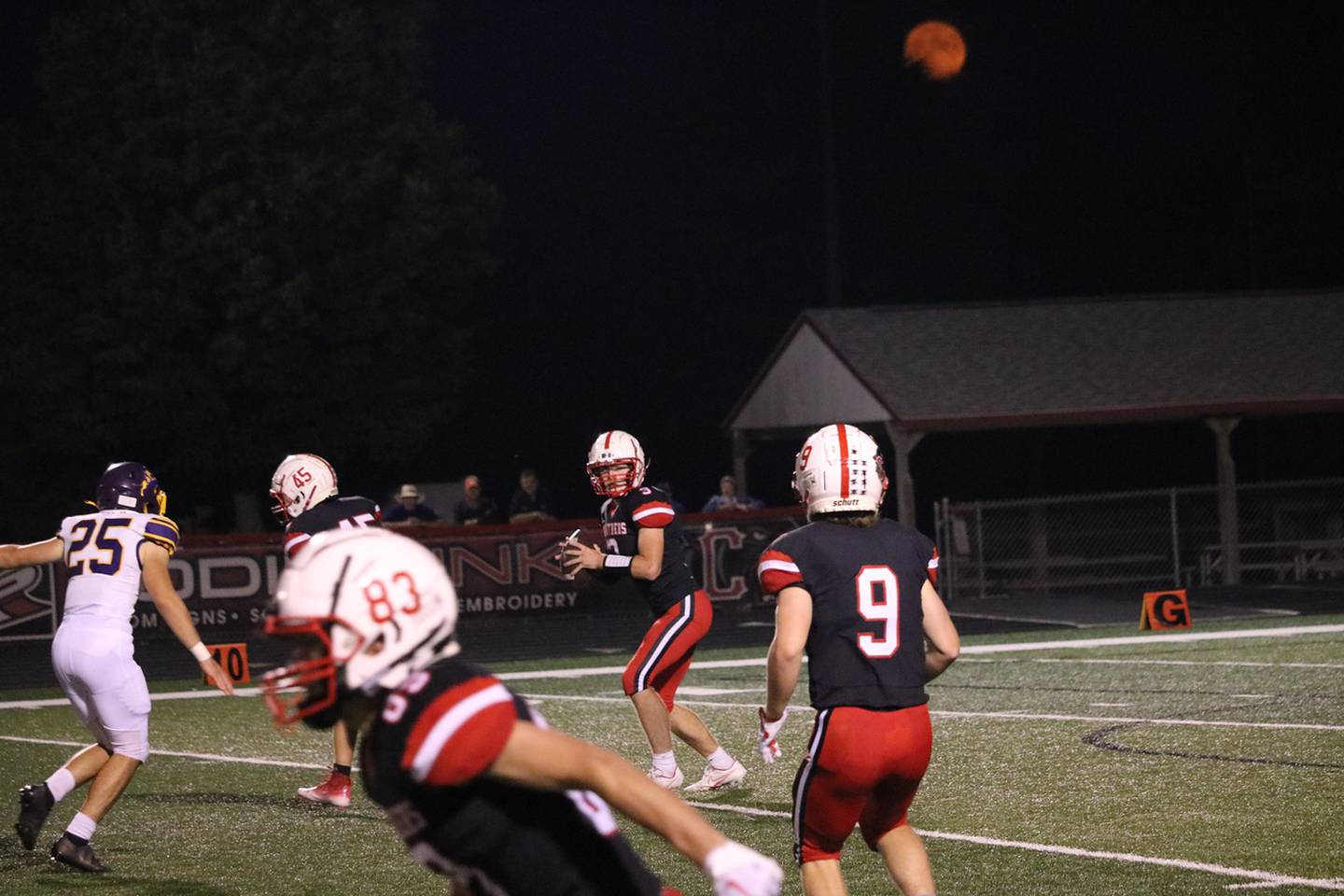 "The uniforms were ordered the early part of January," Morrison said. "We were supposed to have them in June, but with COVID still trying to catch up on things, but they came in Thursday morning. It's a different look for us, but a similar uniform, more traditional Creston like in the 1980s. I think our kids played a good football team, I wanted a little more separation in the second half, it didn't happen, they had a couple of nice drives in the half."
Creston outgained Denison-Schleswig 382 (209 passing, 173 rushing) to 198 (91-107) and had a +1 turnover margin when Jack Walter intercepted a Luke Wiebers pass which sealed the victory.
The Panthers' first score of the night came via Strider sneak from the Monarchs' 3. Hayes' had one his first of two PATs blocked following the Strider score.
Strider scored from the Monarch 3 again in the second quarter, and scored the two-point conversion, which put Creston up 14-0.
Carson Seuntjens got the Monarchs on the board with a 28 yard field goal. At half, Creston led 14-3.
In the second half, Strider's arm, instead of his legs, led to two Creston touchdowns. The first pass was a 27 yarder to Brennan Hayes, and the second was a 17 yard pass .
After the first touchdown of the second half, Hayes' PAT was blocked again.
"The second one that was blocked was off the edge and it came outside our wing, I don't know if our linemen were too tight or what" Morrison said. "The first one that was blocked was blocked in the middle, the ball wasn't high enough."
The wind, which was around 6 mph at the opening kick, got up to 16 mph with gusts up to 24 mph from the north at halftime.
"It made a difference, and they wanted the wind third quarter. I was concerned when they had the wind and we stalled," Morrison said." "Our defense stepped up and added some big three-and-outs."
Wiebers threw a 17 yard pass to Gavin Hipnar to finalize the Monarchs scoring total.
Hayes plunged from the Monarch 1 and Strider ran for the conversion which ended the scoring for the night.
"Creston's a really tough and really disciplined team and well coached," Monarch head coach Kamari Cotton-Moya said.
Creston plays at Gilbert (1-2) 7 p.m. Friday. Last season, the Panthers won 49-17 over the Tigers.
"I can't complain about being 3-0 and having the opportunity to play another quality, non-district opponent," Morrison said.
Creston 35, Denison-Schleswig 9
Creston 6 8 7 14 — 35
Denison-Schleswig 0 3 0 6 — 9