AFTON — East Union's football team has a new coach, a 2-0 start for the first time since 2017 and a visceral excitement in the program.
The Eagles have defeated Murray 35-0 to open the season and they dispatched Lamoni 53-6 last Friday.
"It was another good team win," head coach Todd Verwers said. "Showed some progress from week one to week two, overall the kids played well and we did everything we needed to go 2-0 after that game and we're on to week three."
Verwers is a familiar face in Afton, as he is also at the helm of East Union's girls basketball and softball teams. Additionally, he also coaches softball at Graceland University in Lamoni.
Statistical leaders for the 2022 Eagles through two games include quarterback Seth Hudson who has completed 62.5% of his passes, 15-24, for 205 yards, and a touchdown to interception ratio of 4-to-1. He is also second on the team with rushing yards (96) and rushing touchdowns with three, all against Lamoni.
"Our quarterback threw for a little over 100 yards, a couple touchdowns and he also rushed for 75 yards which is a new wrinkle that we've put in to utilize some of his running ability," Verwers said of Hudson's performance against the Demons.
Emmet Long leads the Eagles in all purpose yards with 362 yards on 50 carries, including six touchdowns, and five receptions for 12 yards through two games. On the opposite side of the ball, Rason Grail had 4 1/2 tackle and an interception he returned for 40 yards.
"Grail continues to shine on defense," Verwers said. "He had another interception but then we also got him involved offensively and he had a touchdown reception (one catch for 15 yards)."
Sophomore Fischer Buffington leads the team in tackles with 13, has seven rushes for 37 yards and two receptions for 36 yards, with one of those receptions being a touchdown.
"He's been standing out on defense but we got him over on offense a litle bit too," Verwers said. "He also caught a pass from Seth."
Junior Josh Lopez handles kicking duties. In kickoffs, Lopez has five touchbacks on 13 attempts. He is also 4-of-7 in point after touchdown attempts.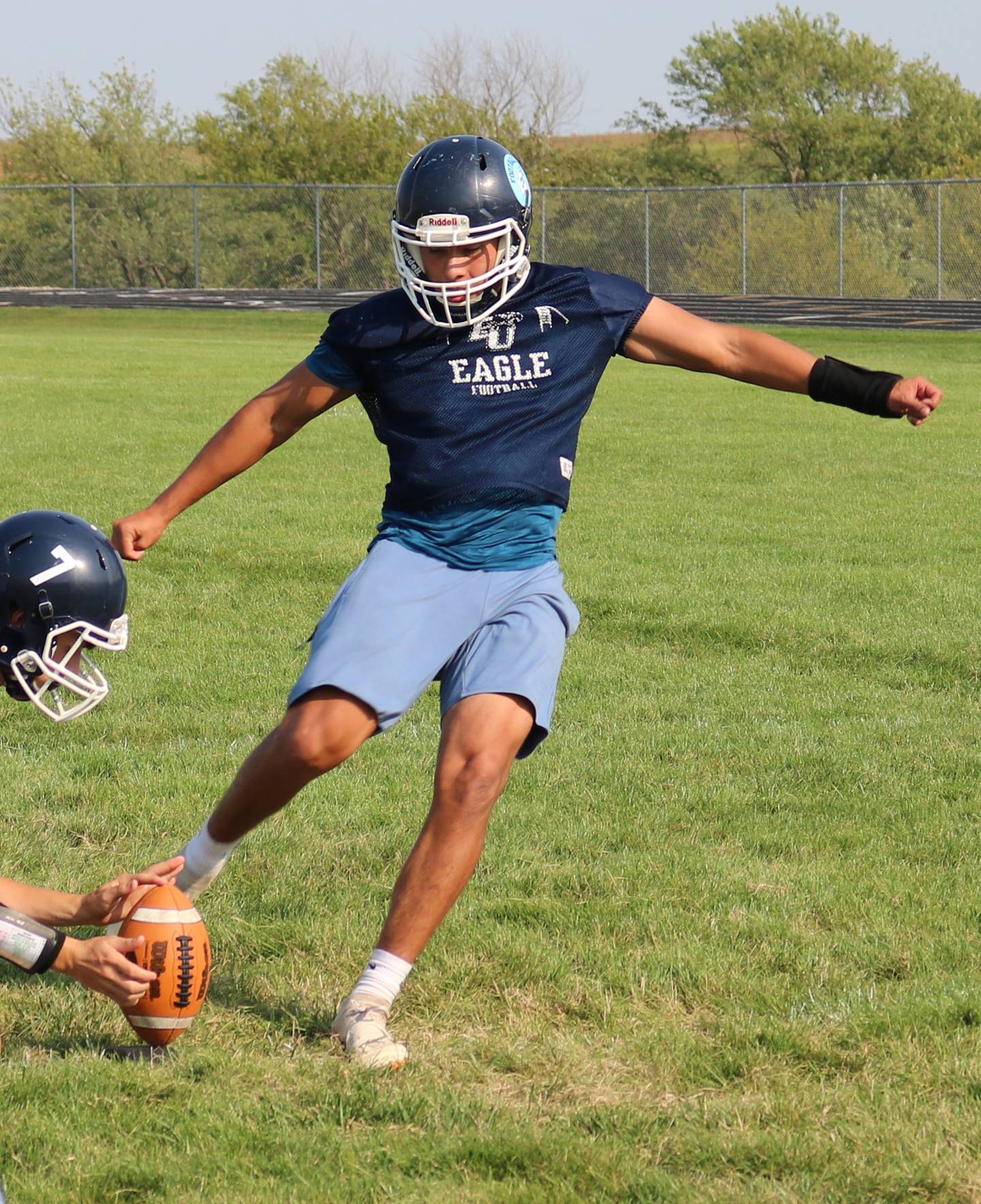 "We got Lopez back who is our starting kicker, also a running back and a linebacker for us who was dinged up in the first half against Murray," Verwers said. "We got him back and he should be full availability on Friday."
"Those are some of the guys who stood out," Verwers added. "Team wise, the defense was very good. The defensive lines and offensive lines were holding things down for us. Overall, the team played very well."
Culture change
Last season, the Eagles went 2-7 with a 57-12 victory over Griswold in week five and a 33-30 win in a thrilling season finale over Melcher-Dallas in which the Saints scored the final 22 points of the game.
Because Verwers wears a total of three different East Union hats, he has been aware of the Eagles' football program with his proximity coaching other sports.
"Being around like I have, I've seen the boys from a distance," Verwers said. "You don't really know until you take a program over, but I've tried to preach doing things the right way and I think they've bought into it. If you don't do things the right way, there's going to be consequences. I think the guys know during practice and Friday nights, they're being held accountable. In all honesty, getting good coaching. We have some pretty good coaches on our staff, so, when you have all that stuff come together, you can change a culture and hopefully that's what we're seeing the beginning of."
Verwers collegiate playing days came at Graceland University, where he was coached by Bill Dudek.
"The wise old man named Dudek he really preached doing things the right way and being held accountable," Verwers said. "I've always taken that through life. Everybody does some things they'd go back and change, me included, but I did realize young in life that if I did things the right way, things turned out better for me. If you make a mistake, own up to it and move on. That's my life motto and maybe I'm rubbing off a bit on the guys."
Stanton preview
Tonight (Friday) East Union (2-0, 0-0 Pride of Iowa) travels to Stanton (1-1, 0-1 Corner Conference) in hopes to both spoil the Vikings homecoming and get their first win over the Stanton in series history (0-4 since 2016).
Senior Viking quarterback Joshua Martin (No. 4) leads the Vikings with 176 of their 222 passing yards.
Defensively, senior Jonan Wookey (No. 42) has tallied a team high 18 1/2 tackles.
"We're going to have to draw some stuff up on offense and address some things as far as schemes," Verwers said. "We're going to have our assignments covered on defense as they're going to try to spread us out. They'll try to throw the ball down field. They've got some speed, they've got some quickness. We've got to be really sound and know our assignments on defense. Offensively, we've got to have great offensive line play. We've got to continue to move the ball and score whenever we get the chance. Hopefully at the end, we'll have a chance of winning it."
The captains for the Eagles tonight are Shawn Ayers, Tyler Tate, Seth Hudson, Bryson Raney and Haydn Walters.
Kick is scheduled for 7 p.m.