CEDAR FALLS — Creston's Avery Fuller, Lenox's Dawson Marshall and Caelen DeVault of Nodaway Valley all represented the South squad in Saturday's Shrine Bowl held at the historic UNI-Dome. North squad member Jeron Senters, and future Upper Iowa Peacock intercepted a South squad pass with a minute remaining which solidifed the 24-17 victory for the North.
The Shrine Bowl, which played its 50th edition on Saturday, is more than just the game.
According to their website, Iowashrinebowl.org, "Funds raised during the Iowa Shrine Bowl are distributed to the Shriners' Children orthopedic hospitals and burn centers in the Midwest and to each Shrine Center's Transportation fund to transport patients to and from hospitals and clinics. In October 2020, the Shriners Children's Twin Cities announced a new partnership with Blank Children's Hospital in Des Moines to provide specialty orthopedic care to children in Central Iowa. Physicians for this clinic will be provided by Shriners Children's Clinics and will provide a wide range of pediatric services, including care for fractures, hip dysplasia, spine conditions, cerebral palsy and issues that arise due to gait abnormality."
Shrine Bowl participants, as in players, coaches and managers, spend a week in Cedar Falls. The day prior to the game is a mini-camp with players and Shriner children which is the "highlight" of the week.
"This hour and a half we're in here with the kids puts everything that we've done since last November in perspective, it really brings it home," Scott Heitland, head coach of Dallas Center-Grimes and coach for the South squad said. "The mission of this game is to raise money for the Shrine hospital. The kids contribute to that with through the raising of sponsorships to play in this game. So, the money they raise goes directly to the kids that are here today."
Some members of the Shrine hospital gave their stories and why the game is impactful.
"A little girl by the name of Lucy walks up and shows them the hand she's had 12 surgeries on and what the doctors have done to give her a range of motion back and use her hand as a hand," Heitland said. "That puts a whole understanding on what I'm doing here. What this game, I think this game is the first opportunity for these young men to understand what it means to be service leaders in their communities. Whether they know it or not, they know it now. Hopefully the communities they become husbands and fathers in they will also get involved."
The Shrine Bowl website shares more. "Hospital patients from across the Midwest join the players on the UNI-Dome field and interact, play games and share stories."
To expand upon sights from Friday specifically, athletes and Shriner children were playing catch, taking down tackling dummies and hitting the Griddy, a celebration dance made popular by Allen "Griddy" Davis and his friend Cincinnati Bengal Ja'Marr Chase.
Coach Heitland, University of Northern Iowa class of 1996, notched his 100th career victory at DC-G in 2020 has been at the helm of the Mustangs since 2004.
"It's a real honor to coach in a game like this," Heitland said. "I'm real proud to represent the IFCA and Dallas Center-Grimes high school. I want people to know that we've spent the last week with 44 of the best young men from across the state of Iowa, and it's been a real pleasure."
Heitland thoughts on local players
Fuller, DeVault and Marshall were the Creston News Advertiser area footballers in action on the Mondoturf in Cedar Falls.
"All three of them are outstanding young men," Heitland said. "Their head coaches have nominated them and we base our selections off not only the nominations and the feedback from that had coach, but those three young men we got really great feedback on. I can tell you our expereince with them this week has proven nothing different. They've performed and acted in ways above and beyond.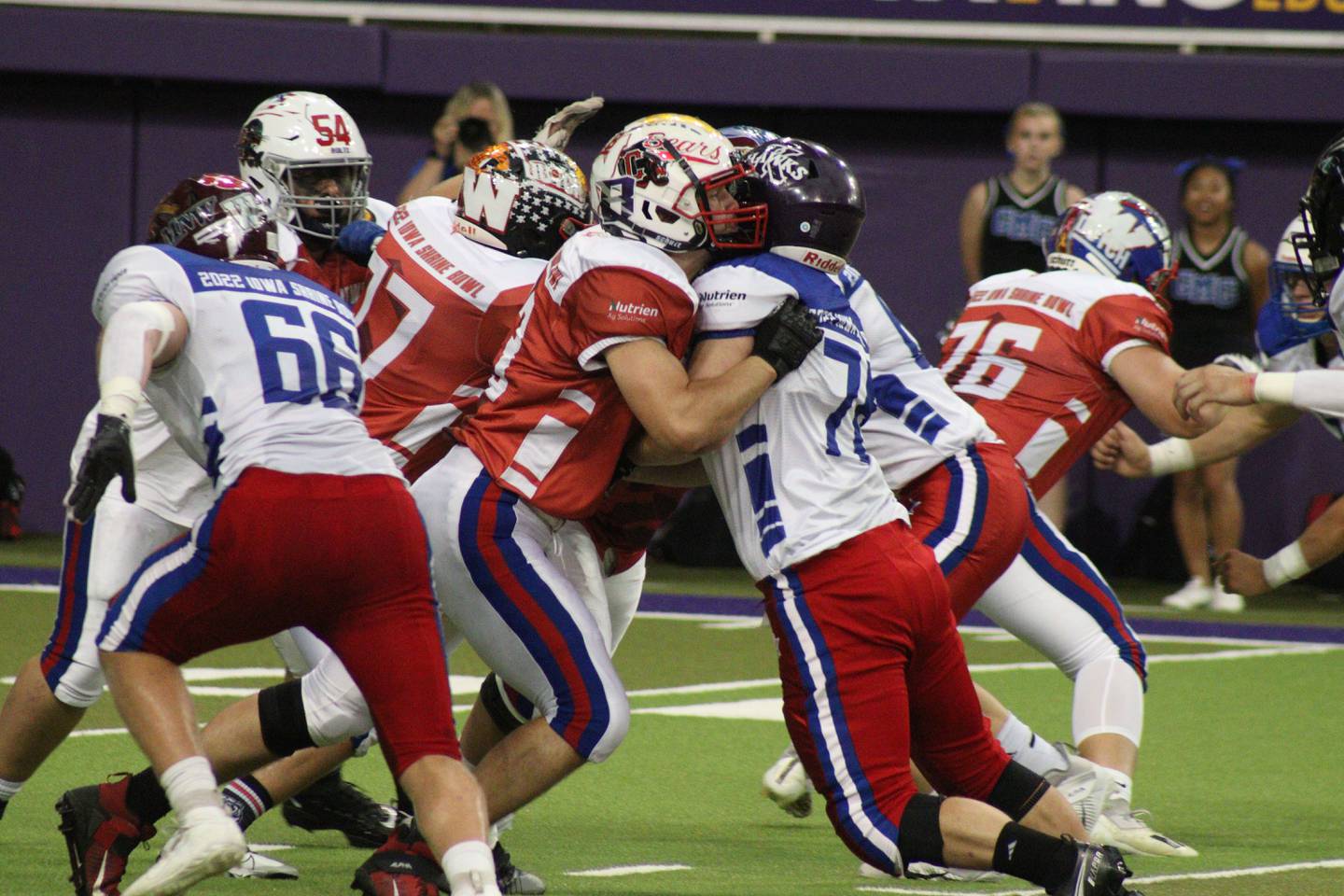 Fuller represented the Creston Panther football program one final time before heading to Benedictine College to play football with the Ravens.
"Avery has done a wonderful job this week," Heitland said. "He's come in and as we're standing here, that's a group of offensive lineman over there and he's come in and connected really well and formed a nice bond."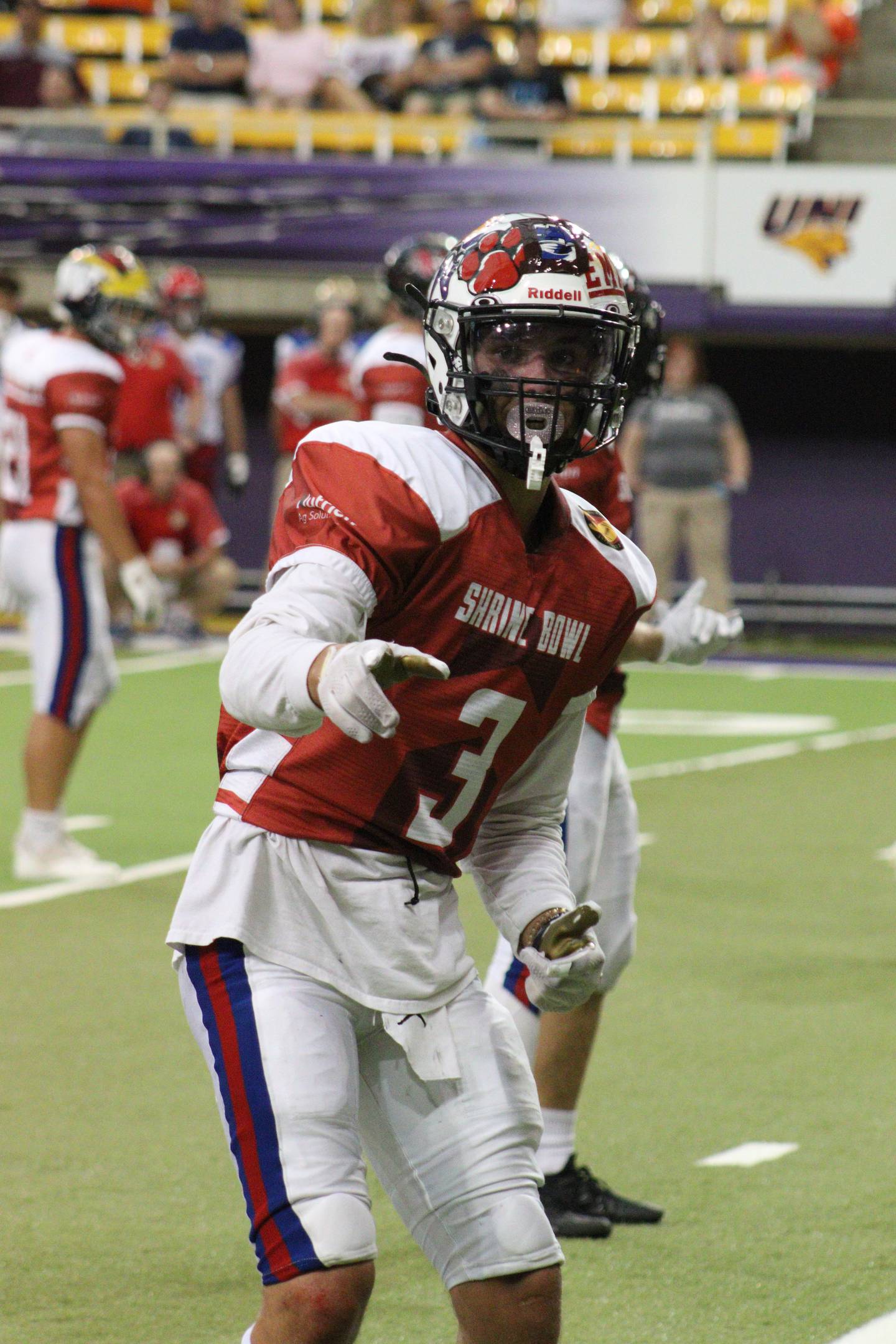 DeVault, who heads to D-II's University of Central Missouri Mules in Warrensburg, leaves his Wolverine jersey in a better place after being named an all-state defensive back twice.
"He's been everything that we had heard," Heitland said. "He can run, he's explosive, he's athletic. We're really excited about our group of wide receivers."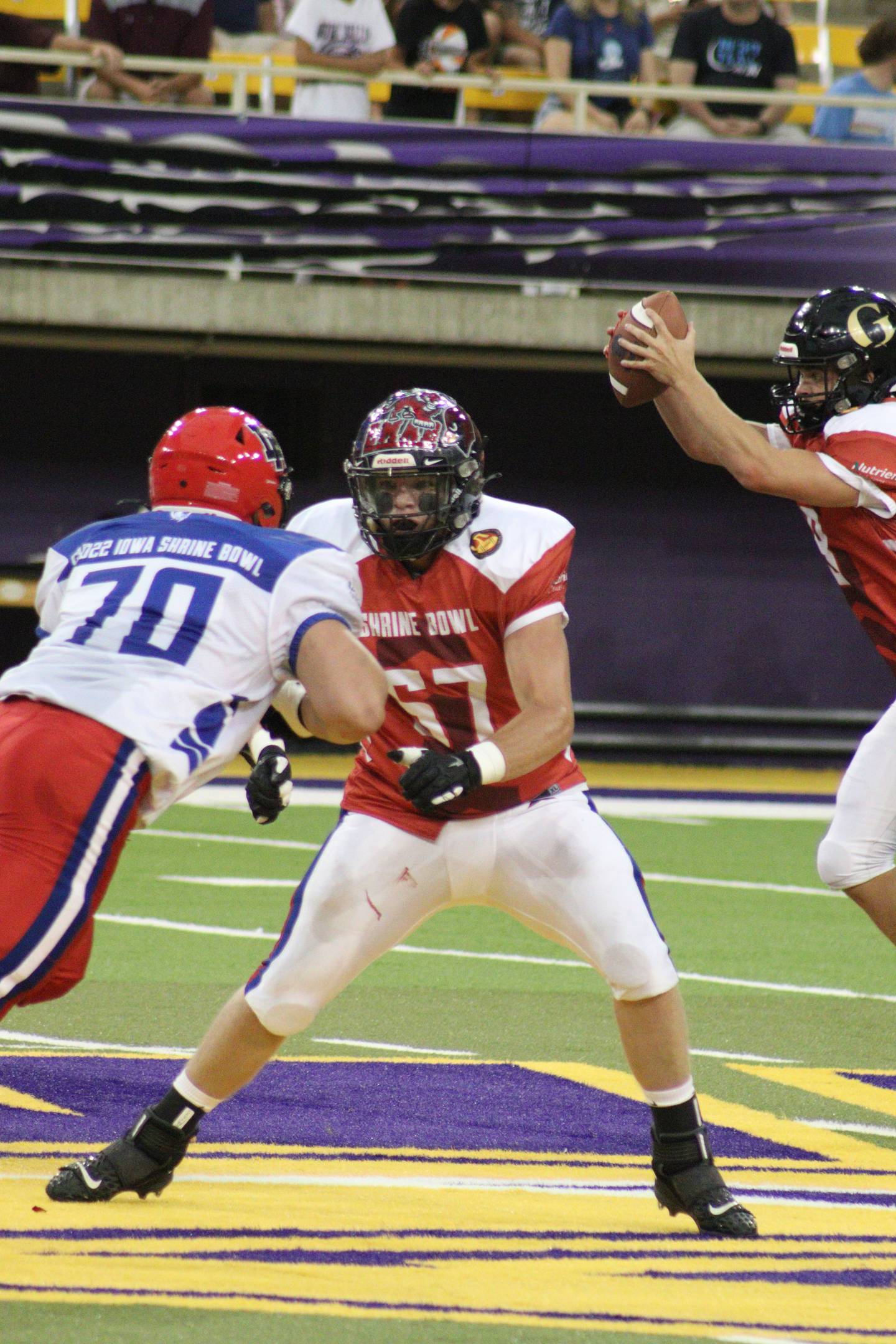 Marshall will move to a slightly brighter shade of red than DeVault at Central College in Pella.
"His ability to come in and form relationships with his buddies that he's now made," Heitland said. "We've enjoyed having him."
Shrine Bowl local history
Creston all-time list:
Rod Sears, 1974; Kevin Downey, 1977; Doug Lang, 1978; Kean Richard, 1979; Todd Baralou, 1981; Craig Allard, 1986; Scott Driskell, 1990; B.J. Hellyer, 1993; Matt Chapman, 1994; Ethan Owens, 1995; Ken Fogelsong, 1996; Kyle McCann, 1997; Michael Buck, 2004; Dane Wardenburg, 2006; Nick Neitzel, 2010; Collin Bevins, 2012; Luke Neitzel, 2013; Trevor Frain, 2014; Alex Nielsen, 2015; Chase Shiltz, 2017; Avery Fuller, 2022.
Lenox all-time list:
Eric Hensley, 2010; Dawson Marshall, 2022.
Nodaway Valley all-time list:
Joel Queck, 1979*; Joe Baudler, 1982*; Brad Baier, 1985; Steven Elliott, 1987*; Tom Chiles, 1988*; Dan Marnin, 1990*; Wade Boehm, 2001; Mathew Mitchell, 2004; Billy Baudler, 2005; Levi Morris, 2007; Blake Quam, 2011; Gregory Smith, 2012; Caelen DeVault, 2022.
*Greenfield