The first year of co-coaches Clay and Maggie Arnold taking over duties for both the Creston girls and boys track and field teams culminated in a state qualifying relay by the boys team for the first time since 2015.
The Arnolds spoke on that accomplishment and many other highlights in the two teams' awards ceremonies held Sunday afternoon in the Creston Community High School auditorium.
Clay Arnold, formerly the Panther girls track and field coach, teamed with his wife Maggie, his former assistant and the school's cross country head coach, in combined team oversight after the retirement last year of longtime boys track coach Pat Schlapia.
"As we took over the combined programs and revamped the schedule to make it work, to culminate the season by taking a relay team to state was great," Clay Arnold said. "In our preseason meeting we said we want people to compete and go to state right away, that we weren't looking at this as a rebuilding year. We knew the distance medley was one of our best shots at going to state. Nobody on our team had ever competed at Drake Stadium before. Now they know what the end game is."
Xander Drake, Payton Conley, Casen Dryden and Brandon Briley received state participation awards for their roles on the state-qualifying distance medley relay, along with alternates Austin Evans and Austin Seaton.
Briley received the award for the most team points earned during the season (176). Two boys events were recently added (sprint medley) or revamped (shuttle hurdle relay hurdles were raised last year) and this year's Panther boys team produced new school records in both.
The sprint medley relay team of Xander Drake, Brandon Briley, Dylan Calvin and Casen Dryden set the new standards of 1:42.41. Establishing the new shuttle hurdle relay record of 1:12.75 was the foursome of Jaydan Pettegrew, Austin Seaton, Jayden Myers and Tyson Looney.
The lone seniors on the boys team honored Sunday were managers Adam Short and Chris Wilson, the latter unable to compete in the throws last season after undergoing knee surgery in the wrestling season.
In his comments on the boys team, Clay Arnold spoke of the youthful roster gaining valuable varsity experience this year, with steady improvements in performances. He said the track team is the feeder program for success in other school sports, and noted the run, jump and throw workouts held at 7 a.m. Mondays, Wednesdays and Fridays during the summer for those not out for baseball or softball.
Maggie Arnold presented awards to the girls team. The award winner for most team points scored during the season, senior Brianna Fields (202 points), came the closest to going to state by placing 25th among all Class 3A discus throwers at the qualifying meet. A total of 24 competitors advanced to state.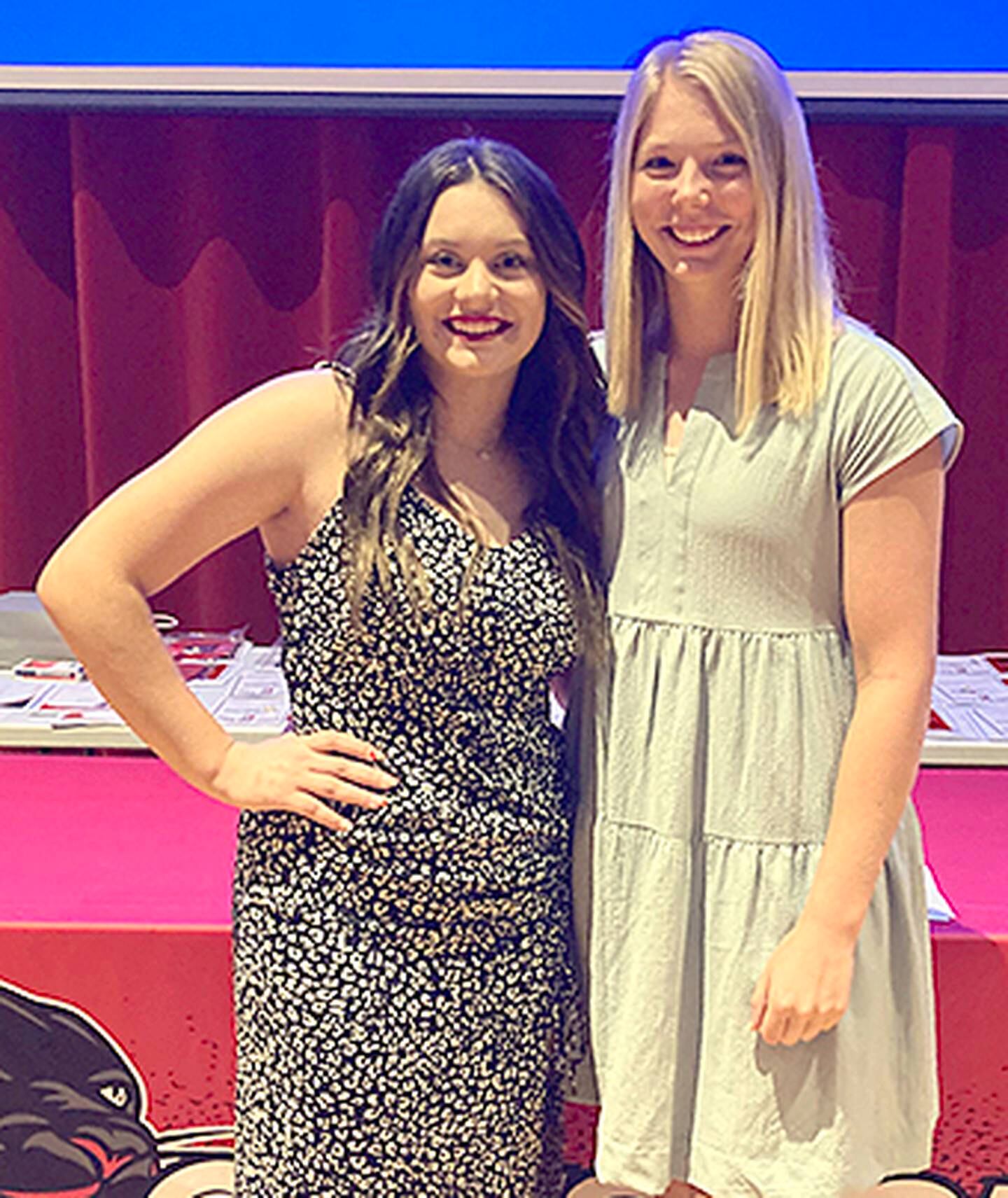 Fields, the team's best 200-meter runner and team leader in career points scored (455), ran on state qualifying relays earlier in her career. Maggie Arnold noted Fields' versatility and leadership as one of three seniors on the team. Fields earned the school's Kim Bishop Award for excellence in athletic performance while exhibiting strong character traits and integrity. She will play basketball next year at Grand View University.
Other seniors, who had converted from running events to the throws later in their careers, were Taylor Seaton and Lexi Gutknecht. Arnold said Seaton received one of the school's Curt Olson Sportsmanship Award and will continue working as a thrower on the Southwestern Community College track and field team next year.
The Arnolds also spoke of the contributions of assistant coaches Taylor Briley and Brian Morrison.
Boys track and field
Letterwinners
Seniors — Chris Wilson (manager).
Juniors — Chris Aragon, Ty Morrison, Jaydan Pettegrew, Austin Seaton, Riley Wipperman, Payton Conley, Hayden Ray (manager).
Sophomores — Brandon Briley, Dylan Calvin, Austin Evans, Max Chapman, Quinten Fuller.
Freshmen — Xander Drake, Casen Dryden, Gabe Hopkins, Maddix Leppla, Tyson Looney, Jayden Myers, Tyler Riley, Josh Schaefer.
Participation awards — Tucker Rohrig, Brayden Schoon, Mattias Schultes, Rey Saturno, Adam Short (manager).
Girls track and field
Letterwinners
Seniors — Brianna Fields, Taylor Seaton, Lexi Gutknecht (manager).
Juniors — Emma Pantini, Doryn Paup, Sydney Strunk, Aileen Villalpando, Hayden Ray (manager).
Sophomores — Grace Travis, Angelica Franco, Aaniah Haynes, Savannah Sistad (manager).
Freshmen — Karter Clayton, Payton Davis, Alyssa Gerdes, Adyson Morrison, Mia Strunk, Zoey Vandevender, Maria Page (manager), Savanna Davis (manager).
Participation awards — Lexi Gutknecht, Legna Villalpando (manager).