Avery Fuller donned the red and black for the Panthers every season.
The Creston senior stood out most in football as an iron man — seen playing on both the offensive line and defensive line — was also a varsity contributor in basketball, tennis and baseball.
To balance all of this, takes a lot of skill and organization.
"It's prioritizing," Fuller said. "My main priority always has been school. That's how it's going to be as I continue my career down at Benedictine. I'll look at what's in season and what workouts do I have for other sports. Of course I'll do the in-season workouts with my team but after that it's look at the next season, do they have a work out today? No, OK, next season do they have a work out? Yes, I'll go to that one to make sure I'm there and a leader for everybody."
Avery is the son of Paul and Margo Fuller.
Fuller's dedication to all four seasons of play was honored during the May 11 senior awards program when he was announced as Creston's Outstanding Male Athlete from the class of 2022.
Fuller received second team all-state recognition in football from the Iowa Print Sports Writers Association. Fuller was also the No. 1 singles player on the tennis team this spring, and one of the top rebounders as a starting forward for Creston basketball. Fuller was surprised when he heard his name called.
"At first, I wasn't for sure that they called my name for it, just because I wasn't expecting it at all," Fuller said. "I was expecting a couple of my buddies, Derek (Paup) or Chris (Wilson) to end up winning it because they have more of an impact that I noticed. I guess I had just as big of an impact.
Fuller also takes part in a plethora of activities that don't necessarily revolve around athletics. He is an Eagle Scout with Troop 129 in Creston, the Chamber of Commerce Youth of the Year, Creston's student of character award winner from the Hawkeye 10 Conference and a National Honor Society member.
"I'm a member of my church and we do a lot of community help around the area," Fuller said. "Boy Scouts is also a lot of community service and I also have a part time job. My project was the parklet in downtown Creston. It's considered a movable deck that you can put on the street in a parking spot. This allows for different restaurants and businesses to have outside seating so they're able to extend how many people they can have.
"This was a big thing during COVID because big cities were trying to find a way to have outside seating, so we thought we could bring that idea to Creston," Fuller added. "Wayne Pantini brought the idea up and I thought was a great idea."
He plans to major in Biology Pre-Med at Benedictine College in Atchison, Kansas.
Football fondness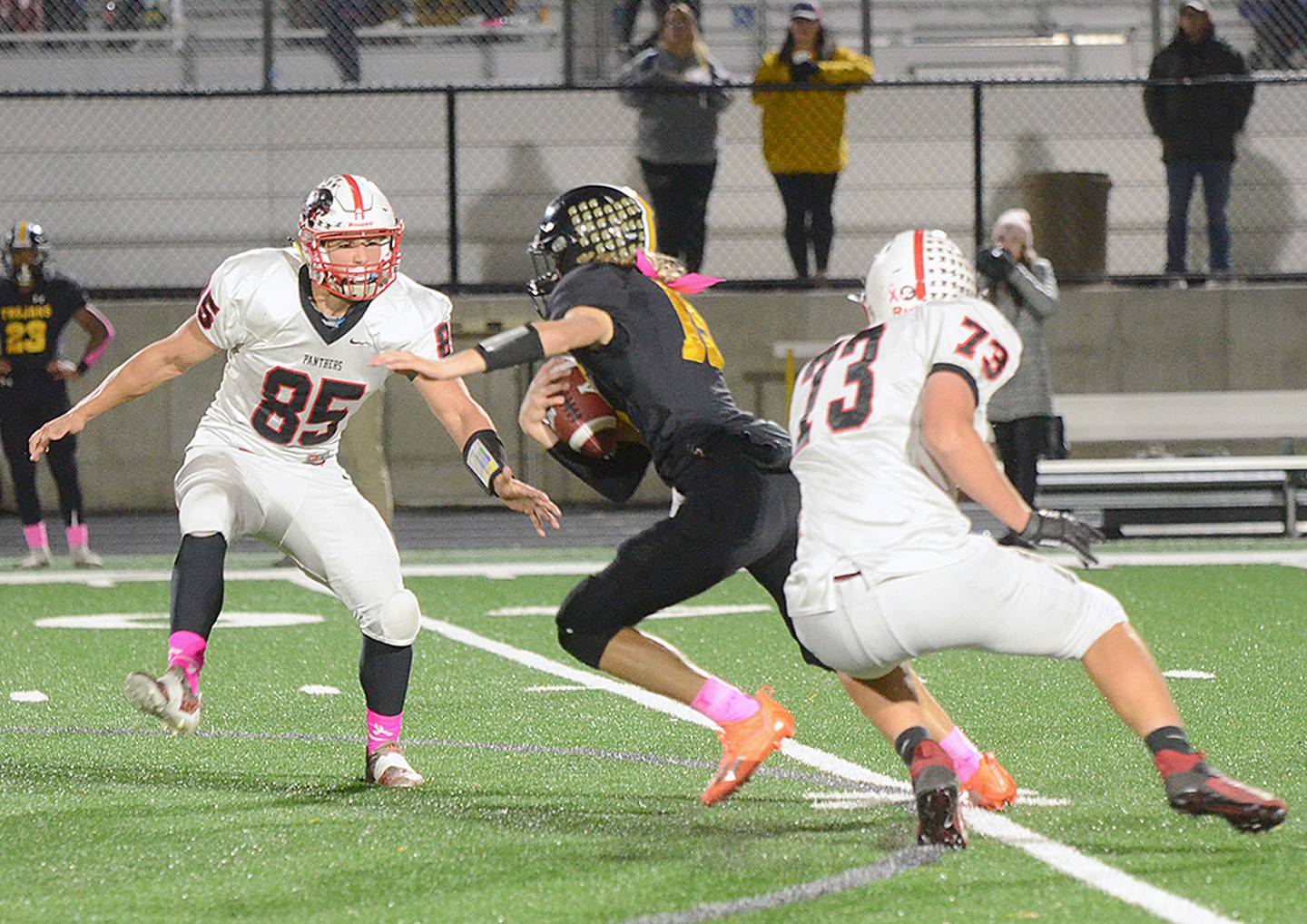 As a freshman with Creston/O-M's football team, Fuller started his football career as a quarterback.
In his first ever high school football game, a 35-0 win against Chariton, Fuller had a 32 yard touchdown rush and a 35 yard touchdown pass to Derek Paup. Fuller finished the day with 80 rushing yards.
"We moved him to offensive line (sophomore year) and then he progressed to be an all-district player for us," Morrison said. "A really good player, good character and great teammate."
Fuller's favorite sport is football. In addition to shining under Friday night lights as an offensive and defensive lineman, he is also a four year stalwart of Creston's marching band as a tenors player.
"The expectation is halftime is band and we don't see them until the third quarter," Morrison said. "I know our assistant coaches communicate with those kids right after half so they understand any adjustments we do make. It was never an issue with him. He's a super active kid, a four sport athlete and he excelled at all of them. Very deserving of the award."
Those that come out to support Creston on Friday nights sticks out to Fuller.
"The community that's built around it, the coaching staff, it's just a great community to have," he said. "It creates a great way for people to connect off the field, as well."
Creston's 49-19 win over Atlantic is perhaps Fuller's favorite football memory.
"Our last football game is really what sticks out to me the most," he said. "It's not like in the past where I've seen seniors that are tearing up, they know it's their last game. We all played our hearts out on the line. We all played as hard as we possibly could. We all came off that field with the biggest smiles, ear to ear, it was another time that we had a different experience than others."
Balancing basketball
The arrival of Creston head basketball coach Bryce Schafer coincided with Fuller's freshman year.
Fuller's favorite all around memory came during his very first year in the Panther program.
"It would have to be beating Harlan in basketball," Fuller said. "It was like my freshman year, it was such a close game and we knocked them out of playoff contention that year. It was just a wild energy for both teams. It was fun."
While no varsity stats could be found for his freshman year, his sophomore year Fuller donned the No. 40 he wore until his senior year.
Stats from his 2019-2020 season, his sophomore year, include eight games played in, six rebounds and two points.
Over the final 41 games of Fuller's career, or his junior and senior seasons, Fuller tallied 153 points and 89 rebounds.
Tennis tales
As one of the three seniors on Creston tennis, Fuller's impact extends to the exterior courts as well.
"Avery has been a great leader for Creston High School in the classroom, on the field/court, and in the community," coach Kevin Cooper said. "It has been awesome having him out for tennis the past four years. This year Avery moved up three spots from last year and played No. 1 for us. He has been helpful in recruiting other kids to join us on the tennis team and all of this while playing four sports and working. He has shown great dedication to anything that he has taken part in over the past four years."
Fuller and his doubles partner finished third at the Hawkeye 10 Conference for the No. 2 teams.
"Having the fun and doing a sport that not a lot of people know about," Fuller said of his experience.
Baseball brotherhood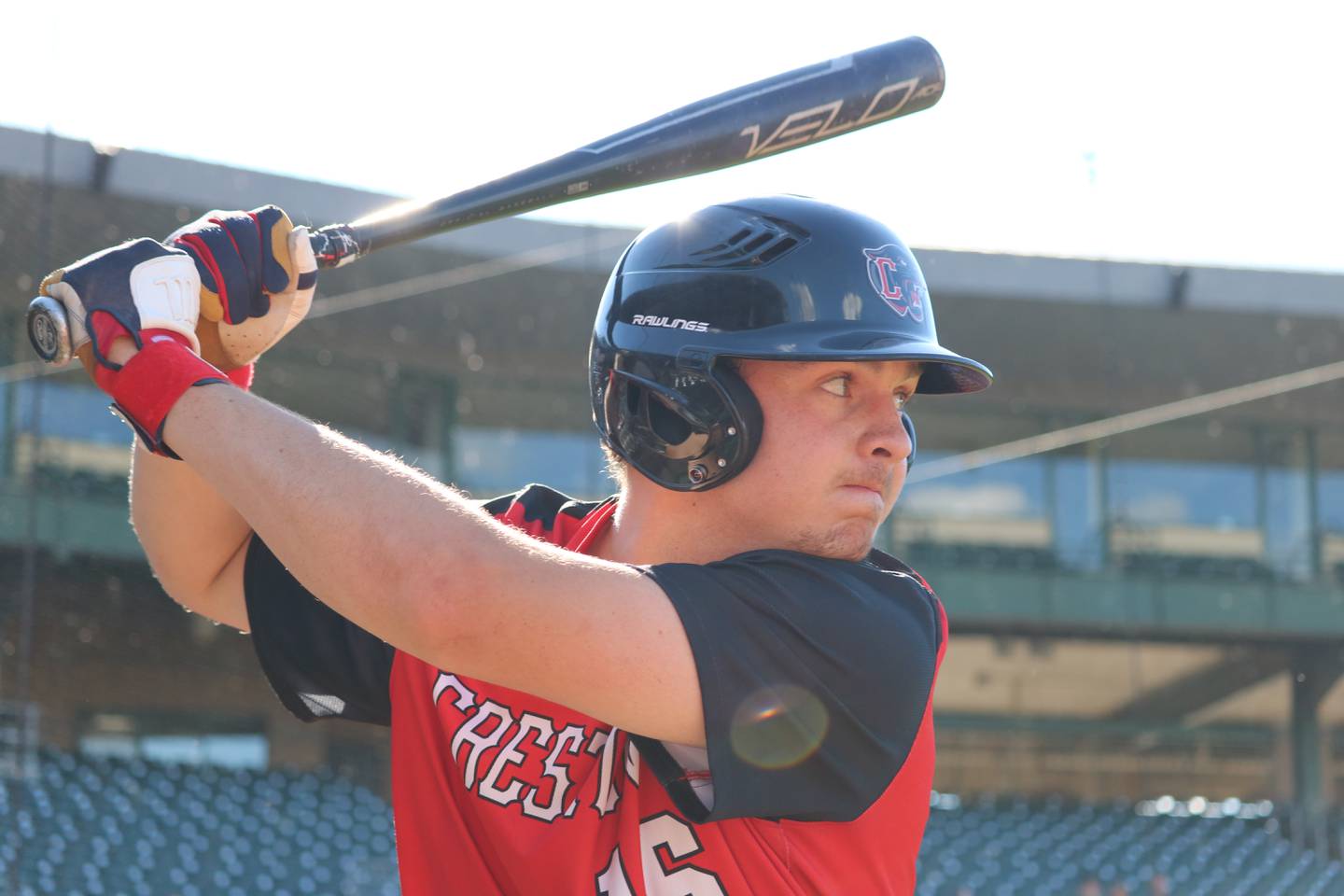 Last year Fuller hit .234 with 15 hits and 10 runs batted in. In his pitching role last year, Fuller faced 101 batters, allowed 28 hits and struck out 16.
This season Fuller has 12 hits and eight runs scored. On the hill, Fuller has a 1-0 record, appeared in five games or 11.2 innings of service.
His favorite baseball memory so far came earlier this season.
"Beating Glenwood the other night with a double walk-off by Dylan Calvin," Fuller said. "Having all that energy and doing what we want because we won the game."
His demeanor on and off the field is noticed by teammates, opponents and coaches.
"Avery is a kind kid," coach Brandon Phipps said. "He's very high character is the best way I can explain the kid. He'll do anything for the team. As a baseball player he does a lot of different stuff for us, he DHs for us, plays first base and pitches. I tip my cap for him being a four sport athlete. I'm just happy to have Avery on our team and being an example for this young team that we have."
Future as a Raven
Despite moving to Benedictine College, which is just over 130 miles south of Creston High School, Fuller will see some familiar faces at O'Malley Field at Larry Wilcox Stadium.
On Sept. 24, the Ravens will host the Graceland University Yellowjackets which has fellow Creston class of 2022ers Kayleb Howard, Owen Richards and Chris Wilson. The Ravens lead the series 12-2 in the all-time series which dates back to 2007.
Benedictine head coach Joel Osborn is excited to have the opportunity to work with Fuller.
"Avery is a high level kid that we are excited to join our program," Osborn said. "He comes from a really strong program there in Creston. I personally have had a lot of success recruiting Creston kids over the years. I love kids that come from the Hawkeye 10 Conference, that's where I'm from originally. Avery exemplifies all the characteristics we're looking for in a student-athlete. He's a strong leader, he's a very good academically, he's a really good athlete and he's got a high ceiling playing offensive tackle in college."
Fuller will represent Creston at the Shrine Bowl in Cedar Falls in July.
Creston High School Outstanding Male Athlete Award winners:
1977-78 — Doug Lang
1978-79 — Kean Richard
1979-80 — Mark Evans
1980-81 — Todd Barkalow, Todd Nielsen
1981-82 — Brad Laird, Brad Olson
1982-83 — Roger Baker
1983-84 — Mike Lamb
1984-85 — Joel Christy
1985-86 — Casey Bryant
1986-87 — Matt Somers
1987-88 — Tim Somers
1988-89 — Mike Linch, Brian Monday
1989-90 — Scott Driskell, Dennis Shaw
1990-91 — Ryan Woods
1991-92 — Kurt Belger, Jason Kinsella
1992-93 — Jed Gammell, B.J. Hellyer
1993-94 — Cory Latham, Rick Van Pelt
1994-95 — Brian Gerleman, Ethan Owens
1995-96 — Will Carroll, Dustin Spainhower
1996-97 — Ben Gerleman, Kyle McCann
1997-98 — Mike Mansour, Conor Reed
1998-99 — Brian Bucklin, Cory Gerleman
1999-00 — Tyler Hanson, Adam Travis
2000-01 — Neil Lang
2001-02 — Matt Buck, Jason Hyde
2002-03 — Gabe Stofferahn
2003-04 — Michael Buck, Ryan Steinkamp
2004-05 — Jim Ide
2005-06 — Trevor Conner, G.G. Harris, Dane Wardenburg
2006-07 — Keith Peterson, Scott Vicker
2007-08 — Kalab Evans
2008-09 — Clay Daggett
2009-10 — Kevin Irr, Seth Pals
2010-11 — Luke Eblen
2011-12 — Collin Bevins
2012-13 — Briar Evans, Keaton Hulett, Luke Neitzel
2013-14 — Trevor Frain, Brandon Phipps
2014-15 — Jay Wolfe
2015-16 — Seth Maitlen
2016-17 — Chase Shiltz
2017-18 — Mitchel Swank
2018-19 — Beau Barncastle
2019-20 — Sam Chapman
2020-21 — Brance Baker
2021-22 — Avery Fuller