GLENWOOD — No. 9 Creston (13-4) and junior pitcher Keely Coen had a game that matched the circle she stood in, well rounded, in Tuesday night's 5-0 win at Glenwood (9-6).
Coen tossed a two hitter for her sixth win of the 2022 season.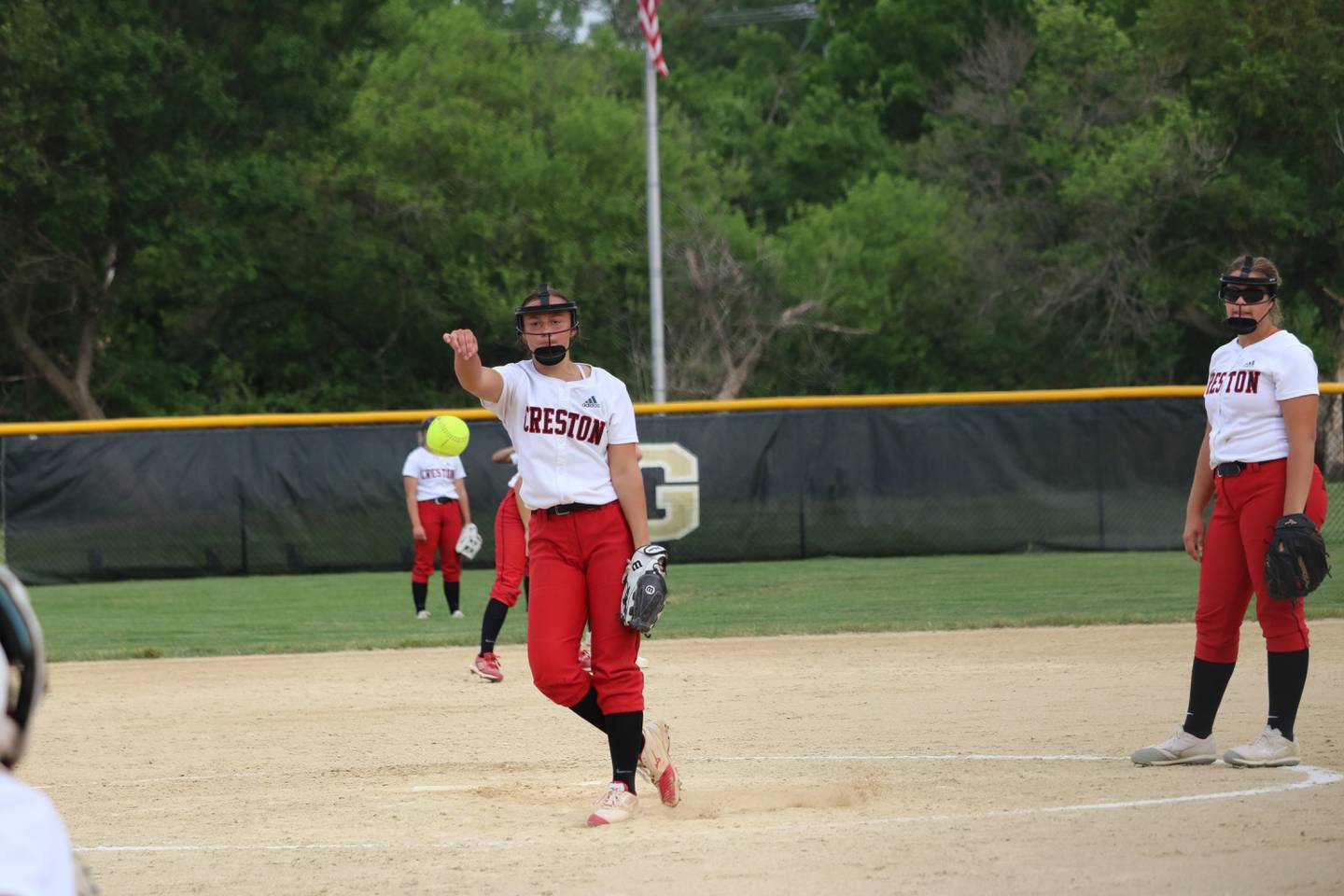 "I'm proud of the way she responded after a really tough night in the first game last night," coach Mike McCabe said of Coen who allowed 12 hits against Kuemper Catholic Monday night. "Some nights you're a perfect speed for a group and tonight she was wonderful."
"Last night I didn't pitch very well and I had to bounce back and it felt very good," Coen added.
The two hits off of Coen came in the first and sixth innings.
"She was in complete control of the strike zone," McCabe said. "She dictated every at bat. Had probably some of our highest numbers on our pitching charts."
The game remained a zero all competition until the fourth inning, when Sophie Hagle drove in Ava Adamson.
"Both pitchers were dueling and had pit up zeroes until that point," McCabe said.
Gracie got on with a base hit in the top of the fifth inning and Nevaeh Randall sent a Creston school record 23rd home run over the fence.
"It was my goal coming into this season," Randall said. "It was my plan to break it either this year or my senior year. I didn't realize I was that close until tonight."
The previous record, 22 home runs, was set by Haylee LaMasters who graduated from CHS in 2015.
Gracie Hagle earned her second run on a wild pitch in the sixth inning and Randall drove in Jersey Foote which finalized the score for Creston's 13th win of the season.
Creston is scheduled to play at Red Oak (0-15) at 7:30 p.m. on Thursday, the Panthers lead the series 23-3 since 2008.
Red Oak took a 3-0 lead after the first inning in the 2021 matchup in Red Oak, and it wasn't until a four run fifth inning until Creston took possession of the lead for good.
"They didn't have year last year either but we went over there and fell behind early," McCabe said. "We had to bust our butt and win that thing. I'm hoping we know enough and got enough experience on our team. The game requires you to do that and it has a funny way of biting you in the butt if you don't."
Photos from the Glenwood game can be accessed online at https://bit.ly/39oWqgP.
CRESTON 5, GLENWOOD 0
Creston 000 122 0 — 10 0 10
Glenwood 000 000 0 — 2 2 3
WP — Keely Coen (6-1, 7 IP, 2 H, 0 R, 0 ER, 1 BB, 9 K); LP — Allison Koontz (7-1, 5.67 IP, 6 H, 2 R, 2 ER, 2 BB, 6 K). HR — C: Nevaeh Randall. 2B — C: Ava Adamson, Mila Kuhns. RBI — C: Randall, 3; Sophie Hagle 1. Multiple hits — C: Randall, 4; Jersey Foote 2. SB — C: Ava Adamson.