DENISON — There was a wait involved, but by Saturday morning Creston track and field had a state qualifying event.
The Panther boys distance medley team of Xander Drake, Payton Conley, Casen Dryden and Brandon Briley placed third at Friday's Class 3A state qualifying meet at Denison-Schleswig in a season-best time of 3:48.47.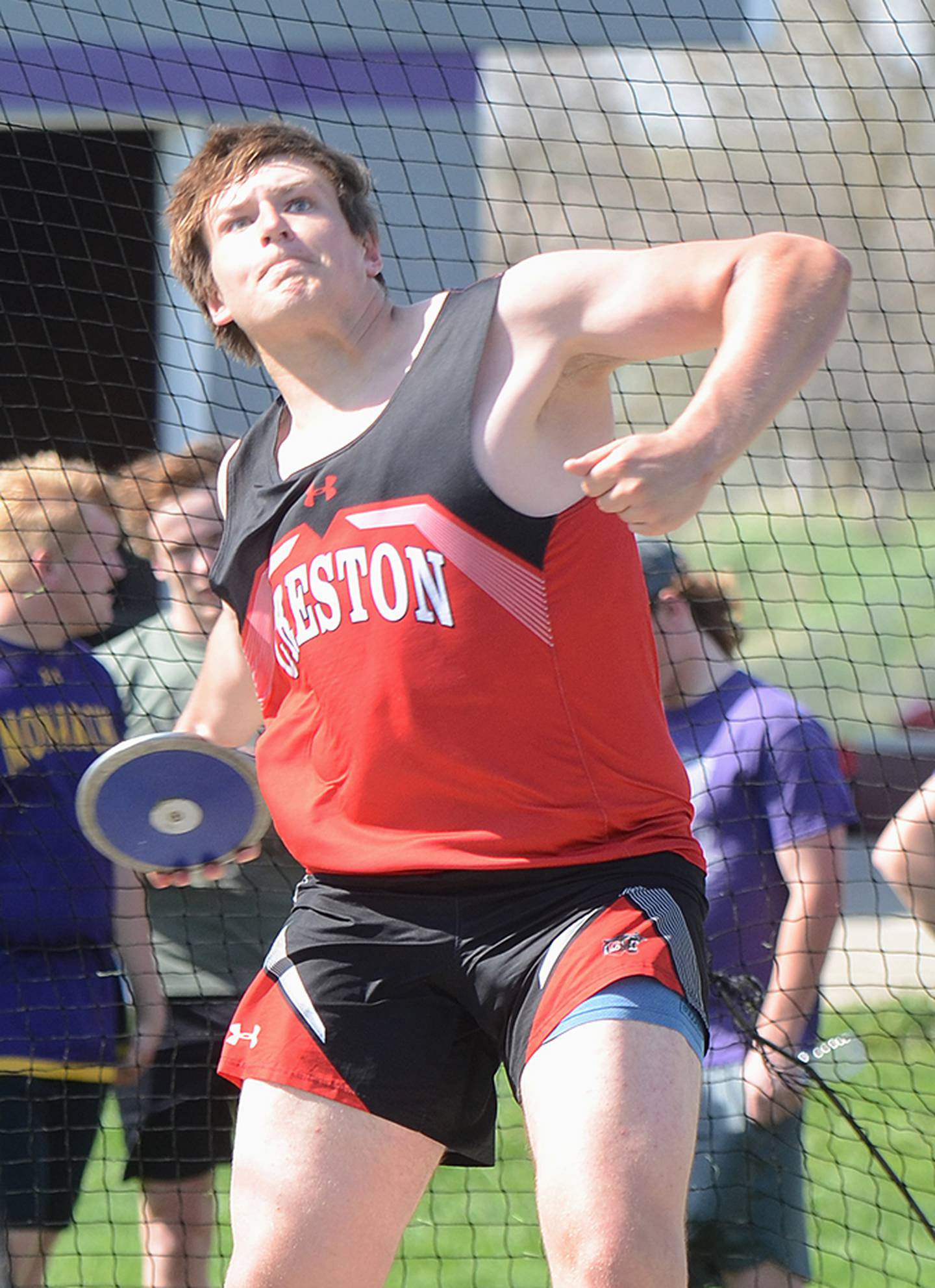 However, only the top two in each event are automatic qualifiers for this week's state meet at Drake Stadium in Des Moines, plus the next best eight performances statewide as at-large entries to fill out the 24 qualifiers. Since the qualifying event in LeMars was postponed until Friday due to weather, the non-automatic qualifiers were not determined until the completion of that meet.
Friday evening event
The Panther quartet ended up 23rd in this year's field of medley qualifiers, just ahead of 24th place Humboldt in 3:49.40. The boys distance medley race at state will be held at 5:40 p.m. Friday.
"That was a season best time for them, a couple of seconds off Monday night with the same quartet," said Creston track and field co-head coach Clay Arnold. "We put ourselves in the hunt. We're better tonight than a lot of teams around the state."
The sprinting duo of Drake and Conley covered the first lap in 48.36 with their opening 200-meter legs, followed by Dryden's 400 leg in 54.74. Anchor man Brandon Briley raced to a 57.34 first lap in his 800 leg to finish with a personal best 2:04.53 split. (Briley also placed third in the open 800 meters in 2:08.34 but missed a wildcard berth at state by two seconds.)
This year's medley quartet, with Austin Seaton and Austin Evans as alternates, is the first Creston boys state qualifying event since Nick Walsh in the 800 meters in 2016, and the first relay since the 4x800 relay team of Bryce Briley, Cooper McDermott, Nick Walsh and Jay Wolfe in 2015.
There was one other narrow miss for Creston at the coed qualifier. Senior Brianna Fields placed fourth in both the discus and shot put at 110-9 and 35-8.75, respectively. Her discus throw was 3 inches shy of being the 24th and final state qualifier. Her shot put effort was a personal best in her final competition.
In the team races, Creston boys placed seventh with 35 points and Creston girls were eighth with 29 points. Glenwood won both team titles with 186 points in boys competition and 176 in the girls meet.
Chapman medals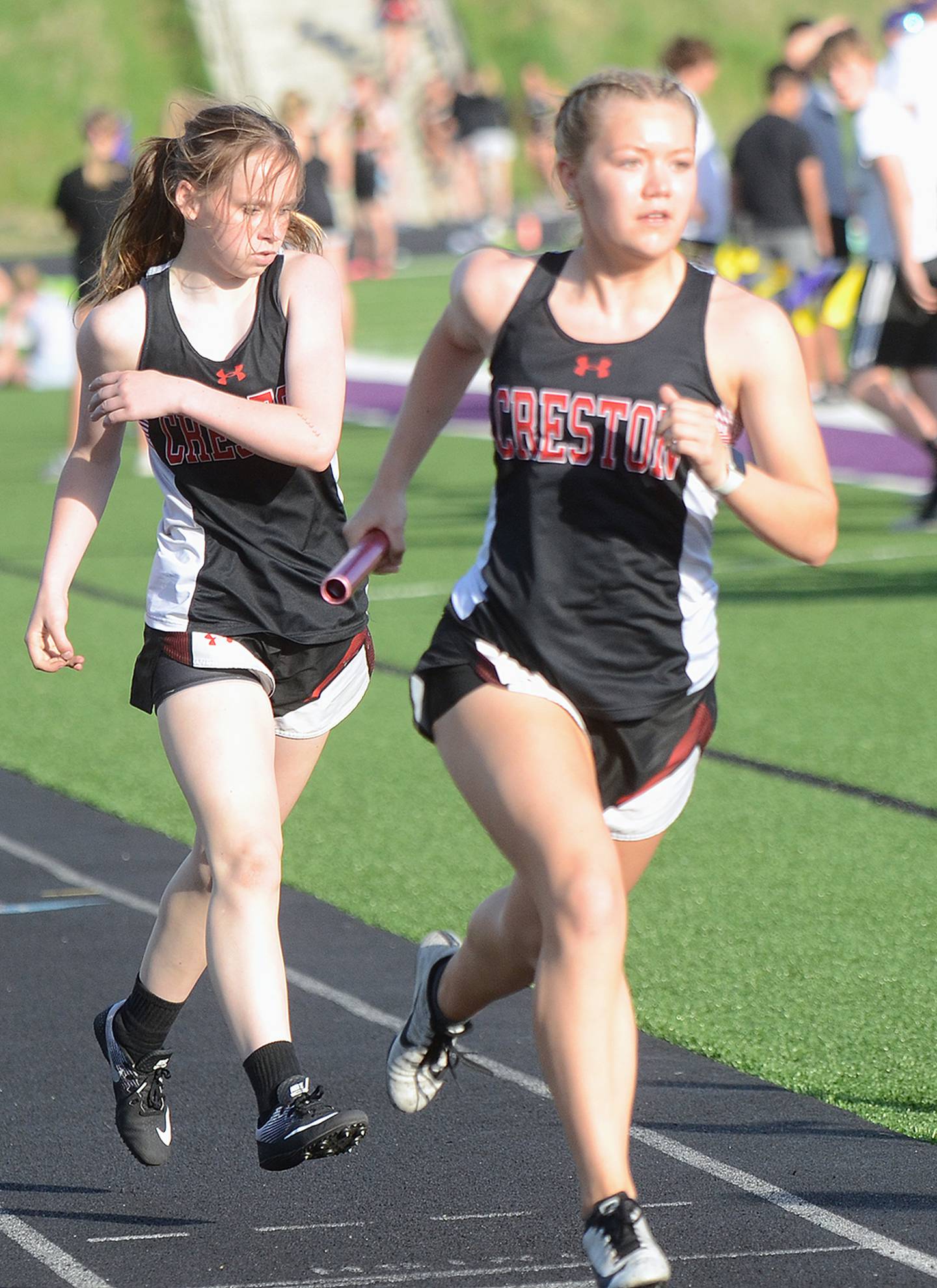 In the boys field events, Max Chapman had a career day in placing in both the discus and shot put. He was seventh in the shot put at 40-4.5 and sixth in the discus at 136-11.
"Chapman was awesome," Arnold said. "He had the four best throws of his career tonight in the discus. He made the finals and medaled in both, so that's huge for him."
Arnold said both the boys and girls 4x400 relay units ran their season-best times, and the boys 4x200 relay posted a season best. Doryn Paup broke her previous best time in the 400-meter hurdles by 1.6 seconds in placing sixth in 1:13.11. She followed with a strong 1:06.66 leadoff on the 4x400 relay in sixth place that included Fields, Emma Pantini and Karter Clayton.
Freshman Alyssa Gerdes ran a best of 19.03 in 10th place in the 100-meter hurdles and ran on the fifth-place shuttle hurdle relay along with Grace Travis, Zoey Vandevender and Clayton.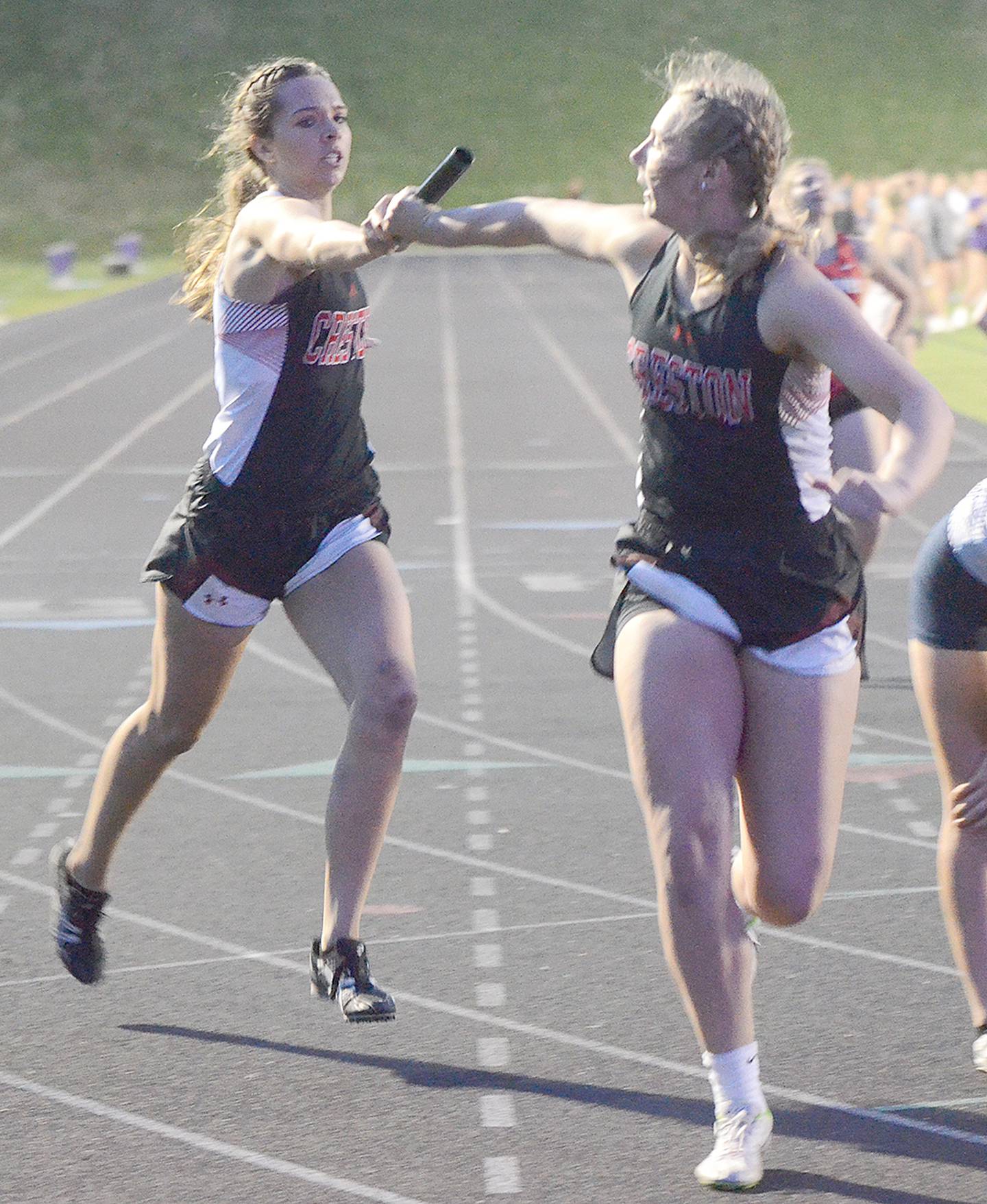 Placing sixth was the 4x100 relay of Aaniah Haynes, Clayton, Gerdes and Fields in 55.49.
Two boys relays placed fifth. The 4x200 foursome of Dryden, Drake, Austin Evans and Briley ran 3:43.93. The team of Tyler Riley, Ty Morrison, Riley Wipperman and Gabe Hopkins ran the 4x800 in 9:38.07.
Running 1:20.03 in the shuttle hurdle relay for sixth place were Josh Schaefer, Maddix Leppla, Tyson Looney and Jayden Myers. Also sixth was the 4x400 group of Dryden, Drake, Austin Evans and Briley.