No. 4 (1A) Logan-Magnolia, third place at state wrestling last year and Interstate 35 visited Creston Tuesday night for a double dual.
The Panthers defeated the visiting Panthers 45-34 and Interstate 35 52-12.
"Going in we knew two tough teams," Creston head coach Cody Downing said. "I-35 really pushed us and Logan-Magnolia with their history, I think they are a really good dual team, we got the fight we expected and our kids fought too."
Max Chapman opened the night up with a 51 second pin of Rex Meeker.
Rex Johnsen, second place finisher at the state tournament last season, returned the favor and pinned Quinten Fuller in 1:02.
Justin Parsons, Lincoln Keeler, Brandon Briley, Triston Barncastle, Kaden Street and Jagger Luther all picked up pins as well against Logan-Magnolia.
"I was a little scared there at 170 we were on our back with Kaden Street and he came out with a pin himself," Downing said. "It ended up being big because 182 (Austin Seaton vs. Dylan Oviatt) was a big match. The bonus points were the biggest difference"
Briley Hayes was pinned by 2021 state champion at 152 pounds Wyatt Reisz in 5:33.
Gavin Maguire, an eighth place finisher at the 2021 state tournament, pinned Brennan Hayes in 1:37.
The significance of the dual against a team of (1A) No. 4 Logan-Magnolia was similar to other duals Creston has participated in this season.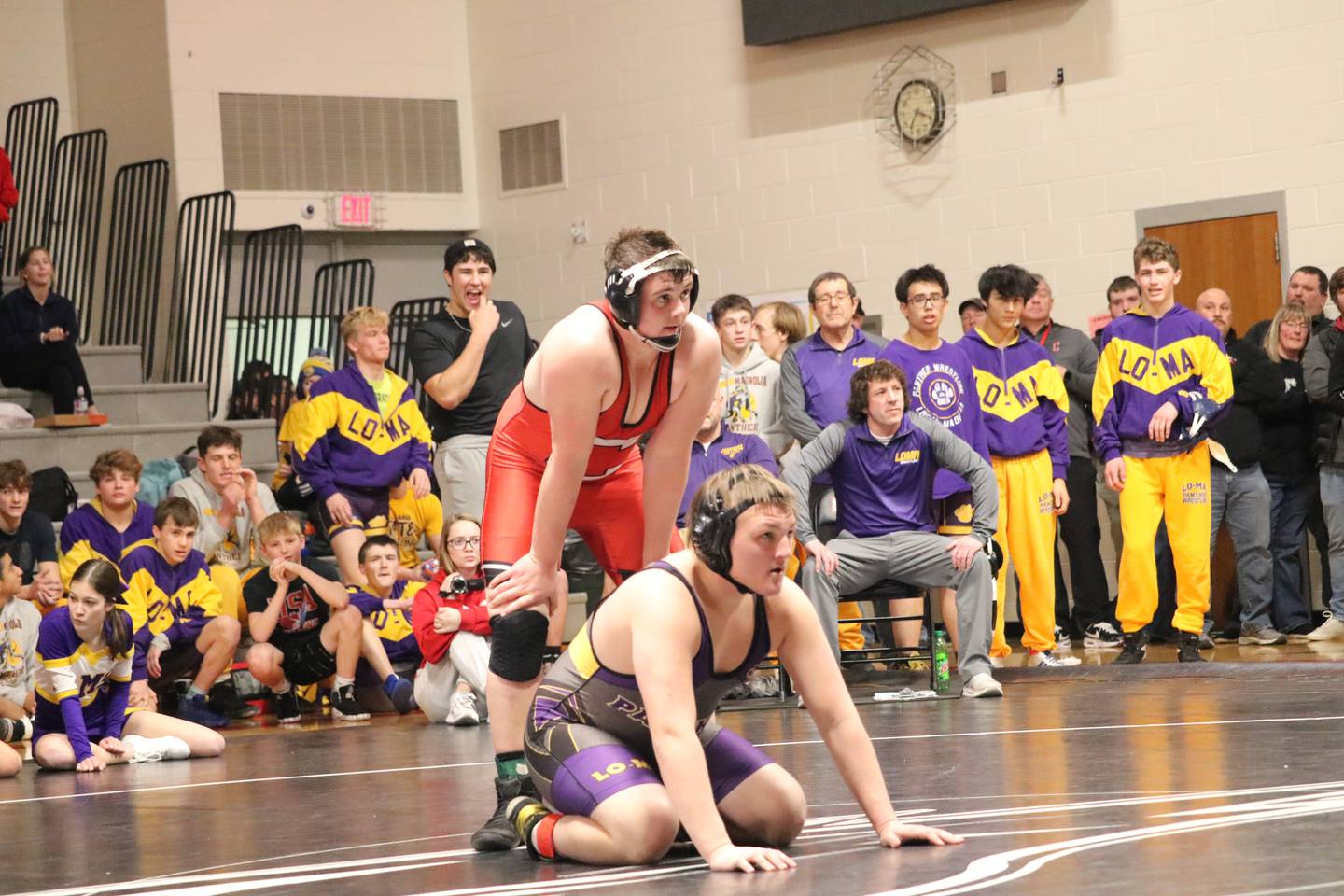 "I think like the Humboldt dual and this dual is that it's a single mat, it's a rowdy crowd, it's every match going down to the wire," Downing said. "I called Logan's assistant coach, who was a college teammate of mine, and I said 'I think it'd be good for both teams to meet to get us prepared for a regional dual or state dual environment."
Against Interstate-35, Creston picked up two forfeit victories, four victories by fall a decision victory by Brennan Hayes and a major decision victory by Kaden Street.
"Two good teams, we got pushed every match, I know the I-35 the score looked a little lopsided," Downing said. "Every match, other than lower weights, was six minutes. Austin Evans ran into two tough kids, hopefully we get another shot at them on Saturday. Barncastle went into overtime, Trey Chesnut was behind and came back, our fight and our grit, I think our work ethic won tonight."
Creston 45, Logan-Magnolia 34
220: Max Chapman (CRTN) over Rex Meeker (LOMA) (Fall 0:51) 285: Rex Johnsen (LOMA) over Quinten Fuller (CRTN) (Fall 1:02) 106: Justin Parsons (CRTN) over Gavin Kiger (LOMA) (Fall 1:24) 113: Corbin Reisz (LOMA) over Christian Ahrens (CRTN) (MD 18-7) 120: Lincoln Keeler (CRTN) over Lyrick Stueve (LOMA) (Fall 2:47) 126: Brandon Briley (CRTN) over Kai Carritt (LOMA) (Fall 5:19) 132: Trey Chesnut (CRTN) over Tarick Rowe (LOMA) (Dec 9-5) 138: Sean Thompson (LOMA) over Austin Evans (CRTN) (Fall 1:31) 145: Triston Barncastle (CRTN) over Harley Christensen (LOMA) (Fall 1:46) 152: Wyatt Reisz (LOMA) over Briley Hayes (CRTN) (Fall 5:33) 160: Gavin Maguire (LOMA) over Brennan Hayes (CRTN) (Fall 1:37) 170: Kaden Street (CRTN) over Jordan Kerger (LOMA) (Fall 2:45) 182: Dylan Oviatt (LOMA) over Austin Seaton (CRTN) (Fall 2:39) 195: Jagger Luther (CRTN) over Caleb Hiatt (LOMA) (Fall 5:14)
Creston 52, Interstate 35 12
285: Max Chapman (CRTN) over (IN35) (For.) 106: Justin Parsons (CRTN) over Briar Johnston (IN35) (Fall 3:21) 113: Christian Ahrens (CRTN) over Michael Upp (IN35) (Fall 1:45) 120: Lincoln Keeler (CRTN) over George Dutrey (IN35) (Fall 5:17) 126: Brandon Briley (CRTN) over Daniel Landeros (IN35) (Fall 3:37) 132: Trey Chesnut (CRTN) over Chase Baker (IN35) (Dec 11-6) 138: Ryan Steinlage (IN35) over Austin Evans (CRTN) (Dec 3-2) 145: Triston Barncastle (CRTN) over Nick Steinlage (IN35) (TB-1 6-1) 152: Briley Hayes (CRTN) over Korbyn Maxwell (IN35) (Dec 6-4) 160: Brennan Hayes (CRTN) over Isaiah Smith (IN35) (Dec 6-3) 170: Kaden Street (CRTN) over Chase Darst (IN35) (MD 13-4) 182: Eli Green (IN35) over Ty Morrison (CRTN) (Fall 1:09) 195: Jagger Luther (CRTN) over (IN35) (For.) 220: Evan Foreman (IN35) over Quinten Fuller (CRTN) (Dec 6-1)