AFTON – After having most of the fourth quarter momentum, East Union's short-lived lead led to a defeat by the visiting Warhawks.
The Eagles girls basketball team (4-6, 1-4 in POI) fell 36-33 to Southeast Warren (7-4, 2-4 in POI) Friday night.
East Union started slow, as they trailed 11-3 after the first quarter.
"I think that effort wise we utilized the timeouts as we didn't sub in tonight," East Union head coach Todd Verwers said. "We knew tonight if we could emphasize shutting them (Hartman and Ruble) them they would have to have a couple of other kids step up."
Hartman had 12 points for the Warhawks and Ruble had 10.
East Union barely trimmed the lead going into the locker room at halftime when they trailed 19-12.
Kaylin Lack had a game high 17 points and Noelle McKnight was second on the Eagles with 11 points. Karah Kirkland and Mallory Raney were the leading rebounders with 13 and 12 boards each.
"Kaylin is approaching 1,000 points. Mallory Raney went over 500 rebounds tonight in her career, Karah Kirkland went over 400 tonight, she's getting close to being a 400-400 kid," Verwers said. "Aubrey Hansen did the ugly stuff on defense like she always does, she played really well."
Karah Kirkland tied the game at 29 with 3:45 remaining in the game and shortly thereafter Noelle McKnight hit a floater which gave East Union a 31-29 edge.
Warhawk Kaylee Bauer hit a 3-point basket with 1.8 seconds remaining to finalize the scoring total.
Karah Kirkland's three-quarter court shot fell just short.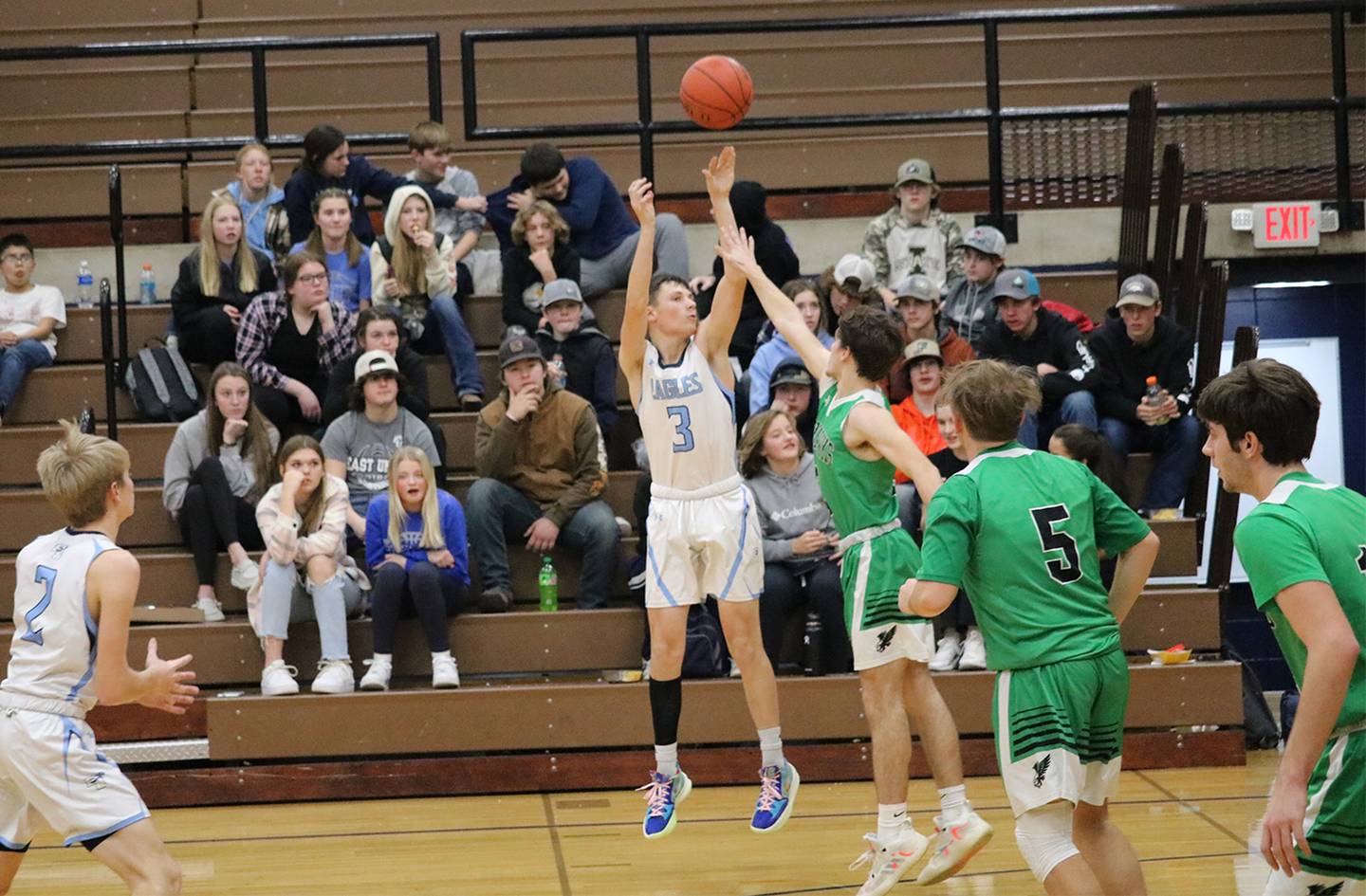 A day after defeating Murray 50-45, East Union played their third game in five days and fell to Southeast Warren 72-55.
East Union (1-8, 0-4 in POI) kept pace with the Warhawks (4-7, 2-4 in POI) in the first quarter as the Eagles trailed 20-13.
The Warhawks took flight in the second and third quarters as they outscored the Eagles 36-22.
"We came out flat, we allowed too many points," East Union boys head coach Michael Hansen said. "Offense was good, we just couldn't take care of the ball."
Cale Eklund led the Eagles in scoring with 18 points and Seth Hudson had 15 points in the loss.
Junior Jack Williams (6-7) led the Warhawks with 18 points.
"He had a factor in the game for sure," Hansen said. "When you have someone that size it puts a mindset in some of the kids, we just approach it like any other team."
Coach Hansen cites the lack of momentum in the game which led to the defeat.
"Throughout the game we couldn't get a rhythm," Hansen said. "We'd get something going and then we'd turn it over."
Both Eagles team play against Central Decatur tonight with the girls game scheduled at 6 p.m. and the boys game scheduled at 7:30 p.m.