ORANGE CITY — Two former area high school linemen were nearly part of history on their home field at Northwestern College Saturday afternoon, but they'll have to wait until the NAIA playoffs for another chance.
No. 3-ranked Morningside College topped No. 2-ranked Northwestern, 55-49, to clinch its 11th straight Great Plains Athletic Conference championship. The Mustangs improved to 9-0 overall and in GPAC play, while the host Raiders fell to 9-1 overall and 8-1 in league play.
Northwestern senior Blake Sevier of Orient-Macksburg, former all-district lineman for Creston/O-M when those two schools were adjoined, is a returning starter at right guard for one of the most prolific offenses in NAIA football. In Saturday's loss, the Raiders amassed 550 total yards (498 passing by quarterback Tyson Kooima) while Morningside had a nearly identical day with 551 total yards.
Northwestern sophomore Ethan Ayers, former all-district lineman at East Union, is a backup in the offensive interior line and dressed on game day for the second time Saturday as fans filled De Valois Stadium on a sun-splashed November afternoon with temperatures reaching the mid-60s.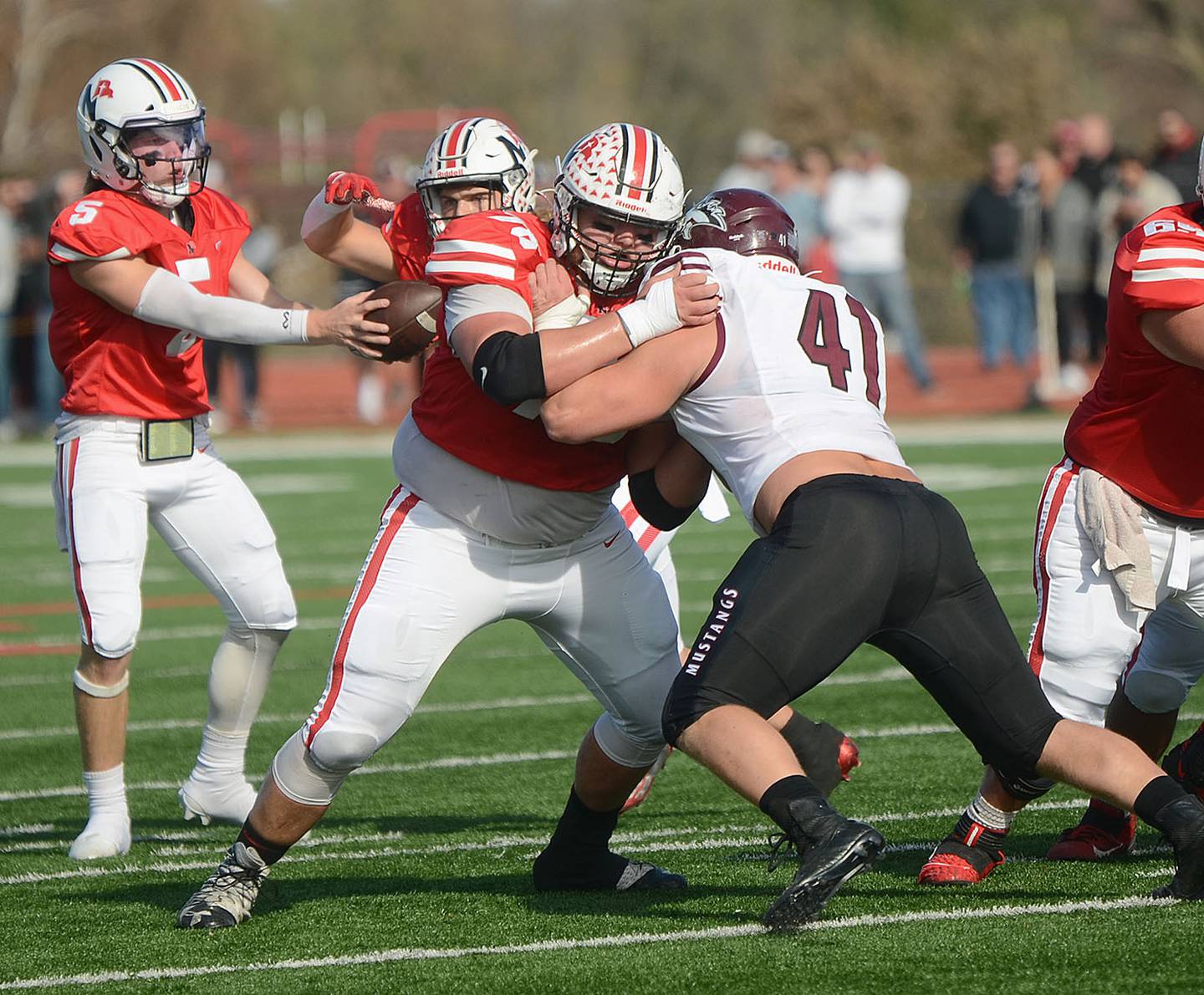 Sevier and Ayers were hoping it was the perfect environment for ending Morningside's reign in the GPAC. In the season opener last fall, Morningside beat Northwestern 45-31 but the Raiders gained revenge by ousting the Mustangs from the playoffs last May, 44-41, in the final game for Morningside defensive end Seth Maitlen of Creston.
Northwestern advanced to the national championship game with that victory, but fell to Lindsey Wilson (Kentucky), 45-13, at Eddie G. Robinson Stadium in Grambling, Louisiana.
After Saturday's shootout, Sevier said the team will get back to work and hopefully have another opportunity to play spoiler against Morningside in the playoff series.
"They have a really good offense and a good defense," Sevier said. "They've been good for a long time. It's a game of inches. We beat them in the playoffs last year. We'll come back and go to work next week, and go from there. Our goals haven't changed."
Minor injuries
Sevier, a 6-3, 328-pound senior, did not play as many series in the second half as the first. Slight injuries were part of the reason redshirt freshman Jawan Grant of Kansas City was inserted at right guard down the stretch when the Raiders tried to rally from a 41-33 deficit early in the fourth quarter.
"Yeah, I kind of dinged up my leg on that first or second drive, and my shoulder toward the beginning of the second half," Sevier said. "Nothing too serious."
Head coach Matt McCarty said Sevier has been an important part of the offensive line since transferring from Graceland University after one season.
"Blake's been dinged up a few times and it's one of those things where we have some good depth up front," McCarty said. "But Blake has been a really key guy for us. He's a bulldozer for us in the run game. How this game was going, we knew we had to throw the ball a little bit and play to our strengths. Morningside is a really good football team and you have to execute at a high level in a game like this. It's like a heavyweight fight, back and forth, and Blake did a good job for us on several drives today."
Northwestern fell behind 21-10 in the first half, but rallied to take a 26-24 lead into halftime. The Raiders went in front 33-24 early in the third quarter, but Morningside's balanced attack came roaring back with 17 unanswered points.
Morningside's offense was led by quarterback Joe Dolincheck ending at 26 of 43 passing for 366 yards and three touchdowns, all to 6-5 receiver Reid Jurgensmeier who had 10 catches for 188 yards. Running back Anthony Sims ran for 179 yards and four TDs for the Mustangs.
Sevier, son of Robin and the late Pat Sevier, is majoring in business administration with an emphasis on agriculture business. With all college athletes granted an extra year of eligibility from the COVID-19 pandemic affected year in 2020, Sevier could play next fall. That's a decision he'll make later.
"I could finish my degree in the spring semester, or push a class back and be a part-time student and play next fall," Sevier said. "I'll see how the year goes and make that decision after the season."
East Union grad
Ayers, son of Amanda Ayers, and Johnathan and Samantha Ayers, is majoring in sports management. He's listed as a 6-4, 322-pound sophomore, but was redshirted in 2020 so this is his first season of football eligibility.
"I'm working in the interior line, usually at guard," Ayers said. "I'm still a freshman, football-wise. This is my second (varsity) game dressing."
"Ethan has been playing JV for us and he suited for some recent games when we've been running a little thin at guard from injuries," Sevier said. "Our starting left guard, Darlin Marquez, rolled an ankle a while back and I've had some small stuff. Jawan Grant has filled in at both guard and center."
While the conference championship eluded the Raiders once again, there are still hopes for a deep playoff run. In the 2020 playoffs delayed until last spring, Northwestern opened with a 31-7 win over Dickinson State, followed by a 27-24 quarterfinal win at No. 2-ranked Grand View and the semifinal triumph over Morningside.
This week the Raiders, now ranked No. 4, wrap up the regular season at Sioux City against Briar Cliff (3-7, 3-6 GPAC). Morningside, which moved up to No. 2, concludes its regular season against Dakota Wesleyan (4-6, 4-5 GPAC) at Mitchell, S.D.
Prior to facing Morningside Saturday, Northwestern defeated Dordt University, 63-28. Former Creston linebacker Rylan Luther plays for Dordt, which is now 6-3 and 6-3 and ranked 25th.