AFTON — Some of the legends of Creston's proud wrestling tradition were honored Saturday night as new inductees into the Creston Wrestling Hall of Fame.
The event was held in the spacious First National Bank/United Farmers Co-op building on the Union County Fairgrounds.
Among the new inductees was the 2007 Creston/O-M wrestling team coached by Darrell Frain, now head football coach and athletic director at Riverside High School in Oakland.
With attending team members standing nearby, Frain spoke of the dedication of the entire squad. He said the individuals on that team accounted for eight career state titles and 25 state placewinning medals, but many others helped the cause.
"Those guys who filled in for us no matter where we put them, they were the glue for us as we moved guys around," Frain said. "Everybody did whatever it took. I challenged our top guys to move up one or two weight classes, or even more, and they always stepped up to the challenge."
He also praised team member Summer Sistad, who was a pioneer in female high school wrestling before it became more popular across the nation.
Frain also noted the successful connection with Orient-Macksburg at the time, which provided state champion Trent Tucker, Casey Tanner, Kaleb Livingston and Sistad.
"We had a great group of parents who drove all over the place as these guys were growing up and doing everything they could to become great," Frain said. "I could tell you stories about everyone standing up here in how they sacrificed and overcame adversity to help us finish the season the way that we did."
Terry Cooper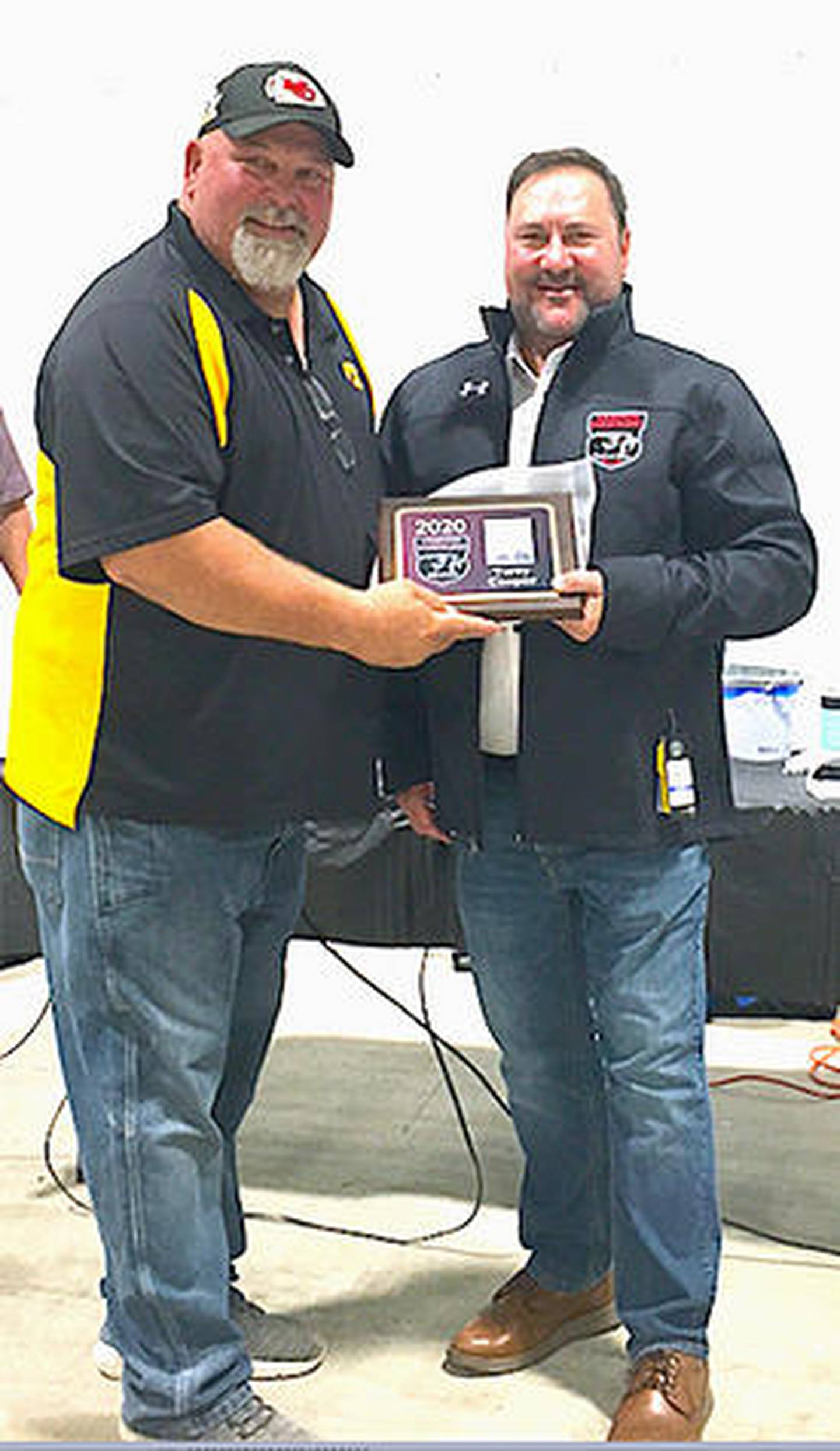 Terry Cooper was inducted as Creston's first undefeated (26-0) state champion in 1981. His coach at the time, Dannie Stephens (also inducted Saturday), said Cooper worked hard for his achievements.
"(Coach) Jerome Hruska put a dream in his head in fifth grade, and he put the work in to attain it," Stephens said. "He's been a successful administrator in the nursing home business, and made life better for so many people in his leadership roles. I look at Terry as an example of what you hope wrestling builds in a young person."
In accepting the plaque and Hall of Fame jacket, Cooper credited the depth of support for wrestling throughout the entire community, which he said was evident in the crowd attending Saturday's event.
Cooper wrestled for a short time at Drake University and Ellsworth Community College, but injuries hampered him after being ranked as high as second nationally before the junior college finals.
Vern Loudon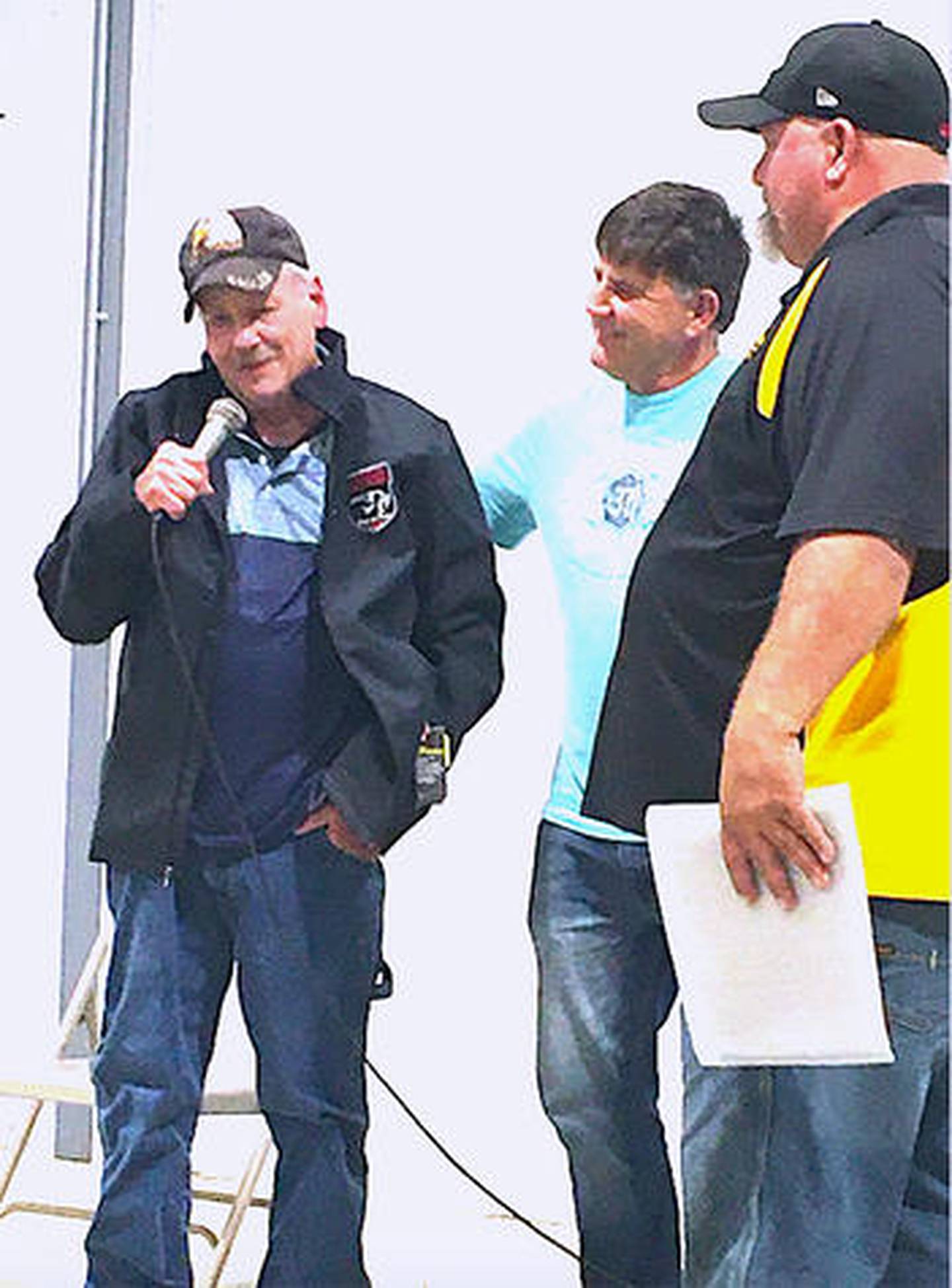 After Vern Loudon became Creston's first collegiate All-American for Iowa Central Community College in 1975, it took another three decades until Dylan Long did it for Northern Iowa. Loudon was considered one of the quickest wrestlers in Creston history, and former teammate John Walters said many area wrestlers often stopped to watch his matches.
In his second year at Iowa Central, Loudon was seriously injured in a car accident during a blizzard near Fort Dodge. Walters noted how Loudon worked in his recovery to learn to walk and talk again, and worked a full career in jobs in Creston rather than sit idle and take disability payments.
Loudon spoke briefly Saturday and thanked his brothers Jim and Denny for helping him learn how to wrestle, and coach Hruska for driving him to be the best he could be.
Dannie Stephens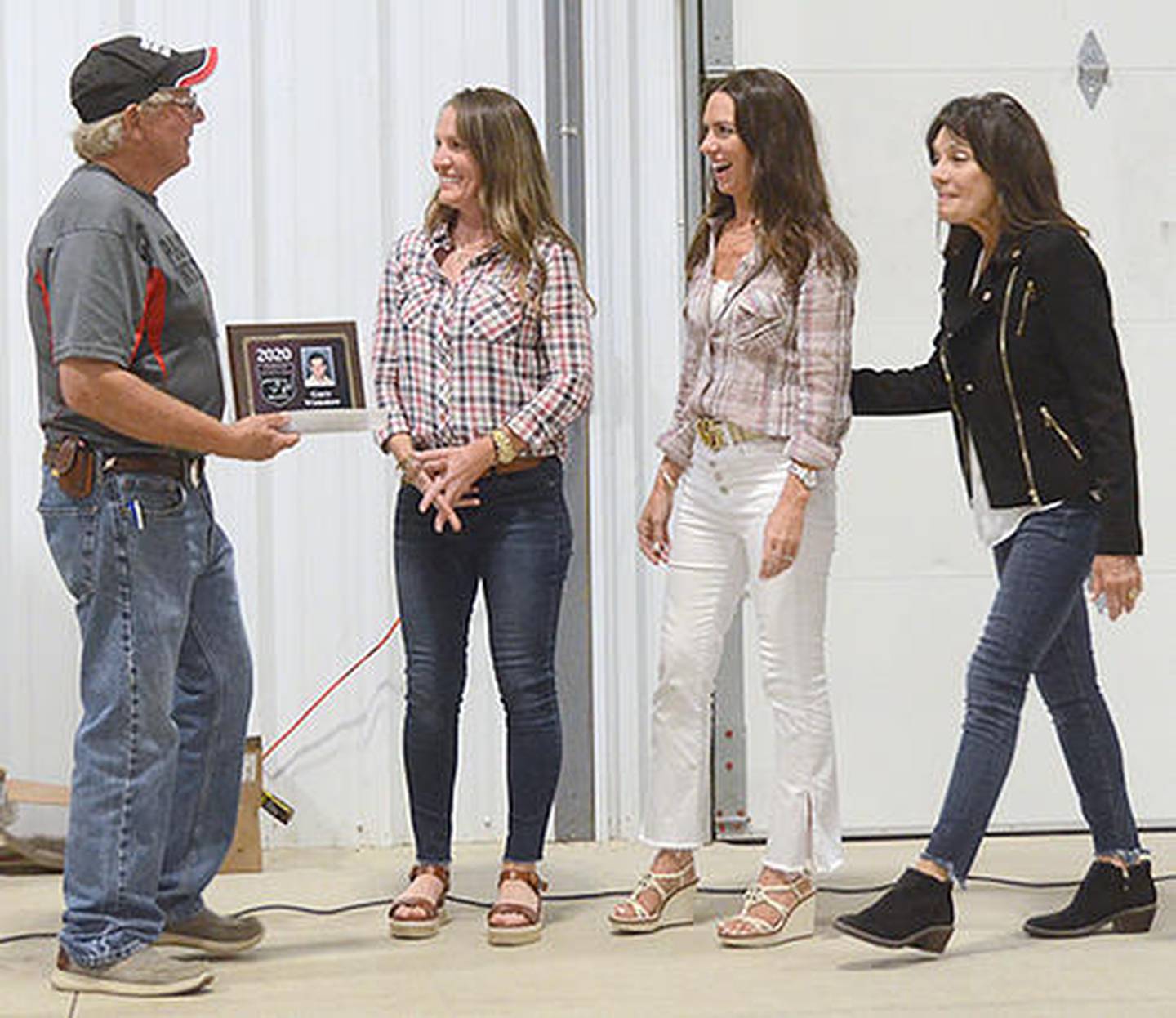 Walters also spoke of the many contributions of Stephens to the sport of wrestling in the region, dating back to his days as a member of the Panther team in the late 1960s.
He came back to the area to teach and coach in Bedford before joining the Creston staff. After serving as head coach, Walters took over in the mid-1980s and Stephens stayed involved as a high school assistant, then as middle school coach and youth club volunteer for many more years. He is also a member of the Creston High School Hall of Fame.
In his acceptance speech, Stephens noted how he loves the practice room more than anything, with opportunities to help kids reach for their dreams.
"Wrestling is one of the best venues for preparing a person for life," Stephens said. "Sometimes guys work four years for a chance to make a varsity lineup. We have some of those guys with us tonight. That's what wrestling is really about, hanging in there."
Bob Decklever
The late Bob Decklever moved to Creston for his junior and senior seasons, as the family relocated from the wrestling hotbed of Osage in northeast Iowa. The sport was just taking off in Creston then in the early 1960s.
"I thought I was a pretty good wrestler until Bob Decklever moved to town and showed me a few things," former Creston wrestling coach Rich Downing said. "He had been wrestling as long as he could remember. We spent a lot of time hunting together and playing sports. He was a great friend."
Walters noted that Decklever was Creston's first state placewinner, and it would be another 10 years before the powerful teams of the 1970s produced another one.
Decklever's sister, Debbie Tracy, accepted the award on Bob's behalf along with his family.
Gary Wimmer
The late Gary Wimmer was a state tournament wrestling official and Walters said when he became an official 45 years ago he used techniques that were taught to him by Wimmer.
But, Wimmer was most known for his work as a PE teacher at Franklin Elementary, where he taught swimming in a small pool in the school, and introduced wrestling among other sports to the youngsters.
He was also a popular junior high football coach with several undefeated teams. Jamie Travis spoke about asking Wimmer to help him coach youth padded football late in Wimmer's life, and the joy he had in working with the kids and inspiring them to do things the right way.
Downing also spoke of his friendship with Wimmer and how kids looked up to him as a mentor.
Gary's wife Janene and daughters Benjie and Ashley accepted the award on his behalf.
Other events
Cody Downing, current Creston wrestling coach, gave an update on the state of wrestling in Creston that not only touched on the high school program, but the many people involved in the "foundation" of the Express Wrestling Club and middle school program. The team is coming off a season of Hawkeye Ten dual and tournament championships, and a 14th trip by the school to the State Dual Tournament.
The event is also a fundraiser for $300 scholarships awarded to candidates who spent four years in the Creston high school wrestling program with a pursuit of post-secondary education or training.
This year's recipients were Paige Busch, Sam Chapman, Brayton Chesnut, Jacob Goodson, Kadon Hulett, Kolby Hulett, Kelby Luther, Blake Sevier, Cody Tanner, Beau Thompson and Kolby Tomas.