A week that started out rough for the Saydel football team got worse once the Creston Panthers got rolling in their homecoming game Friday night.
Creston steamrolled the winless Eagles, 51-12, amassing 414 yards in total offense including 301 yards on the ground.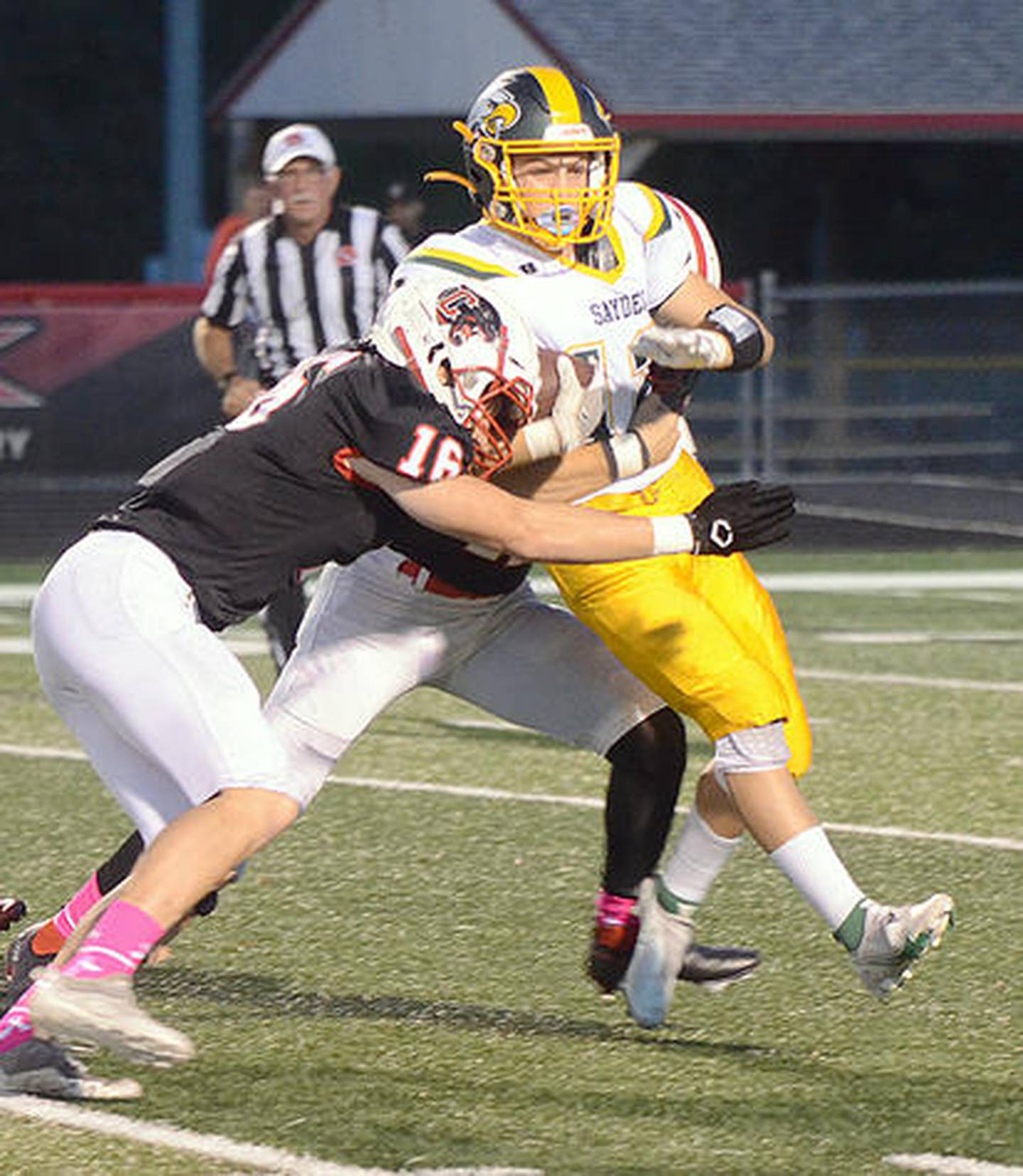 Saydel head coach Austin Stubbs was placed on leave Sept. 30 for allegedly punishing players, by pushing them to the brink of exhaustion through running— because one of the coaches thought a player stole $100 from him. Later in the week some players defended their coach, who remained on leave through Friday's trip to Creston.
The Panthers celebrated homecoming in a big way and rebounded well from the previous week's 42-0 loss to ADM. Briley Hayes accounted for three of the touchdowns in the first quarter on two runs and a 39-yard screen pass.
Quarterback Kyle Strider passed for two touchdowns and ran for another on a weaving 26-yard jaunt in the second quarter as the Panthers took a 44-0 halftime lead. The mercy rule running clock took effect earlier in the second quarter as the lead reached 35-0 on Brennan Hayes' 29-yard touchdown run.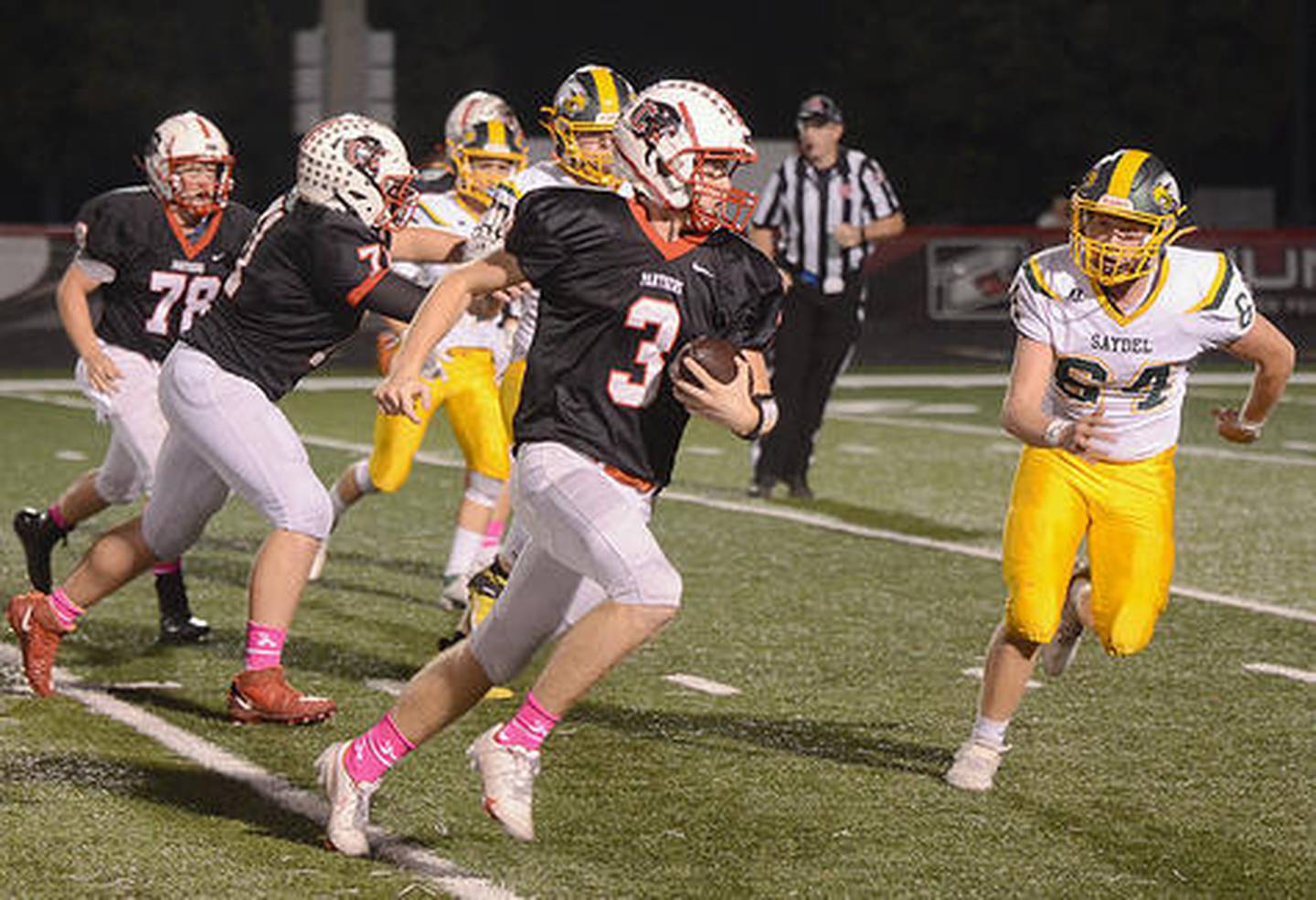 "Our focus this week was outstanding," Creston coach Brian Morrison said. "Coming off a loss like that against ADM, we had question marks as far as getting down on themselves and being able to bounce back. I thought we played a clean game in the first half and bounced back in a big way."
Center Jagger Luther, guards Owen Richards and Chris Wilson, tackles Avery Fuller and Max Chapman and tight end Derek Paup were the primary blockers for a running attack that featured Briley and Brennan Hayes in the first half. Will Bolinger carried the ball for the bulk of a second-half scoring drive that ended on his 5-yard TD run to make it 51-6. Saydel added a touchdown pass with 5:53 left.
Briley Hayes said he'd never had a quarter like the scoring flurry in the opening period Friday. He said he had a lot of help from his teammates.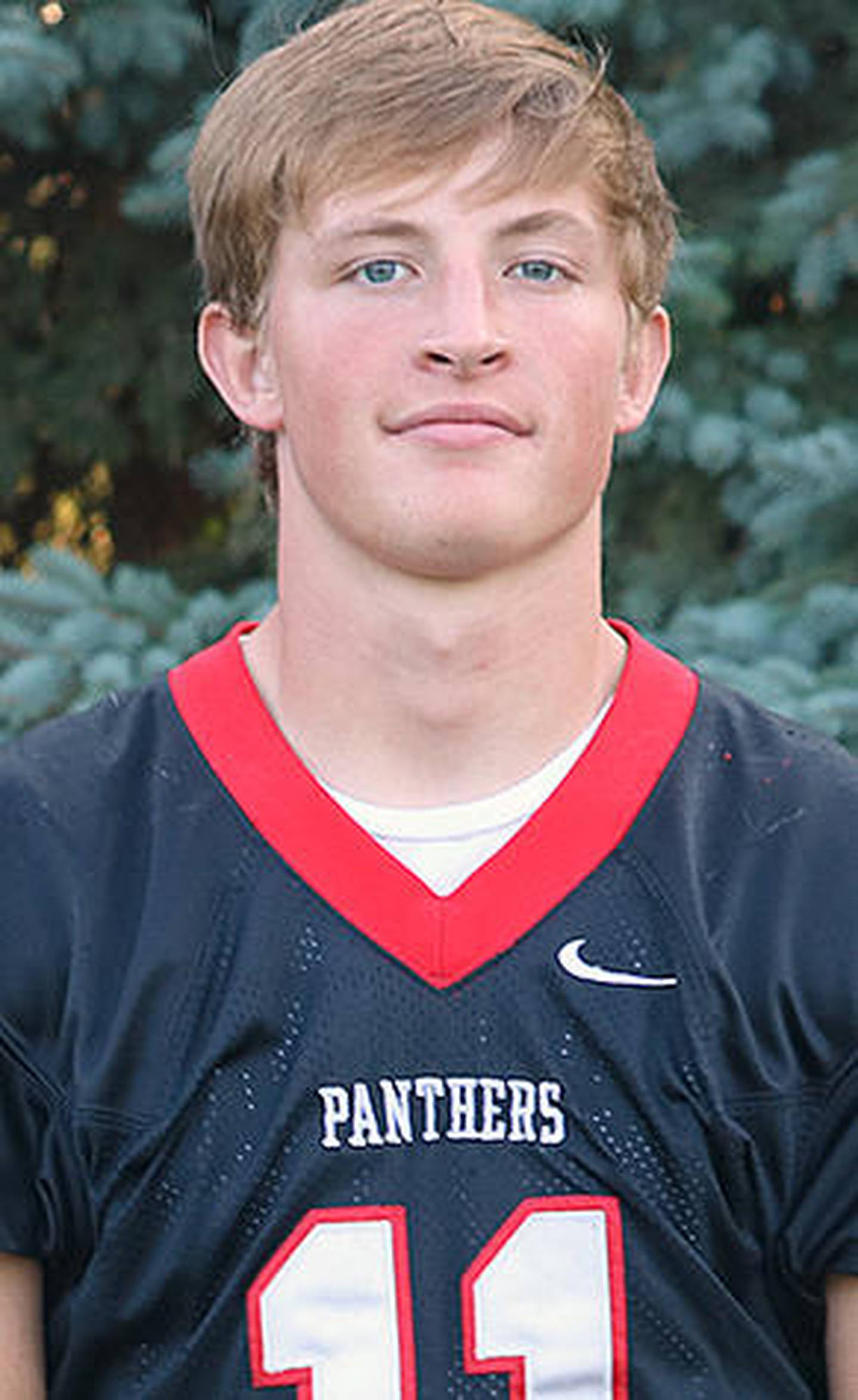 "That was fun," Hayes said. "Our line blocking was great. You could see right into the lanes. On the (passing TD), it's just a little screen pass and I catch it behind the line of scrimmage. They all blocked to my right, so I had it left."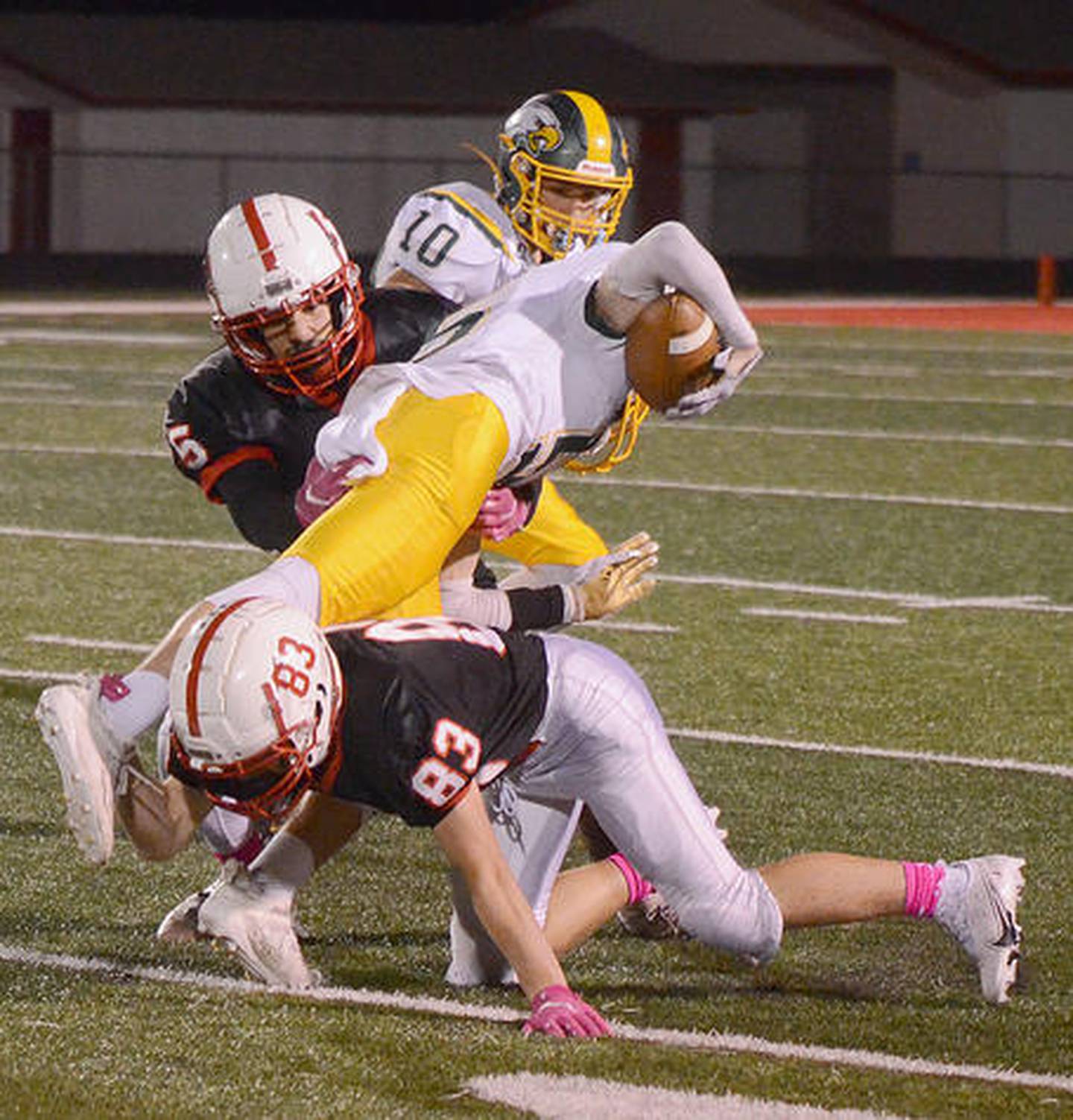 Hayes said his home career at Panther Field "flew by" as it was the final home game for this year's seniors.
Playoff contention
Reserves played much of the second half for Creston, which nearly surpassed the 50-point mark before halftime. Leading 44-0, Gage Skarda tackled Saydel's kick returner behind the Eagles' 5-yard line, and recovered the ensuing fumble one foot from the goal line. With the running clock in effect, the Panthers had time for one play that was was an incomplete pass in the end zone as time expired.
Creston improved to 5-2 and 2-1 in district play. ADM also fell to 2-1 in district play in a 58-30 loss to Harlan. While ADM holds the tiebreaker over Creston for the second playoff spot, the Panther win keeps them in contention with two road games left against No. 1-ranked Harlan and Atlantic.
The win also assures Creston of a winning season by gaining the fifth victory, after six combined wins the previous three years.
"We have given ourselves a chance to be a playoff contender at this point, and we just have to keep working toward it," Morrison said. "It's been four years since we've even had an opportunity. It's been good watching our 12 seniors lead us, and having the sophomores and juniors step into big roles this year. Confidence is something that has been building. That being said, Harlan is a different cat, and we're going to have to get back to work Monday and prepare to the best of our ability."
Creston 51, Saydel 12
First quarter
Cr — Briley Hayes 4 run (Aiden Anderson kick), 9:24
Cr — Briley Hayes 39 pass from Kyle Strider (Anderson kick), 4:38
Cr — Briley Hayes 19 run (Anderson kick), 2:05
Second quarter
Cr — Kayleb Howard 26 pass from Strider (Anderson kick), 11:53
Cr — Safety (Saydel punt snap through end zone), 10:36
Cr — Brennan Hayes 29 run (Anderson kick), 9:42
Cr — Strider 26 run (Anderson kick), :18.6
Third quarter
Say — Isaac McClure 4 run (pass failed), 2:20
Fourth quarter
Cr — Will Bolinger 5 run (Anderson kick), 7:39
Say — Austin Maeder 8 pass from Judd Roberts (pass failed), 5:53
Rushing — Creston: Briley Hayes 8-74, 2 TD; Will Bolinger 9-73, 1 TD; Brennan Hayes5-63, 1 TD; Kyle Strider 2-45, 1 TD; Lincoln Keeler 4-23; Dylan Calvin 1-17; Carter Henderson, 3-4; Cade Wurster 1-2. Saydel: Payton Rummans 2-7; Judd Roberts 1-2; Isaac McClure 2-(-1), 1 TD.
Passing — Creston: Kyle Strider 6-11-0 for 113 yards, 2 TD; Cael Turner 0-1-0. Saydel: Judd Roberts 11-26-0 for 166 yards.
Receiving — Creston: Kayleb Howard 3-58, 1 TD; Briley Hayes 1-39, 1 TD; Brandon Briley 2-16. Saydel: Austin Chally 2-87; AJ Ollin 4-49; Austin Maeder 2-16, 1 TD.
Tackles (solo) — Creston: Austin Seaton 3.0 (2), Aidan Anderson 2.5 (2), Ty Morrison 2.5 (1), Cael Turner 2.0 (2), Briley Hayes 2.0 (1), McCoy Haines 2.0 (2), Gannon Greenwalt 2.0, Austin Evans 1.5, Avery Fuller 1.5 (1).
Tackles for loss — Creston: Andre Davis 1.0, Gage Skarda 1.0, Briley Hayes 1.0, Austin Evans 0.5, Avery Fuller 0.5.