Creston girls basketball will make a return trip to the Regional championship after 62-56 win over Norwalk (12-11) Saturday.
The back-to-back final makes Tuesday's game against Dallas Center-Grimes at 7 p.m. the third in school history, and is Creston's' first in Class 4A. The Panthers also made a Regional final appearance in 2007 against Norwalk.
Saturday's game was back-and-forth from the opening tip, seeing seven lead changes through the game.
The Panthers started out the game with two missed free throws before going up 3-0 on an and-one from Kelsey Fields. Creston's lead stretched to 7-2 behind Sam Dunphy and Bri Fields scores. Norwalk cut Creston's lead to 14-12 at the end of the quarter with a 3-pointer and two free throws.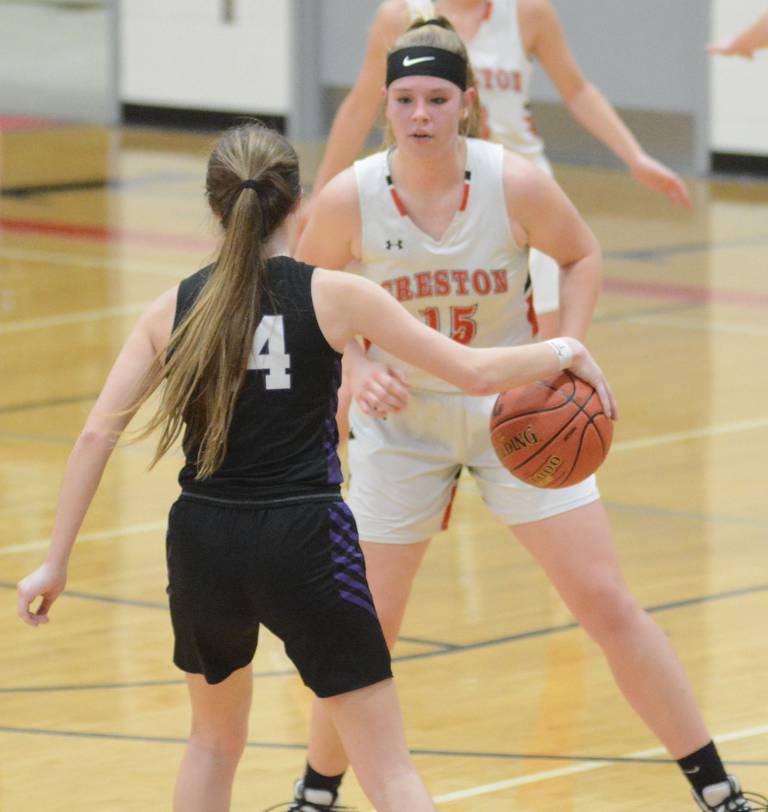 Norwalk took its first lead after an and-one to lead off the second quarter, but Dunphy brought Creston back on top, cutting down the lane for baskets.
"The guy I worked with when I started always said, 'your studs have to be studs in tournament-time," Creston head coach Tony Neubauer said. "That's what Sam and Kelsey were. Just a total grind-out win."
Kelsey Fields finished with 21 points, a team-high total, and grabbed 12 rebounds for a double-double. She also passed the 1,000 rebound mark, which less than 35 girls have totaled in 5 on 5 girls basketball. Dunphy scored 20 points with four assists.
Norwalk's offense started to find its footing as the defense played tight on guard Rylie Driskell and tough down low on Kelsey Fields and Dunphy. The Warriors' run extended to 9-4, forcing a Creston timeout.
Norwalk built its lead to 32-26 at halftime, but the Warriors made a change entering the second half.
"Getting them in foul trouble I guess they went to zone and created some space and scoring opportunities," Neubauer said. "Rylie hit a big three to start the second half, and Morgan did too."
With the Warriors' new defense, Creston's post players started to find a way to score down low and got to the free-throw line often. The Panthers struggled at the line, finishing 10-for-23.
After trailing down six, Creston took the lead behind a Dunphy score and Kelsey Fields layup at 4:20 after going coast-to-coast. Norwalk took the lead, but Driskell knocked down a 3-pointer for one of Creston's four.
The lead continued to change until Dunphy went 1-for-2 from the free-throw line at the end of the third quarter to go up 43-42.
Morgan Driskell knocked down a 3-pointer to open the fourth, and the Panthers never surrendered the lead in the final eight minutes, despite Norwalk cutting the lead to two points.
After trailing 50-42, Norwalk went on an 8-2 run, forcing a timeout with 2:52 remaining.
Creston got back on the board with two Rylie Driskell free throws and scores from Kelsey Fields and Sam Dunphy to go up 58-50 for a 6-0 run out of the timeout.
Norwalk started to foul near the one-minute mark, putting Creston to the free-throw line. the Panthers went 4-for-6 in the final minute and 6-for-10 in the fourth quarter.
"We hit free throws when it counted," Neubauer said. "Rylie hit them late, Kelsey hit them late. It never got close once we got up by eight. A good tournament win. I'm excited for the kids. They get a chance to get in there and play for a state tournament."
Finding a way to hang on, Creston advances to face Class 2A No. 3 Dallas Center-Grimes for the second time this season. In the first matchup, the the Mustangs won 64-44, shooting 44.4% from the 3-point line, 12-for-27, and 51.2% from the field, 22-for-43.
UP NEXT — Creston travels to Grimes to face Dallas Center-Grimes Tuesday at 7 p.m.
Creston 62, Norwalk 56
NORWALK (56) — (FG FT PTS) Totals — 23 7-10 56. Bren Moritz 9 6-9 24, Jocelyn Bice 10 1-1 23, Emma Soukup 3 0-0 6, Jayden Lammers 1 0-0 3. 3-point goals — 3 (Bice 2, Lammers 1). Team fouls — 20. Fouled out — None.
CRESTON (62) — (FG FT PTS) Totals — 24 10-23 62. Kelsey Fields 7 5-9 21, Sam Dunphy 9 2-5 20, Rylie Driskell 2 2-2 7, Bri Fields 3 0-1 6, Morgan Driskell 1 1-4 4, Doryn Paup 2 0-2 4. 3-point goals — 4 (Kelsey Feilds 2, R. Driskell 1, M. Driskell 1). Team fouls — 11. Fouled out — None.