The Southwestern men avenged an early-season loss by hanging on for a 75-72 home victory over Metropolitan Community College of Kansas City Wednesday night.
The Wolves (12-6) had defeated the Spartans 79-64 on Nov. 16. But on Wednesday, Southwestern controlled the action from the start in holding leads of five or six points most of the first half before taking a 37-27 advantage into the break. Sophomore center Devin Tomlinson already had 17 of his team-high 23 points through the first 20 minutes.
Sophomore Brance Baker of Creston, who made all six free throw attempts in the final 27 seconds to keep the Wolves at bay, had one of his best games as a Spartan with 20 points. He made four 3-pointer, including two back-to-back shots to end the opening half.
"Those six free throws down the stretch were huge," SWCC coach Reggie Kindle said. "Brance is a great example of what a basketball player should be. He puts his hard hat on every day and goes to work. Devin had a great first half. He is a really good layer when he's into it mentally."
While Metropolitan staged a comeback attempt in the second half, shaving a 60-51 deficit to an even game at 67-67 with 2:20 to play, the Spartans made enough stops and converted at the line to hang on. Baker grabbed a defensive rebound off a Metropolitan miss and was fouled with 27 seconds left to start his run of six straight free throws.
The free throws allowed Southwestern to hold a 75-69 lead until Metropolitan's 3-pointer at the buzzer by Najee Williams.
"Nothing has been easy for us this season, but we're a completely different team than we were when we lost to them down there," Kindle said. "We understand what we're trying to do and we're unselfish. We just keep growing every day."
The Spartans (8-13 overall, 4-4 in ICCAC) gained the victory without two key weapons. Sophomore guard Khayden Hooks and freshman reserve guard Patrick Worrell were both injured at Northeast Community College on Monday.
"Patrick strained an abdominal muscle and Khayden broke a finger," Kindle said. "We got beat up at Northeast, physically. Credit to the guys for stepping up and making some big plays tonight."
In Hooks' absence, Justin Bussey, a redshirt freshman from San Antonio, Texas, got the start at point guard and finished with 11 points. Drake Davison and Tyus Willis each scored six points off the bench and Kindle said Corbin Dozier provided some key minutes in spelling Tomlinson in the second half.
"All the credit to the kids," Kindle said. "They found a way."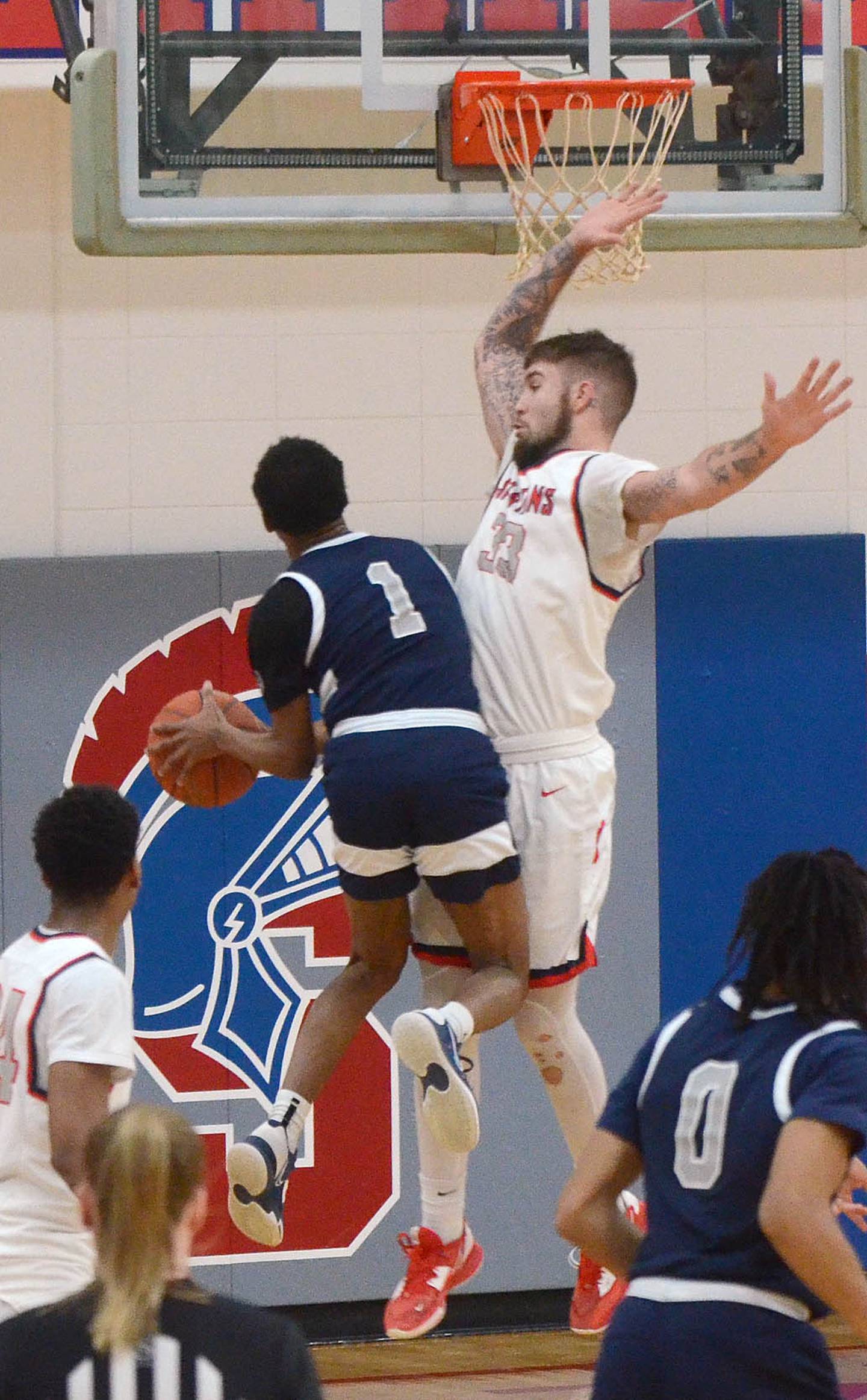 The Spartans host North Iowa Area Community College in league play at 1 p.m. Saturday.
SOUTHWESTERN (75) — Totals — (FG FT PTS) 25 18-21 75. Devin Tomlinson 10 3-3 23, Brance Baker 4 8-8 20, Justin Bussey 3 4-5 11, Joel Villanueva 3 1-2 9, Drake Davison 3 0-0 6, Tyus Wills 2 2-3 6. 3-point goals — 7 (Baker 4, Villanueva 2, Bussey 1). Team fouls — 10. Fouled out — None.
METROPOLITAN CC (72) — Totals — (FG FT PTS) 29 5-9 72. Tysen Brennan 8 4-6 20, Najee Williams 6 1-2 17, Keyren Spiller 7 0-1 14, Clarence Johnson IV 2 0-0 6, Elijah Smith 2 0-0 6, Jordan Nichols 2 0-0 5, Shawndale Ross 1 0-0 2, Kevin Jamieson 1 0-0 2. 3-point goals — 9 (Williams 4, Smith 2, Johnson 2, Nichols 1). Team fouls — 20. Fouled out — None.