COUNCIL BLUFFS — Southwestern Community College sophomore Fane Sauvakacolo became the college's first womens regional track and field champion Sunday and Monday, competing in the heptathlon portion of the regional meet hosted at Iowa Western Community College.
Sauvakacolo, of Fiji, cruised to personal records in the first five of seven heptathlon events en route to posting 3,996 points to top the field of five athletes.
"Starting with a new school record in the 100 hurdles, it was just a great way to get things started and some momentum going for the weekend," said SWCC head coach Scott Vicker. "She picked up right where she left off [Monday morning] with another PR in the long jump. Even though we didn't get a PR in the last two events, she still competed hard in those last two events and was able to extend her lead in the heptathlon."
Sauvakacolo was over 200 points better than second place Kiya Wulf of Iowa Central on the weekend and 501 points better than second place Sanique Rose of Iowa Western.
Sauvakacolo started by posting a 100-meter hurdles time of 15.54 seconds. She followed it up with a high jump of 4 feet, 8 1/4 inches, and a shot put of 26 feet, 3 1/2 inches.
On the second day of competition, she had a long jump of 17 feet, 1 1/2 inches and a javelin throw of 73 feet, 10 inches. She finished out the competition running a 2:46.24 in the 800-meter run.
Sauvakacolo was asked whether being the only female on SWCC's track and field team gives her more pressure, however she said it has the opposite affect.
"It's more like I have a lot of support," she said. "Even though it's a boys team with me, they're pretty supportive, and my coaches are too. They help me in every event, and I excel with their help."
Spartan assistant coach Mark Evans, for instance, said that others at the regional meet were amazed that Sauvakacolo is only 5-foot-2 and can scissor kick effectively in high jump.
"We realized that with flopping, she can do it but we just didn't have the time to get there, so we went back to scissor kicking, and wow, we set a PR," Evans exclaimed. "It was impressive. Everyone there was like, 'She's only 5-2, how can she scissor kick over 4-8.' They thought that was impressive."
SWCC's track and field teams are in action again this Saturday through Sunday in the remainder of the regional meet back in Council Bluffs.
Two Spartan relays make Drake Relays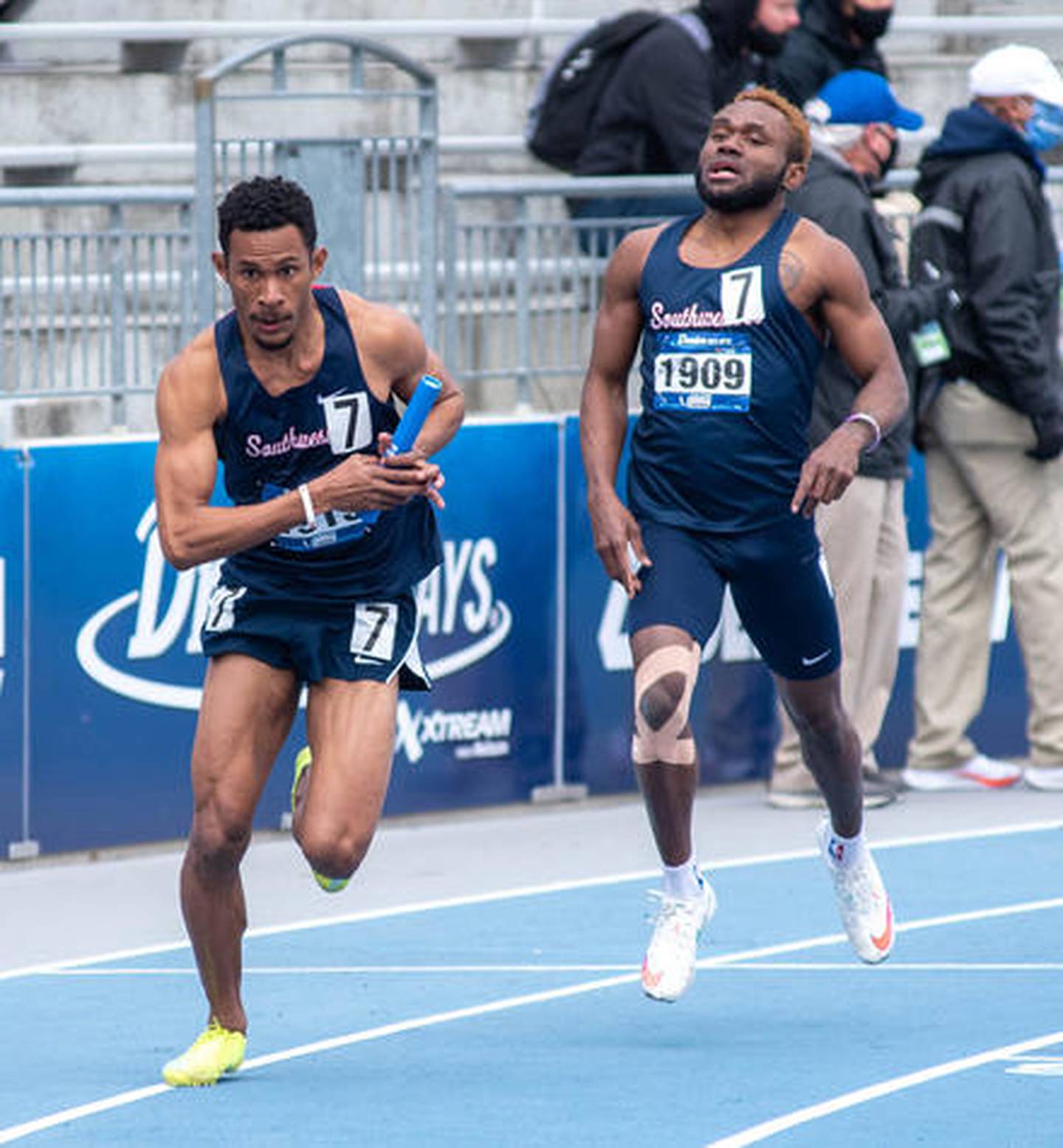 Southwestern's 4x400-meter and 4x100-meter relays made the Drake Relays last week.
The 4x100 team (Benjamin Aliel, Roland Hure, Justin Cunningham and Nyle Buchanan) missed out on the finals by five placings, finishing 13th in 42.59 seconds. Iowa Western's quartet qualified for the finals with the fastest time of 41.20 seconds and Minnesota State won the division in 40.76 seconds.
SWCC's 4x400 (Aliel, Hure, Hunter Arends and York Miles) finished in 3:25.43, taking 26th. Indian Hills won the race in 3:12.41, just ahead of Oklahoma Baptist.
"It was a very different experience for me," said Hure. "It's a good track, a different feel."