In what seems like a story that doesn't end, Creston volleyball again got off to a slow start on the way to a 3-1 loss Thursday to visiting Cla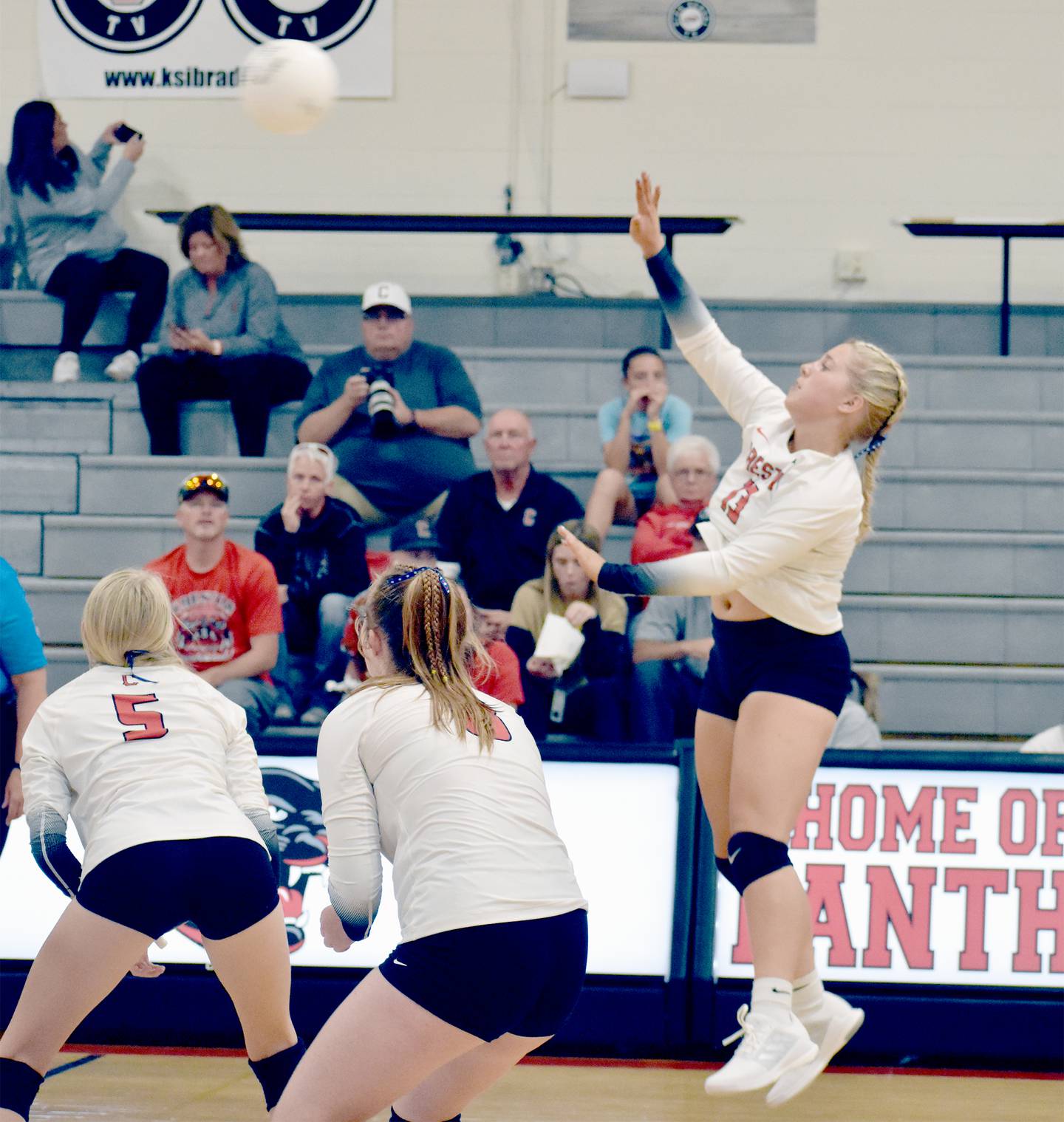 rinda. Scores were 8-25, 25-23, 12-25, 19-25.
In set one, the visiting Cardinals jumped out to a 6-1 lead. Aleah Calvin's point eventually cut the deficit to 6-3. Then Clarinda took off for a four-point run to extend to a 10-4 lead. A serve error by Clarinda ended their scoring run. The Panthers would be stuck on 5 as Clarinda added three more points for a 13-5 advantage. The Panthers were able to end the run, but could not get any closer. Clarinda would establish a 17-8 lead before Doryn Paup scored to break the scoring drought. Clarinda would go on to win set one 25-8.
Creston head coach Teresa Arkfeld said that start is becoming too common this season even though they have replicated that set during practice.
"We have worked on it in practice," she said. "Starting with a low score, then fighting back. All season we started weak and low. They are ready for some change in their game."
That change was seen in set two.
Clarinda was able to contain Creston holding a two or three-point lead early on. A block by Creston made it a 6-4 Clarinda lead. Clarinda would reach out for a 11-6 lead before Creston started chipping away. A Clarinda net serve and a long ball that went out helped Creston get closer to 13-10. Solid net play was by both teams as Creston tied the score a 13 and then took a 15-13 advantage.
The Panthers were able to get some digs as the score was only one point apart until Creston to a 19-17 lead. Paup at the net made it a 20-17 advantage. The Panthers were able to lead by as many as five at 22-17 before Clarinda made a come back and trailed 22-21. A return that dropped in the back of Clarinda's side of the court gave the Panthers a 23-21 lead. Clarinda was able to trail 24-23 until Creston's Jacy Kralik put down the set winning point.
"We changed our setter around. We found some energy and the girls wanted it more," Arkfeld said.
Set three again showed the tendencies Creston has had all season.
"We have this streak where our energy is up and then it's down and it's up. We have a hard time keeping our energy at the same level," she said. "Clarinda is a really good team and we knew that coming in."
Both Creston and Clarinda were back and forth in set three as the game was tied at 8. Clarinda would build a two-point lead as Creston struggled to establish offense or defense. Serve receive problems would help give the Cardinals at 19-9 advantage. Creston was able to end the scoring streak with a couple of their own points, but it was not enough. Clarinda wins set three 25-12.
Set four was what Arkfield had seen times before. A trade of points early on gave Clarinda a 6-5 lead. Serve receive troubles by the Panthers gave Clarinda a 11-6 lead. The set seemed to be out of reach for the home girls as Clarinda was up 17-9. A combination of bad Clarinda serves and Creston play helped the Panthers get close with a score of 18-16. But would be as close as the Panthers would get as Clarinda separated themselves from Creston to a 23-18 lead and eventual 25-19 win.
"Our set two was the highest point of the whole game. Set four came out and we struggled but we stayed with them," Arkfeld said.
Creston drops to 1-1 in conference play and 2-18 overall. Clarinda is 11-10 overall.
Paup had a team high 11 kills for Creston. Aleah Calvin and Jaycee Hanson each had four kills. Paup had one ace serve and three blocks.
Red Oak Tournament
Creston went 0-5 Sept. 17 at the Red Oak Tournament. All games were best-of-three. Creston lost to Treynor 21-10, 21-19; Glenwood, 25-16, 25-14; Mount Vernon, 21-10, 21-7; Underwood, 21-14, 21-5 and St. Albert, 21-13, 21-9.
Against Treynor, Paup had eight digs and Kadley Bailey had seven assists. Bailey had six digs against Glenwood. Keeley Coen had four digs against Mount Vernon. Brooklyn McKinney had three assists and Paup had nine digs against St. Albert.
Mount Vernon won the tournament and Treynor placed second.
Harlan visits Creston 7:15 p.m. Tuesday, Sept. 27 for senior night. The Panthers travel to Red Oak for a 7:15 p.m. start Thursday, Sept. 29.