Two of the top three ranked teams in Class 3A on the weekly Associated Press high school football poll join No. 6 Creston in Class 3A District 6.
ADM is No. 2 on this week's poll, and Harlan is No. 3. Creston travels to Adel next week to face ADM in what could be a showdown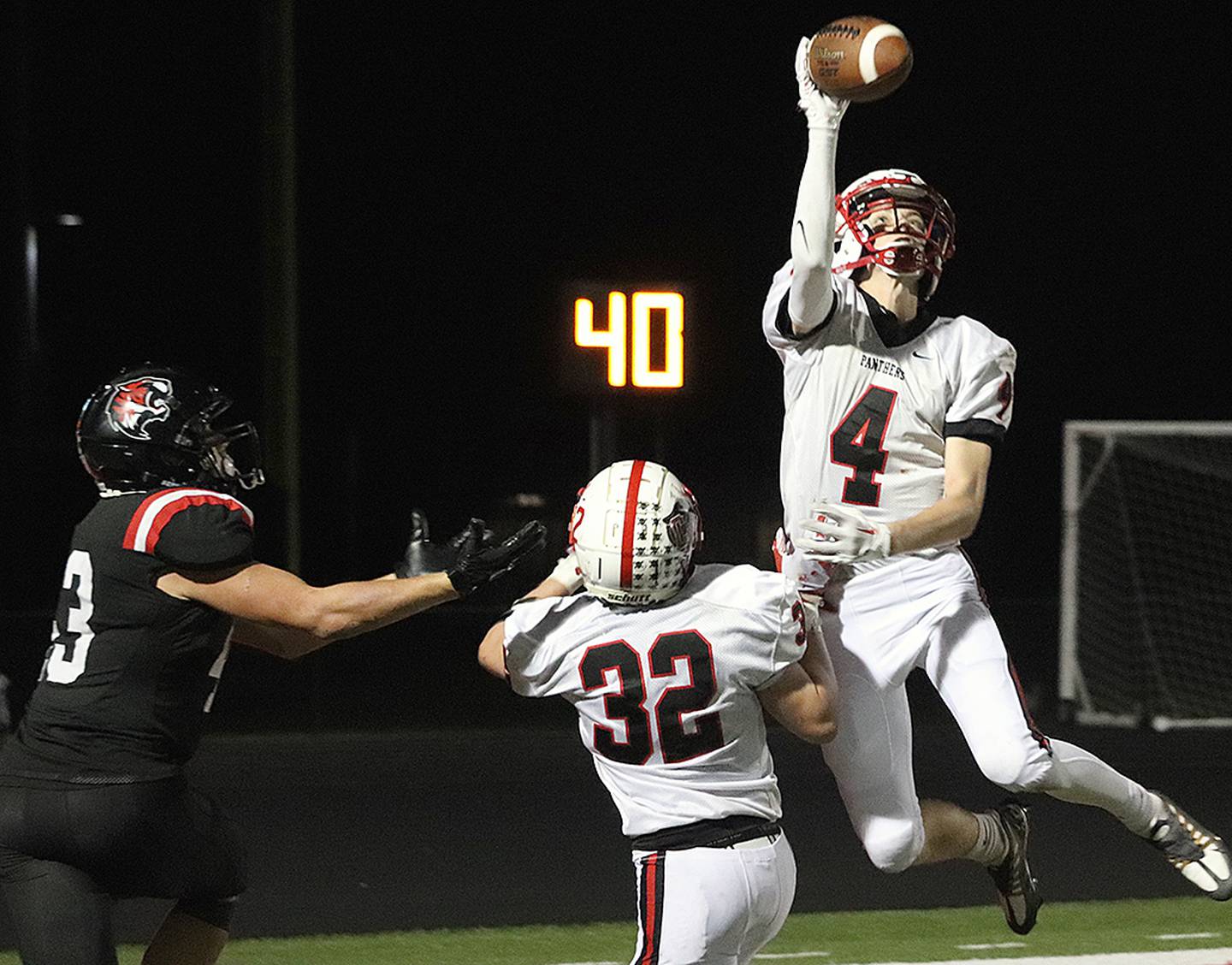 of unbeatens. But, don't expect Panther coach Brian Morrison to offer much conversation this week on that looming matchup.
"I've been asked numerous times if I'm preparing for ADM," Morrison said Wednesday. "We're not. We're preparing to play Knoxville. We have to get better as a football team based on last week. We have to be more consistent in executing our assignments. Yes, we have two of the best teams in 3A football coming up, so we can't take a day off in practice."
The Panthers (4-0) moved into the state rankings this week after an incredible comeback victory at Gilbert Friday. Trailing 36-14, Creston scored 26 unanswered points in the final 6:10 of the game.
"A lot of things had to go perfect for us in order to do that," Morrison said. "(Gannon) Greenwalt's fumble recovery, scoop and score, was huge. We got our first onsides kick. We had two key stops after they recovered our other onside kicks. We have a very capable running game with Brennan Hayes carrying it, but we got to the point where we had to throw and we executed well."
Quarterback Kyle Strider completed 22 of 44 passes for 400 yards in the victory, with Dylan Calvin leading the receiver corps with 142 yards. Hayes carried the ball 14 times for 116 rushing yards.
"The difference early in the game was that our offense never had the ball," Morrison said. "We couldn't get them stopped. They had a 14-play drive and scored, we turned the ball over and they scored on a short field, and they had a 12-play drive later in the half. It was 21-14 at half but it would have been 21-7 if we didn't score with 20 seconds left."
Morrison is hoping those kind of heroics won't be needed in Friday's homecoming clash at 7 p.m. at Panther Field. Knoxville is 0-4 after a narrow 29-28 loss to Fairfield last week. Until that point, the Knoxville Panthers had scored only three touchdowns in three weeks against Newton, Oskaloosa and Carlisle.
Knoxville has been passing for more yards than rushing to date, but Morrison said it's an offense that can be balanced.
"They throw the ball pretty well and they have some good skill kids," Morrison said. "Last year they were a young football team and up front they just weren't the part. This year they return a lot of kids and they look like a more physical team on both sides of the ball."
Whether it's knocking off either ADM or Harlan and securing a top two spot in the district, or competing for one of the four at-large positions in 3A, Morrison said his team knows they are capable of contending for one of the 16 playoff spots this season.
"Last year we were 6-3 and finished 17th by a fraction of a point in the RPI rankings," Morrison said. "Going 4-0 in non-district this year was huge. It's better than last year's 3-1. We've got a great group of kids this year and they're just taking it game by game. We have a lot of selfless kids and the leadership is outstanding."
The freshman game kicks off the evening 4:15 p.m. Friday at Panther Field
Creston (4-0, 0-0 District)
OFFENSE
T Max Chapman
6-4 240 Jr.
G Austin Seaton
6-0 195 Sr.
C Jagger Luther
5-8 210 Jr.
G Tucker Rohrig
6-1 215 Jr.
T Quinten Fuller
6-2 235 Jr.
WR Brandon Briley 5-8 145 Jr.
WR Trey Chesnut
5-9 165 Sr.
WR Dylan Calvin
6-0 165 Jr.
QB Kyle Strider
6-2 185 Sr.
RB Brennan Hayes 6-0 180 Jr.
H Will Bolinger
5-9 180 Jr.
PK Brennan Hayes 6-0 Jr.
DEFENSE
DL Max Chapman
6-4 240 Jr.
DL Quinten Fuller
6-2 235 Jr.
DL Payton Conley 6-0 160 Sr.
OLB Austin Evans 5-8 150 Jr.
ILB Ty Morrison
6-0 185 Sr.
ILB Austin Seaton 6-0 195 Sr.
OLB Cade Wurster 5-10 170 Sr.
CB McCoy Haines 5-9 145 Jr.
CB Dylan Calvin
6-0 165 Jr.
S Gannon Greenwalt 6-0 185 Sr.
S Cael Turner
6-2 165 Jr.
P Dylan Calvin
6-0 165 Jr.