NODAWAY — It was an intimate event Saturday where Florida governor and presidential hopeful Ron DeSantis met with a small group of Adams County farmers as he works to visit all 99 counties before the January caucus.
"This is my 58th county," he told the small crowd. "I plan to make it to them all."
The meet and greet was held at Balance4Ward, a cattle feeding management company owned and operated by Todd and Kristi Drake. DeSantis came to learn more about the operation and the help Iowa farmers need from the federal government.
Also at the event were state representatives Devon Wood and Tom Shipley.
Todd's mother, Karen VanRiessen, and her husband Verlyn, are able to provide a unique perspective as they grew up and lived in Iowa most of their lives, but have been permanent Florida residents since 2017.
"We love him in Florida," Karen said. "I think he has good integrity. He has good morals, good communication skills, he's a good business man. I think he's a good candidate. He's got very good values. He's got a very good wife beside him, a good family. He's a good person."
Verlyn agreed, saying his values are the main thing. "He's a very good person," he said. "He gets things done."
Karen said if he were elected, Americans could expect a president who is not afraid to step up and say what needs to be done. "He's handled things well through the years as far as COVID and the hurricanes," she said. "He's helped a lot of people."
DeSantis wasn't surprised to hear he had Iowans also live in Florida. "In the winter, I think I could close my eyes and throw a dart and hit a Midwesterner on vacation," he said.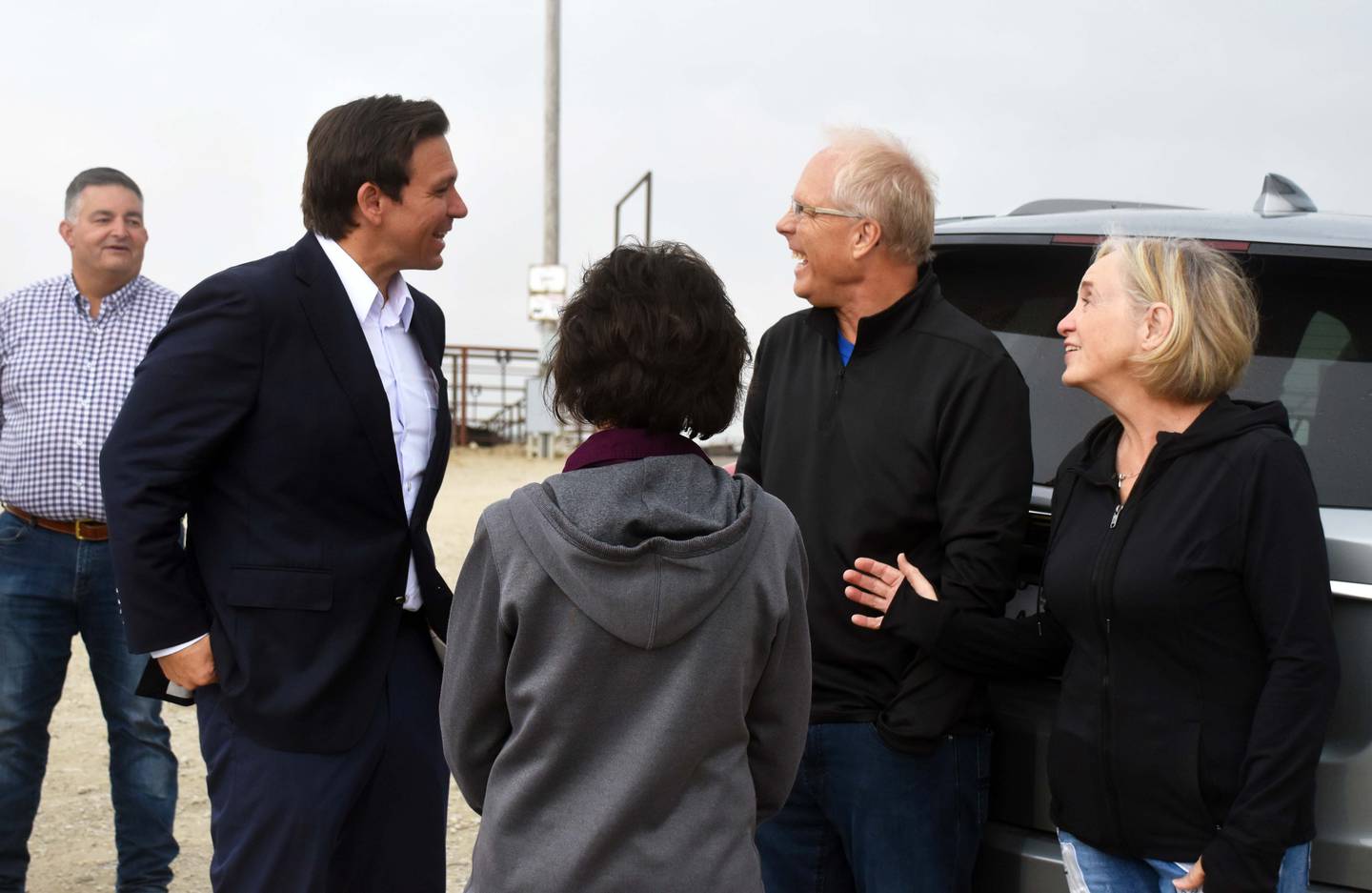 DeSantis asked the VanRiessens if they were voters in Florida or Iowa. When they responded Florida, he joked that he needed them to be Iowa voters.
He conferred with the Floridians on the state of their property after Hurricane Idalia on Aug. 30.
Farming
Florida's agriculture industry makes up one of the largest portions of the state's total gross domestic product, with $7.3 billion in agricultural products sold annually. Florida is home to approximately 47,300 farms and ranches with nearly 10 million acres of farmland across the state.
After Hurricane Idalia wreaked havoc on the state's farmers, Gov. DeSantis sent a letter requesting the U.S. Department of Agriculture issue a USDA Disaster Declaration for impacted counties.
"Last week, Hurricane Idalia brought destructive winds and storm surge across the Big Bend of Florida, harming livestock and damaging crop production, storage facilities, equipment, and farm labor housing across the area," he wrote. "Initial reports show significant impacts to the timber industry, cattle and dairy farms, the poultry industry, peanut growers and processing plants. In addition to crop and livestock losses, there is catastrophic loss to infrastructure. Fencing, barns and equipment have been destroyed or rendered useless."
The push from DeSantis to help Floridian farmers recover is reflective of what farmer Ray Gaesser thinks is important for the next president to prioritize.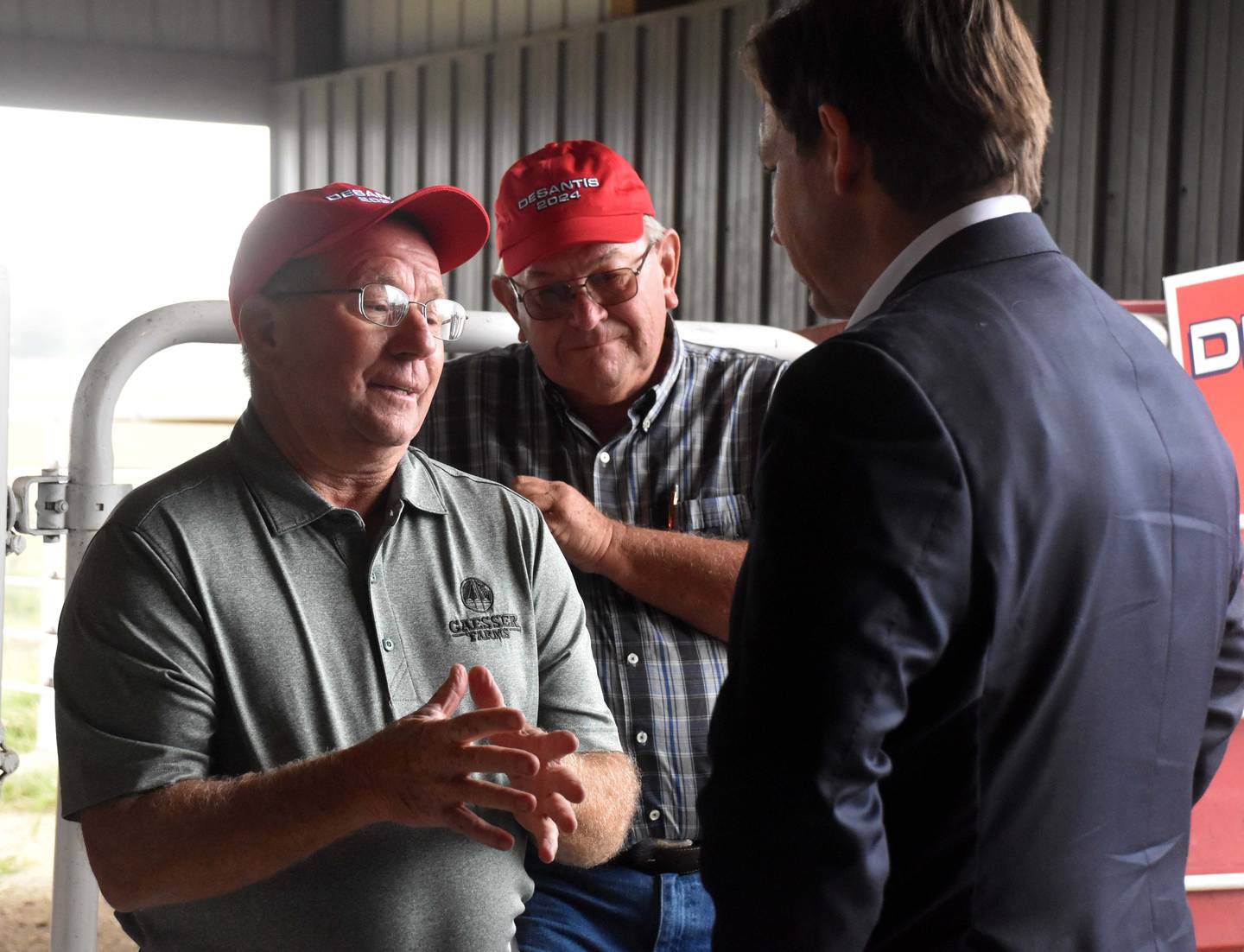 "There's things in agriculture and farming that happen beyond our control," Gaesser said. "We can use some support for those things from the federal government."
The former American Soybean president spoke with DeSantis about the priorities he's concerned with.
"The acronym that I use is TREETS," Gaesser said. "Trade, research, energy, environment, transportation and safety net."
Gaesser said the government needs to help farmers navigate issues with foreign countries trying to keep them out of the market. "It happens a lot," he said. "It's not just tariffs, it's non-tariff barriers on our products going in. We need the federal government to help with those kinds of things."
For research, Gaesser shared with DeSantis the statistics on research dollars spent federally on farming. "Our federal research budget is less than a billion dollars for all of agriculture," he said. "Any one of our global companies like Beher or Corteva, they spend at least three times that in their budget every year on research. We need public research and investments in that."
Debate
Former president Donald Trump in a campaign speech from Council Bluffs in July said that the state needs to know that DeSantis totally despises ethanol and has been fighting it for years.
He specifically cited DeSantis co-sponsoring legislation in 2017 to end the Renewable Fuel Standard, a mandate that requires renewable fuel to be blended into the nation's fuel supply. The federal mandate helped spur domestic ethanol production.
Gaesser shared his opinion on the topic with DeSantis. "We need the oil from the ground, we need natural gas," he said. "But we also have a lot of opportunities with renewable energies like ethanol and biodiesel and wind and solar and those kind of things we need to be aware of."
Though DeSantis has yet to make his ethanol stance clear, his press secretary Bryan Griffin said the former president's remarks aren't the first and likely won't be the last "distorting" the governor's record, but said DeSantis is the candidate who shares Iowans' values.
"As president, Ron DeSantis will be a champion for farmers and use every tool available to open new markets," Griffin said in a statement.
In Florida, Gov. DeSantis has recently passed an Environmental Protection Bill designed to preserve natural resources.
"In Florida, our natural resources are the foundation of our way of life and a large driver of the economy," DeSantis said. "With this legislation, we are building on the progress we have made in water quality protection and land conservation, ensuring that we leave Florida better to God than we found it for future generations."
While working with his fourth Farm Bill, Gaesser said they're all concerned about the environment. "It's about protecting the soil and building soil health and cleaning our water and sequestering nutrients and all those things," he said.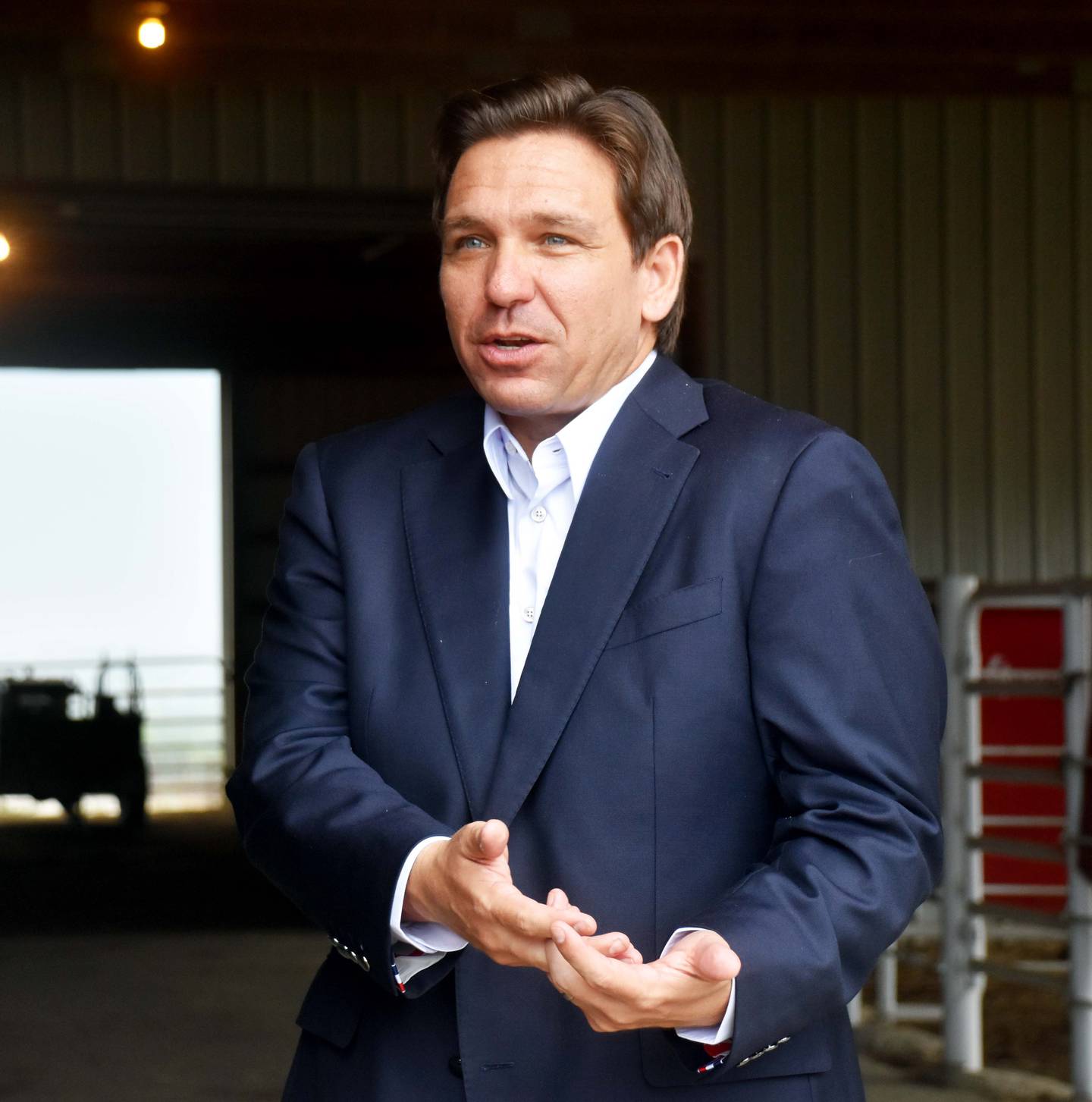 Des Moines
After leaving Adams County, DeSantis attended a gathering of Iowa evangelical Christians in Des Moines where several of Trump's top rivals convened.
The Iowa Faith and Freedom Coalition's annual banquet is traditionally a marquee event on the Republican primary calendar. But the former president skipped it, leaving a mostly muted crowd of more than 1,000 pastors and activists to instead hear from several candidates running far behind Trump.
The primary field's split on abortion was once again on display, with Florida Gov. Ron DeSantis saying restrictions on the procedure should be left to the states — a position similar to Trump's — while former Vice President Mike Pence referred to Trump as his "former running mate" and said he was wrong to oppose a national abortion ban.
DeSantis, who has struggled to solidify himself as the GOP primary's No. 2 behind Trump, declined to say he'd back a federal abortion ban. Instead, he said, states have done more on the issue.
"Congress has really struggled to make an impact over the years," DeSantis said.
DeSantis was asked specifically to talk about his personal faith and deeply held Catholic beliefs. He noted that when his wife was diagnosed with breast cancer, he was thankful for "the amount of prayers we received. It lifted my wife's spirits up." He said prayer was a key reason she was now cancer-free
Candidates discussing their personal faith has been a hallmark of successful Iowa caucus candidates for decades — including George W. Bush who in 1999 famously said, when asked to identify his favorite political philosopher, named Jesus Christ "because he changed my heart."
The poll of Iowa's likely Republican caucusgoers last month shows 42% say they plan to support Trump — a lead of 23 percentage points over DeSantis, who is at 19%. U.S. Sen. Tim Scott of South Carolina follows in third place with 9%.
"I think he's a strong leader," Gaesser said. "He's shown that he's a strong leader in Florida. I think he could be a strong leader for our nation. Personally, I haven't chosen one candidate yet, but I think he's a very viable option."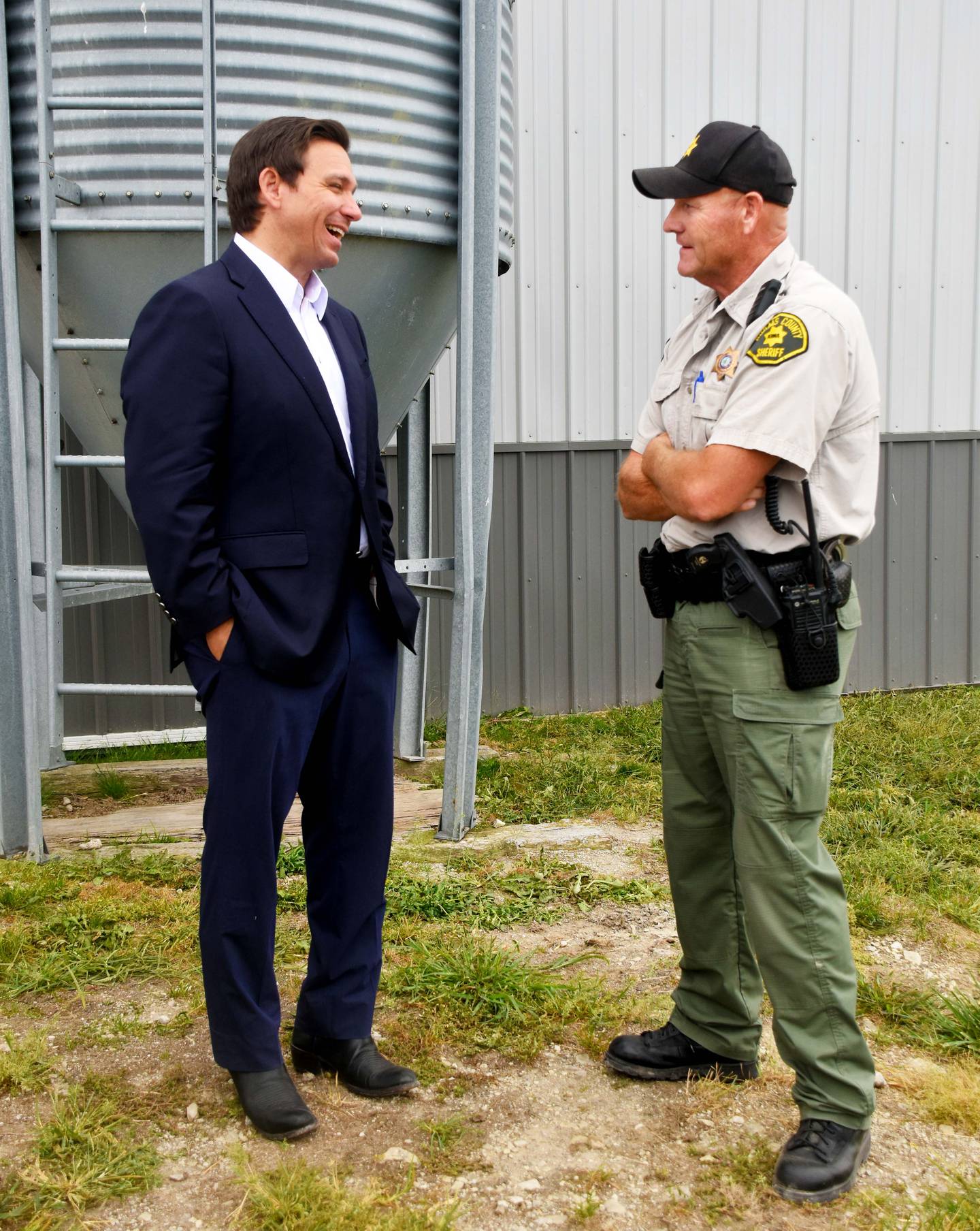 The Associated Press contributed to this story