Creston has recently welcomed two new businesses: Reno and Woody's, a food truck owned by Desiree and Cody Callison, and WoodVisions, a carpentry service and store run by Raymond Kegerize.
The Callisons have wanted a food truck for a while. Desiree explained they had previously done a lot of work in a restaurant together.
"My husband cooked and I waitressed and bartended," Desiree said. "This has always been a big dream of his and ours, so we just decided to go for it."
Now that their business is finally open, they are thrilled.
"It feels good," Desiree said. "It's been a long time coming, a long process, but something that we've definitely always wanted. It just, it doesn't really feel real yet."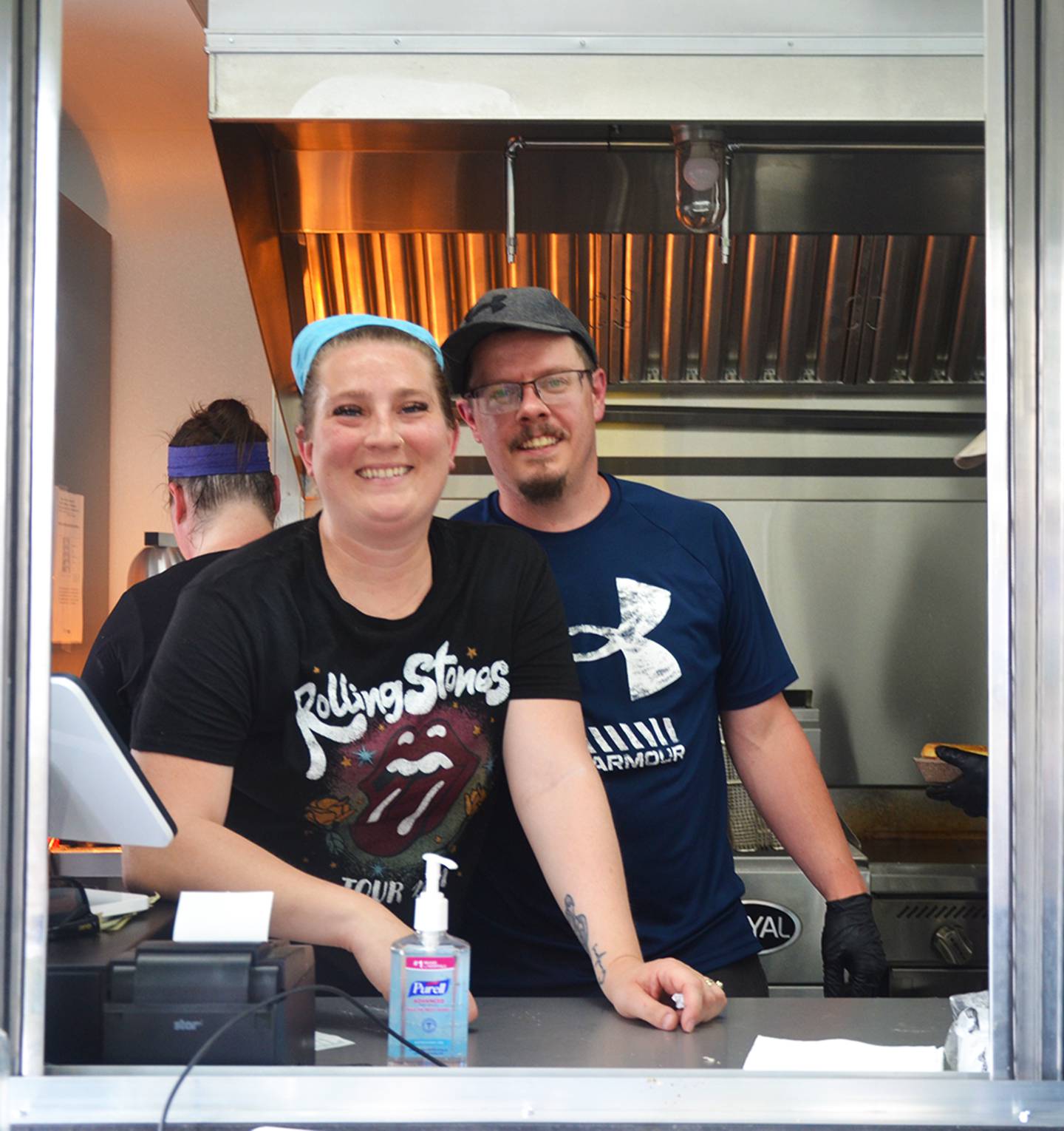 Both Callisons have lived in Union County for a long time, and are hoping that this will help them in their business.
"My husband grew up here, he was born and raised here, and I have lived here since 2003," Desiree said. "We've been a part of the community and we're just hoping that we're accepted."
The Callisons serve a variety of sandwiches at their food truck, including smash burgers, grinders and Cubans, along with appetizers and kids meals.
Reno and Woody's celebrated its soft launch opening on Saturday in Afton, with over 170 customers in the 3.5 hours it was open. The food truck will be at McKinley Park on Friday and at Geidel Auction at Cherry Street on Saturday from 11 a.m. to 3 p.m. Weekly schedules will be updated on their social media.
WoodVisions, located at 408 W Montgomery St, has been a business long-time-coming for Raymond Kegerize.
Kegerize first moved to Creston in high school, graduating from Creston High School in 1989. After high school, he moved into a welding career. However, this didn't satisfy him.
"I just needed a life change," Kegerize said. "I was like, what am I doing with my life. I went and packed up my truck and drove to Sioux City."
In Sioux City, Kegerize met with his sister. The next, day he took a job as a finishing carpenter for a construction company.
"I started working as a finish-carpenter at million dollar homes, hospitals, banks, doing high-end finishes," Kegerize said.
While there, he also started training in furniture making.
"They had a whole cabinet making department with their construction company, and I got interested in building some things in my spare time to keep myself out of trouble," Kegerize said. "I worked with an Austrian and he taught me how to do the old school, using all the old school tools. He refused, until I learned to do the old way, to teach me how to do the new way. Well, I got really good at it."
After a while in Souix City, Kegerize decided he wanted to work for himself. He moved back to Creston to be closer to family and has been making custom pieces since.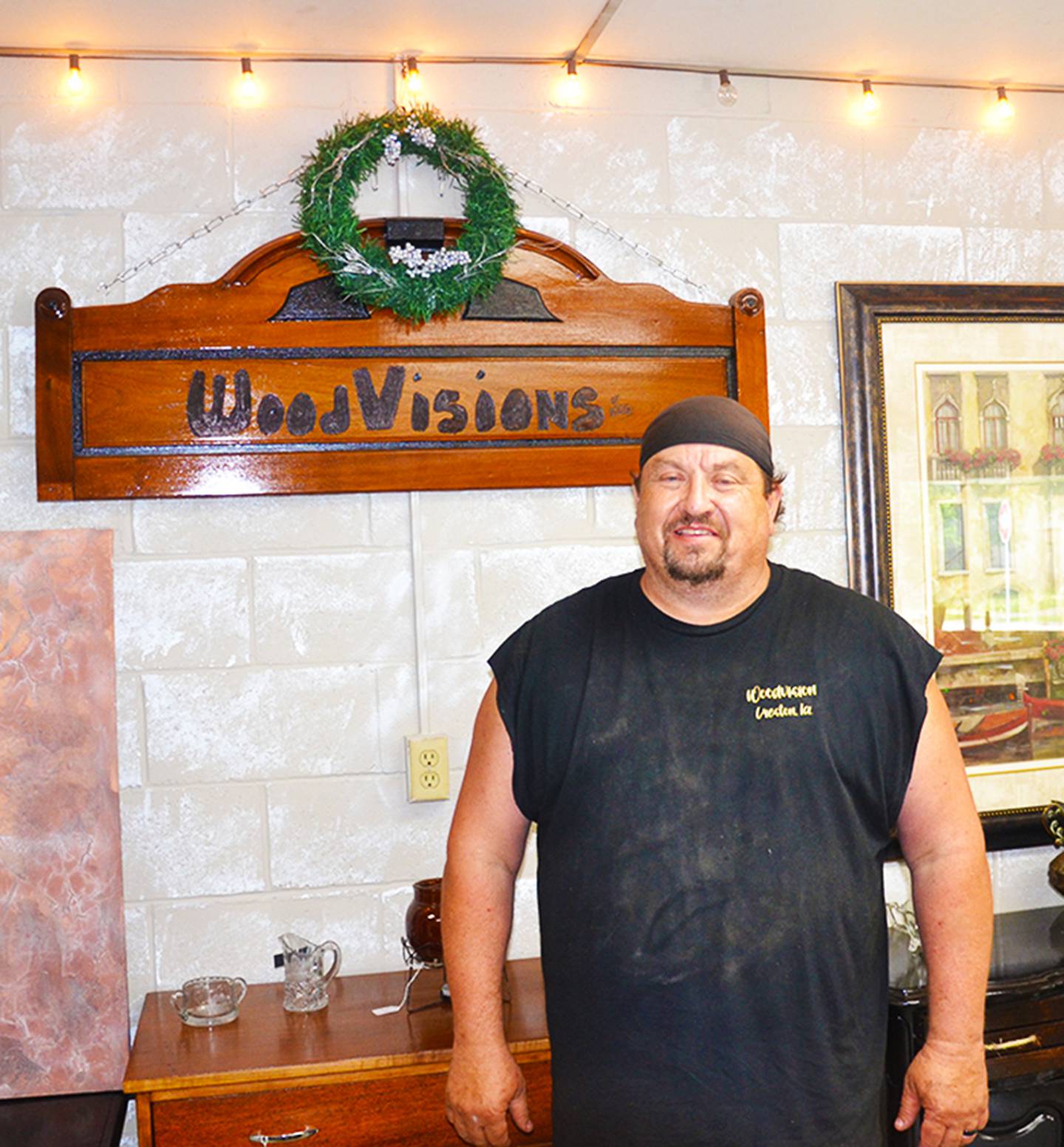 "I come back here, I started doing flips, doing art pieces," Kegerize said. "I do everything from custom-build made furniture, art pieces, I've actually got a museum piece that I'm working on the table right there."
Kegerize said he enjoys the pieces that are more "out there."
"I've sold a piece to an art curator in Chicago at the Vertical Gallery, I've got a businessman in New York that is buying a Pink Floyd tribute table, I've done a piece for a Tampa Bay Buccaneers man cave that actually looks like a pirate ship," Kegerize said. "I don't limit myself, I don't believe in limitations. If you have something crazy in your mind, that's what I want to hear."
Along with custom pieces, Kegerize will fix and refinish other furniture. He sells this furniture as well as other used goods in his storefront.
"That will give another place in this area for people to come and get used stuff if they chose to," Kegerize said. "If they want me to finish their grandma's antiques, than I can do that, and if they want me to build something new, I can do that too."
He asked that people who want work done come into the store for a free estimate. Kegerize can also be reached via email at rkegerize@yahoo.com.
WoodVisions is open from 8 a.m. to 5 p.m. on Monday, Tuesday, Wednesday and Friday and from 10 a.m. to 4 p.m. on Saturday.