By Sarah Scull, Contributing writer
May 17, 2023, will be a day Erin Wallace will never forget. It's the day she received news the board of Union County's Habitat for Humanity selected her to be the recipient of its next house, which she will help build starting in August.
The date also marks a meaningful milestone for her. On the same date six years ago, her children were removed from her care. Now, in her sobriety, and with her children by her side, she looks back with pride at all she has accomplished.
"I don't want to come off as prideful, but I'm really proud of how far I've come," she said.
The descent
As a Creston High School senior, Wallace was academically at the top of her class and had plans to attend Iowa State University to study architecture. She was eventually accepted, but her admission to ISU was anything but linear.
"I started drinking my eighth-grade year," she said. "I remember the last day of our eighth-grade year was my first big get-wasted at a friend's garage."
Growing up, Wallace said alcohol use was a normal activity in her family. Knowing what she knows now, she said she warns her children of their addictive genetics and drives it into their heads to stay away.
But growing up, she didn't know that for herself. Alcohol use was normalized to the point she was permitted to drink as a minor.
During freshman year, she started smoking marijuana with friends, and by junior year she started dabbling in narcotics. Despite her drug use, she continued to go to school and work.
"I was a very functional addict," she said.
Until she wasn't.
Wallace's recreational drug use took a dire turn her senior year, which she described as a "train wreck."
"My drug use got really bad," she said. "I wouldn't go to school until like 11:20."
During her senior year, Wallace was enrolled in calculus at Southwestern Community College. Her substance use was beginning to catch up to her, causing her to wake up late. When that'd happen, she decided she wasn't going to go to class at all. After so many absences, her mother was notified by a guidance counselor.
"He said, 'Here's the deal. I know, you wouldn't show up at all, ace semester tests, but there are laws that you have to be here. If you're not, you're going to get kicked out. You're not going to get to go to prom…,'" she recalled. "I'm like, 'I'm going to prom.'"
Wallace started to shape up and went to prom, but the following week, she missed school after an "all-nighter." She recalled her irate mother showing up at her friend's house, saying she'd been expelled. Wallace had just turned 18.
"But my grandma…, she went to the AEA and fought and looked through all this paperwork and documents and found a loophole…," said Wallace. "So, my grandmother wrote this letter up and got a letter from my therapist and we, like, stormed Normandy and went to the principal's office."
And it worked. Two weeks before graduation Wallace was admitted back to school and was able to walk with her graduating class. She said her return wasn't without punishment and she had to make up incredible amounts of work.
Rock bottom
Following graduation, Wallace said she "worked hard, but played just as hard." It was following graduation when she got into trouble with the law for the first time. She recalled the glaring sun as she was on driving to visit a family member.
"Tommy Hartsock had just become head of the drug task force," Wallace said. "I don't know how, but I clipped Tommy Hartsock's Cadillac; his personal vehicle."
Law enforcement arrived at the scene and Wallace was asked to take a breathalyzer. Her PBT registered as .000. She was told to do it again, which showed the same result. She recognized another officer who knew her family and she thought she could get away with a slap on the hand. But that wasn't the case.
"I went to jail for the very first time," she said.
From there, life spiraled. She spent more than the next decade in and out of jail and treatment.
"I could have bought a house by now with all the money I've given Union County," Wallace said of the nearly $40,000 in fines and court fees she said she's paid.
In May 2017, her children, who were 7 and 3 at the time, were officially removed from her care.
"I felt horrible," she said. "I put myself in the position I was in."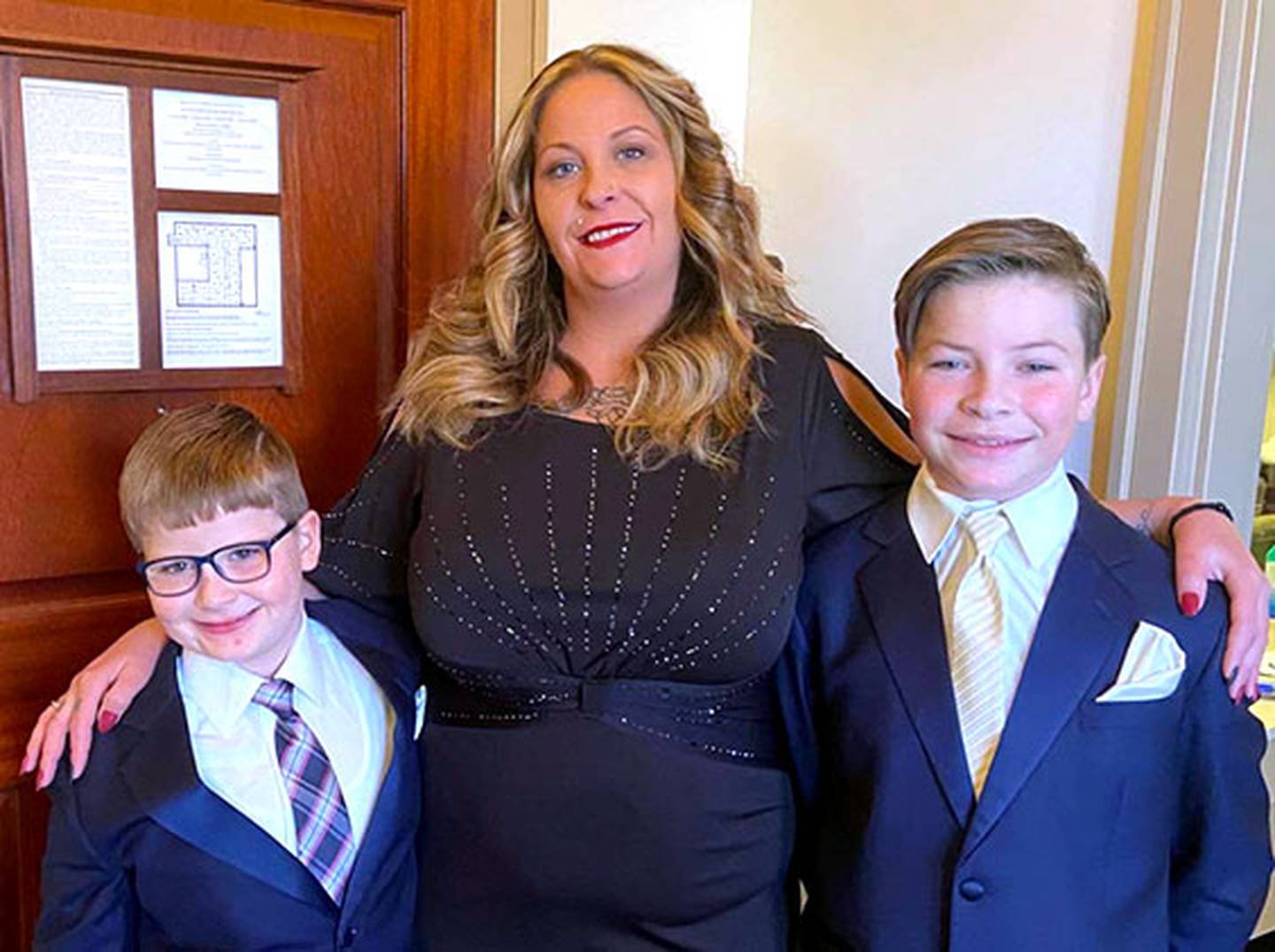 Road to recovery
Wallace said her road to recovery was arduous.
During her first stint in rehab at Manning Family and Recovery Center, Wallace was introduced to Alcoholics and Narcotics Anonymous. There, she was tasked with writing a goodbye letter to her drug of choice – marijuana. She found it difficult to write, but she did. She came up with three reasons.
"One was, if I was really that smart, just imagine if I had never used it and how much my potential could have been," she said. "[Drugs] made me feel content like I had never strived for anything more."
Wallace said she felt good coming home from rehab, but found it difficult staying sober in Creston without a plan of action.
"For a little while there, I really wanted to create a halfway house for Creston because of that experience," she said. "I came to discover this town will not allow that, which sucks. They need something like that."
As a recovering addict, she found job hunting challenging, too.
"I found that very difficult because of the lifestyle I was living … ," she said.
Years after her first rehab experience, Wallace said it was the removal of her children that inspired her to fight for sobriety.
"I was like, 'OK, they are safe. Now I can work on me,'" she said. "And I worked my butt off."
Wallace said DHS wanted her to return to treatment, but she said she knew the only way to learn to manage her sobriety was to work on her recovery in Creston.
"I'd been to treatment twice. I already knew what they were going to say, what they were going to do … I need to get sober here. I need to function here," she said. "They were like, 'OK,' and gave me a little slack to hang myself, and I didn't."
For support, Wallace reached out to a friend who had years of sobriety.
"I started going to meetings every night. Every single night," she said. "I got rid of everything. I got rid of cable, my phone. I wanted to be completely disconnected."
Faith in Recovery
During this time, Wallace said she read a lot of books and opened the Bible for the first time. She credited her stepmother for helping her discover Christ, which helps her stay on focused.
"I always thought she was crazy, but she's the most Christ-like human being I've ever met," she said.
Wallace's spirituality grew as a result of attending AA meetings. Her growing faith interested her stepmother, but she recalled telling her stepmom she felt too analytical to get into scripture.
"She said, 'That's what God gives you, wisdom so that you can understand," Wallace said. "She ended up giving me a Bible, and I'd just read chapters out of it, call her, and discuss it. That's when things started manifesting for me."
Six months later she had one of her children back, and the other shortly after.
Celebrate Recovery
Wallace's stepmother gifted her a Celebrate Recovery Bible, and a week later read in the newspaper that the program was coming back to Creston.
"God gives me gentle signs, but this was like a neon light," she said. "It was like, "Oh my God. This is where I need to be."
To maintain her sobriety, Wallace continues to go to AA Way of Life and attends Celebrate Recovery at Crest Baptist Church every Tuesday.
"The steps and principles, everybody needs them," Wallace said. "Celebrate Recovery is for any hurt, habit, or hang-up. Like any. Overeating, anxiety, perfectionism, the gamut. In reality, we are all messed up people. If everyone worked steps and applied principles to their life, we'd be a lot better society."
Wallace was baptized on June 6, 2021, at Abundant Life Church, which she said changed her life.
"That's when everything inside became a lot clearer," she said. "God keeps me grounded."
Wallace said her road to recovery hasn't been perfect, but she has maintained her sobriety for more than 10 months and has since quit smoking cigarettes, too.
A new chapter
This past year, Wallace has landed work as a full-time administrative assistant, and now she looks forward to putting in the 200 hours of sweat equity to build her family home, which serves as a symbol of stability and hope.
"I'm most excited my (oldest) son will enter his freshman year with a permanent house," she said.
Her youngest child, Ryder, said he's most excited to have his own bedroom, which they have never had before. He said he's proud of how far his mom has come.
"She's smart, kind … and always tries to do her best even though she's a single mom," Ryder said. "A lot has come, but a lot has passed. I feel wonderful that she has gone through that phase and finished all of the bad stuff."
Wallace said the key to recovery is to pay attention to who you surround yourself with.
"The company you keep really does influence who you become," she said.
A tattoo on her forearm - "Progress, not perfection" - reminds her regularly that success isn't linear.
"It's highs and lows, mistakes and lessons."
Resources
Celebrate Recovery (a non-denominational group) is held 6:30 p.m. Tuesdays at Creston Baptist Church, 1211 N. Poplar St.
Way of Life AA is held 7 p.m. Mondays at the O'Reilly Center, 417 Wyoming Ave. For a full list of meeting locations, visit alcoholicsanonymous.com.
Habitat for Humanity applications and information is available online at unionhfh.org.