Creston Mayor Gabe Carroll and local AmeriCorps representatives acknowledged the service volunteer group Friday.
AmeriCorps, the federal agency for national service and volunteerism, provides opportunities for Americans to serve their country domestically, address the nation's most pressing challenges, improve lives and communities, and strengthen civic engagement. Each year, the agency places more than 200,000 AmeriCorps members in projects across the country.
Jesse Bolinger and Amanda Mcvann, both of Creston, and Jennifer McBroom from Graceland University in Lamoni were in attendance, and all with AmeriCorps experience. Bolinger has been involved with AmeriCorps through its VISTA program that finds assistance for those in poverty. His first experience with VISTA was in Decatur County but knows other areas would benefit.
"It could work in Creston, too," he said about the program.
AmeriCorps announced last month more than $15 million in federal funding to support new projects across more than 34 states and territories. The investment will support more than 1,000 new AmeriCorps members who will expand capacity in organizations that alleviate poverty and build economic opportunity through community-driven efforts across the country.
Two projects in Iowa were listed: FAMILY, Inc., which provides support in Pottawattamie and Mills county and Little Iron Mom, another support organization,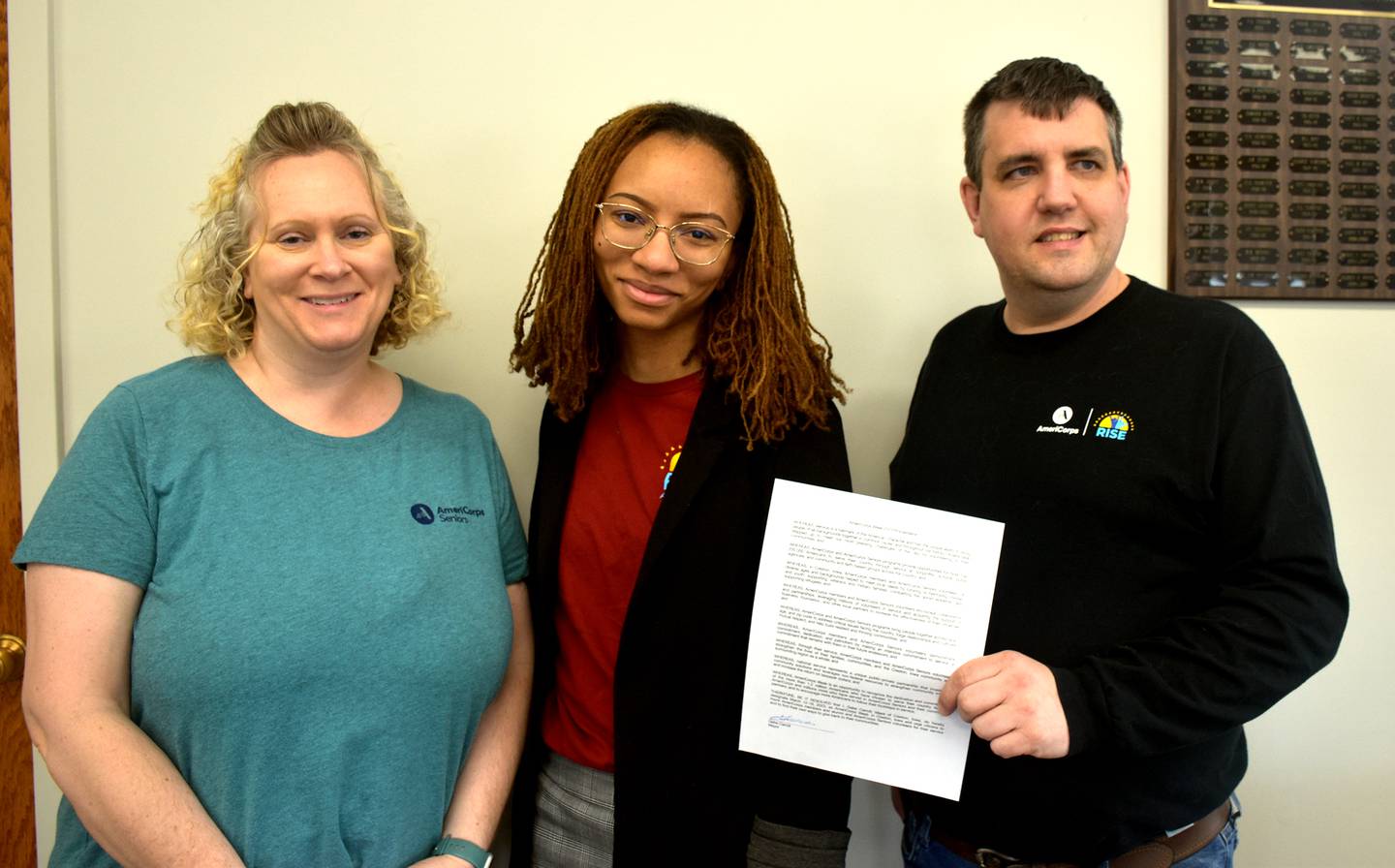 in Cedar Falls.
AmeriCorps members will help organizations advance projects that support student success, reduce homelessness, address food security, expand job opportunities, improve health services, expand access to technology and increase economic opportunities for families with low income across the country.
Mcvann said she has been involved with AmeriCorps for the past year and a half, mainly with program organization.
"There are issues in Creston, from poverty and low income," she said. "There is generational poverty and some family structure issues with grandparents watching grandkids."
She hopes the efforts will make improvements.
"Be better neighbors and uplift the community," she said.
Each year more than 7,000 AmeriCorps members serve in the VISTA program across all 50 states, District of Columbia, Puerto Rico and US Virgin Islands. Since 1965, AmeriCorps VISTA has provided resources to nonprofit organizations and public agencies to address poverty and economic opportunity across the country. AmeriCorps members in the VISTA program serve in an office setting and gain experience and leadership skills that prepare them for a life of service in the public, private or nonprofit sector. Americans can serve full-time with AmeriCorps VISTA or short-term in the Summer Associate program.
Bolinger and Mcvann also have interest in assisting refugees who chose Iowa, and maybe Creston. Mcvann said Creston's connection to Hispanic communities in Lenox and Osceola and wants to build momentum from Creston's own display of Hispanic culture through Fiesta on Maple. She is working on an event in Creston related to Juneteenth, the new, federal holiday acknowledging the end of slavery on June 19, 1865.