Friday night, Creston Arts hosted their monthly First Friday Artist's Reception, featuring artist Kelly Marie Driscoll. Driscoll's series of paintings portray Cavalier King Charles Spaniels, a dog that has been a meaningful part of her life.
"I was 8 when we had a whole litter of 10 [dogs], so I was always around them and helping them," Driscoll said. "They were just always around me, and you paint what you know, so that kind of why I started depicting them this way."
Driscoll's paintings generally portray two Cavaliers resting on either a sofa or Persian rug, watching out what at first appears to be a window. However, it is actually a painting.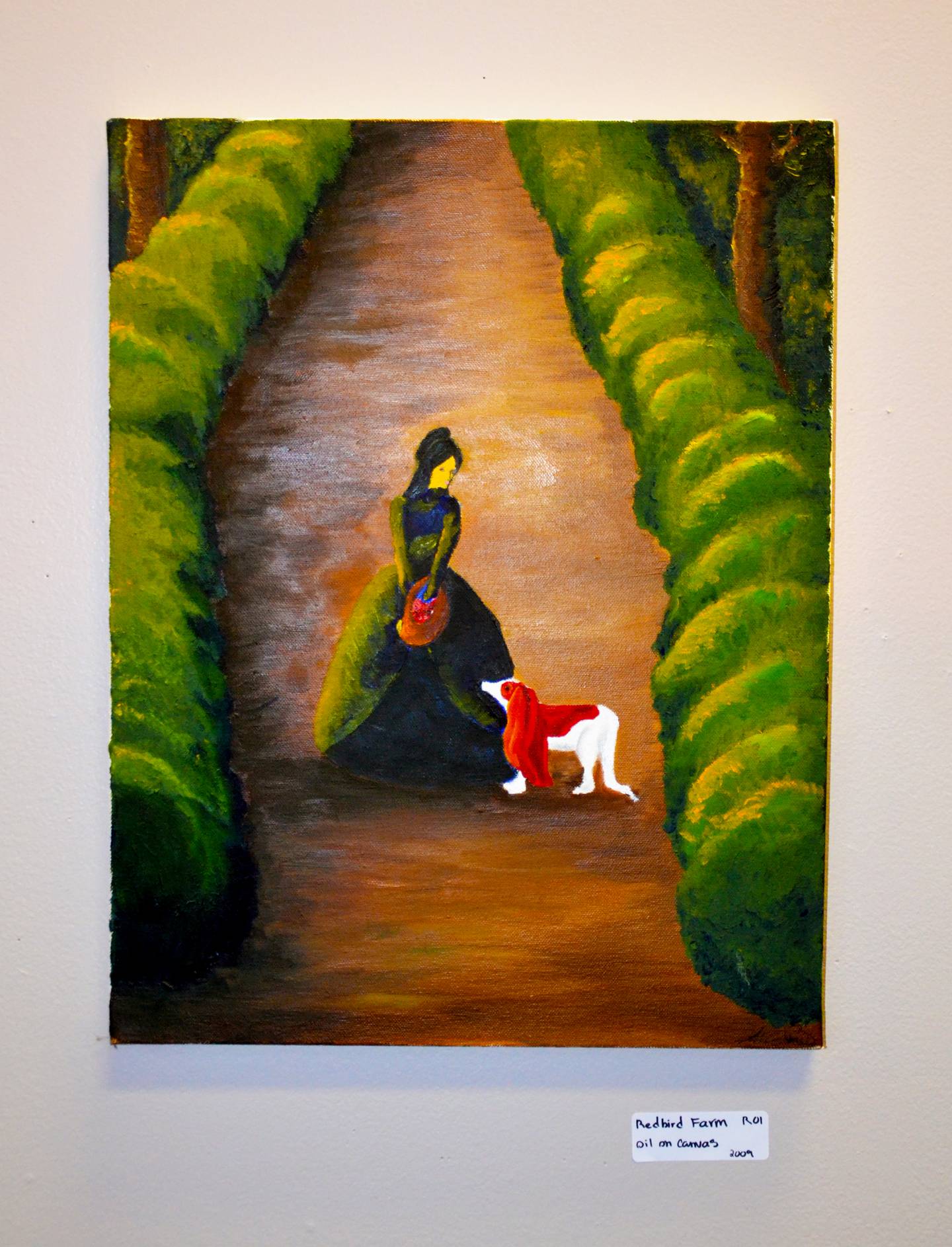 "The painting within a painting which appears in each of my works represents the spaniel's seminal home, Redbird Farm," Driscoll said. "This is where my mother, as a young girl, first encountered the breed. The lady in the painting represents my mother wearing a black dress handmade for her, and is suggestive of the fashion during King Charles II reign and time. The core collection shows this painting evolve in each work and tells a narrative as both figure and dog walk the path."
Driscoll explained that Cavaliers were first introduced to her family in 1979, when her mom's friend had one shipped to Iowa from England. When that dog had a litter of puppies, Driscoll's mother, MaryAnne Jones, took one, thus starting a long line of Cavaliers in the midwest.
"Once we had that dog, we never looked back," Jones said. "We didn't set out to breed dogs. What happened was, we couldn't find another dog and they were just unknown, so we had another girl brought over from England. We didn't want to be without again so we had a litter, and we were hooked."
Driscoll's company's name, Runcible Fine Arts, comes from the name of her mother's kennel. It is from there she has four of her own Cavaliers that, along with her young daughter, help keep her company and inspire her art.
"I don't produce a lot," Driscoll said. "It takes me a very long time to make them, and I do the original oils."
Jones explained kennels are traditionally passed down from mother to daughter. However, in this case she thinks that won't be the case.
"Kelly really wants to focus on her art," Jones said. "In England, kennels go from mother to daughter, not from mother to son very often, but I don't know if it will go from mother to daughter because she may rather paint them than raise them."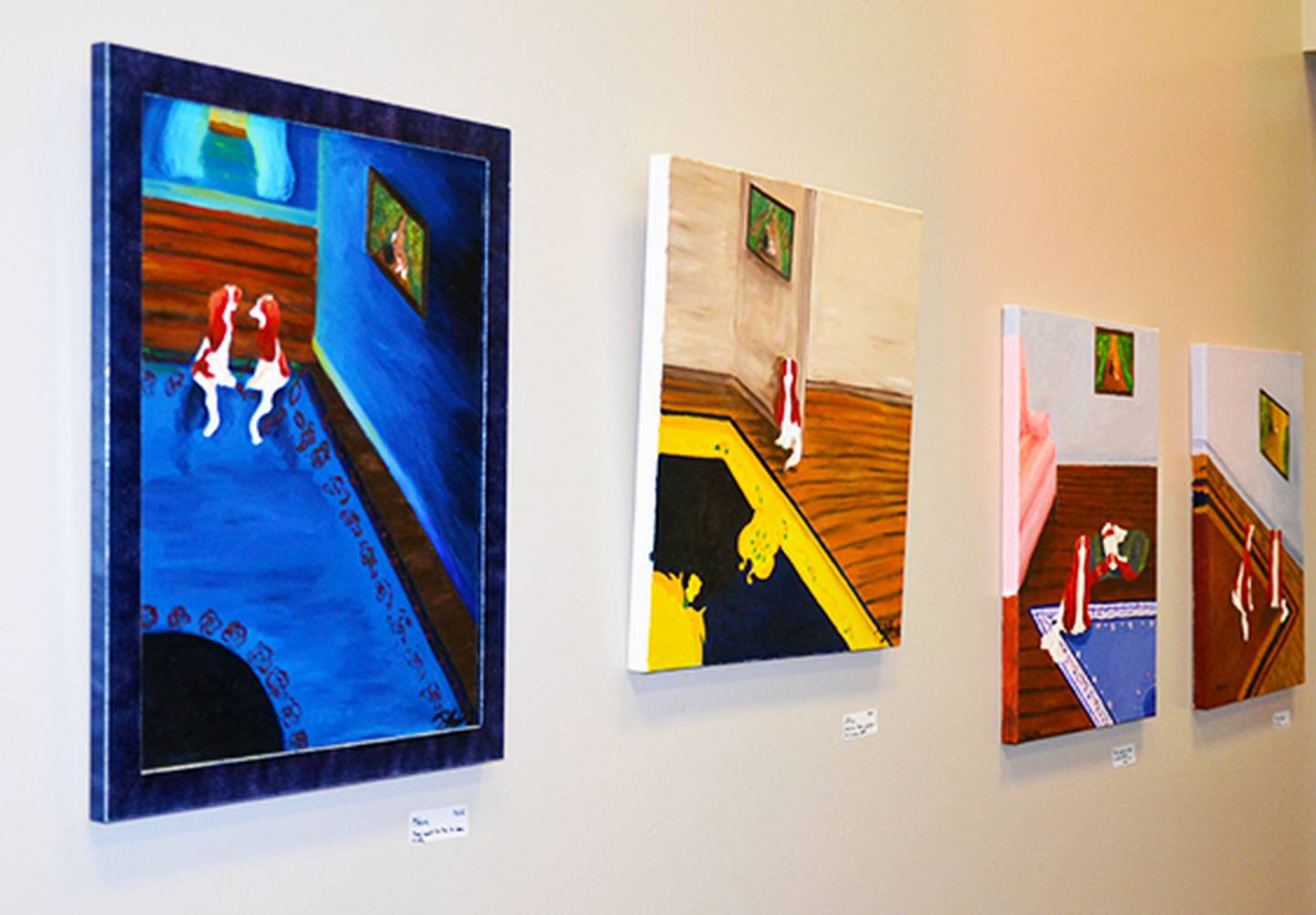 Regardless, Driscoll will continue to share her love for these little dogs, both through her Cavalier series and commissioned portraits.
Bailey Fry-Schnormeier, an art teacher at Creston High School, said that this month's gallery will be a good opportunity to bring her students to see.
"It's great being able to bring my students uptown for them to see other artists' work in the gallery space, to get to see different styles, to hear different stories, specifically when it's Iowa artists who are working and creating and living their passion," Fry-Schnormeier said. "We're just starting acrylics on canvas after spring break, so that will be cool for them to see the ways she creates texture and uses light."
Fry-Schnormeier said these art projects in Creston have been a great thing for students.
"This is my fifteenth year teaching at Creston, and through the years, I've had a lot of students who maybe didn't have that pride in Creston when they graduated," she said. "But now they come back and they're proud of their community and excited to say they're from Creston. They bring people back for different events, whether it's the art festival or something at the art center or the galleries or to check out the murals. I'ts really exciting for them to have pride in their community and some of them are moving back, so that's exciting too."