While many children eagerly await bicycles, toy trains and dolls this holiday season, Marleigh Gunn, 12, was waiting for her dad.
John Sorrentino is not only Marleigh's dad, but also a Sergeant in the Army. For the last year, he's been stationed in Qatar.
"She knew I was coming back sometime between Thanksgiving and Christmas," he said. "But she didn't know exactly when."
Sorrentino planned to pick Marleigh up from school as a surprise when he returned home, but the middle school had a bigger idea.
Tuesday after classes completed, middle school students gathered in the gymnasium for an assembly. In the center of the gym, sat a big orange box.
All day, they had been working on a scavenger hunt around the school. Creston Middle School Principal Lesa Downing announced the winning classes for each grade level and then recognized the government classes for writing letters to veterans for Veterans Day this month.
She had the students stand as the middle school band played the national anthem.
Finally it was time for the big surprise. Downing said there was one more item left in the scavenger hunt, and she needed a sixth-grade volunteer to help her open it.
Downing called on Marleigh to come down.
"Do you know anything about veterans?" Downing asked her.
Marleigh nodded and said both her stepdad and her dad are veterans. "He's in Qatar," Marleigh said of her dad. "It's been a year or two."
Downing walked Marleigh over to the box where her dad popped out, and the students and teachers broke out into applause. Sorrentino's mom, Roseanna Smart, was also in on the surprise and there to celebrate with her granddaughter.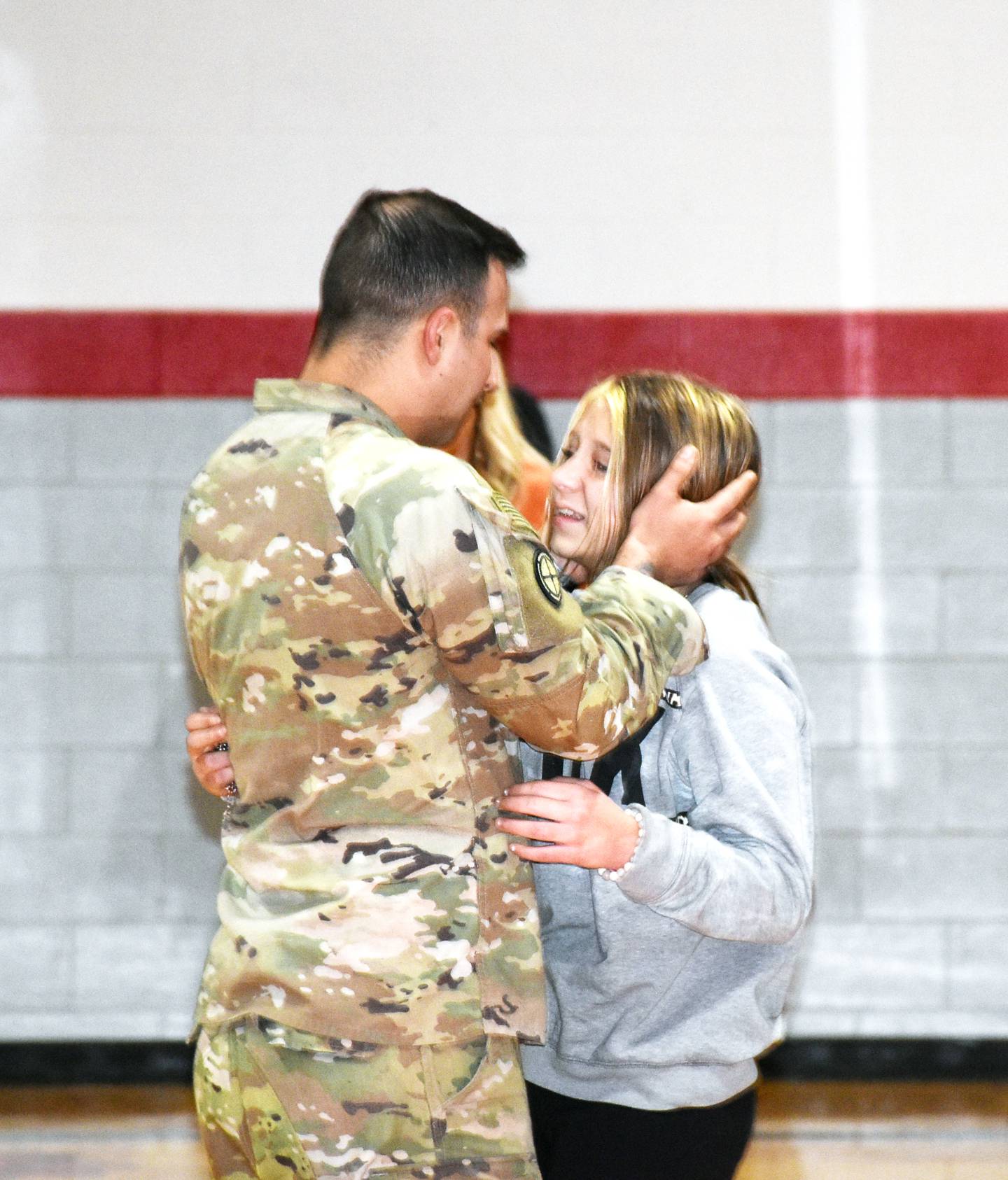 "I've seen some cool people, done some cool things," Sorrentino said. "But I was definitely ready to get home to my beautiful daughter."
While he recognizes things can change, Sorrentino said he's home for the foreseeable future.