Winning a state championship didn't exactly lead into a leisurely off-season for Creston wrestler Savannah Sistad.
Sistad, a junior this fall at Creston Community High School, won the 220-pound weight class last winter at the Iowa Wrestling Coaches and Officials Association girls state championships. She allowed only one point over the two-day event in becoming the school's first state champion since Chase Shiltz in 2017.
Sistad recently added "All-American" to her grappling accolades. She placed eighth at 200 pounds in the 2022 USA Wrestling Cadet (16 and under) national freestyle championships July 15-22 at the FargoDome in Fargo, North Dakota.
Iowa won the team title at the Cadet women's freestyle national championships as Sistad was one of the team's eight All-Americans. Underwood's Molly Allen went 6-0 and won a national title at 112 pounds. Sistad rallied for eighth after a quarterfinal loss at 200 pounds.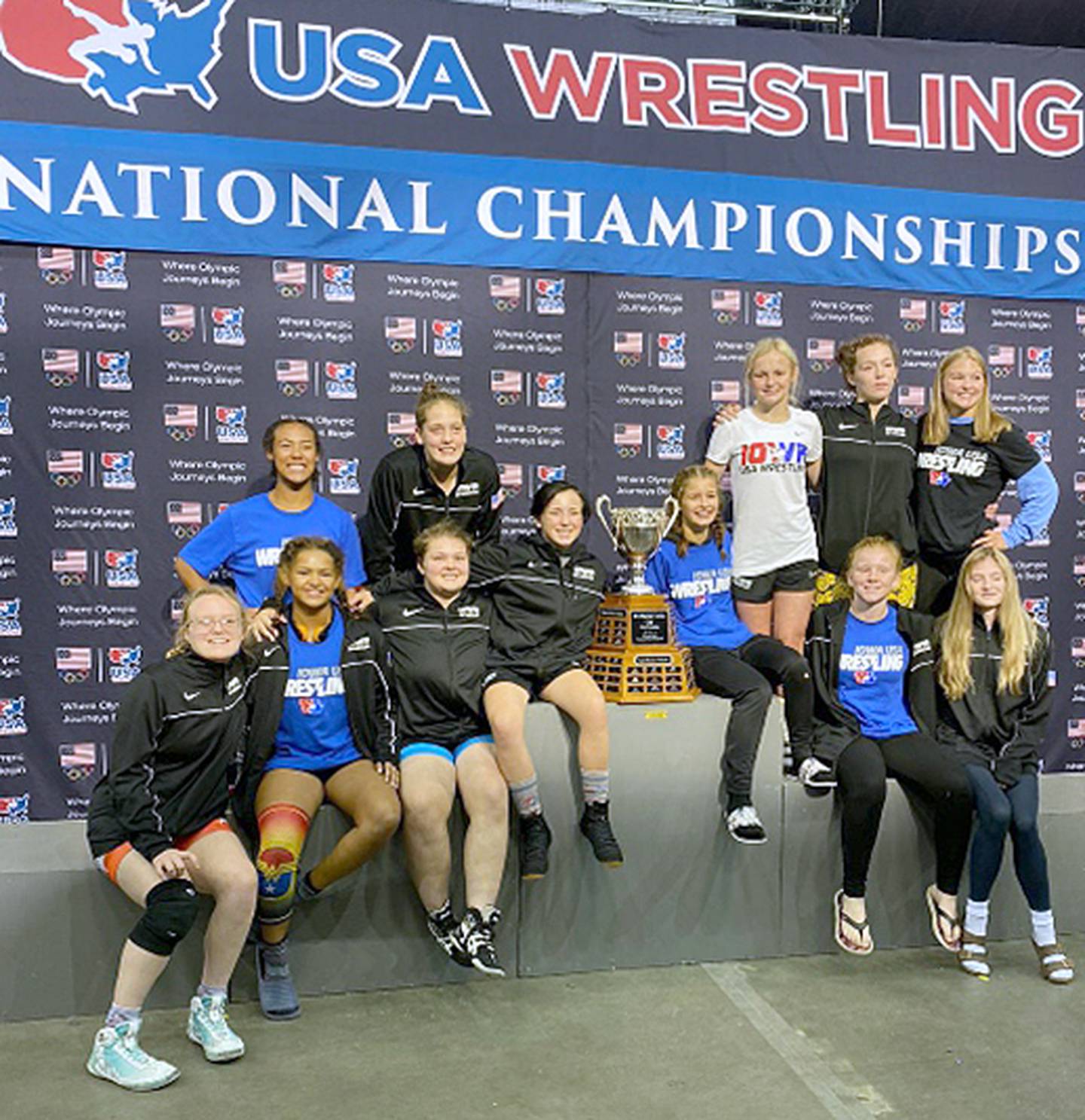 In fact, the outcome of the 200-pound championship match had the team title in the balance as Iowa (90 points) edged Missouri (87) and California (86) for the top trophy.
"If Missouri had won the 200 class they would have won the team title," Sistad noted. "Ohio won that match, so we held on for first place."
Iowa's national team title is the first in state history for 16U/Cadet women's freestyle after USA Wrestling added the division in 2011. California had a run of nine championships in a row ending in 2019. Iowa's previous best finish was ninth.
Sistad qualified for the Iowa team by placing second in a qualifying freestyle tournament last spring at Southeast Polk High School. The winner wrestled in the Junior division for ages 17 and above, so Sistad was the top qualifier among the Cadets.
She joined the the rest of the Iowa squad in a team camp held for three days at Simpson College in Indianola. At those practices, Sistad learned the finer points of freestyle, the international style of wrestling, rather than folkstyle, which is the style used in Iowa high school wrestling.
Folkstyle wrestling puts more emphasis on controlling your opponent, while freestyle puts more emphasis on back "exposure" points. The goal from the bottom position in folkstyle wrestling is to escape the opponent's control. The goal from the bottom position in freestyle is to avoid being turned and "exposed" to the mat.
"I was really impressed with the coaching," Sistad said. "The USA Wrestling director for Iowa was running it. The Simpson College coach was there along with some other coaches. We covered a lot of basic things in freestyle wrestling. That was helpful, because this was the first time for me in a big freestyle tournament like this. You only have to break (opponent's shoulders) 90 degrees to get two points, and you can lock hands, so it's easier to roll people."
In Sistad's 3-1 consolation victory after losing in the quarterfinals, Sistad got a point for a "pushout" gained by moving her opponent out of the boundary of the mat circle. That's another difference from traditional folkstyle wrestling.
"Freestyle requires a lot of energy and you really have to make sure your positioning is the best that it can be at all times," Sistad said.
Sistad trailed 4-1 before being defeated by fall in the seventh-place match, finishing as one of the eight All-Americans in the weight class.
"She's had quite a run this year," said Creston wrestling coach Cody Downing. "Training with the other girls at the team camp at such a high level was a great learning experience for her. You really learn how to train and compete in that environment."
During the same week, Downing and his staff coached much of the Panther team to a 10-0 dual meet record at the TLAN (Train Like a Norseman) summer camp in Bettendorf hosted by Luther College.
"We were there to grow and build some team unity and we had a lot of success on the mat," Downing said. "There were a lot of quality matches and the confidence grew in our kids."
Sistad, daughter of parents Lindsay Adamson and Dean Sistad and step-parents Tina Sistad and Kent Adamson, looks forward to the upcoming school wrestling season. For the first time, Creston girls can compete on a female team in a combined program with East Union and Lenox. A coach hasn't been named yet, but Downing said he may be involved in helping launch the program in addition to coaching his boys team.
"I'm very excited about that," Sistad said. "Hopefully it will get more girls out and we can have a full team and more people for me to practice with. Now that it's sactioned (by the Iowa Girls High School Athletic Union), it should be much better."
Sistad, who hopes to qualify for nationals in Fargo next year in the Junior Division, said the freestyle experience is valuable.
"The women's wrestling in college is freestyle, so it really helps to get started learning more about it now," she said.