There is one place in Creston the product can come back to town in a different package and a different look.
Benson Hill, a food tech company emphasizing natural genetic diversity of plants with food innovation engine, held an open house Thursday of the soybean processing facility purchased in January from ZFS.
Benson Hill CEO Matt Crisp said the objective for the company is to "link the farmers to the consumers" and "set a pace of innovation" to create healthy and sustainable products.
The Creston facility converts soybeans to soy meal and oil, as well as food-grade soy white flake, flour and grits which can be marketed as ingredients or used as raw material for further production of concentrates, isolates and textured protein products.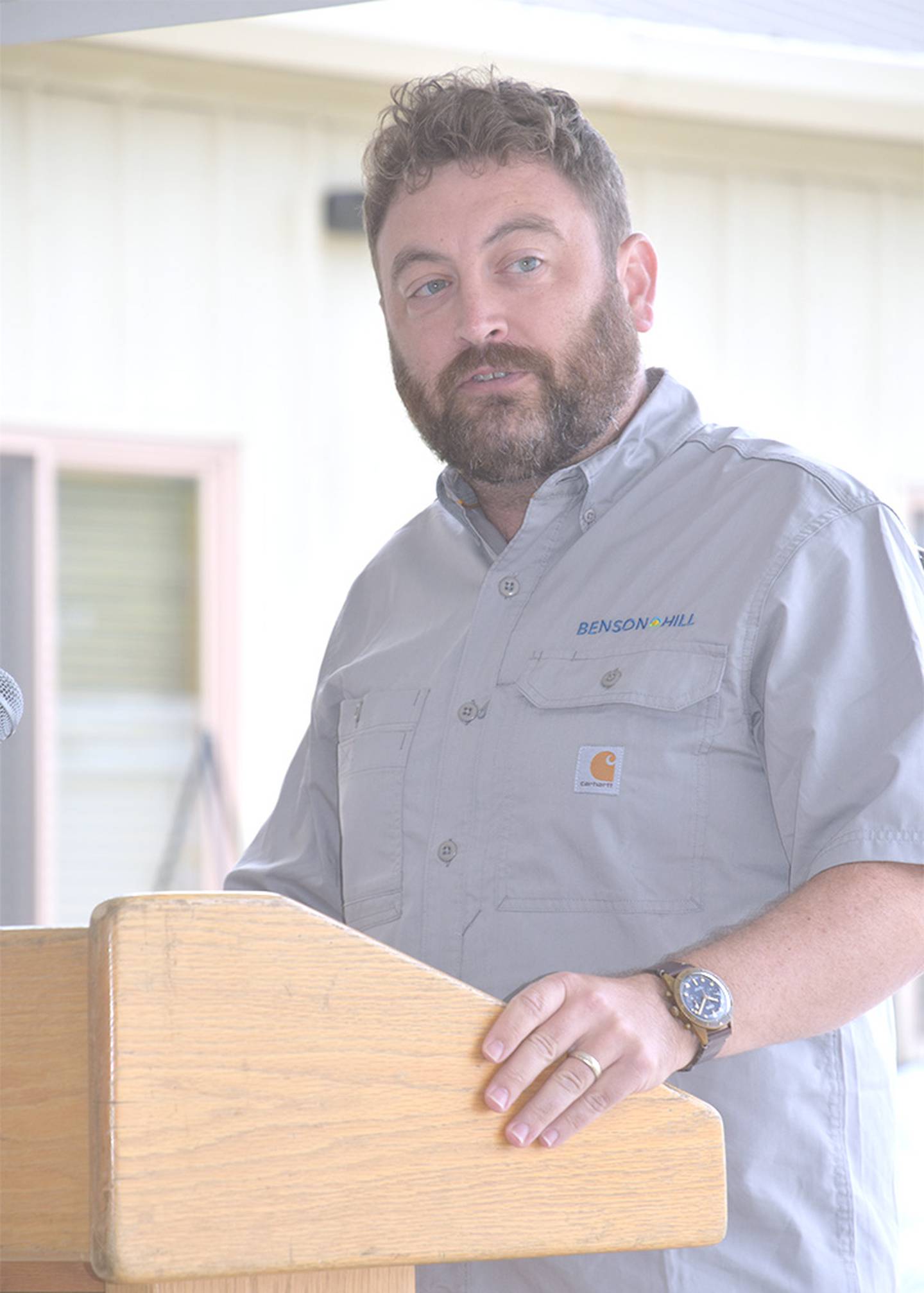 Benson Hill emphasizes quality ingredients for food, feed and cooking oils made better through seed innovation, unlocking the natural diversity of plants to enhance protein, oils and more.
The firm is based on soybean and yellow pea innovation. Both crops are key protein sources for the plant-protein market. Benson Hill commercialized Ultra-High Protein soybean varieties in 2020 and has TruVail, a portfolio of high protein soy-based ingredients.
Benson Hill claims TruVail provides greater sustainability from field to fork. Because of a higher protein content, they are a functional alternative to soy protein concentrate (SPC). The production of traditional SPC uses 70% more water and creates 50% more CO2e. Closed-loop seed innovation, crop production and ingredient processing help manufacturers with consumer demands for less processing.
In addition to food applications, Benson Hill serves the aquaculture market through collaborations such as the one announced with Riverence. Feed made with Benson Hill soybean varieties delivers high protein and low anti-nutrient content which can aid in fish digestion and water management practices. Benson Hill uses ultra-high protein soybean varieties capable of reducing processing steps and natural resource use. Other soybean varieties are low in anti-nutrients, enabling more sustainable livestock and aquaculture farming, while others enable the production of healthier cooking oils, including Veri cooking oil using soybeans with high oleic content.
In April, St. Louis based Benson Hill agreed with Kellogg's MorningStar Farms to provide soy ingredients for alternative-meat products. MorningStar Farms will incorporate Benson Hill's Ultra-High Protein soybeans into its plant-based meats that includes beefburger, chicken, and breakfast meat analogs.
"Is this grown in the U.S.A.," Crisp said is a common question asked by companies researching Benson Hill's products.
Crisp not only answered the question, but gave it a visual.
"I can take you down the road and you can meet the guy who grew it," he said.
He actually did.
In attendance was Reid Weiland, who farms acres of soybeans near Garner for Benson Hill.
"It's a great partnership," Weiland said. "We are a part of a great story. I got a hand in that."
Benson Hill soy products are diverse to be used in feed for aqua agriculture and various food production for human consumption.
"We are unifying both sides of the chain," Crisp said about soybean producers and consumers.
Soy based protein is a byproduct of soybean oil extraction according to Medical News Today. Producers make TVP by separating soybean protein from fat using a heat process, resulting in a curd-like product high in protein.
When cooked, its texture is similar to ground meat.
Benson Hill's soy white flake capacity in Creston is for more sustainable ingredients within the broad human food market, including plant-based meat, meat extension, bakery, c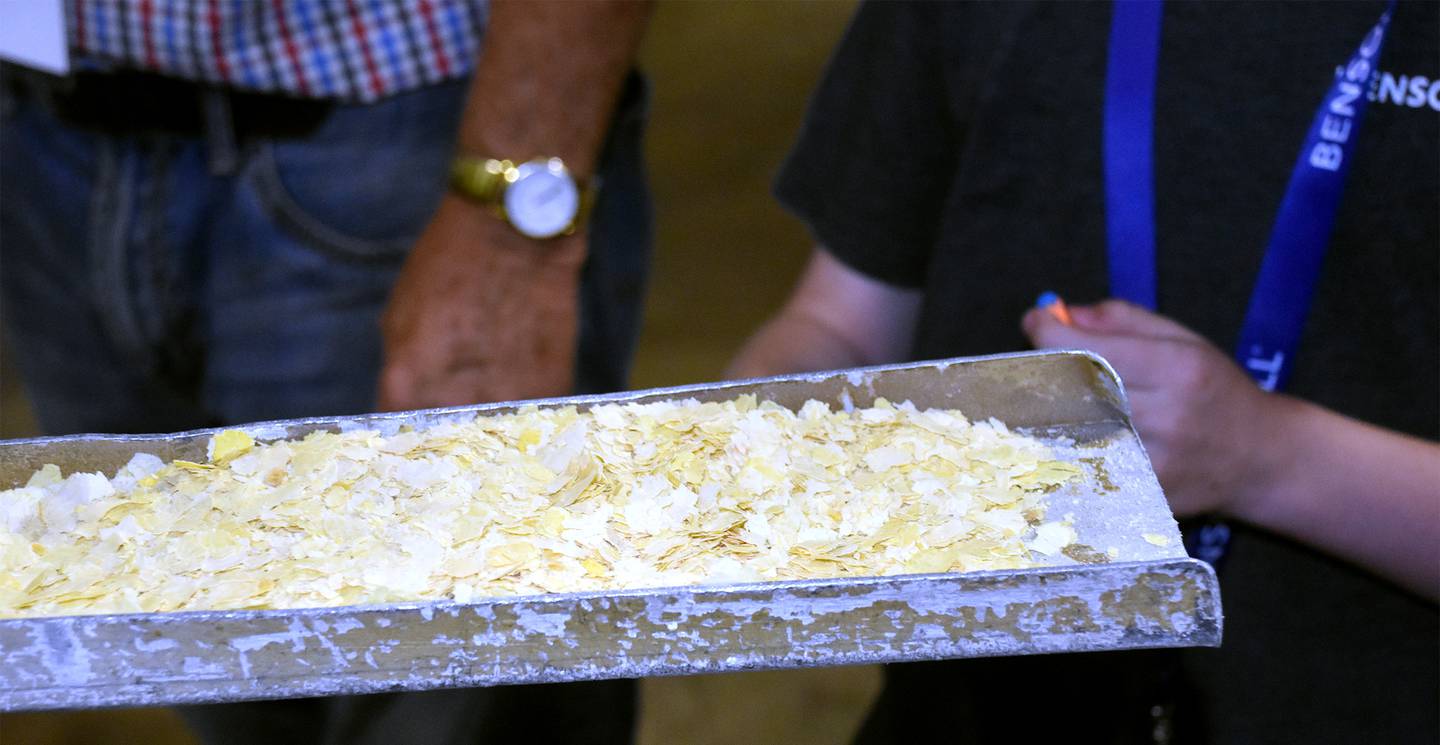 ereal and snack, fermentation and pet foods. The Creston facility is also complementary to Benson Hill's soy crushing facility acquired last year in Seymour, Indiana.
In Creston, soybeans, which are funneled through Gavilon Grain, are heated to a point the hull falls off. The bean is then chopped and those pieces are rolled flat to better extract the oil. Depending upon the use of the soybean and oil, determines the rest of the processing of the soybean to the final product. Soybean flour is also produced. Benson Hill can sell the hull to those who make livestock feed.
Benson Hill's technology and integrated approach increases protein expression in the soybean plant itself, so the need for additional processing is reduced. Capacity and capabilities acquired through ZFS Creston will enable Benson Hill to immediately deliver a portfolio of better-from-the-beginning non-GMO ingredients that are less processed, more sustainable, identity-preserved, traceable and domestically sourced.