For Anthony Neubauer, 7, and other kids with autism, just interacting with others can cause extreme anxiety and discomfort.
His mom, Jamie, did some research on service dogs, and the family got a German shepherd puppy earlier this year.
Now, Willow is 8-months old, and even though she has no formal training, Jamie said she is already helping Anthony. "Their bond is incredible," she said. "It's amazing to watch them. It's like she just knew what her purpose was."
Although Anthony and Willow already have a special bond, Jamie said he's always been an animal lover. "We noticed since he was a baby," she said. "The second an animal came around him, he would relax and calm himself."
For children with autism, repetition and routines are important, so a vital part of Willow's training is that she isn't sent away to receive it. A friend told Jamie about Frederick Family Dog Training - a facility that would travel from the Des Moines area to do in-home training.
"She has been a part of his every day life for six months now," Jamie said. "If she was gone, that would just totally throw him off. That's one of the things that helps people with autism. They like consistency."
This training comes with a cost. With travel included, each session will cost about $120. "It could take up to two years before a service dog is ready to be out in the community," Jamie said.
A priority for Jamie is to make sure they have enough saved to cover the cost of training so they don't have to pause partway through. That's where the Creston farmer's market stand came into play.
"My kids love having lemonade stands for fun, and I like to bake cookies," she said. "I said I'll do the cookies and you do the lemonade as a fundraiser for Anthony's dog."
Anthony's sister, Piper, was all for it. "She's a little sales person," Jamie said.
Anthony has selective mutism - a situation in which a child who is capable of speech doesn't talk in certain settings. Jamie hopes Willow will be able to help with this. "She will definitely help him with his anxiety and comfort level," Jamie said. "He struggles with separation anxiety when he is away from me."
At Monday's farmer's market, Anthony was quiet. He sat behind the stand and didn't talk to patrons or other kids. But when one woman brought her German shepherd to the stand, he lit up. He came around the front of the stand to meet the dog and wrapped his arms around its neck in a hug.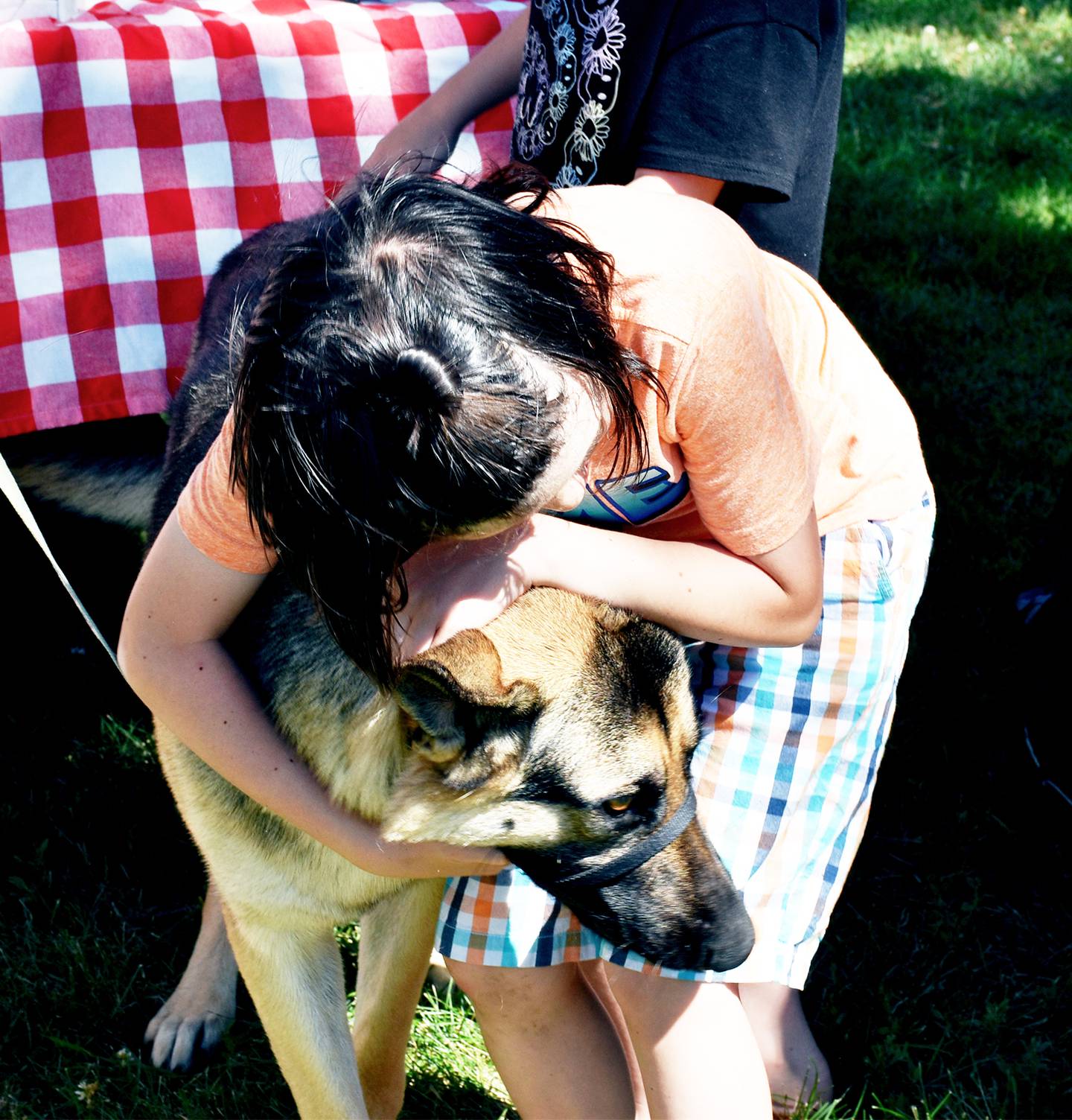 "He has a hard time opening up and talking to people," Jamie said. "Even people he knows. But with a dog, it's a conversation piece."
This was their third farmer's market appearance, and Jamie said people have been amazing. "Some people don't even buy anything, they just donate," she said. "They just want to help."
It's not just Anthony that will benefit from the training, Jamie said it will be good for Willow too. "German shepherds are working dogs," she said. "They love having a partner."