It was a cold April day in 2016 as Rick Friday approached a calf that lay struggling in a tractor tire rut. Rain mixed with snow was coming down sideways. He removed his jacket, dried the calf, and got him on his mom's udder. A few moments later, the calf stood, and walked off with his mom.
As Friday stood there, knee deep in water, snow hitting his face and glasses so fogged up he could hardly see, he thought "Is this my purpose?" He begged God to give him a sign. The next day, Friday was fired.
For most people, getting fired is a roadblock on the path to success. For Friday, this was the kickstart to his cartoons going viral worldwide. Now, as Friday lands a contract as a cartoonist with Mother Earth News, a publication with more that 500,000 readers, he reflects on the six-year journey that led him here.
The infamous cartoon
"It was the worst cartoon I'd ever drawn," Friday said. As a full-time farmer, Friday was watching a young cow have a calf when inspiration struck. "I was listening to the radio station. They said that Iowa farmers were only averaging $15,000 so I looked up the C.E.O. salaries of John Deere, Monsanto and DuPont."
He began to draw, but was interrupted when he noticed the cow and calf were not getting up. He stopped to help the animals and then proceeded to do his chores. After their completion, he realized he was pushing the deadline, so he recalls just finishing the drawing really quickly.
The cartoon had two farmers talking at a fence. The first farmer says "I wish there was more profit in farming." The second responds, "There is. In year 2015 the C.E.O.s of Monstanto, DuPont and John Deere combined made more money than 2,129 Iowa farmers."
Friday had an exclusive contract with Farm News at the time. The email to Friday from Farm News stated, "We will no longer take a cartoon from you... In the eyes of some, Big Ag cannot be criticized or poked fun at. The cartoon resulted in one seed dealer cancelling his advertising with Farm News."
He took his frustrations to Facebook, posting "Apparently a large company affiliated with one of the corporations mentioned in the cartoon was insulted and cancelled their advertisement with the paper, thus, resulting in the reprimand of my editor and cancellation of It's Friday cartoons after 21 years of service and over 1090 published cartoons to over 24,000 households per week in 33 counties of Iowa. I did my research and only submitted the facts in my cartoon. That's okay, hopefully my children and my grandchildren will see that this last cartoon published by Farm News out of Fort Dodge, Iowa, will shine light on how fragile our rights to free speech and free press really are in the country."
After making the post, he went back to what he always did - farming. He had no idea what was about to unfold.
Going viral
Out of nowhere, Friday's phone began ringing off the hook. Newspapers and radio stations wanted to interview him. Publications wanted to publish his cartoons. But Friday was only concerned with the farm.
"The Des Moines Register called, I've got Charlie calling me from CBS, The Washington Post was relentless," Friday recalls. "Unless he can run a lawn mower, I don't have time to talk to him."
The New York Times though, was lucky. While Friday was out doing chores, his wife was inside to answer the phone. He remembers her saying that he had to talk to them. It was the New York Times after all. He got contact information, and said he would call them back.
Later that summer, Friday was in Kentucky for an event. He didn't have very good cell service, so he went outside across the road. He got Facebook Messenger on his phone for the first time, and was surprised with more than 10,000 messages.
Finally ready to embrace his new reality, Friday and his wife went through the messages. "We returned every one of those phone calls," he said. I did one or two cartoons for a lot of publications." He even returned the call to Christine at the New York Times.
Looking back now, Friday does have regrets. "I was more scared of success than anything," he said. "It was all so fast." He figures he could have waited to mow the yard.
After everything happened, he got so motivated. "I just drew," he said. Then he received a call from Simon & Schuster - a major American book publisher. They wanted to do a book deal with his cartoons, but in order to do so, he needed full rights to his work. Due to the nature of his contract with Farm News, he didn't own any of his work.
Two months after his firing, Farm News reached out and formally apologized. "They were very apologetic," Friday said. "They offered a substantial increase per cartoon." In his re-signing with them, he negotiated back full rights to all work - past, present and future.
Simon & Schuster gave him a deadline to get his artwork to them, but the contract signing with Farm News took longer than expected, causing him to be over the deadline by a week, so they dropped the idea.
"One person's decision should not impact the future of so many," Friday said of his going back to Farm News. However, many other publications did not understand and subsequently dropped their offers to publish his work.
"They didn't like that I went back to Farm News," he said.
Moving on
Six years have gone by, and Friday is drawing more than ever - though he has more free time since selling the cows. "The passion I had for the farm, I lived through my dad," he reflected. "When he died, my love of farming died with him."
Friday draws for Countryside Magazine, Backyard Poultry, Missouri Cattlemen's Association and now, Mother Earth News. He also writes for American Farming, Afton Star Enterprise and Mount Ayr Record News.
One of the things Friday enjoys about his work now is that he's gotten away from the political cartoons. "It's the best thing that's happened to me," he said. "I never expected to draw so many vegetables and cows."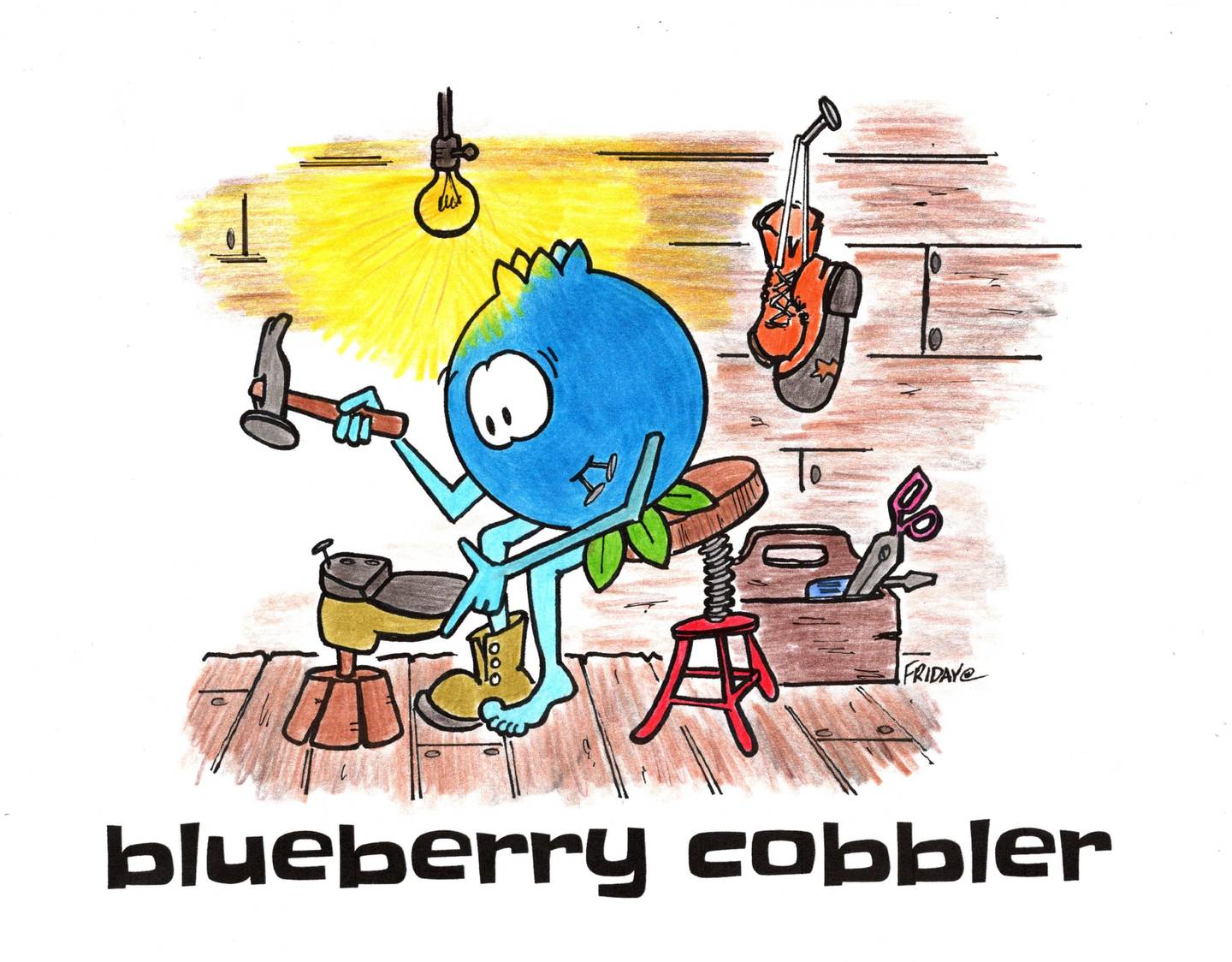 When he isn't at a board meeting, Friday can be found drawing at his kitchen table. "I do it the old school way," he said. "Sitting at the table looking out the window at my old, blind cow, Rosie."
Farming was always a family business for Friday. He thought he should do it like his dad and his dad's dad. But he's starting a new family tradition as he lets his grandkids color some of his cartoons.
Friday's story was tweeted by Rob Schneider, taught as a free speech example at a South American school and shared across the globe as farmer's stood with him. To sum it up, Friday says he is happy and proud. "It changed my life, and it opened so many doors."
While he's enjoying his peace and success, he's also looking ahead. "There's a lot of demand for me to write a book," he said. "I've got the material. I will do it."