On Friday, two dozen members of Lead UC and Lead UC Youth were ready for the next step to turn a portion of Uptown Creston into a pocket park. Oakmont Park, a newly-updated greenspace, is their legacy project as the participation year ends for these two leadership groups.
"We like this location because it's close to where the people are. It's open, and everybody is right there," says Anna Bolinger, a member of Lead UC Youth. "After all, why not put a park where everyone already is?"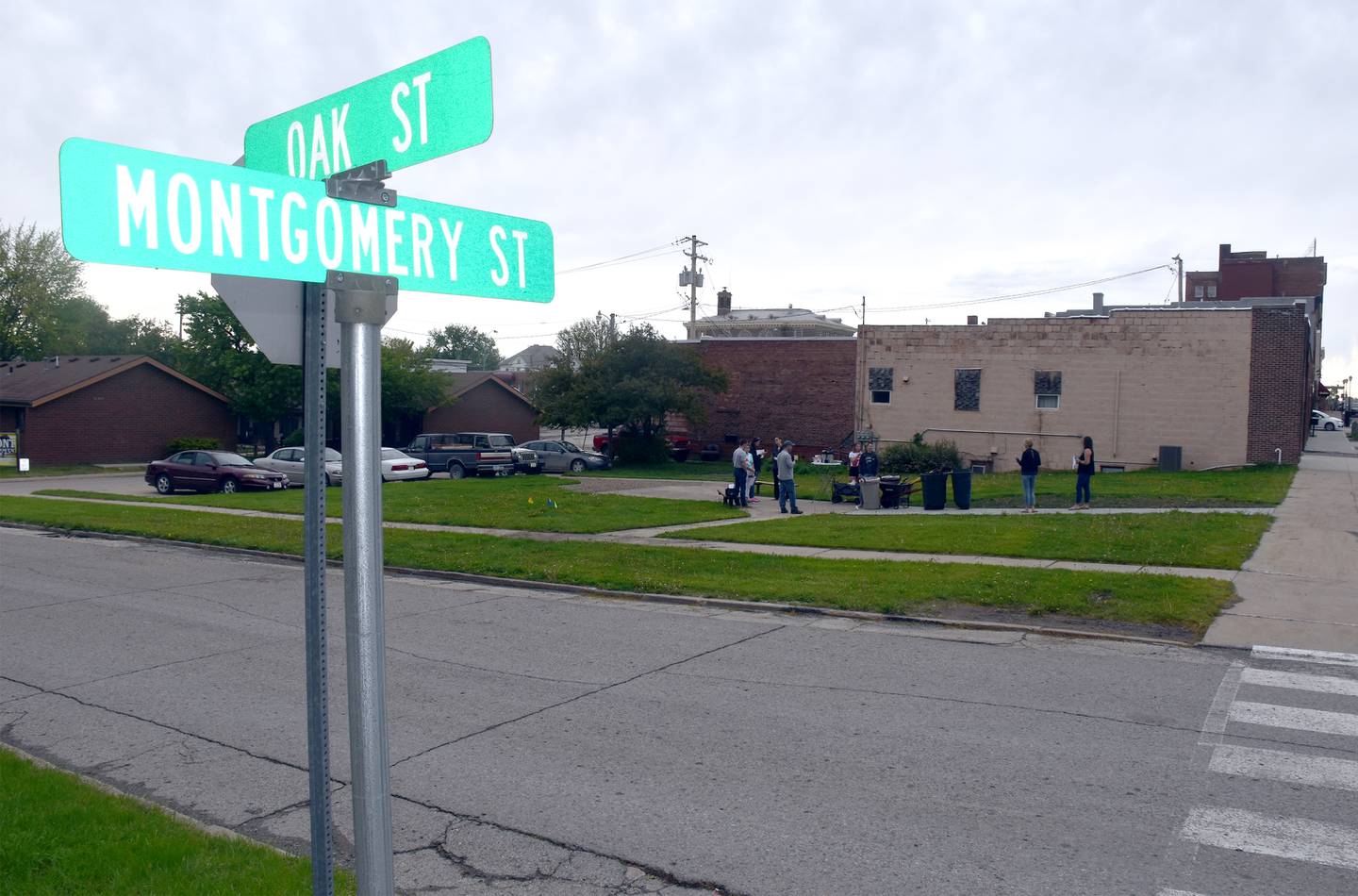 These two Lead groups celebrated their final day of onsite volunteering here at Oakmont Pocket Park; the Program's Leadership year culminated with a lunch and a graduation ceremony for both.
In 2020, the Southern Iowa Housing Authority (SIRHA)granted access of Oakmont Park in Uptown Creston to the Union County Development Association (UCDA) for its Leadership program to transform into a gathering place for Uptown experiences such as "Market on Maple" and local parades. Lead UC members were then tasked with creating a more attractive, user-friendly space for the residents of Oakmont Apartments as well as for other community members. Led by Mindy Stalker, the Leadership group of approximately 15 area professionals created a design that year to enhance the green space for all ages to enjoy. "Unfortunately, that class was cut short due to the onset of COVID and the inability to continue our in-person sessions," recalls Stalker, Interim Executive Director for UCDA. However, in 2021, "a new group has picked up where the former group left off, and this time the Youth Leadership students were included in the process."
Each year, the numbers of Lead UC participants vary, but the intention is to recruit 15 adults and 15 students for each class. Adults come from various businesses in Union County; Lead Youths are from both East Union and Creston high schools, and one of them is Bolinger, daughter of Wade and Angie Bolinger of Creston. "We studied the plans and the sketches that were passed down from last year's group to ours," Bolinger notes, adding that this year's group tweaked the plans a little bit, primarily to the public seating and flowerbeds. "Everything [previous members] thought they wanted in the project, they drew it up. We took their plans, studied them and wondered if we could make improvements on them."
Located adjacent to Oakmont Apartments, at the corner of Oak and Montgomery streets, Bolinger, 15, says the area "already is an open play area of sorts. The leadership groups just want to dress it up a bit." Bolinger explains that, to best address the Oakmont Pocket Park project, the Lead Youth broke into three groups: one to research the concrete sidewalk, one to evaluate the plantings, and one to focus on the art installments.
Additional plans include planting trees, building a butterfly garden, widening paved access for wheelchairs and strollers and adding more seating. "The area will be inclusive, for all ages. Little kids. Big kids. Everyone can come," Bolinger says. "We'll have a place for mothers to sit and watch their children. Eventually, we want to have sculptures for climbing."
Bolinger says she's excited that Uptown residents will have a recreational space within walking distance; her hope is that the park will encourage children to socialize and share during play, and that area residents will gather for special events. "All of this will come,"she adds, tossing back her long brown hair for emphasis.
Established in 2010 as "High Lakes Leadership,"Lead UC added a youth component in 2012 to foster leadership skills and tools focused on service-based leadership. Stalker, who participated in the Leadership program in 2017, has overseen the program since then. She explains that the names of the programs changed in 2019 better to reflect the UCDA, the organization that facilitates them. "I think it's one of the most important programs we do, as it truly is all about educating and encouraging community members to be engaged and help lead whatever change it is that they hope to see."
Both leadership groups open with new participants each school year, and meet monthly for a full day through May. Much like the adults, Lead UC Youth offer their enthusiasm, insight and positive energy to the group before passing the torch to the next cohort of high school students. "We serve for a year, and then can't be in it again," Bolinger explains, adding that the leadership skills they gain often filter into church, school and sports activities with their peers." Each year, it's a new opportunity for someone else to take part in Leadership group."
Speakers from various Union Co. organizations share their experiences during monthly Lead UC programs. Volunteers from area groups such as the Lions Club, the Rotary Club, school Boosters and members of ASP(Appalachian Service Project) discuss their purposes and goals with Lead UC participants."It's good to get involved as a kid in high school, to see more people do more things," Bolinger says, adding that she is ready for another challenge. On this day, she indicates that her next favorite group is the ASP." I hope to do it [ASP] next year," she declares. "I learned about it in Youth Leadership, and I'm excited to be a part of it."
According to Stalker, Lead UC "challenges individuals in all sectors of the community to build capacity for identification of local issues, engage in positive community change and share leadership." Each year, the April and May sessions focus on action-based projects, Stalker explains. This year on April 20, the leadership group collaborated with SWCC to plan and facilitate a meals-packaging event, Meals from the Heartland, as part of SWCC's Pay it Forward Week; community volunteers joined the organizers and packaged more than 85,000 meals." It's always fun to see how a new group manages the planning and execution of this day," recalls Stalker. "I know that it is rewarding to all of our leaders when the final numbers are announced."
Some preliminary work was completed earlier this spring. Trevor Paulus with "Paulus Concrete" poured the widened sidewalk, and Josh Greene from "Kelly's Flowers and Greene Landscaping" installed edging for the butterfly garden. Other community members donated landscaping blocks. Plans in the near future include planting trees and the flower garden and updating benches. Dee Benson catered a lunch at the new park for this year's group graduation and celebration of "a leadership year full of personal growth and connectedness," notes Stalker.
"Each year it's 15-some new people [students]. That does get hard to imagine," Bolinger muses when considering the extent of student participation and mentoring needed each year. Bolinger, a high school freshman, says that she's not disappointed to be part of Lead UC Youth at the beginning rather than at the end of her high school years. "If I had waited until I was a senior, well, I wouldn't have had the chance to build this park," she says.
Stalker adds the Oakmont Pocket Park, "will likely need (at least) one more leadership year" to complete. "It will be fun to see what next year's class prioritizes for the space. After that, it will be up to the residents at Oakmont Apartments and community volunteers to help maintain the space and keep it safe and welcoming for daily activities."
To fund this project, Lead UC participants presented their ideas to a few area volunteer groups -- not only to encourage donations, but also to enlighten townspeople of their intent and excitement in updating an Uptown Creston green space. Stalker says that funding for this project came from local organizations, including Creston CWC, "Fund. Inspire. Value.Encourage" (FIVE), the Southern Iowa Community Foundation (SCICF), and the UCDA. An AARP grant is pending.
"The community response has been incredible," exclaims Stalker. "Our leaders, both adult and youth participants, took extra time from their schedules to have crucial conversations with local organizations that are champions for improvements in our communities. This kind of local support and leadership is precisely what we try to highlight and encourage through this program."